Abstract
In this paper using both annual time-series data at the federal level as well as annual state-level (balanced) panel data from 1980 to 2017 we investigate the relationship between several labor market variables and the federal and state level incarceration rates in the United States. We find a significant empirical association between the incarceration rate, 10th-percentile real-wage rate, and the unemployment rate, as well as the level of inequality. Specifically, the time-series analysis reveals a significant negative correlation between the incarceration rate and the 10th-percentile wage rate. Moreover, in all time-series regressions, the unemployment rate and the 40%-to-10% wage ratios are both positively correlated with the incarceration rate. In the state-level analysis, panel data regressions indicate that the unemployment rate, income inequality, and unemployment duration are positively associated with incarceration whereas the 10th-percentile wage is negatively correlated with the latter.
Access options
Buy single article
Instant access to the full article PDF.
US$ 39.95
Tax calculation will be finalised during checkout.
Subscribe to journal
Immediate online access to all issues from 2019. Subscription will auto renew annually.
US$ 79
Tax calculation will be finalised during checkout.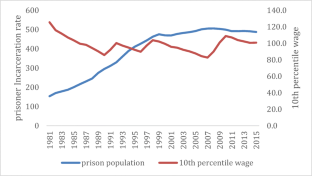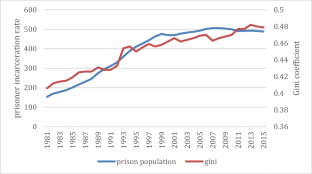 Notes
1.

The prison boom in the US started much earlier than 1980; however, our choice of the time-series dimension in this study was determined entirely by the availability of the relevant variables we use in our empirical analysis.

2.

We also ran several panel regressions controlling for the police-to-civilian ratio (for a subset of the whole data set for which we could find data). However, as this exercise did not alter our results, we have not included it in the paper. Instead, we refer the interested reader to the corresponding author for information on these additional results.

3.

We also considered an alternative measure of education, i.e. % of population with or without college education; however we obtained qualitatively very similar results.

4.

The use of the political party of a state's governor might be seen as a rather crude variable, as much of the historical research on state politics and incarceration has shown that a government's approach to crime may be independent of its political affiliation and the fact that different parties might dominate the state congresses. In addition to the state governor dummy, in additional panel regressions we also used other political dummies such as who won the Electoral College in the previous presidential election in the state or the state congressional majority dummies (Republican vs. Democratic) to control for the conservativeness of the state; however, none of these dummies yielded significant estimates. Because of space constraints, these results are not reported but are available upon request from the corresponding author.
References
Aviram, H. (2015). Cheap on crime: Recession-era politics and the transformation of American punishment. Oakland, California: University of California Press.

Barak, G., Leighton, P., & Flavin, J. (2010). Class, race, gender and crime: The social realities of justice in America (3rd ed.). New York, NY: Rowman and Littlefield.

Baron, S. W., & Hartnagel, T. F. (2002). Street youth and labor market strain. Journal of Criminal Justice, 30(6), 519–533.

Bell, B., Fasani, F., & Machin, S. (2013). Immigration and crime: Evidence from large immigrant waves. Review of Economics and Statistics, 95(4), 1278–1290.

Bryant, K. M., & Miller, J. M. (1997). Routine activity and labor market segmentation. An empirical test of a revised approach. American Journal of Criminal Justice., 22(1), 71–100.

Campbell, M. C., & Schoenfield, H. (2013). The transformation of America's penal order: A historicized political sociology of punishment. American Journal of Sociology., 118(5), 1375–1423.

Campbell, M. C., Vogel, M., & Williams, J. (2015). Historical contingency and the evolving importance of race, violence crime, and region in explaining mass incarceration in the US. Criminology, 53(2), 180–203.

Caplow, T., & Simon, J. (1999). Understanding prison policy and population trends. Crime and Justice, 26, 63–120.

Clear, T. R. (1996). Backfire: When incarceration increases crime. Journal of Oklahoma Criminal Justice Research Consortium, 3, 1–10.

D'Amico, D. J., & Williamson, C. (2015). Do legal origins affect cross-country incarceration rates? Journal of Comparative Economics, 43(3), 595–612.

Edmark, K. (2005). Unemployment and crime: Is there a connection? Scandinavian Journal of Economics, 107(2), 353–373.

Ehrlich, I. (1996). Crime, punishment, and the market for offenses. Journal of Economic Perspectives, 10(1), 43–67.

Frank, M. W. (2009). Inequality and growth in the United States: Evidence from a new state-level panel of income inequality measure. Economic Inquiry, 47(1), 55–68.

Freeman, R. B. (1994). Crime and the job market (No. w4910). National Bureau of Economic Research.

Gregory, A., & Hansen, B. E. (1996a). Residual-based tests for co-integration in models with regime shifts. Journal of Econometrics, 70, 99–126.

Gregory, A., & Hansen, B. E. (1996b). Tests for co-integration in models with regime and trend shifts. Oxford Bulletin of Economics and Statistics, 58, 555–559.

Honore, B. E. (1992). Trimmed LAD and least squares estimation of truncated and censored regression models with fixed effects. Econometrica, 60, 533–565.

Jankovic, I. (1977). Labor market and imprisonment. Crime and Social Justice, 8, 17–31.

Kaeble, D., & Cowhig, M. (2018). Correctional populations in the unites states, 2016. US Department of Justice Office of justice programs Bureau of Justice Statistics. Available at: https://www.bjs.gov/content/pub/pdf/cpus16.pdf.

Lynch, M. (2009) Sunbelt Justice: Arizona and the Transformation of American Punishment. Stanford University Press.

Pettit, B., & Western, B. (2000). Incarceration and racial inequality in men's employment. Industrial and Labor Relations Review, 54(1), 3–16.

Pettit, B. & Western, B. (2004). ​Mass Imprisonment and the life course: Race and class inequality in U.S. incarceration. American Sociological Review, 69(2), 151–169.

Raphel, S., & Winter-Ebmer, R. (2001). Identifying the effect of unemployment on crime. Journal of Law and Economics, 44(1), 259–283.

Smith, K. B. (2004). The politics of punishment: Evaluating political explanations of incarceration rates. Journal of Politics, 66(3), 925–938.

Spelman, W. (2009). Crime, cash, and limited options: Explaining the prison boom. Criminology & Public Policy, 8(1), 29–77.

Travis, J., et al. (2014). The growth of incarceration in the US: Exploring causes and consequences. New York: John Jay College of Criminal Justice/CUNY Academic Works.

Wacquant, L. (2001). Deadly symbiosis when ghetto and prison meet and mesh. Punishment and Society., 3(1), 95–133.

Wakefield, S., & Uggen, C. (2010). Incarceration and stratification. Annual Review of Sociology, 36, 387–406.

Westerlund, J. (2006). Testing for panel cointegration with multiple structural breaks. Oxford Bulletin of Economics and Statistics, 68(1), 101–132.

Westerlund, J., & Edgerton, D. L. (2008). A simple test for cointegration in dependent panels with structural breaks. Oxford Bulletin of Economics and Statistics, 70(5), 665–704. https://doi.org/10.1111/j.1468-0084.2008.00513.

World Prison Brief. (2018). Highest to lowest—Prison population pate. Retrieved from www.prisonstudies.org/highest-to-lowest/prison_population_rate?field_region_taxonomy_tid=All&=Apply
Additional information
Publisher's Note
Springer Nature remains neutral with regard to jurisdictional claims in published maps and institutional affiliations.
About this article
Cite this article
Cantekin, K., Elgin, C. Incarceration and Labor Market Conditions of the Underclass in the United States: An Empirical Investigation. Eur J Crim Policy Res 26, 529–546 (2020). https://doi.org/10.1007/s10610-019-09412-8
Keywords
Incarceration

Labor market

Real wage

Unemployment

Inequality

US economy