Abstract
This study explores the evolution and predictors of the homicide rate in 81 Turkish provinces from 1997 to 2015. Using regression analysis, it is demonstrated that several socio-economic factors are significantly associated with the level of the homicide rate. Moreover, the effects of the socio-economic factors change when the breakdown of the homicide rate with respect to two key demographic factors, age and gender, are also incorporated into the analysis.
Access options
Buy single article
Instant access to the full article PDF.
US$ 39.95
Tax calculation will be finalised during checkout.
Subscribe to journal
Immediate online access to all issues from 2019. Subscription will auto renew annually.
US$ 79
Tax calculation will be finalised during checkout.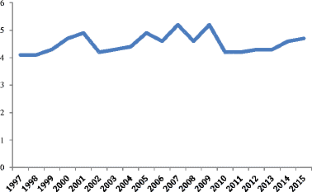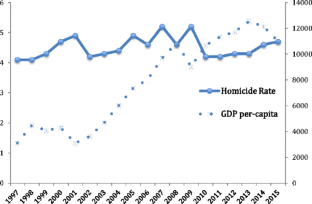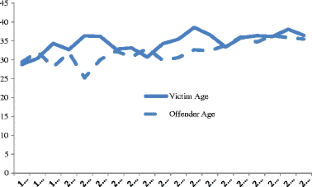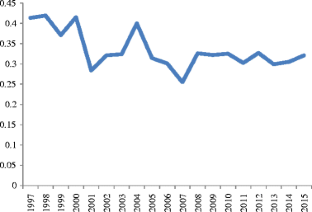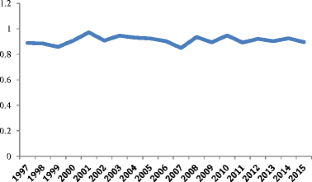 Notes
1.

See Pridemore and Trent 2010 for an excellent review of this literature.

2.

To avoid potential heteroskedasticity instead of the level of the population, its natural logarithm is used as the independent variable.
References
Arellano, M., & Bond, S. (1991). Some tests of specification for panel data: Monte Carlo evidence and an application to employment equations. Review of Economic Studies, 58(2), 277.

Arvanites, T. M., & Defina, R. H. (2006). Business cycles and street crime. Criminology, 44, 139–164.

Baller, R. D., Anselin, L., Messner, S. F., Deane, G., & Hawkins, D. F. (2001). Structral covariates of U.S. county homicide rates: incorporating spatial effects. Criminology, 39, 561–588.

Becker, G. S. (1968). Crime and punishment: an economic approach. Journal of Political Economy, 76, 169–217.

Blumstein, A., & Rosenfeld, R. (1998). Explaining recent trends in US homicide rates. Journal of Criminal Law and Criminology, 88(4), 1175–1216.

Buonanno, P., Fergusson, L., & Vargas, J. F. (2017). The crime Kuznets curve. Journal of Quantitative Criminology, 33(4), 753–782.

Bursik, R. J., & Grasmick, H. G. (1993). Neighbourhood and crime: The dimensions of effective community control. New York: Lexington Book.

Bushway, S., Cook P. J., & Phillips, M.(2012). "The Overall Effect of the Business Cycle on Crime," German Economic Review, 13(4), 436–446.

Cantor, D., & Land, K. C. (1985). Unemployment and crime rates in the post-world war II United States: a theoretical and empirical analysis. American Sociological Review, 50, 317–332.

Cantor, D., & Land, K. C. (2001). Unemployment and crime rate fluctuations: a comment on greenberg. Journal of Quantitative Criminology, 17, 329–342.

Cole, J. H., & Gramajo, A. M. (2009). Homicide rates in a cross-section of countries: evidence and interpretations. Population and Development Review, 35, 749–776.

Daly, M., Wilson, M., & Vasev, S. (2001). Income inequality and homicide rates in Canada and the United States. Canadian Journal of Criminology, 43(2), 219–236.

Doğan, R. (2014a). Different cultural understandings of honor that inspire killing: an inquiry into the defendant's perspective. Homicide Studies, 18(4), 363–388.

Doğan, R. (2014b). The profiles of victims, perpetrators, and unfounded beliefs in honor killings in Turkey. Homicide Studies, 18(4), 389–416.

Doğan, R. (2016). The dynamics of honor killings and the perpetrators' experiences. Homicide Studies, 20(1), 53–79.

Ehrlich, I. (1973). Participation in illegitimate activities: a theoretical and empirical investigation. Journal of Political Economy, 87, 521–565.

Fedakar, R., Gündoğmuş, U. N., & Turkmen, N. (2007). Firearm-related deaths in two industrial cities of Turkey and their province. Legal Medicine, 9(1), 14–21.

Hansmann, H. N., & Quigley, J. M. (1983). Population heterogenity and the sociogenesis of homicide. Social Forces, 61(1), 206–224.

Hirschi, T., & Gottfredson, M. (1983). Age and the explanation of crime. American Journal of Sociolology, 89, 552–584.

Hirschi, T., & Gottfredson, M. (1990). A general theory of crime. Stanford: Stanford Univ. Press.

Krahn, H., Hartnagel, T. F., & Gartrell, J. W. (1986). Income inequality and homicide rates: cross-national data and criminological theories. Criminology, 24, 269–294.

Merton, R. (1938). Social structure and anomie. American Sociological Review, 3, 672–682.

Nolan, J. J. (2004). Establishing the statistical relationship between population size and UCR crime rate: its impact and implications. Journal of Criminal Justice, 32, 547–555.

O'Brien, R. (1983). Metropolitan structure and violent crime: which measure of crime. American Sociological Review, 48, 434–437.

Ogburn, W. (1935). Factors in the variation of crime among cities. Journal of the American Statistical Association, 30(189), 12–34.

Ouimet, M. (2012). A world of homicides: the effect of economic development, income inequality, and excess infant mortality on the homicide rate for 165 countries in 2010. Homicide Studies, 16(3), 238–258.

Pridemore, W. A., & Trent, C. L. S. (2010). Do the invariant findings of land, McCall, and Cohen generalize to cross-national studies of social structure and homicide? Homicide Studies, 14, 296–335.

Rosenfeld, R., & Fornango, R. (2007). The impact of economic conditions on robbery and property crime: the role of consumer sentiment. Criminology, 45, 735–769.

Rosenfeld, R., & Messner, S. F. (2009). The crime drop in comparative perspective: the impact of the economy and imprisonment on American and European burglary rates. British Journal of Sociology, 60, 445–471.

Rosenfeld, R. (2014). "Crime and Inflation in Cross-National Perspective." Crime and Justice, 43, 341–366.

Sampson, R. J., & Groves, W. B. (1989). Community structure and crime: testing social-disorganization theory. American Journal of Sociology, 94(4), 774–802.

Skogan, W. G. (1974). The validity of official crime statistics: an empirical investigation. Social Science Quarterly, 54, 25–28.

South, S. J., & Messner, S. F. (2000). Crime and demographie: multiple linkages, reciprocal relations. Annual Review of Sociology, 26, 83–106.

Wilson, J. Q. (1975). Thinking about crime. New York: Basic Books.
Acknowledgements
I thank Elif Sercen Nurcan for excellent research assistance.
About this article
Cite this article
Elgin, C. Evolution and Predictors of the Homicide Rate in Turkish Provinces: Evidence from Panel Data. Eur J Crim Policy Res 25, 379–390 (2019). https://doi.org/10.1007/s10610-018-9389-y
Keywords
Homicide rate

Turkey

Panel data