Abstract
Government favouritism in the allocation of public funds raises costs for any society in which corruption prevails. Particularistic transactions can be identified in three different situations: uncompetitive awards of public contracts when there is only one "competitive" tender, when public money is spent on contracts supplied by politically connected firms, and a situation of capture in which one private contractor obtains a disproportionate share of contracts issued by some public agency. This present research has tested for the relevance of those three types of particularistic transactions that signal government favouritism as they apply to the Romanian construction sector for the period from 2007-2013, and to do so has made use of original public procurement databases. Furthermore, it will be proposed here that the "kickback"—a percentage of particularistic awarded values—can be used as a measurement of corruption. Even conservatively estimated, kickbacks account for much of the cost borne by any society that fails to eradicate corruption. For our purposes here, amounts of kickbacks at county level have been controlled against criminal convictions for corruption at county level. As a result, data analysis provides strong evidence that kickbacks based on particularistic allocation of public funds are indeed relevant in the measurement of corruption, and the steps used to evaluate kickbacks can be used just as well for other countries.
Access options
Buy single article
Instant access to the full article PDF.
USD 39.95
Price includes VAT (USA)
Tax calculation will be finalised during checkout.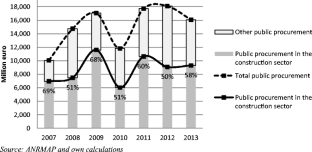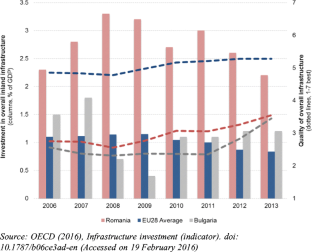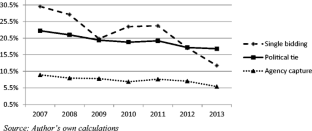 Notes
1.

The discrepancy between the high number of award notices and the contracts included in the database arises from the fact that most of the awarded contracts do not exceed 1 million Euros.

2.

The contract values have been converted into EUR using an average monthly exchange rate. Inflation was not taken into account.

3.

The percentages are probably even greater, as I applied downwards corrections to the values of contracts.

4.

The first classification takes into account different administrative structures by their activity identified geographically. The local level includes municipalities, towns and villages, each with their own elected mayors and local councils that award public contracts separately. The next layer refers to county level entities such as elected county councils, de-concentrated public services of ministries and government-appointed prefects, as well as to the Romanian capital, Bucharest. Schools and hospitals and other public entities that are not part of local or central government were assigned to the two levels mentioned above. Most of the regional contracting authorities are state companies or partially-owned state companies or universities. Finally, the "national authorities" category covers central government and state companies or partially-owned state companies that operate at national level.

5.

The second classification refers to different types of state entities: after the fall of communism state-owned companies were reorganized in so-called autonomous regies (AR) and state companies or partially state-owned companies (Comp.) supplying public services. Other types of local government taken into account are the city and town halls and local councils (CH&LC), and county councils (County C.). I also considered the following to be important categories of contracting authorities: de-concentrated services of central government present at county level (Deconc.), central government (Central G.) and special entities active in the public road infrastructure sector—the Romanian National Company of Motorways and National Roads CNADNR (which is also a state company) and the so-called road and bridge departments that are active at county level (Road D.).
References
Amore, M. D., & Bennedsen, M. (2013). The value of local political connections in a low-corruption environment. Journal of Financial Economics, 110, 387–402.

Ancutescu, I. (2014). România capitalismului de cumetrie: patru milionari din cinci au supt de la stat, Adevarul newspaper. http://adev.ro/n3mewx. Accessed 19 November 2014.

Banerjee, A., Hanna, R. & Mullainathan, S. (2012). Corruption, The Handbook of Organizational Economics, Ed. Robert Gibbons and John Roberts. Princeton University Press, 1109‐1147.

DNA (2015). Press release no. 1116/VIII/3. http://www.pna.ro/comunicat.xhtml?id = 6432. Accessed 19 June 2015.

Doroftei, M. & Dimulescu, V. (2015). Corruption Risks in the Romanian Infrastructure Sector, Government Favouritism in Europe. The Anticorruption Report 3, Ed. Alina Mungiu-Pippidi, Berlin: Budrich, 19-34.

Fazekas, M., Gutierrez Chvalkovska, J., Skuhrovec, J., Toth, I.J. & King, L. P. (2014). Are EU Funds a Corruption Risk? The Impact of EU Funds on Grand Corruption in Central and Eastern Europe, The Anticorruption Frontline. The Anticorruption Report 2, Ed. Alina Mungiu-Pippidi, Berlin: Budrich, 68-89.

Golden, M., & Picci, L. (2005). Proposal For A New Measure Of Corruption, Illustrated With Italian Data. Economics & Politics, 17, 37–75.

Goldman, E., Rocholl, J., & So, J. (2013). Politically Connected Boards of Directors and The Allocation of Procurement Contracts. Review of Finance, 17, 1617–1648.

Klasnja, M. (2015). Corruption and the Incumbency Disadvantage: Theory and Evidence. The Journal of Politics, 77, 928–942.

Ministry of Transport (2015). Proiecte infrastructura rutiera. http://mt.ro/web14/domenii-gestionate/rutier. Accessed 12 February 2015.

Mungiu-Pippidi, A. (Ed.). (2013). Controlling Corruption in Europe. The Anticorruption Report 1. Berlin: Budrich.

Mungiu-Pippidi, A. (2014). The Anticorruption Frontline. The Anticorruption Report 2. Berlin: Budrich.

Mungiu-Pippidi, A. (Ed.). (2015a). Government Favouritism in Europe. The Anticorruption Report 3. Berlin: Budrich.

Mungiu-Pippidi, A. (Ed.) (2015b). Public Integrity and Trust in Europe, https://www.government.nl/documents/reports/2016/01/18/public-integrity-and-trust-in-europe. Accessed 20 February 2016.

Olken, B. (2009). Corruption perceptions vs. corruption reality. Journal of Public Economics, 93, 950–964.

Rothstein, B., & Varraich, A. (2014). Corruption and the Opposite to Corruption. A Map of the Conceptual Landscape. http://anticorrp.eu/publications/corruption-and-the-opposite-to-corruption-a-map-of-the-conceptual-landscape/. Accessed 11 December 2014.

Simina, A. (2014). Cea mai tare afacere din România: dai un leu la partid şi iei de 15.000 de ori mai mult din contracte cu statul. Lista oficială a sponsorilor de partid care-şi recuperează "investiţia" din banii noştri, Gândul news website. http://www.gandul.info/politica/cea-mai-tare-afacere-din-romania-dai-un-leu-la-partid-si-iei-de-15-000-de-ori-mai-mult-din-contracte-cu-statul-lista-oficiala-a-sponsorilor-de-partid-care-si-recupereaza-investitia-din-banii-nostri-12426966. Accessed 19 November 2014.

Societatea Academică din România (SAR) (2015). Harta corupției judeţene 2010-2014. Machine readable database. http://romaniacurata.ro/harta-coruptiei. Accessed 7 October 2014.

Wolfensohn, J. D. (1996). People and Development, World Bank-IMF Annual Meetings Address. http://go.worldbank.org/PUC5BB8060. Accessed 19 November 2014.

World Bank (1997). Helping countries combat corruption. Poverty Reduction and Economic Management Unit, Report. http://www1.worldbank.org/publicsector/anticorrupt/corruptn/corrptn.pdf. Accessed 19 November 2014.
Acknowledgments
This article has been produced with the support of the European Union's Seventh Framework Programme for Research –Socio-economic Sciences and Humanities theme (EU Grant Agreement number: 290529). The information and views set out in this article are those of the author alone and do not reflect any collective opinion of the ANTICORRP consortium, nor do they reflect the official opinion of the European Commission. Neither the European Commission nor any person acting on behalf of the European Commission is responsible for the use which might be made of the following information. The author would like to thank Dr. Alina Mungiu-Pippidi for her guidance, Roberto Kukutschka for his help and the two reviewers for their valuable comments.
About this article
Cite this article
Doroftei, I.M. Measuring Government Favouritism Objectively: The Case of Romanian Public Construction Sector. Eur J Crim Policy Res 22, 399–413 (2016). https://doi.org/10.1007/s10610-016-9319-9
Keywords
Corruption

EU funding

Government favouritism

Kickback

Public procurement