Abstract
Research on IUU fishing has identified the importance of ports of convenience as facilitators of IUU fishing activities. These types of ports allow IUU fishing vessels to offload their illegal catch undetected and transfer it via other methods to target destinations and into international markets. No study to date has explained what port characteristics make them attractive to IUU fishing vessels. Applying the risky facilities framework, this study empirically tests ports' traits that facilitate vessel entry and offloading of illegal catch. A total of 120 ports visited by IUU fishing vessels are studied for measures of regulation of behavior and degree of enforcement activity occurring within their jurisdiction. Additionally, country-level characteristics are examined. Policy recommendations are devised to inform change in place management practices and to discourage IUU fishing activities.
Access options
Buy single article
Instant access to the full article PDF.
USD 39.95
Price includes VAT (USA)
Tax calculation will be finalised during checkout.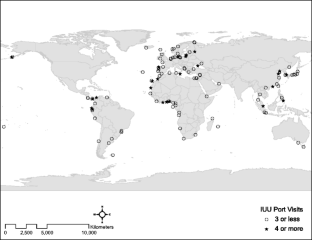 Notes
1.

Under the United Nations Convention of the Law of the Sea, a coastal country has sovereignty over the sea up to 200 nautical miles from its coast. This area is a country's exclusive economic zone or EEZ (Epps and Graham 2011).

2.

Transshipment refers to the transfer of consignments from one fishing vessel to another vessel, usually a refrigerated cargo vessel, and is carried out in both ports and at sea (EJF n.d.).

3.

These include Port Louis (Mauritius), Cape Town (South Africa) the Tanger Exportation Free Zone (Morocco) (DFID 2008), Mombasa (Kenya), Port Victoria (Seychelles) (Rigg et al. 2003), Qingdao (China), Tanjung Priok (Indonesia), Walvis Bay (Namibia), Montevideo (Uruguay), and Tenjog Pelepas (Malaysia) (HSTF 2006).

4.

The 2005 International Plan of Action-Illegal, Unreported and Unregulated Fishing (IPOA-IUU fishing) is an international agreement proposed by the UN and was designed to help countries in their effort to prevent, deter, and eliminate illegal fishing. IPOA-IUU fishing urges coastal States to implement effective control and surveillance in their waters, as well as develop port control measures.

5.

The Pew Environmental Group is an independent non-profit organization with a branch dedicated to environmental issues.

6.

7.

Data on number of vessels was recorded two ways: daily number of arrivals to port during March and April 2014, and real-time number of vessels at port recorded once a month during 7 months (November 2013–April 2014). A correlation analysis of these two variables shows a very strong positive correlation coefficient (r = .92, p < .01). Daily number of arrivals from port has been used in the statistical analyses, as it constitutes a more accurate representation of vessel traffic.

8.

Recording the data for 7 months minimizes seasonal effects. Data were recorded around the 6th of each month, at different times of the day to account for day of the week and time of the day variations. Analyses of the data collected on different months show a consistent strong positive correlation coefficient.

9.

Paris MoU, Tokyo MoU, Acuerdo de Viña del Mar, Caribbean MoU, Abuja MoU, Black Sea MoU, Mediterranean MoU, Indian Ocean MoU, Riyadh MoU.

10.

These include Albania, Madagascar, Montenegro, Syria, Tonga.

11.

These include Russia, party to the Paris MoU, Tokyo MoU, and Black Sea MoU; Peru, party to Tokyo MoU and Acuerdo de Viña del Mar; and Australia, party to Tokyo MoU and Indian Ocean MoU.

12.

These sources include Free Trade Zone and Port Hinterland Development (UN ESCAP 2005), the list of Free zones in existence and in operation in the European Community (European Commission and Taxation and Customs Union 2013), the list of U.S. Foreign-Trade zones (International Trade Administration 2013), as well as www.findaport.com.

13.

For 'country level of illegal fishing' (t(84) = −2.35, p < .01), 'country score on catch inspections schemes' (t(85) = −2.03, p < .05) and 'country corruption index score' (U = 926, z = −1.89, p < .05), 'average daily vessel traffic in port' (U = 608, z = −1.57, p < .10), 'average daily fishing vessel traffic' (U = 524, z = −2.00, p < .05), 'harbor size' (U = 744, z = −2.76, p < .01), 'free port' (χ 2 (120) = 4.71, p < .05).

14.

For 'rate of vessels inspected per 1000 arrivals' (U = 415, z = −2.06, p < .05).
References
Black, R. (2007). Action urged on illegal fishing. BBC News. Retrieved October 21, 2013, http://news.bbc.co.uk/2/hi/6602639.stm.

Caldwell, R., & Fox, H. (2006). Recovery from blast fishing on coral reefs: a tale of two scales. Ecological Applications, 16(5), 1631–1635.

Chula Vista Police Department. Chief's Community Advisory Committee. (2004). The Chula Vista Motel project. Chula Vista: Chula Vista Police Department.

Clarke, R. V., & de By, R. (2013). Poaching, habitat loss and the decline of neo-tropical parrots: a comparative spatial analysis. Journal of Experimental Criminology, 9(3), 333–353.

Clarke, R. V. G., & Eck, J. E. (2007). Understanding risky facilities. Washington: US Department of Justice, Office of Community Oriented Policing Services.

Clarke, R. V., & Goldstein, H. (2002). Reducing theft at construction sites: Lessons from a problem-oriented project. In N. Tilley (Ed.), Analysis for crime prevention. Crime prevention studies (Vol. 13). Monsey: Criminal Justice Press.

DFID (2008). The impact of flags and ports of non compliance in the SADC region. Programme studies. Project No. 8. The Department for International Development of the UK.

Doughty, R. W., & Carmichael, V. (2011). The albatross and the fish: Linked lives in the open seas. Austin: University of Texas Press.

Eck, J. E., Clarke, R. V., & Guerette, R. T. (2007). Risky facilities: Crime concentration in homogeneous sets of establishments and facilities (Crime prevention studies, Vol. 21). Monsey: Criminal Justice Press.

EFTEC. (2008). Costs of illegal, unreported and unregulated fishing in EU fisheries. London: Economics for Environment Consultancy, Ltd.

EJF. (2007). Illegal driftnetting in the Mediterranean. London: Environmental Justice Foundation. ISBN No. I-904523-II-0.

EJF (n.d.). Transshipment at sea: The need for a ban in West Africa. Environmental Justice Foundation. Retrieved May 5, 2015, from http://ejfoundation.org/sites/default/files/public/ejf_transhipments_at_sea_web_0.pdf.

Epps, V., & Graham, L. (2011). International law: Examples and explanations. New York: Aspen Publishers.

European Commission, Taxation and Customs Union. (2013). Free zones in existence and in operation in the Community, as notified by the Member States to the Commission as of August 13 2013. Retrieved March 10, 2014, from http://ec.europa.eu/taxation_customs/resources/documents/customs/procedural_aspects/imports/free_zones/list_freezones.pdf.

FAO (2007). FAO workshop on vulnerable ecosystems and destructive fishing in deep-sea fisheries. Food and Agriculture Organization of the United Nations. Report No. 829. Rome, Italy.

FAO (2009). FAO yearbook of fishery statistics summary tables. Food and Agriculture Organization of the United Nations. Retrieved November 16, 2013, from http://www.fao.org/fishery/statistics/global-consumption/en.

FAO (2010). The state of world fisheries and aquaculture. Food and Agriculture Organization of the United Nations. Retrieved June 7, 2014, from http://www.fao.org/docrep/013/i1820e/i1820e01.pdf.

HSTF (2006). Closing the net: Stopping illegal fishing on the high seas. Final report of the Ministerially-led Task Force on IUU Fishing on the High Seas. High Seas Task Force. London, UK. Available at: www.high-seas.org.

International Trade Administration (2013). U.S. foreign-trade zones. Retrieved March 10, 2014, from http://enforcement.trade.gov/ftzpage/letters/ftzlist-map.html.

International Trademark Association (2006). Role of free trade zones and free ports in the transshipment and transit of counterfeit goods. Retrieved March 10, 2014, from http://www.inta.org/Advocacy/Pages/RoleofFreeTradeZonesandFreePortsintheTransshipmentandTransitofCounterfeitGoods.aspx.

Lavorgna, A. (2014). Wildlife trafficking in the Internet age. Crime Science, 3, 5–17.

Lemieux, A. M. (2014). Situational prevention of poaching. New York: Taylor & Francis.

Lemieux, A. M., & Clarke, R. V. (2009). The international ban on ivory sales and its effects on elephant poaching in Africa. British Journal of Criminology, 49(4), 451–471.

Mortimer, J. A., Donnelly, M., & Plotkin, P. T. (2000). Sea turtles. In C. R. C. Sheppard (Ed.), Sea at the Millenium: An environmental evaluation, Vol III: Global issues and processes. Amsterdam: Pergamot Elsevier Science.

MRAG (2008). Study and analysis of the status of IUU fishing in the SADC region and an estimate of the economic, social and biological impacts. Volume 2-Main Report. Marine Resource Assessment Group. A link to the full document is available at: http://www.stopillegalfishing.com/doc/study_of_the_status_of_IUUfishing_in_sadcregion_n_estimate_ESBI_vol2_eng.pdf.

National Geospatial –Intelligence Agency (2009). World port index. Nineteenth Edition. Available at http://www.dtic.mil/dtic/tr/fulltext/u2/a510220.pdf.

Palma, M. A. (2010). Promoting sustainable fisheries: The international legal and policy framework to combat illegal, unreported and unregulated fishing. Boston: Martinus Nojhoff.

Petrossian, G. A. (2014). Preventing illegal, unreported and unregulated (IUU) fishing: A situational approach. Biological Conservation. doi:10.1016/j.biocon.2014.09.005.

Petrossian, G. A., & Clarke, R. V. (2014). Explaining and controlling illegal commercial fishing An application of the CRAVED theft model. British Journal of Criminology, 54(1), 73–90.

PEW Environmental Group, The (2010). Port state performance report. Available at http://www.pewtrusts.org/uploadedFiles/wwwpewtrustsorg/Reports/Protecting_ocean_life/Port%20State%20Performance%20report.pdf?n=6316.

Pires, S. F., & Clarke, R. V. (2011). Sequential foraging, itinerant fences and parrot poaching in Bolivia. British Journal of Criminology, 51(2), 314–335.

Pires, S., & Clarke, R. V. (2012). Are parrots CRAVED? An analysis of parrot poaching in Mexico. Journal of Research in Crime and Delinquency, 49(1), 122–146.

Pitcher, T., Kalikoski, D., & Pramod, G. (2006). Evaluations of compliance with the FAO (UN) Code of Conduct for Responsible Fisheries (Fisheries Centre Research Report 14(2)). Vancouver: University of British Columbia.

Rigg, K, Parmentier, R. & Currie, D., The Varda Group (2003). Halting IUU fishing: Enforcing international fisheries agreements. Report prepared for OCEANA.

Schneider, J. L. (2008). Reducing the illicit trade in endangered wildlife: the market reduction approach. Journal of Contemporary Criminal Justice, 24(3), 274–295.

Swartz, W., Sumaila, U. R., Watson, R., & Pauly, D. (2010). Sourcing seafood for the three major markets: the EU, Japan and the USA. Marine Policy, 34, 1366–1373.

Transparency International. (2009). Corruption perceptions index 2009. Retrieved October 9, 2013, from http://www.transparency.org/research/cpi/cpi_2009.

United Nations Economic and Social Commission for Asia and the Pacific. (2005). Free trade zone and port hinterland development. UN ESCAP.

UNODC. (2011). Transnational organized crime in the fishing industry: Focus on trafficking in persons, smuggling of migrants and illicit drugs trafficking. Vienna: United Nations.

Worm, B., Hilborn, R., Baum, J. K., Branch, T. A., Collie, J. S., Costello, C., Fogarty, M. J., Fulton, E. A., Hutchings, J. A., Jennings, S., Jensen, O. P., Lotze, H. K., Mace, P. M., McClanahan, T. R., Minto, C., Palumbi, S. R., Parma, A. M., Ricard, D., Rosenberg, A. A., Watson, R., & Zeller, D. (2009). Rebuilding global fisheries. Science, 325(5940), 578–585.
Appendix
Appendix
List of Ports Visited Four or More Times by IUU Fishing Vessels from 2004 to 2009
| Port name | Country | # of visits of IUU fishing vessels 2004-09 |
| --- | --- | --- |
| DAVAO | Philippines | 4 |
| GUAYAQUIL | Ecuador | 4 |
| HONG KONG | China | 4 |
| LA CORUNA | Spain | 4 |
| LOME | Togo | 4 |
| ST PETERSBURG | Russia | 4 |
| VALLETTA HARBOR | Malta | 4 |
| LAGOS | Nigeria | 5 |
| LIEPAJA | Latvia | 5 |
| QINGDAO GANG | China | 5 |
| AGADIR | Morocco | 6 |
| DALIAN | China | 6 |
| ABIDJAN | Ivory Coast | 8 |
| BALBOA | Panama | 8 |
| KLAIPEDA | Lithuania | 8 |
| DUTCH HARBOR | United States | 9 |
| LAS PALMAS | Spain | 10 |
| TEMA | Ghana | 11 |
| PUSAN | South Korea | 12 |
| CARTAGENA | Colombia | 14 |
| ROSTOCK | Germany | 14 |
| KALININGRAD | Russia | 15 |
| NOUADHIBOU | Mauritania | 15 |
| MANTA | Ecuador | 16 |
| SEVASTOPOL | Ukraine | 16 |
| KEPPEL - EAST SINGAPORE | Singapore | 32 |
About this article
Cite this article
Petrossian, G.A., Marteache, N. & Viollaz, J. Where do "Undocumented" Fish Land? An Empirical Assessment of Port Characteristics for IUU Fishing. Eur J Crim Policy Res 21, 337–351 (2015). https://doi.org/10.1007/s10610-014-9267-1
Keywords
Environmental criminology

IUU fishing

Ports of convenience

Risky facilities