Abstract
An attentional bias toward threat may be one mechanism underlying clinical anxiety. Attention bias modification (ABM) aims to reduce symptoms of anxiety disorders by directly modifying this deficit. However, existing ABM training programs have not consistently modified attentional bias and may not reflect optimal learning needs of participants (i.e., lack of explicit instruction, training goal unclear to participants, lack of feedback, non-adaptive, inability to differentiate or target different components of attentional bias). In the current study, we introduce a new adaptive ABM program (AABM) and test its feasibility in individuals with social anxiety disorder. We report task characteristics and preliminary evidence that this task consistently modifies attentional bias and that changes in attentional bias (but not number of trials) correlate with the level of symptom reduction. These results suggest that AABM may be a targeted method for the next generation of studies examining the utility of attention training.
Access options
Buy single article
Instant access to the full article PDF.
USD 39.95
Price includes VAT (USA)
Tax calculation will be finalised during checkout.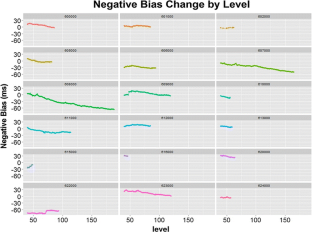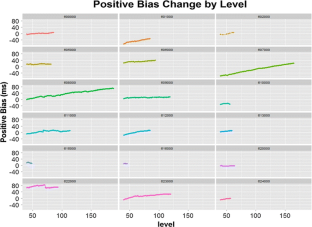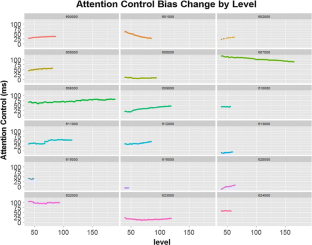 References
Amir, N., Elias, J., Klumpp, H., & Przeworski, A. (2003). Attentional bias to threat in social phobia: Facilitated processing of threat or difficulty disengaging attention from threat? Behaviour Research and Therapy, 41(11), 1325–1335.

Baert, S., De Raedt, R., Schacht, R., & Koster, E. H. (2010). Attentional bias training in depression: Therapeutic effects depend on depression severity. Journal of Behavior Therapy and Experimental Psychiatry, 41(3), 265–274.

Baker, S. L., Heinrichs, N., Kim, H. J., & Hofmann, S. G. (2002). The Liebowitz social anxiety scale as a self-report instrument: A preliminary psychometric analysis. Behaviour Research and Therapy, 40(6), 701–715.

Bar-Haim, Y., Morag, I., & Glickman, S. (2011). Training anxious children to disengage attention from threat: A randomized controlled trial. Journal of Child Psychology and Psychiatry, 52(8), 861–869.

Beard, C., Sawyer, A. T., & Hofmann, S. G. (2012). Efficacy of attention bias modification using threat and appetitive stimuli: A meta-analytic review. Behavior Therapy, 43(4), 724–740.

Boutelle, K. N., Kuckertz, J. M., Carlson, J., & Amir, N. (2014). A pilot study evaluating a one-session attention modification training to decrease overeating in obese children. Appetite, 76, 180–185.

Burgers, C., Edena, A., van Engelenburga, M., & Buninghb, S. (2015). How feedback boosts motivation and play in a brain-training game. Computers in Human Behavior, 48, 94–103. doi:10.1016/j.chb.2015.01.038.

Cavanagh, J. F., & Shackman, A. J. (2015). Frontal midline theta reflects anxiety and cognitive control: Meta-analytic evidence. Journal of Physiology-Paris, 109(1), 3–15. doi:10.1016/j.jphysparis.2014.04.003.

Clarke, P. J. F., Notebaert, L., & MacLeod, C. (2014). Absence of evidence or evidence of absence: Reflecting on therapeutic implementations of attentional bias modification. BMC Psychiatry, 14, 8.

Cristea, I. A., Kok, R. N., & Cuijpers, P. (2015a). Efficacy of cognitive bias modification interventions in anxiety and depression: Meta-analysis. British Journal of Psychiatry, 206, 7–16. doi:10.1192/bjp.bp.114.146761.

Cristea, I. A., Mogoaşe, C., David, D., & Cuijpers, P. (2015b). Practitioner review: Cognitive bias modification for mental health problems in children and adolescents: A meta-analysis. Journal of Child Psychology and Psychiatry, 56, 723–734. doi:10.1111/jcpp.12383.

Dandeneau, S. D., & Baldwin, M. W. (2004). The inhibition of socially rejecting information among people with high versus low self-esteem: The role of attentional bias and the effects of bias reduction training. Journal of Social and Clinical Psychology, 23(4), 584–603.

Dandeneau, S. D., Baldwin, M. W., Baccus, J. R., Sakellaropoulo, M., & Pruessner, J. C. (2007). Cutting stress off at the pass: Reducing vigilance and responsiveness to social threat by manipulating attention. Journal of Personality and Social Psychology, 93(4), 651.

Emmelkamp, P. M. (2012). Attention bias modification: The Emperor's new suit? BMC Medicine, 10(1), 63.

Eriksen, B. A., & Eriksen, C. W. (1974). Effects of noise letters upon the identification of a target letter in a nonsearch task. Perception and Psychophysics, 16(1), 143–149.

First, M. B., Spitzer, R. L., Gibbon, M., & Williams, J. B. (2002). Structured clinical interview for DSMIV-TR Axis I disorders, research version, patient edition (SCID-I/P). New York, NY: Biometrics Research, New York State Psychiatric Institute.

Fresco, D. M., Coles, M. E., Heimberg, R. G., Liebowitz, M. R., Hami, S., Stein, M. B., & Goetz, D. (2001). The Liebowitz Social Anxiety Scale: A comparison of the psychometric properties of self-report and clinician-administered formats. Psychological Medicine, 31(06), 1025–1035.

Hakamata, Y., Lissek, S., Bar-Haim, Y., Britton, J. C., Fox, N. A., Leibenluft, E., et al. (2010). Attention bias modification treatment: A meta-analysis toward the establishment of novel treatment for anxiety. Biological Psychiatry, 68(11), 982–990.

Hallett, P. E. (1978). Primary and secondary saccades to goals defined by instructions. Vision Research, 18(10), 1279–1296.

Hallion, L. S., & Ruscio, A. M. (2011). A meta-analysis of the effect of cognitive bias modification on anxiety and depression. Psychological Bulletin, 137(6), 940–958.

Heeren, A., Mogoaşe, C., McNally, R. J., Schmitz, A., & Philippot, P. (2015). Does attention bias modification improve attentional control? A double-blind randomized experiment with individuals with social anxiety disorder. Journal of Anxiety Disorders, 29, 35–42. doi:10.1016/j.janxdis.2014.10.007.

Heimberg, R. G., Horner, K. J., Juster, H. R., Safren, S. A., Brown, E. J., Schneier, F. R., & Liebowitz, M. R. (1999). Psychometric properties of the Liebowitz social anxiety scale. Psychological Medicine, 29(01), 199–212.

Hutton, S. B., & Ettinger, U. (2006). The antisaccade task as a research tool in psychopathology: A critical review. Psychophysiology, 43, 302–313.

Iacoviello, B. M., Wu, G., Abend, R., Murrough, J. W., Feder, A., Fruchter, E., et al. (2014). Attention bias variability and symptoms of posttraumatic stress disorder. Journal of Traumatic Stress, 27(2), 232–239.

Koster, E. H. W., Crombez, G., Verschuere, B., Van Damme, S., & Wiersema, J. R. (2006). Components of attentional bias to threat in high trait anxiety: Facilitated engagement, impaired disengagement, and attentional avoidance. Behaviour Research and Therapy, 44(12), 1757–1771.

Koster, E. H. W., De Raedt, R., Goeleven, E., Franck, E., & Crombez, G. (2005). Mood-congruent attentional bias in dysphoria: Maintained attention to and impaired disengagement from negative information. Emotion, 5(4), 446–455.

Krebs, G., Hirsch, C. R., & Mathews, A. (2010). The effect of attention modification with explicit vs. minimal instructions on worry. Behaviour Research and Therapy, 48(3), 251–256.

Kuckertz, J. M., & Amir, N. (2015). Attention bias modification for anxiety and phobias: Current status and future directions. Current Psychiatry Reports, 17(2), 1–8.

Kuckertz, J. M., Gildebrant, E., Liliequist, B., Karlström, P., Väppling, C., Bodlund, O., et al. (2014). Moderation and mediation of the effect of attention training in social anxiety disorder. Behaviour Research and Therapy, 53, 30–40.

Liebowitz, M. R. (1987). Social phobia. Modern Problems of Pharmacopsychiatry, 22, 141–173.

Linetzky, M., Pergamin-Hight, L., Pine, D. S., & Bar-Haim, Y. (2015). Quantitative evaluation of the clinical efficacy of attention bias modification treatment for anxiety disorders. Depression and Anxiety, 32(6), 383–391.

Locke, E. A. (1996). Motivation through conscious goal setting. Applied and Preventive Psychology, 5(2), 117–124.

Locke, E. A., & Latham, G. P. (2006). New directions in goal-setting theory. Current Directions in Psychological Science, 15(5), 265–268.

MacLeod, C., & Clarke, P. J. (2015). The attentional bias modification approach to anxiety intervention. Clinical Psychological Science, 3(1), 58–78.

MacLeod, C., Mathews, A., & Tata, P. (1986). Attentional bias in emotional disorders. Journal of Abnormal Psychology, 95(1), 15.

MacLeod, C., Rutherford, E., Campbell, L., Ebsworthy, G., & Holker, L. (2002). Selective attention and emotional vulnerability: Assessing the causal basis of their association through the experimental manipulation of attentional bias. Journal of Abnormal Psychology, 111(1), 107–123.

McGeary, J. E., Meadows, S. P., Amir, N., & Gibb, B. E. (2014). Computer-delivered, home-based, attentional retraining reduces drinking behavior in heavy drinkers. Psychology of Addictive Behaviors, 28(2), 559.

Mennin, D. S., Fresco, D. M., Heimberg, R. G., Schneier, F. R., Davies, S. O., & Liebowitz, M. R. (2002). Screening for social anxiety disorder in the clinical setting: Using the Liebowitz Social Anxiety Scale. Journal of Anxiety Disorders, 16, 661–673. doi:10.1016/S0887-6185(02)00134-2.

Mogoaşe, C., David, D., & Koster, E. H. W. (2014). Clinical efficacy of attentional bias modification procedures: An updated meta-analysis. Journal of Clinical Psychology. Retrieved from http://www.ncbi.nlm.nih.gov/pubmed/24652823

Moser, J. S., Moran, T. P., Schroder, H. S., Donnellan, M. B., & Yeung, N. (2013). On the relationship between anxiety and error monitoring: A meta-analysis and conceptual framework. Frontiers in Human Neuroscience, 7, 466. doi:10.3389/fnhum.2013.00466.

Nelson, B. D., Jackson, F., Amir, N., & Hajcak, G. (2015). Single-session attention bias modification and error-related brain activity. Cognitive, Affective, & Behavioral Neuroscience, 15(4), 776–786. doi:10.3758/s13415-015-0365-4.

Nishiguchi, Y., Takano, K., & Tanno, Y. (2015). Explicitly guided attentional bias modification promotes attentional disengagement from negative stimuli. Emotion. doi:10.1037/a0039117.

O'Driscoll, G. A., Alpert, N. M., Matthysse, S. W., Levy, D. L., Rauch, S. L., & Holzman, P. S. (1995). Functional neuroanatomy of antisaccade eye movements investigated with positron emission tomography. Proceedings of the National Academy of Sciences, 92(3), 925–929.

Posner, M. I. (1980). Orienting of attention. The Quarterly Journal of Experimental Psychology, 32(1), 3–25.

Price, R. B., Kuckertz, J. M., Siegle, G., Ladouceur, C., Silk, J. S., Ryan, N. D., et al. (2015). Empirical recommendations for improving the stability of the dot-probe task in clinical research. Psychological Assessment, 27, 365–376. doi:10.1037/pas0000036.

Skinner, B. F. (1954). The science of learning and the art of teaching. Harvard Educational Review, 24(2), 86–97.

Zvielli, A., Bernstein, A., & Koster, E. W. (2015). Temporal dynamics of attentional bias. Clinical Psychological Science, 3, 772–788. doi:10.1177/2167702614551572.
Acknowledgments
We would like to thank Cathy Chen and Kerry Kinney for their help with data collection. This study was supported by National Institutes of Health Grant R01 MH087623 awarded to the first author.
Ethics declarations
Conflict of Interest
Nader Amir is part owner of a company that markets anxiety relief products. Jennie M. Kuckertz and Marlene V. Strege declare that they have no conflicts of interest.
Informed Consent
All procedures followed were in accordance with the ethical standards of the responsible committee on human experimentation (national and institutional). Informed consent was obtained from all individual subjects participating in the study.
Animal Rights
No animal studies were carried out by the authors for this article.
Electronic supplementary material
Below is the link to the electronic supplementary material.
About this article
Cite this article
Amir, N., Kuckertz, J.M. & Strege, M.V. A Pilot Study of an Adaptive, Idiographic, and Multi-Component Attention Bias Modification Program for Social Anxiety Disorder. Cogn Ther Res 40, 661–671 (2016). https://doi.org/10.1007/s10608-016-9781-1
Keywords
Social anxiety

Cognitive bias modification

Attentional bias

Attention bias modification