Abstract
Attention Training (ATT) is a technique used in metacognitive therapy but it has also been shown to produce stand-alone effects. The present study replicates and extends an earlier study of the effects of ATT on traumatic-stress symptoms. A sample of 60 university students who reported a traumatic life event were randomly assigned to either an ATT group (n = 29) or a control group (n = 31). They were exposed to a recorded narrative of their stressful experience before and after the intervention and the primary outcomes were frequency of intrusions and negative affect reported. Secondary outcomes included self-report and performance-based measures of attention flexibility. ATT significantly reduced intrusions and improved negative affect in individuals who had experienced a stressful life event. The technique also appeared to reduce self-focused attention, increase attention flexibility and modified performance on an emotional attention set shifting task. The results suggest that ATT can be beneficial in reducing specific traumatic stress symptoms.
This is a preview of subscription content, log in to check access.
Access options
Buy single article
Instant access to the full article PDF.
US$ 39.95
Price includes VAT for USA
Subscribe to journal
Immediate online access to all issues from 2019. Subscription will auto renew annually.
US$ 99
This is the net price. Taxes to be calculated in checkout.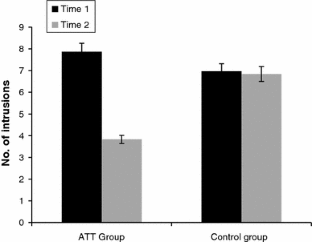 Notes
1.

This score was sufficient in the pilot study (Nassif and Wells 2014) and was introduced to avoid possible floor effects so that the impact of ATT could be observed on symptoms.
References
Bryant, R. A., & Harvey, A. G. (1997). Attentional bias in posttraumatic stress disorder. Journal of Traumatic Stress, 10, 635–644.

Cavanagh, M. J., & Franklin, J. (2000). Attention training and hypochondriasis: Preliminary results of a controlled treatment trial. Vancouver, Canada: Paper presented at the World Congress of Behavioural and Cognitive Therapies.

Clark, D. A. (2005). Intrusive thoughts in clinical disorders: Theory, research, and treatment. New York: The Guilford Press.

Cohen, J. (1988). Statistical power analysis for the behavioural sciences. Hillsdale, NJ: Erlbaum.

Derryberry, D., & Reed, M. A. (1994). Temperament and attention: Orienting toward and away from positive and negative signals. Journal of Personality Social Psychology, 66, 1128–1139.

Eysenck, M. W., Derakshan, N., Santos, R., & Calvo, M. G. (2007). Anxiety and cognitive performance: Attentional control theory. Emotion, 7, 336–353.

Foa, E. B., Molnar, C., & Cashman, L. (1995). Change in rape narratives during exposure therapy for posttraumatic stress disorder. Journal of Traumatic Stress, 8, 675–690.

Gold, S. D., Marx, B. P., Soler-Baillo, J. M., & Sloan, D. M. (2005). Is life stress more traumatic than traumatic stress? Journal of Anxiety Disorders, 19, 687–698.

Horowitz, M., Wilner, N., & Alvarez, W. (1979). Impact of event scale: A measure of subjective stress. Psychosomatic Medicine, 41(3), 209–218.

Johnson, D. (2009). Emotional attention set-shifting and its relationship to anxiety and emotion regulation. Emotion, 9(5), 681–690.

Kessler, R. C., Sonnega, A., Bromet, E., Hughes, M., & Nelson, C. (1995). Posttraumatic stress disorder in the national comorbidity survey. Archives of General Psychiatry, 52, 1048–1060.

MacLeod, C., Mathews, A., & Tata, P. (1986). Attentional bias in emotional disorders. Journal of Abnormal Psychology, 95, 15–20.

Matthews, G., & Wells, A. (2000). Attention, automaticity and affective disorder. Behavior Modification, 24, 69–93.

McEvoy, P. M., & Perini, S. J. (2009). Cognitive behavioral group therapy for social phobia with or without attention training: A controlled trial. Journal of Anxiety Disorders, 23, 519–528.

Monsell, S. (2003). Task switching. Trends in the Cognitive Sciences, 7, 134–140.

Nassif, Y., & Wells, A. (2007). The detached mindfulness questionnaire. Unpublished self-report scale. UK: University of Manchester.

Nassif, Y. & Wells, A. (2014). Attention training reduces intrusive thoughts cued by a narrative of stressful life events: A controlled study. Journal of Clinical Psychology, Wiley online: DOI; 10.1002/jclp.22047.

Papageorgiou, C., & Wells, A. (1998). Effects of attention training in hypochondriasis: An experimental case series. Psychological Medicine, 28, 193–200.

Papageorgiou, C., & Wells, A. (2000). Treatment of recurrent major depression with attention training. Cognitive and Behavioral Practice, 7, 407–413.

Roberts, A. L., Dohrenwend, B. P., Aiello, A. E., Wright, R. J., Maercker, A., Galea, S., et al. (2012). The stressor criterion for posttraumatic stress disorder: Does it matter? Journal of Clinical Psychiatry, 73, 264–270.

Siegle, G. J., Ghinassi, F., & Thase, M. E. (2007). Neurobehavioural therapies in the 21st century: Summary of an emerging field and an extended example of cognitive training for depression. Cognitive Therapy and Research, 31, 253–262.

Valmaggia, L., Bouman, T. K., & Schuurman, L. (2007). Attention training with auditory hallucinations: A case study. Cognitive and Behavioural Practice, 14, 127–133.

Verbruggen, F., Liefooghe, B., Vandierendonck, A., & Demanet, J. (2007). Short cue presentations encourage advance task preparation: A recipe to diminish the residual switch cost. Journal of Experimental Psychology. Learning, Memory, and Cognition, 33, 342–356.

Watson, D., Clark, L. A., & Tellegen, A. (1988). Development and validation of brief measures of positive and negative affect: The PANAS scales. Journal of Personality and Social Psychology, 54(6), 1063–1070.

Wells, A. (1990). Panic disorder in association with relaxation induced anxiety: An attentional training approach to treatment. Behaviour Therapy, 21, 273–280.

Wells, A. (2000). Emotional disorders and metacognition. Innovative cognitive therapy. Chichester: Wiley.

Wells, A. (2009). Metacognitive therapy for anxiety and depression. New York: Guilford press.

Wells, A., & Matthews, G. (1994). Attention and emotion. A clinical perspective. Hove: Erlbaum.

Wells, A., White, J., & Carter, K. (1997). Attention training: Effects on anxiety and beliefs in panic and social phobia. Clinical Psychology and Psychotherapy, 4, 226–232.

Whitmer, A. J., & Banich, M. T. (2007). Inhibition versus switching deficits in different forms of rumination. Psychological Science, 18, 546–553.

Williams, J. M. G., Watts, F. N., MacLeod, C., & Mathews, A. (1988). Cognitive psychology and emotional disorders. Chichester, UK: Wiley.
Conflict of Interest
Sheila Callinan, Dan Johnson and Adrian Wells declare that they have no conflict of interest.
Informed Consent
All procedures followed were in accordance with the ethical standards of the responsible committee on human experimentation (institutional and national) and with the Helsinki Declaration of 1975, as revised in 2000 (5). Informed consent was obtained from all patients for being included in the study.
Animal Rights
No animal studies were carried out by the authors for this article.
About this article
Cite this article
Callinan, S., Johnson, D. & Wells, A. A Randomised Controlled Study of the Effects of the Attention Training Technique on Traumatic Stress Symptoms, Emotional Attention Set Shifting and Flexibility. Cogn Ther Res 39, 4–13 (2015). https://doi.org/10.1007/s10608-014-9634-8
Keywords
Attention training

Traumatic stress symptoms

Intrusions

Metacognition

Attentional control