Abstract
This study compared the effects of three experimental conditions on sleep: regret (negative emotion condition), pride (positive emotion condition), and description of a typical working day (emotionally neutral condition). A sample of 176 undergraduate students received sealed envelopes to be opened prior to sleep in the evening. The evening envelope contained instructions to describe either "your most burdensome regret," "the action you are most proud of," or, in a neutral and objective manner, a typical day during the working week. The morning envelope contained instructions to rate total wake time, sleep-onset latency, and total sleep time the preceding night. Additional questionnaires on insomnia severity, trait anxiety, and counterfactual processing were completed in a larger data collection session. Analyses revealed that in participants with habitually high levels of regret, focusing on regret prior to sleep significantly delayed sleep onset in comparison with the neutral condition. This effect was independent of preexisting levels of insomnia severity and trait anxiety. In contrast, focusing on pride prior to sleep did not significantly alter sleep, as compared with the neutral condition. These findings suggest that emotional arousal may contribute to sleep disturbance and should be clearly distinguished from cognitive arousal in the etiology of insomnia.
Access options
Buy single article
Instant access to the full article PDF.
USD 39.95
Price excludes VAT (USA)
Tax calculation will be finalised during checkout.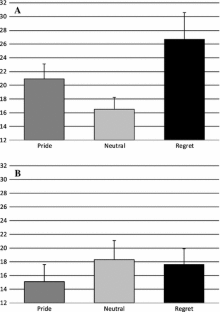 References
Baglioni, C., Spiegelhalder, K., Lombardo, C., & Riemann, D. (2010). Sleep and emotions: A focus on insomnia. Sleep Medicine Reviews, 14, 227–238.

Bastien, C. H., Vallières, A., & Morin, C. M. (2001). Validation of the Insomnia Severity Index as an outcome measure for insomnia research. Sleep Medicine, 2, 297–307.

Blais, F. C., Gendron, L., Mimeault, V., & Morin, C. M. (1997). Evaluation de l'insomnie: Validation de trois questionnaires [Evaluation of insomnia: Validation of three questionnaires]. L'Encéphale, 23, 447–453.

Brand, S., Luethi, M., von Planta, A., Hatzinger, M., & Holsboer-Trachsler, E. (2007). Romantic love, hypomania, and sleep pattern in adolescents. Journal of Adolescent Health, 41, 69–76.

Buysse, D. J., Reynolds, C. F, I. I. I., Monk, T. H., Berman, S. R., & Kupfer, D. J. (1989). The Pittsburgh sleep quality index: A new instrument for psychiatric practice and research. Psychiatry Research, 28, 193–213.

Canli, T., Zhao, Z., Brewer, J., & Cahill, L. (2000). Event-related activation in the human amygdala associates with later memory for individual emotional experience. The Journal of Neuroscience, 20(RC99), 1–5.

Carver, C. S., Sinclair, S., & Johnson, S. L. (2010). Authentic and hubristic pride: Differential relations to aspects of goal regulation, affect, and self-control. Journal of Research in Personality, 44, 698–703.

Edinger, J. D., & Means, M. K. (2005). Cognitive-behavioral therapy for primary insomnia. Clinical Psychology Review, 25, 539–558.

Emmons, R. A., & McCullough, M. E. (2003). Counting blessings versus burdens: An experimental investigation of gratitude and subjective well-being in daily life. Journal of Personality and Social Psychology, 84, 377–389.

Espie, C. A. (2002). Insomnia: Conceptual issues in the development, persistence, and treatment of sleep disorders in adults. Annual Review of Psychology, 53, 215–243.

Espie, C. A. (2007). Understanding insomnia through cognitive modelling. Sleep Medicine, 8(Suppl. 4), S3–S8.

Gilbert, P., & Procter, S. (2006). Compassionate mind training for people with high shame and self-criticism: Overview and pilot study of a group therapy approach. Clinical Psychology and Psychotherapy, 13, 353–379.

Harvey, A. G. (2000). Pre-sleep cognitive activity: A comparison of sleep-onset insomniacs and good sleepers. British Journal of Clinical Psychology, 39, 275–286.

Harvey, A. G. (2002). A cognitive model of insomnia. Behaviour Research and Therapy, 40, 869–893.

Harvey, A. G., Tang, N. K. Y., & Browning, L. (2005). Cognitive approaches to insomnia. Clinical Psychology Review, 25, 593–611.

Ingersoll-Dayton, B., & Krause, N. (2005). Self-forgiveness: A component of mental health in later life. Research on Aging, 27, 267–289.

Mai, E., & Buysse, D. J. (2008). Insomnia: Prevalence, impact, pathogenesis, differential diagnosis, and evaluation. Sleep Medicine Clinics, 3, 167–174.

McNamara, P., Andresen, J., Arrowood, J., & Messer, G. (2002). Counterfactual cognitive operations in dreams. Dreaming, 12, 121–133.

Mitchell, L., Mogg, K., & Bradley, B. P. (2012). Relationship between insomnia, negative emotionality and attention control. Sleep and Biological Rhythms, 10, 237–243.

Morin, C. M., Bootzin, R. R., Buysse, D. J., Edinger, J. D., Espie, C. A., & Lichstein, K. L. (2006). Psychological and behavioral treatment of insomnia: Update of the recent evidence (1998–2004). Sleep, 29, 1398–1414.

National Sleep Foundation. (2012). 2012 sleep in America poll. Washington, DC: Author.

Roese, N. J., Epstude, K., Fessel, F., Morrison, M., Smallman, R., Summerville, A., et al. (2009). Repetitive regret, depression, and anxiety: Findings from a nationally representative survey. Journal of Social and Clinical Psychology, 28, 671–688.

Roese, N. J., & Summerville, A. (2005). What we regret most… and why. Personality and Social Psychology Bulletin, 31, 1273–1285.

Sanna, L. J., Carter, S. E., & Small, E. M. (2006). The road not taken: Counterfactual thinking over time. In L. J. Sanna & E. C. Chang (Eds.), Judgments over time: The interplay of thoughts, feelings, and behaviors (pp. 163–181). New York, NY: Oxford University Press.

Schmidt, R. E., Harvey, A. G., & Van der Linden, M. (2011a). Cognitive and affective control in insomnia. Frontiers in Psychology, 22, 349.

Schmidt, R. E., Renaud, O., & Van der Linden, M. (2011b). Nocturnal regrets and insomnia in elderly people. The International Journal of Aging and Human Development, 73, 371–393.

Schmidt, R. E., Richter, M., Gendolla, G. H. E., & Van der Linden, M. (2010). Young poor sleepers mobilize extra effort in an easy memory task: Evidence from cardiovascular measures. Journal of Sleep Research, 19, 487–495.

Schmidt, R. E., & Van der Linden, M. (2009). The aftermath of rash action: Sleep-interfering counterfactual thoughts and emotions. Emotion, 9, 549–553.

Schmidt, R. E., & Van der Linden, M. (2011). The nocturnal return of neglected regrets: Deficits in regret anticipation predict insomnia. The Open Sleep Journal, 4, 20–25.

Spielberger, C. D., Gorsuch, R. L., Lushene, R., Vagg, P. R., & Jacobs, G. A. (1993). Manuel de l'inventaire d'anxiété état-trait: Forme Y (STAI–Y) [Manual for the state-trait anxiety inventory STAI (Form Y)] (M. Bruchon-Schweitzer & I. Paulhan, Trans.). Paris, France: Editions du Centre de Psychologie Appliquée.

Stoia-Caraballo, R., Rye, M. S., Pan, W., Brown Kirschman, K. J., Lutz-Zois, C., & Lyons, A. M. (2008). Negative affect and anger rumination as mediators between forgiveness and sleep quality. Journal of Behavioral Medicine, 31, 478–488.

Talbot, L. S., Hairston, I. S., Eidelman, P., Gruber, J., & Harvey, A. G. (2009). The effect of mood on sleep onset latency and REM sleep in interepisode bipolar disorder. Journal of Abnormal Psychology, 118, 448–458.

Taylor, D. J., Lichstein, K. L., Durrence, H. H., Reidel, B. W., & Bush, A. J. (2005). Epidemiology of insomnia, depression, and anxiety. Sleep, 28, 1457–1464.

Vallières, A., & Morin, C. M. (2003). Actigraphy in the assessment of insomnia. Sleep, 26, 902–906.

Walker, M. P., & van der Helm, E. (2009). Overnight therapy? The role of sleep in emotional brain processing. Psychological Bulletin, 135, 731–748.

Watkins, E. R. (2008). Constructive and unconstructive repetitive thought. Psychological Bulletin, 134, 163–206.

Wegner, D. M., Wenzlaff, R. M., & Kozak, M. (2004). Dream rebound: The return of suppressed thoughts in dreams. Psychological Science, 15, 232–236.

Whiteside, S. P., & Lynam, D. R. (2001). The five factor model and impulsivity: Using a structural model of personality to understand impulsivity. Personality and Individual Differences, 30, 669–689.

Wood, A. M., Joseph, S., Lloyd, J., & Atkins, S. (2009). Gratitude influences sleep through the mechanism of pre-sleep cognitions. Journal of Psychosomatic Research, 66, 43–48.

Wrosch, C., Bauer, I., & Scheier, M. F. (2005). Regret and quality of life across the adult life span: The influence of disengagement and available future goals. Psychology and Aging, 20, 657–670.

Zeelenberg, M., & Pieters, R. (2007). A theory of regret regulation 1.0. Journal of Consumer Psychology, 17, 3–18.
About this article
Cite this article
Schmidt, R.E., Van der Linden, M. Feeling Too Regretful to Fall Asleep: Experimental Activation of Regret Delays Sleep Onset. Cogn Ther Res 37, 872–880 (2013). https://doi.org/10.1007/s10608-013-9532-5
Published:

Issue Date:

DOI: https://doi.org/10.1007/s10608-013-9532-5
Keywords