Abstract
In an era of big data and fake news, museums' collection practices are particularly important democratic cornerstones. Participatory technologies such as crowdsourcing or wikis have been put forward as a means to make museum collections more open and searchable, motivated by a desire for efficiency but also as a way to engage the public in the development of a more diverse and polyphonic heritage. However, there is a lack of a nuanced vocabulary to describe participatory technologies in terms of democracy. Without a deeper understanding of how technology shapes the overall structures, there is a risk that the tools instead undermine democratic ambitions.
Addressing the need to conceptualize democracy in these contexts, we therefore develop a framework for participatory technologies with an eye toward the long-term development and preservation of cultural heritage. In this framework different democratic processes intersect with democratic values, from a liberal conception of democracy to a more deliberative democracy, to an agonistic pluralism emphasizing the importance of acknowledging conflict and diversity.
To firmly ground our vocabulary in museum collection practices, we have investigated two cases from museums in the US that have opposite participatory strategies for enriching images with metadata; the Smithsonian Transcription Center, and the National Gallery of Art collection on Wikimedia Commons. These cases demonstrate how the framework can be used to identify patterns of participation showing the support for different values and processes.
Furthermore, our conceptual investigation points out a contradiction in Human–Computer Interaction (HCI) research, between the pluralism and conflicts emphasized in more critical and participatory design perspectives used in the development of design, and the features in the actual design of participatory technologies, emphasizing consistency and access.
Similar content being viewed by others
1

Introduction

Cultural heritage institutions such as museums are central to the creation of our common identities and histories. They are described as democratic cornerstones that have been historically accessible to everyone (Duncan, 1995). These institutions also have conflicting roles, as platforms for the open dissemination of knowledge, and as gatekeepers of the 'right' kind of knowledge. Their role shifts from traditional ways of celebrating the past, to more inclusive and critical approaches (Guttormsen and Swensen, 2016). This can be about dealing with a colonial history (Buijs, 2016; Manyanga and Chirikure, 2017), and bringing out conflicts and the hidden dark sides of history (Swensen, 2017).

While museums have been accused of monitoring, excluding and marginalizing certain groups, they can also be places that work actively for a more just and pluralistic society (Ciolfi, 2018). The idea of a more participatory museum, that engages and directly involves the audience, has been revived with digital media (Bailey-Ross et al., 2017). Participatory technologies such as social media, blogs, wikis, or crowdsourcing tools, can contribute to a renegotiation of cultural heritage, as it opens up for alternative ways of understanding and producing cultural heritage through more participatory collections (Carnall et al., 2013; Liu, 2010). This renegotiation of the museum also raises interesting questions about ownership, identity, and authority (Kidd, 2016). In an era of big data and fake news, the collection practices in museums are maybe particularly important for the long-term management of our common history. Therefore, it is important to understand how these practices might form democratic structures, and how these are reinforced or renegotiated in the "digital heritage", when analogue infrastructures become digital.

From a democracy perspective – meaning that those affected by a decision should be included in the decision –, the digitization of our cultural heritage is interesting for several reasons. For one, participatory technologies has the potential to open up and make museum collections more accessible, which also means increased opportunities to renegotiate cultural heritage through a greater diversity of perspectives (J. Taylor and Gibson, 2017). Crowdsourcing and open source production have become a way to enable this gigantic work, while it is in itself a way to engage and involve the audience (Ridge, 2014).

From a Human–Computer Interaction (HCI) perspective, the digitalization of museum collections is especially interesting as it situates participation as a historical practice, stretching the democratic process in time. Understanding how people make cultural heritage can provide an understanding of and tools to support long term collaboration and meaning making (Giaccardi et al., 2012).

A review of the implementation of interactive functions and social media in museum practice states that the idea of 'the participatory museum' is widespread in museums' online communication (Gil-Fuentetaja and Economou, 2019). This idea positions the museum as a place where participants not only construct their own meaning but also directly develop the content and purpose of the museum. The museum becomes a place of creation, sharing, and collaboration. However, the fact that the rhetoric of participation and the technology to facilitate it are in place does not mean that power relations change (Gil-Fuentetaja and Economou, 2019). Although participatory media can potentially change the way museums engage their audiences, it is not easy for them to cede power (Jensen, 2013). Digitization also entails risks of increased asymmetry of power, as it can provide even more effective tools for perspectives that already have a great deal of influence (J. Taylor and Gibson, 2017). Improperly implemented, there is also a high risk that participatory technology reinforces hegemonic discourses around cultural heritage (Ibid). Increased instrumentalization and algorithmization of human interactions can also alienate users and fragment information instead of creating meaning and belonging (Hansson et al., 2019). Particularly with regard to large-scale participatory technologies such as crowdsourcing and open-source production, there are good reasons to remain critical of the methods and how they may reinstitute long-standing mechanisms of oppression (Brabham, 2008).

Especially when it comes to the metadata description of images, participatory technologies have been framed as way to make the collections both more accessible and more engaging. However, the arguments that motivate public participation in developing this digital heritage are often contradictory. On the one hand focus is on efficiency, that large scale participation should produce data more efficiently (Darvish and Chin, 2010; Liliana et al., 2017), providing richer descriptions (Manzo et al., 2015), and more expertise (Oosterman et al. 2015). On the other hand it is about deliberation, where public engagement is emphasized (Bujari et al., 2017), and how the museum is enriched through a broad community participation (Terras, 2011). Discussions about conflict between different interests and power hierarchies within and between groups are avoided. Regardless of what the arguments are, public participation is presented as something indisputably positive that will enhance "democracy". However, the meaning of democracy is most often not problematized. Therefore, there is a need for more detailed conceptualizations and frameworks that can guide a discussion about what meanings we attach to the concept of democracy.

In the wider literature on crowdsourcing, there are a plethora of typologies that categorize the technology based on outcome or type of motivation (Estellés-Arolas et al., 2015). Some overviews also categorize the technology into type of democratic participation, where different tools are placed on scales of participation, attributed different values of power (Oomen and Aroyo, 2011), or grades of control (Hansson et al. 2019), where they either enable weak or strong participation (Table 1). The focus is mainly on the participants' opportunity for engagement and deliberation, i.e. forms for developing knowledge together.
However, participation is not synonymous with democratic participation unless more aspects of democracy are included than just deliberation. A public discussion doesn't equal democracy as the crowd just as well can be a mob. There is a lack of studies on the connection between democracy as an overall value and the possibilities and limitations of platform interfaces. Without a more informed understanding of the implication technology mediated micro-practices can have on the overall structures, there is a risk that the tools rather than strengthen democratic practices, increase power asymmetry, reinforces hegemonic discourses, and alienate users.
From a Value Sensitive Design perspective, some information and computer technologies more readily supports certain values while rendering other activities and values more difficult (Friedman et al., 2013). Thus, in order to design tools that supports the vison of museums as a democratic cornerstone, it is therefore necessary that we understand which values are instrumentalized in technology, and what considerations or choices the platform owner, i.e. the museum, needs to make to support different democratic values.
In sum, there is a lot of optimism around the power of technology to reform the museum sector in a democratic direction through increased participation. However, when it comes to the study of what different participatory technologies do in terms of democracy, there is no nuanced vocabulary. Therefore, there is a need for a framework that can help to define how democratic values are supported in different tools and contexts.
The research question thus is; how can we identify democratic properties in the technologies used to develop the digital heritage?
In this article, we therefore start with a conceptual investigation, mapping out different democratic values and processes relevant for the digital heritage by reviewing HCI research on participatory technologies in the development of museum collections in the light of political theories. Thereafter we develop this framework further through empirical and technical investigations of cases where museums have used participatory technologies to enrich their collections with metadata.
2

Mapping democratic values and processes in the digital heritage

The renegotiation of the role of museums since the 1970s, from being the guardians of collections to platforms for education, information, and entertainment, have been strengthened by technology, and expanded the opportunities to engage and involve the audience (Gil-Fuentetaja and Economou, 2019; Simon, 2010). This altered role is also stated in ICOM's (The International Council of Museums) proposal for a new definition of the museum where different democratic values are listed (marked out by us in italics):
Museums are democratizing, inclusive and polyphonic spaces for critical dialogue about the pasts and the futures. Acknowledging and addressing the conflicts and challenges of the present, they hold artefacts and specimens in trust for society, safeguard diverse memories for future generations and guarantee equal rights and equal access to heritage for all people. Museums are not for profit. They are participatory and transparent, and work in active partnership with and for diverse communities to collect, preserve, research, interpret, exhibit, and enhance understandings of the world, aiming to contribute to human dignity and social justice, global equality and planetary wellbeing. (The International Council of Museums, n.d.)
Participatory technologies can be seen as means to support these different democratic values, from a liberal conception of democracy emphasizing equal rights and equal access focusing transparency and freedom of choice, to a more deliberative democracy focusing on the means for critical dialogue and negotiation, to the notion of an agonistic pluralism emphasizing the importance of acknowledging conflict and diversity. These values are not mutually exclusive but represents different perspectives on the core democratic idea; that those affected by a decision should be included in the decision (Dahl, 1989). In this section we define these values using literature from political sciences and the area of e-participation and provide an overview of how these values are emphasized in HCI research on museum's participatory practices.
2.1

Enabling choice; efficiency, innovation, and access

Overviews of democracy discourses in e-participation point to the fact that it is usually an unarticulated liberal conception of democracy that forms the basis for technological development (Dahlberg, 2011; Hansson et al., 2015; Heeks and Bailur, 2007). Participation in a liberal democracy is similar to participation in a market economy: participants make choices based on how these satisfy their needs and interests. Choices that can either be direct (like in direct or participatory democracy) or delegated (representative democracy). Here, the idea of individual autonomy and transparency is an essential condition for making enlightened choices. In this perspective participation relates to efficiency and innovation, and the right to access a plurality of information, i.e. large groups of users source information and match problems with solutions on a large scale. This is also where the majority of HCI-research on crowdsourcing in museum collections is situated. For example, scholars contend that crowd-sourced participation efficiently provides metadata to material that otherwise wouldn't be digitized (Alam and Campbell, 2017; Battiato et al., 2016; Geisler et al., 2010), or that it creates more pluralistic metadata. Eleta and Golbeck (2012) suggests, for example, that crowdsourced multilingual tagging could frame digital objects from different perspectives and cultural contexts as well as enhance accessibility. Several projects are focusing on the efficiency of the amateur crowd versus expert descriptors (Oosterman et al., 2014, 2015). Another theme is innovation, where crowds will enable a smarter and more innovative cultural heritage (Estermann, 2014; Prandi et al., 2019), providing "interesting data to the right users, in the right context, anytime, anywhere" (Oomen and Aroyo, 2011).

While transparency and free access to information is central for a liberal democracy, visibility is not something simple or obvious (Dahlberg, 2018). In the case of digital archives and collections, user transparency can just as easily be turned into surveillance tools, tracking and displaying user behavior. For example, the democratic right to have vote secrecy takes on different meanings when decisions are made continuously online about the descriptions of our shared histories.
2.2

Negotiation and community

In the discourse of liberal democracy, engagement and community are put forward as a means to motivate the crowd to participate with simple microtasks but not as way to develop the meanings of the cultural heritage. The idea of the participatory cultural heritage where content and meaning are developed together with the participants is more in line with proponents of deliberative democracy such as Habermas (1996) or Rawls (1993). In this perspective a broad deliberative conversation is essential for reaching a shared understanding of the agenda and the decisions taken. Cultural heritage institutions are considered important spheres for participation in the negotiation of our shared history. Without active and engaged participants, the gap between them and the institution will create alienation in society and turn the institution to a marketplace for cultural heritage consumed by a passive audience rather than a place for engagement. When designing for deliberation, in a Habermasian perspective participation in a public sphere is about having access to communicative tools and belonging to a community (for example sharing the same language and culture). In HCI-research on museum practices, this can be about engaging the audience in the development of the museum (Ali et al., 2018; Antoniou et al., 2016; B et al., 2016; Lu et al., 2019), creating new forms of storytelling (Fosh et al., 2016; Muntean et al., 2015; R. Taylor et al., 2015), or emphasizing the museum as a public sphere where history is negotiated (Affleck and Kvan, 2008). In developing museum collections, participatory, social media and open source communities such as wikis are put forward as discursive tools that supports a deliberative process, where a multitude of participants negotiate history in an open-ended way (Stuedahl and Lowe, 2014; Whitworth and Garnett, 2011).
2.3

Pluralism, differences, and conflict

However, participation in a public sphere is not the same thing as equal participation. Critiques of deliberative democracy point out that the public sphere is never a neutral place where all the facts are presented and everyone can share a common understanding. Instead, it is a sphere that is constituted by shared conflicts rather than shared interests and governed by hegemonic discourses. The definition of the public and what is considered politics, is in itself a contested issue. Fraser has for example showed how the Habermasian distinction between the public and the private, effectively excludes certain issues and voices from participation (Fraser, 1990). According to proponents of agonistic pluralism, participation is always unequal and dictated by hegemonic discourses that constrain what we perceive as possible (Laclau and Mouffe, 2001). Therefore, consensus cannot exist. Democratic decisions are, instead, "temporary result of a provisional hegemony" (Mouffe, 1999, p. 17). Mouffe suggests that democracy is about accommodating a plurality of values and identities and should be about turning conflicting interests into competing interests rather than thinking that there is one solution that fits all. Here the notion of counter-publics where competing discourses can develop (and in the long run influence the dominant public) is important (Fraser, 1985). Fraser also points out the importance of recognizing one's identity for democratic justice in a globalized context (Fraser, 2005), which points to the importance of a more inclusive cultural heritage. Recognition becomes even more acute in mediated commons where participation depends on digital literacy, which means not only being able to navigate the abundance of information online, but also being able to activate the right social network. In the area of crowdsourcing, digital differentiation and inequalities within the crowd becomes problematic when participation is used as a tool to develop information that is supposed to represent certain groups' history (Hansson et al., 2015). Studies of Amazon Mechanical Turk (Fort et al., 2011), Wikipedia (Menking and Erickson, 2015; Ortega et al., 2008; Steinmann et al., 2013), and Twitter (Duggan et al., 2015) indicate a lack of representativeness in these contexts in terms of age, gender and education. Cultural geographers have also pointed out the hegemonic discourses in the geographic web (Crampton et al., 2013; Shelton et al., 2014; Soden and Palen, 2014; Zook et al., 2015). Social media thus provides new possibilities for participation while reinforcing inequalities.

Within the cultural heritage sector the term "authorized heritage discourse", is useful for describing the hegemony represented by official cultural heritage institutions such as museums. Authorized heritage discourse means that a certain type of heritage is acknowledged and other types ignored (Smith, 2009). This concept is central for critical heritage studies that recognize the hegemony present in institutionally authorized narratives and acknowledge an increased demands for participatory approaches and wider audiences (Tsenova et al., 2020).  Schofield et al. (2019) points out similarities between participatory design and critical heritage studies in their conception of democracy and proposes participatory design methods as a way to explore what a more pluralistic heritage can entail. In practice, this approach is about simultaneously making different interests and groups visible, as well as having a critical relationship with cultural heritage as a carrier of hegemonic interests. Especially in an online context where information is created dynamically in collaborations in large dispersed groups, it is therefore important to make visible how and by whom the information is produced (Hansson and Ekenberg, 2017). Methods for this are pointed out, for example, in the field of digital humanities, where there have been several attempts to use quantified data as a way of pointing out discriminatory structures and economic-cultural connections in the cultural heritage sector (National Gallery of Art, 2019). Within HCI, the design process as means to problematize the broader sociotechnical and cultural configurations of participation has been formulated in concepts such as critical design (Dunne and Raby, 2013), reflective design, design fiction (Bleecker, 2009), design friction (Forlano and Mathew, 2014), infrastructuring (Björgvinsson et al., 2012), and feminist utopian design (Bardzell, 2014). However, the problems pointed out by proponents of agonistic pluralism are addressed foremost in critical perspectives and participatory design methodologies, not in the majority of crowdsourcing design and research.
2.4

Conceptual framework for participatory technologies

With these discussions in mind, we turn to the liberal democratic theory by Dahl (1989) to identify some core concepts. This theory is useful as a starting point for building a model for democracy in an online distributed context, as it does not constrain democracy to a certain context like the nation state or a formal institution, but rather sees democracy as an iterative and scalable process in a situation where those affected are included in the decisions regarding the situation. Dahl's model of democracy can thus be applied to members of a small group, to citizens in a state, or to participants in a voluntary organization. Democracy, from this perspective, is an ongoing reflective process where the objective is developed and redeveloped, that is not only about developing methods for collective decision-making but also about deciding on membership in the corresponding decision-making processes (Figure 1). Therefore, this is interesting as a model when it comes to the performative constitution of the cultural heritage within an online context.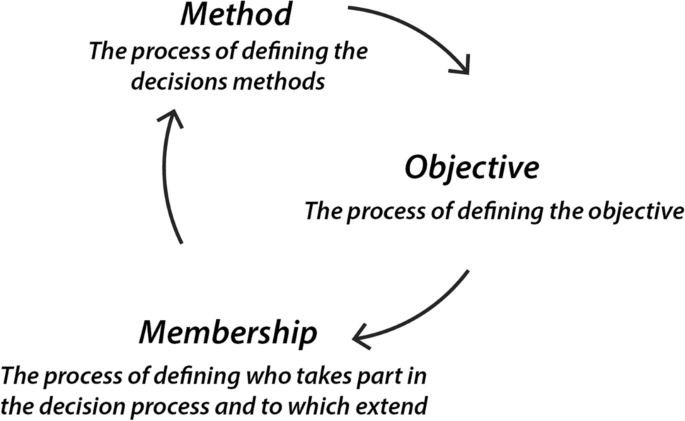 Liberal democracy, deliberative democracy and antagonistic pluralism represents different ontologies or values within the concept of democracy. These values concern democracy as enabling transparency and freedom of choice as in liberal democracy, democracy as a negotiation and consensus as in deliberative democracy, and pluralism and conflict as the core of democracy as is proposed in antagonistic pluralism. However, in our iterative democratic model (Figure 1) we argue that these values can co-exist. The first (choice) is an ambition for democracy, the second (negotiation) is a form for politics, and the third (pluralism) is a reality to take into consideration.
Central to this model is to enable freedom of choice; access to information and basic rights, such as vote secrecy, and free speech. In addition, there is the importance of negotiation; broad participation and deliberation in the development of the information, agenda-setting, problem definition, and voting. Finally, there are no democracy without pluralism: In an ideal setting equal representation is important on all levels, from setting the agenda to discussion and voting. However, due to plural and conflicting interests, capabilities, and identities, this ideal is of course impossible to achieve, especially in an online setting where membership is performative and it is unclear who is actually affected by the issue at stake. By combining the democratic processes with the values we create a framework that can be used to identify democratic properties of an interface (Table 2).
By looking at how these different democratic processes and values are expressed in the functionality of platforms, we can reflect on how democracy is facilitated in each situation, which can be either on a general level or in a micro situation such as on a crowdsourcing platform.
In the following sections, to develop the conceptual framework further through empirical and technical examinations, we will use it to analyze two cases representing different museum collection practices.
3

Method

The design of this study is influenced by a value sensitive design approach, where the aim is to integrate conceptual, empirical, and technical investigations (Friedman and Hendry, 2019). We started with the conceptual investigation of the democratic values and processes mapped in Sect. 2, summarize in a framework (Table 2), describing intersecting democratic processes and values. Here we will describe the empirical and technical investigations we used to develop this framework further.

As we have previously pointed out, available typologies on participation mostly focus on the participants' engagement and opportunity for deliberation (Hansson et al., 2019; Oomen and Aroyo, 2011), ranging on a scale from weak to strong commitment. A weak commitment to participation is, for example, about contributing simple answers in a tightly curated crowdsourcing context controlled from above by an institution, and a strong commitment is typically a context where the public is hosting resources collaboratively, discussion is supported, and the initiative can come from below. To develop a vocabulary that is grounded in museum collection practices, we have chosen two cases that represent opposite positions on this scale (described in Table 2), one contributory project and one hosted project, and thus have opposite participatory strategies for enriching images with metadata:
Smithsonian Transcription Center, a crowdsourcing interface to support transcription of text and images from the museum collections, with + 23 000 contributors. This case represents a weak commitment to participation.

National Gallery of Art collection hosted on Wikimedia Commons, where the gallery has deposit over 53 000 images from their collection. This case represents a strong commitment to participation.
These two cases were carefully selected based on a larger series of interviews with experts and staff from museums and libraries in the US and North Europe, working with participatory technologies to develop their collections.Footnote 1 The limitations of the selected cases are obviously that they are few and constrained when it comes to geographical and language areas. Furthermore, they are in the same city, in the same country and with similar funding models thus sharing similar cultural norms and participatory practices. But maybe more important they are situated in a specific democratic culture, which also mirrors the authors positionality. However, the aim with these case studies is not to deliver a universal solution, but to create a more nuanced framework for democracy as it is understood in this cultural context, applied on interfaces that are used worldwide (Wikimedia Commons) or similar to interfaces used worldwide (Transcription center).
To understand the wider context of the two platforms, we have conducted an empirical investigation, collecting relevant policy documents and conducted one-hour semi-structured interviews with four of the people behind the systems; a developer, the manager, and the coordinator of the Smithsonian Transcription Center, and the digital projects coordinator at the National Gallery of Art, to understand the overall logistic and reasoning behind the different strategies.
Furthermore, to see how different democratic features are supported in the interfaces we have conducted a technical investigation, from a user perspective, by interacting with the interfaces over a period of three months in the role of digital volunteers and Wikimedia editors, contributing to the platforms and interacting both with the technical interface and the other workers. These interactions were observed and documented in screenshots and notes.
A draft of this article has been shared and discussed with our informants.
4

Results

The chosen types of interfaces are interesting to compare as they represent opposite notions of participatory technologies: crowdsourced micro-tasking versus open-source production on a wiki. The Smithsonian Transcription Center uses a crowdsourcing interface where the department lays out clearly defined microtasks. The National Gallery of Art has chosen to post their images on Wikimedia Commons, leaving it up to volunteers to decide what type of information to add. In this section we first present the two institutional contexts and thereafter describe how our democratic values and processes are addressed in the interfaces.

The Smithsonian Institution was established in the middle of the nineteenth century through a private donation to the American state and is run with both public and private funds. The Smithsonian Institution is the world's largest museum, education, and research complex, with museums and research centers all over the US with affiliations abroad. The collections are broad and varied and span from natural history to technical and cultural history. On their website, the Smithsonian expresses a clear democratic ambition that emphasizes education and deliberation:
"Vision: By 2022, the Smithsonian will build on its unique strengths to engage and to inspire more people, where they are, with greater impact, while catalyzing critical conversation on issues affecting our nation and the world." (Smithsonian Institution, n.d.)
The Smithsonian has a long tradition of involving volunteers in its work, with over 6,000 onsite volunteers in different parts of the organization. Another + 23,000 volunteers are engaged in online transcription of the collections through The Smithsonian Transcription Center, which was started in 2013 and is part of the Smithsonian's Office of the Chief Information Officer (OCIO) in Washington. The center estimates that between 100–200 'pages' (including text, images, and segments of audio recordings) are transcribed per day, and the crowd has contribued to making over 650,000 pages of historical collections more accessible, readable, and keyword-searchable through transcription and review.
Each transcription project looks different, but in general very tightly controlled tasks are performed, such as transcribing text or identifying different elements in an image. According to our informants at Smithsonian, based on their own surveys and their experiences from interactions with volunteers, many of the digital volunteers are young (18–35 years old), 76% of them are female, and they come from 56 different countries (but predominantly the US). Despite this, the older volunteers are often more devoted. Among the ten most active volunteers, most are retired but there are also some younger. They have backgrounds as proof-readers, librarians, and culture heritage professionals.
Transcription Center's personnel also emphasize the mutual learning and cooperation between experts and the general audience. They claim that participation is about gaining more diverse knowledge. They also recognize that many so-called amateurs can be extremely knowledgeable in different parts of the archive. So according to our informants at Smithsonian crowdsourcing is not just about enlisting more people to cope with a large workload or acquiring a diversity of different perspectives but also about bringing in more qualified knowledge they do not have the resources for producing within the institution itself.
The National Gallery of Art (NGA) in Washington D.C. was established after the Second World War through private donations to the state and is run with public funds. Its democratic ambitions focus on access and understanding, according to their mission statement:
"The mission of the National Gallery of Art is to serve the United States of America in a national role by preserving, collecting, exhibiting, and fostering the understanding of works of art, at the highest possible museum and scholarly standards."(The National Gallery of Art, n.d.)
Their website emphasizes excellence and expertise. The democratic aspect of their mission lies in creating accessibility to the cultural heritage. Their collection presents an art history of western art from a North American perspective. They emphasize their role as gatekeepers and as communicators of knowledge regarding quality in art.
Over 53,000 high-resolution photos of art from the collections have been made available on their website, but they do not have inhouse transcription tools like the Smithsonian. Instead, they have chosen to post the images on Wikimedia Commons. They see this as an opportunity to further enrich the images with metadata, and they are also curious to see what additional information the images can be enriched with, in addition to the department's mission. Another aspect of this is range. Wikimedia Commons has the potential to reach more people than the NGA website does. In this way, they can make the collection more accessible, beyond those who usually visit the museum. Posting the images online themselves is also paradoxically a way to maintain control over the images. They believe that their images will be reproduced and posted online no matter what they do, so it is better to do it themselves to ensure long term quality. Digital images can easily be distorted by cropping, changing coloration, and other forms of image manipulation. By uploading high-resolution images in the right format and color scale, the NGA can ensure that there is an undistorted, legitimized original that is clearly situated in its historical context through adequate metadata and links to further contextualization on the NGA's website. At the same time, the technology enables users to contextualize the images themselves in new ways and to create their own metadata and keywords.
The project to post pictures on Wikimedia Commons is relatively new (Autumn 2019) and has not yet been evaluated. They also currently have not developed routines for integrating Wikimedia and Wikidata data into their own database. They see great potential in the project, however, and in digitization in general, not least because the metadata makes it possible to make patterns such as structural discrimination visible in the collections. In this way, digitization can be 'policy driving'. Big data is harder to dismiss than anecdotal information, for example, regarding gender discrimination.
To conclude, The National Gallery of Art (NGA) and The Smithsonian has a similar ambition with the participatory technology; to make the transcription process more efficient but also to get a richer information production where a diversity of perspectives are represented. Furthermore, NGA also sees the potential, that in the future big data will make it possible to make different information patterns visible, such as structural discrimination.
4.1

Choice

The democratic value choice is often put forward in crowdsourcing settings such as the Transcription Center's interface where participation of a large crowd is motivated by efficiency and innovation, and a means to collect a plurality of information, and thus provide broad access to the cultural heritage.

The Transcription Center's interface is also relatively easy to access and navigate. System transparency is decent as it is not difficult to understand what can be done and how decisions are made. The objective is clear and non-negotiable. However, it is not clear who generated the existing administrative and structural metadata, nor the descriptive metadata produced by previous volunteers. There are no appointed members, but anyone can participate. The transcription interface logs which users have contributed information, but this is not made visible to other users for privacy reasons. The interface also does not collect any information about users other than their email address, which are not shared publicly.

The information produced is searchable and eventually integrated in the general database. As can be seen in Figure 2, information about the object is collected from different sources with links to these sources. The interface clearly limits what kind of information users can add, and it is not possible to add alternative interpretations. The purpose is to arrive at a unified answer instead of several different perspectives. Before the information is published, it is checked by other volunteers and finally by the Smithsonian, so it can be assumed that the consistency and trustworthiness of the information is good. As users only are known by the interface administrator as pseudonyms with email addresses, thus user autonomy is relatively strong.

The Wikimeda Commons interface with images from the National Gallery of Art (NGA) is significantly more complex than Transcription Center. Although there is system transparency, i.e. information available on how the interface works and should be used, the large amount of information can be difficult to navigate for those who do not have a high level of Wikimedia literacy. Decision-making takes place continuously in the editing of the information. Therefore, the structure for decision-making is difficult to grasp and there are no time limits. There is no vote secrecy; the work is done under a pseudonym and the users can be mapped. However, even though it is initially difficult to understand how decisions are made, all information about decision-making is reported in the interface revision history (Figure 3). It also describes which pseudonym started the page and thus initiated agenda-setting, how decisions were made, and transparency about which users contributed to the decisions.

The objective with the information production is open for negotiations. Potentially anyone can initiate a new page, and infinitely more information is added and developed in any language. Thus, the conditions for information diversity are strong. Searchability is high, as large amounts of metadata have been added both standard taxonomy and folksonomy. A link is also given to a contextualization of the image on the NGA's website. However, there is no corresponding integration of Wikimedia content in the NGA's online collection database.

The information is published directly without any formalized review, but the NGA's coordinator for the initiative monitors the development of information and can, if possible, go in and correct it as any other user. Wikimedia Commons' system of slow, discursive development of information contributes to more peer review of content in the long run. Therefore, it can be assumed that the information trustworthiness is good, although the context of Wikimedia Commons does not directly signal any institutional legitimation of the information.
4.2

Negotiation

Cultural heritage institutions are considered important sites for the development of our shared history, and the democratic value negotiation is often emphasized in relation to the "participatory museum". Here a broad deliberative open-ended conversation is essential for reaching a shared understanding of the objective, and therefore when designing for deliberation, access to a discussion forum and a network of peers are essential for supporting deliberation. Influence is built on participants level of activity.

Although the Smithsonian is largely an American institution and instrumental in building the national identity of the United States, it welcomes all kinds of participants and does not limit its mission to the borders of the United States. Everyone can therefore participate, as long as they have an e-mail address and understand the instructions. Membership is thus interactive, as the possible influence depends on the level of interaction. Volunteers can either transcribe or review information, depending on the role. The Smithsonian Transcription Center's interface is not designed with public deliberation in mind. Participants cannot set the agenda collaboratively, and they cannot suggest a topic. The objective is set by the individual department at the Smithsonian where the material is kept, and it is not open to renegotiation. There are very limited discussion opportunities. The only way to communicate with other users is indirectly by writing comments in the small comment field in the interface next to each page. In other words, there is no real consensus-system. A few users have initiated a lively discussion on social media and in emails to the coordinator, but no real discussion forum is provided in the interface. As the users are invisible to each other, there are also no prerequisites for a public forum like in a discussion group. The decision-making process is divided in three different stages of completion: transcription, review, and approval, where the first step is made by volunteers and the last two steps by Smithsonian personnel (Figure 4).

Transcription involves constant small decisions such as deciding whether a blurred dot is a comma or a period, or whether it is the letter r or v. Everyone involved in the process contributes to the decisions being made, but the final decision is the Smithsonian's. The opinions of the volunteers are only advisory, but sometimes the final approval is delegated to the volunteers. Transcription Center also trust their volunteers and, so, revisions of the crowdsourced information by individual departments are often not needed.

On Wikimedia Commons, objectives are made collaboratively. Anyone can participate by editing or creating a page if it follows Wikimedia's rules, which are created and developed by active Wikimedia users over a long period of time. The page can then be further developed together with others who think the topic is important. Membership is thus created based on users' interaction. In the case of the NGA's images, it is the NGA that suggests the objective, i.e. uploads the image and the original metadata. The objective, which is about metadata-setting and contextualizing the image, is open-ended and can be changed. Anyone can post a new image or subtopic. In the event of any conflicts, discussions arise, and there is a consensus-system in place in form of a discussion forum in connection with each image, as well as in comments on changes. This discussion is sometimes difficult to understand and develops over a long period of time, which is why it can be difficult to follow and take an active part in it. There is a precondition for community because the users are potentially visible to each other, and they can see each other's activity.

Unlike the Transcription Center, decisions are always open and can potentially be negotiated by future participants. The feature "information history" means that information is not deleted but can be viewed and also be restored.
4.3

Pluralism

Pluralism is about simultaneously making different conflicting interests and groups visible to acknowledge unequal production relations and hegemonic interests. In this perspective membership is performative, which means that it is depends on user activity that is constrained by collaboratively negotiated power structures. However, in most crowdsourcing context the identities and interests of the participants are not disclosed, why theses power relations are hidden. Smithsonian does not try to define the users and from the interview we understood that there is a belief that the anonymity of the digital volunteers is important for participation. Therefore, there is also no opportunity to assess the representation of diverse interests and identities in the contributions. The information development process take place during a limited time and is constrained in terms of what volunteers can add (Figure 5). The Smithsonian decides when it is complete and approves the transcript, after which the possibility for future users to edit is closed. However, users can and do contact the administrators of the site directly after something is approved if they want to correct errors they discover.

On Wikimedia Commons, the participants can potentially be anyone. Membership is interactive and performative. Representation is therefore far from equal. Instead we assume, based on previous research (Menking and Erickson, 2015; Ortega et al., 2008), that those who are most influential and devoted to the tasks tend to make the decisions in the dynamic editing process. Legitimacy in such group of users is important to be able to influence the decision process. Since NGA have a higher level of legitimacy and are also the ones initiating the agenda, it can be assumed that they have a great amount of influence. From the interviews we learned that the NGA also expects their original definition of metadata to be respected because of their high level of authority in the cultural heritage sector. The legitimacy of other participants, we assume, is determined by their previous Wikimedia work and relationships with other participants as well as their level of activity. Like Transcription Center, users' affiliations or interests are not monitored, there is no possibility to see which interests and groups are participating in the decision process. Thus, unequal production relations are not acknowledged or described. Participating in the decision-making discussions that arise requires a lot of time and diligence and a high level of Wikimedia literacy, including coding skills (Figure 6).
5

Summary of results

To provide a comparison of the results of this analysis we have summarized the available interface features identified in 4.1–4.3 in Tables 3 and 4. These features are positioned in the conceptual framework of democratic values (transparency, deliberation, and pluralism) and democratic processes (membership, objective, method), and thus showing a certain pattern.
Here you can see how the framework can be used to describe how the interface supports different patterns of democratic features rather than supporting more or less participation.
The Smithsonian Transcription Center is strong in terms of choice, as the objective is non-negotiable, and trustworthiness is strong as the Smithsonian as an institution guarantees that the information is reliable. Wikimedia Commons has strong support both for choice and for negotiation, but also potentially for pluralism as membership partly is performative.
When it comes to the second aspect, negotiation, the conditions are weak for the Transcription Center, i.e. what opportunities exist for discussion and collaborative decision-making. Here, it is not surprising that Wikimedia has better conditions for discussion. As for the possible inclusion of future users in the decisions, only Wikimedia has a historical dimension built into the interface. Its history function emphasizes the temporality of the objective as it is always open for revision and the decision process can be traced backwards by previous versions of the page. However, Wikimedia requires an advanced type of digital literacy which directly excludes large groups of users.
When it comes to pluralism, the conditions for participation are weak overall. The unequal representation in the production of metadata is not made clear, but there is a potential for this in Wikimedia Commons. There are no means to describe power relations and conflicting perspectives in any of the two platforms.
To conclude, by applying the framework on the two cases we identified the support available for a variety of democratic features. To summarize the framework, we have simplified the features in some questions that can be used as a guide when analyzing the support for democratic values in different interfaces (Table 5). This conceptual framework is the main outcome of this paper.
6

Conclusion and discussion

Participatory technologies provide interesting possibilities to create more participatory museum collections, but they also typically reinforce inequalities and might amplify an authorized heritage discourse. Therefore, it is important to understand what norms and structures the technology may amplify, why the analysis of the democratic aspects of participatory technologies needs to be more finely grained. Democracy is not something you simply turn on or off by using a certain technology. If the technology does not support the museums' special democratic visions, these visions risk being undermined by poorly designed software. Museums and platform providers carefully have to consider what democratic values and processes should be supported by the platform, rather than adding platforms presumed to be generically "democratic" off the shelf just for the sake of participation.

The overall mission of cultural heritage institutions paradoxically includes embracing diversity and participation while simultaneously upholding and fostering the professionalism of the institutions themselves and thereby their interpretive precedence. Thus broad 'participation' is a fundament for cultural heritage institutions. At the same time, the institutions have the role of preserving and controlling history, an authorized heritage discourse which goes against a more inclusive cultural heritage (Smith, 2009). Several of these elements are on a collision course, such as the desire to qualify and standardize metadata in order for it to have high interoperability (Riley, 2017) while, at the same time, believing that everyone should be able to give their own special picture of the history and the collections, this through techniques that also might act as instruments of surveillance. It simply does not go together, and both can be said to serve democratic but conflicting democratic demands. All in all, a vague definition of "participation", as a color in which the cultural heritage must be painted, may obscure the view of how digital features potentially can support different democratic values and processes. In effect these contradictory democratic elements imply that cultural heritage institutions need to consciously choose which democratic values and processes they want to consider.

However, previous typologies of digital technologies for participation place different types of technologies in simplified descriptions of democracy, where the technology represents different types on a scale of weaker to stronger deliberation—from tightly controlled top-down technologies to technologies representing broad grassroots participation (See, e.g., Oomen and Aroyo, 2011; Hansson et al., 2019). Such simplified dichotomy can be misleading. By scrutinizing participation in a finer mesh of democratic values and processes we show how interfaces rather than simply representing more or less participation, support different patterns of democratic features.

We think that this conceptual framework for participatory technologies also can be used proactively, as in the design of an interface, or the design of overall strategies. As our case study also show, some of these features are contradictory (as autonomy and unequal production relation), and it is not reasonable to put them all into one interface. Instead, the framework can serve as an analysis model and as a way to clarify the democratic goals with an interface.

Previous museum research often points out discursive tools like Wikimedia as strong participatory technologies (Stuedahl and Lowe, 2014; Whitworth and Garnett, 2011) With the help of this framework, however, we demonstrate that, such interface while supporting some democratic processes, still lacks other democratic values. Likewise, this model shows that a platform including micro-tasking such as the Smithsonian's' Transcription Center, which does not support negotiation, best fulfills the democratic value choice. Both interfaces had the least support when it comes to accommodating pluralism, which concerns issues of representativeness, diversity, and power. Thus, it is within this democratic value that these two participatory platforms are at their weakest. This corresponds with the results of our conceptual investigation and overview of HCI research on participatory technologies in museum collections.

The contribution of this article is not an exact measure of democracy, instead we hope the conceptual framework provides a vocabulary for a more nuanced and complex understanding of democracy, showing how different democratic processes and values can be supported by technology. We think this vocabulary will be useful when developing cultural heritage institutions' participatory strategies, when choosing among available tools, and when designing the technologies that will support different types of democratic ambitions.

We also need to point out the limitations of the research. Our cases are from the US, and thus foremost represent this cultural context. In future research this framework might be developed further by using a broader empirical base. We also need to emphasize that we in this study have focused on singular interfaces, and how these might structure different types of participation on a micro-level. To study real participation, another type of approach would be needed, following the actors over the multiple contexts involved when developing the digital heritage.

However, potentially the framework can be used to reflect on how democracy is supported in a variety of situations, from a micro situation as this study of singular interfaces, to broader contexts, such as long-term institutional strategies including multiple tools and communities.

Our overview of design research that informed the framework also highlighted the lack of design addressing the democracy value pluralism. This points to the difficulties of fulfilling this value but also to development opportunities. For future design research, as we pointed out in 2.3, there are interesting theoretical developments regarding pluralism in areas such as participatory design and critical cultural heritage studies, that can inform the development of participatory technologies. With other words, when it comes to critical perspectives and participatory design processes in the development of interfaces, there are well-developed theories and methods for strengthening pluralism. But when it comes to the results of design processes, the actual participatory technologies, this knowledge is lacking in the existing interface design features. By combining these different strands of HCI design and research, – participatory design processes versus participatory technologies, there is thus a potential opportunity for innovation.

Finally, we have identified some paradoxes that can provide interesting challenges for the CSCW-community:
On one hand, the importance of making the diverse interests and identities in the crowd in "socially" produced information visible as a mean to enable transparency. On the other hand, the importance of vote secrecy for avoiding surveillance. The challenge is to design systems that describe the "social production relations", describing the demography and dynamic of the crowd, while protecting the user's identity.

On one hand, the importance of institutionalized trustworthiness and standardized metadata for interoperability and long-time participation. On the other hand, a plurality of description and categorization for a more polyphonic history and inclusive participation. The challenge is how a long-time open-ended negotiation of the cultural heritage is maintained and described, and how this might include future generations, "not-yet-participants", or all the "non-participants" which still are the majority of the participants.
The digitization of museum collections provides a rich context for exploring these challenges. Just as we ourselves continuously reproduce and re-negotiate ourselves through images and stories, what we call cultural heritage is constantly renegotiated in a dynamic collective process characterized by asymmetric power relations. If we treat technical applications not as carriers of different degrees of participation but, instead, as instruments for a more multifaceted and dynamic democracy, we can hopefully develop processes and techniques that enable a more socially sustainable historical narrative.
Notes
These institutions are The Tenements Museum, the Met, and New York Public Library in New York, The Library of Congress, Washington DC, USA, The Copenhagen City Archive, Denmark, and Western Heritage Collections at the British Library.
References
Affleck, Janice; and Thomas Kvan (2008). A Virtual Community as the Context for Discursive Interpretation: A Role in Cultural Heritage Engagement. International Journal of Heritage Studies, vol. 14, no. 3, May 2008, pp. 268–280.

Alam, Sultana Lubna; and John Campbell (2017). Temporal Motivations of Volunteers to Participate in Cultural Crowdsourcing Work. Information Systems Research, vol. 28, no. 4, December 2017, pp. 744–759.

Ali, Susan; Ben Bedwell; and Boriana Koleva (2018). Exploring relationships between museum artefacts through spatial interaction. In NordiCHI '18: Proceedings of the 10th Nordic Conference on Human-Computer Interaction, Oslo, Norway, 29 September – 3 October 2018. New York: ACM, pp. 224–235.

Antoniou, Angeliki; Akrivi Katifori; Maria Roussou; Maria Vayanou; Manolis Karvounis; Marialena Kyriakidi; and Laia Pujol-Tost (2016). Capturing the Visitor Profile for a Personalized Mobile Museum Experience: an Indirect Approach. In UMAP 2016: 4th ACM Conference on User Modeling, Adaptation and Personalisation, Workshop on Human Aspects in Adaptive and Personalized Interactive Environments (HAAPIE), Halifax, Canada, 13–17 July 2016. Glasgow: The University of Glasgow.

Bailey-Ross, Claire; Steven Gray; Jack Ashby; Melissa Terras; Andrew Hudson-Smith; and Claire Warwick (2017). Engaging the museum space: Mobilizing visitor engagement with digital content creation. Digital Scholarship in the Humanities, vol. 32, no. 4, 2017, pp. 689–708.

Bardzell, Shaowen (2014). Utopias of Participation: Design, Criticality, and Emancipation. Utopias of Participation: Design, Criticality, and Emancipation, 2014, pp. 189–190.

Battiato, Sebastiano; Giovanni M. Farinella; Filippo L.M. Milotta; Alessandro Ortis; Luca Addesso; Antonino Casella; et al. (2016). The social picture. In ICMR '16: Proceedings of the 2016 ACM on International Conference on Multimedia Retrieval, New York, USA, 6–9 June 2016. New York: ACM, pp. 397–400.

Björgvinsson, Erling; Pelle Ehn; and Per-Anders Hillgren (2012). Agonistic participatory design: working with marginalised social movements. CoDesign, vol. 8, no. 2–3, June 2012, pp. 127–144.

Bleecker, Julian (2009). Design Fiction: A Short Essay on Design, Science, Fact and Fiction. Los Angeles: Near Future Labaratory.

Brabham, Daren C. (2008). Crowdsourcing as a model for problem solving: An introduction and cases. Convergence, vol. 14, no. 1, 2008, pp. 75–90.

Buijs, Cunera (2016). Museum collection decolonization and indigenous cultural heritage in an island community: East Greenland and the 'Roots 2 Share' Photo Project Cunera. Island Studies Journal, vol. 11, no. 2, 2016, pp. 537–560.

Bujari, Armir; Matteo Ciman; Ombretta Gaggi; and Claudio E. Palazzi (2017). Using gamification to discover cultural heritage locations from geo-tagged photos. Personal and Ubiquitous Computing, vol. 21, no. 2, 2017, pp. 235–252.

Carnall, Mark; Jack Ashby; and Claire Ross (2013). Natural history museums as provocateurs for dialogue and debate. Museum Management and Curatorship, vol. 28, no. 1, 2013, pp. 55–71.

Ciolfi, Luigina (2018). Can digital interactions support new dialogue around heritage? Interactions, vol. 25, no. 2, February 2018, pp. 24–25.

Crampton, Jeremy W.; Mark Graham; Ate Poorthuis; Taylor Shelton; Monica Stephens; Matthew W. Wilson; and Matthew Zook (2013). Beyond the geotag: situating 'big data' and leveraging the potential of the geoweb. Cartography and Geographic Information Science, vol. 40, no. 2, 2013, pp. 130–139.

Dahl, Robert A. (1989). Democracy and its critics. New Haven: Yale Univ. Press.

Dahlberg, Lincoln (2011). Re-constructing digital democracy: An outline of four "positions." New Media & Society, vol. 3, no. 6, 2011, pp. 855–872.

Dahlberg, Lincoln (2018). Visibility and the Public Sphere: A Normative Conceptualisation. Javnost, vol. 25, no. 1–2, 2018, pp. 35–42.

Darvish, Sara; and Alvin Chin (2010). Dealing with the video tidal wave: The relevance of expertise for video tagging. In HT '10: Proceedings of the 21st ACM conference on Hypertext and hypermedia, Toronto Ontario, Canada, 13–16 June 1210. New York: ACM, pp. 289–290.

Duggan, Maeve; Nicole B. Ellison; Cliff Lampe; Amanda Lenhart; and Mary Madden (2015). Demographics of key social networking platforms. Pew Research Center. http://www.pewinternet.org/2015/01/09/demographics-of-key-social-networking-platforms-2/. Accessed 8 July 2015

Duncan, Carol (1995). Civilizing rituals : inside public art museums. London: Routledge.

Dunne, Anthony; and Fiona Raby (2013). Speculative Everything: Design, Fiction, and Social Dreaming. Cambridge, MA: MIT Press.

Eleta, Irene; and Jennifer Golbeck (2012). A study of multilingual social tagging of art images: Cultural bridges and diversity. In CSCW '12: Proceedings of the ACM 2012 conference on Computer Supported Cooperative Work, Seattle Washington, USA, 11–15 February 2012. New York: ACM, pp. 695–704.

Estellés-Arolas, Enrique; Raúl Navarro-Giner; and Fernando González-Ladrón-De-Guevara (2015). Crowdsourcing Fundamentals: Definition and Typology. In Advances in Crowdsourcing. Cham: Springer International Publishing.

Estermann, Beat (2014). Diffusion of open data and crowdsourcing among heritage institutions: Results of a pilot survey in Switzerland. Journal of Theoretical and Applied Electronic Commerce Research, vol. 9, no. 3, 2014, pp. 15–31.

Forlano, Laura; and Anijo Mathew (2014). From Design Fiction to Design Friction: Speculative and Participatory Design of Values-Embedded Urban Technology. Journal of Urban Technology, vol. 21, no. 4, 2014, pp. 7–24.

Fort, Karën; Gilles Adda; and K. Bretonnel Cohen (2011). Amazon Mechanical Turk: Gold mine or coal mine? Computational Linguistics, vol. 37, no. 2, 2011, pp. 413–420.

Fosh, Lesley; Steve Benford; and Boriana Koleva (2016). Supporting group coherence in a museum visit. In CSCW '16: Proceedings of the 19th ACM Conference on Computer-Supported Cooperative Work & Social Computing, San Francisco, California, USA ,27 February – 2 March 2016. New York: ACM.

Fraser, Nancy (2005). Refraiming justice in a globalizing world. New left review, vol. 36, 2005, pp. 69–88.

Fraser, Nancy (1985). What's critical about critical theory? The case of Habermas and gender. New German Critique, vol. Spring-S, no. 35, 1985, pp. 97–131.

Fraser, Nancy (1990). Rethinking the public sphere: A contribution to the critique of actually existing democracy. Social text, vol. 26, no. 25/26, 1990, pp. 56–80.

Friedman, Batya; Peter H. Kahn; Alan Borning; and Alina Huldtgren (2013). Value Sensitive Design and Information Systems. Springer, Dordrecht.

Friedman, Batya; and David G. Hendry (2019). Value sensitive design : shaping technology with moral imagination. Cambridge, MA: MIT Press.

Geisler, Gary; Geoff Willard; and Eryn Whitworth (2010). Crowdsourcing the indexing of film and television media. In ASIS&T '10: Proceedings of the 73rd ASIS&T Annual Meeting on Navigating Streams in an Information Ecosystem, Pittsburgh, Pennsylvania, 22–27 October 2010. Silver Springs, MD: American Society for Information Science, pp. 1–10.

Giaccardi, Elisa; Elizabeth Churchill; and Sophia Liu (2012). Heritage matters: Designing for current and future values through digital and social technologies. In CHI EA '12: CHI '12 Extended Abstracts on Human Factors in Computing Systems, Austin Texas , USA, 5–10 May 2012. New York: ACM, pp. 2783–2786.

Gil-Fuentetaja, Ion; and Maria Economou (2019). Communicating Museum Collections Information Online. Journal on Computing and Cultural Heritage, vol. 12, no. 1, 2019, pp. 1–16.

Guttormsen, Torgrim Sneve; and Grete Swensen (2016). Heritage, democracy and the public: Nordic approaches. London: Routledge

Habermas, Jürgen (1996). Between facts and norms: contributions to a discourse theory of law and democracy. London: Polity.

Hansson, Karin; and Love Ekenberg (2017). Understanding the demographics of the crowd. In CHI '19: Proceedings of the 2019 CHI Conference on Human Factors in Computing Systems, Glasgow Scotland, UK, 4–9 May 2019. New York, New York, USA: ACM Press, pp. 160–165.

Hansson, Karin; Kheira Belkacem; and Love Ekenberg (2015). Open Government and Democracy. Social Science Computer Review, vol. 33, no. 5, 2015, pp. 540–555.

Hansson, Karin; Thomas Ludwig; and Tanja Aitamurto (2019). Capitalizing Relationships: Modes of Participation in Crowdsourcing. Computer Supported Cooperative Work: CSCW: An International Journal, vol. 28, no. 5, September 2019, pp. 977–1000.

Heeks, Richard; and Savita Bailur (2007). Analyzing e-government research: Perspectives, philosophies, theories, methods, and practice. Government Information Quarterly, vol. 24, no. 2, April 2007, pp. 243–265.

Jensen, Bente (2013). Instagram as cultural heritage: User participation, historical documentation, and curating in Museums and archives through social media. In DigitalHeritage 2013: Digital Heritage International Congress, 28 October – 1 November 2013, Marseille, France. New York: IEEE, pp. 311–314.

Kidd, J. (2016). Museums in the New Mediascape: Transmedia, Participation, Ethics. London: Routledge.

Laclau, Ernesto; and Chantal Mouffe (2001). Hegemony and socialist strategy: towards a radical democratic politics. London: Verso.

Liliana, Melgar Estrada; Michiel Hildebrand; Victor de Boer; and Jacco van Ossenbruggen (2017). Time-based tags for fiction movies: comparing experts to novices using a video labeling game. Communications in Information Literacy, vol. 3, no. 2, 2017, pp. 80–90.

Liu, Sophia B. (2010). Grassroots heritage in the crisis context: A social media probes approach to studying heritage in a participatory age. In CHI EA '10: CHI '10 Extended Abstracts on Human Factors in Computing Systems, Atlanta Georgia, USA , 10–15 April 2010. New York: ACM, pp. 2975–2978.

Lu, Zhicong; Michelle Annett; Mingming Fan; and Daniel Wigdor (2019). "I feel it is my responsibility to stream" Streaming and Engaging with Intangible Cultural Heritage through Livestreaming. In CHI '19: Proceedings of the 2019 CHI Conference on Human Factors in Computing Systems, Glasgow, Scotland, UK, 4–9 May 2019. New York: ACM, pp. 1–14.

Manyanga, Munyaradzi; and Shadreck Chirikure, ed. (2017). Archives, objects, places and landscapes : multidisciplinary approaches to decolonised Zimbabwean pasts. Bamenda, Cameroon: Langaa RPCIG.

Manzo, Christina; Geoff Kaufman; Sukdith Punjasthitkul; and Mary Flanagan (2015). "By the People , For the People ": Assessing the Value of Crowdsourced , User ­ Generated Metadata. Digital Humanities Quarterly, vol. 9, no. 1, 2015, pp. 1–21.

Menking, Amanda; and Ingrid Erickson (2015). The Heart Work of Wikipedia. In CHI '15: Proceedings of the 33rd Annual ACM Conference on Human Factors in Computing Systems, Seoul, Republic of Korea, 18–23 April 2015. New York: ACM, pp. 207–210.

Miles, Helen C; Andrew T Wilson; Bernard Tiddeman; and Jonathan C Roberts (2016). A Community-Built Virtual Heritage Collection. In: Gavrilova, Marina L.; C.J. Kenneth Tan; Andrés Iglesias; Mikio Shinya; Akemi Galvez; and Alexei Sourin (eds) Transactions on Computational Science XXVI. Lecture Notes in Computer Science, vol 9550. Springer, Berlin, Heidelberg, pp. 91–110.

Mouffe, Chantal (1999). Deliberative democracy or agonistic pluralism? Social Research, vol. 66, no. 3, 1999, pp. 745–758.

Muntean, Reese; Kate Hennessy; Alissa Antle; Susan Rowley; Jordan Wilson; Brendan Matkin; et al. (2015). Belongings: A Tangible Interface for Intangible Cultural Heritage. In EVA '15: Proceedings of the Conference on Electronic Visualisation and the Arts, London United Kingdom, 7–9 July 2015. Swindon, UK: BCS Learning & Development Ltd, pp. 360–366.

National Gallery of Art (2019). National Gallery of Art Collaborates with Researchers to Analyze Permanent Collection Data. https://www.nga.gov/press/2019/datathon.html. Accessed 14 September 2020

Oomen, Johan; and Lora Aroyo (2011). Crowdsourcing in the cultural heritage domain: Opportunities and challenges. In C&T '11: Proceedings of the 5th International Conference on Communities and Technologies, Brisbane, Australia, 29 June – 2 July, 2011. New York: ACM, pp. 138–149.

Oosterman, Jasper; Jie Yang; Alessandro Bozzon; Lora Aroyo; and Geert Jan Houben (2015). On the impact of knowledge extraction and aggregation on crowdsourced annotation of visual artworks. Computer Networks, vol. 90, no. C, 2015, pp. 133–149.

Oosterman, Jasper; Alessandro Bozzon; Geert Jan Houben; Archana Nottamkandath; Chris Dijkshoorn; Lora Aroyo; et al. (2014). Crowd vs. Experts: Nichesourcing for knowledge intensive tasks in cultural heritage. In WWW '14 Companion: Proceedings of the 23rd International Conference on World Wide Web, Seoul Korea, 7–11 April 2014. New York: ACM, pp. 567–568.

Ortega, Felipe; Jesus M. Gonzalez-Barahona; and Gregorio Robles (2008). On the inequality of contributions to Wikipedia. In HICSS 2008: Proceedings of the 41st Annual Hawaii International Conference on System Sciences, Waikoloa, Big Island, Hawaii, 7–10 January 2008. New York: IEEE, pp. 304–304.

Prandi, Catia; Andrea Melis; Marco Prandini; Giovanni Delnevo; Lorenzo Monti; Silvia Mirri; and Paola Salomoni (2019). Gamifying cultural experiences across the urban environment. Multimedia Tools and Applications, vol. 78, no. 3, 2019, pp. 3341–3364.

Rawls, John (1993). Political liberalism. New York, N.Y.: Columbia Univ. Press.

Ridge, Mia (2014). Crowdsourcing our cultural heritage. New York and London: Routledge.

Riley, Jenn (2017). Understanding Metadata: What is Metadata, and What is it For? Cataloging & Classification Quarterly, vol. 55, no. 7–8, November 2017, pp. 669–670.

Schofield, Tom; Daniel Foster Smith; Gönül Bozoglu; and Christopher Whitehead (2019). Design and Plural Heritages. In CHI '19: CHI Conference on Human Factors in Computing System, Glasgow Scotland UK, 4–9 May 2019. New York: ACM, pp. 1–15.

Shelton, Taylor; A. Poorthuis; M. Graham; and M. Zook (2014). Mapping the data shadows of hurricane Sandy: Uncovering the sociospatial dimensions of 'Big Data'. Geoforum, 52(2014), pp. 167–179.

Simon, Nina (2010). The participatory museum. Santa Cruz: Museum 2.0.

Smith, Laurajane (2009). Class, Heritage and the Negotiation of Place. In Mising Out on Heritage: Socio-Economic Status and Heritage Participation. English Heritage.

Smithsonian Institution (n.d.). Purpose and Vision. https://www.si.edu/about/mission. Accessed 14 September 2020

Soden, Robert; and Leysia Palen (2014). From crowdsourced mapping to community mapping: The post-earthquake work of OpenStreetMap Haiti. In COOP 2014: Proceedings of the 11th International Conference on the Design of Cooperative Systems, 27–30 May 2014, Nice (France). Springer, Cham, pp. 311–326.

Steinmann, Renate; Elisabeth Häusler; Silvia Klettner; Manuela Schmidt; and Yuwei Lin (2013). Gender Dimensions in UGC and VGI: A Desk-Based Study. Proceeding of GI_Forum 2013 – Creating the GISociety, 2013, pp. 355–364.

Stuedahl, Dagny; and Sarah Lowe (2014). Social media as resource for involving young people in museum innovation: A cultural studies approach to co-design. International Journal of Sociotechnology and Knowledge Development, vol. 6, no. 3, 2014, pp. 60–80.

Swensen, Grete (2017). Objects as identity markers – Ways of mediating the past in a South Sámi and Norse borderland. Museum and Society, vol. 15, no. 2, 2017, pp. 236–258.

Taylor, Joel; and Laura Kate Gibson (2017). Digitisation, digital interaction and social media: embedded barriers to democratic heritage. International Journal of Heritage Studies, vol. 23, no. 5, May 2017, pp. 408–420.

Taylor, Robyn; John Bowers; Bettina Nissen; Gavin Wood; Qasim Chaudhry; Peter Wright; et al. (2015). Making magic: Designing for open interactions in museum settings. In C&C '15: Proceedings of the 2015 ACM SIGCHI Conference on Creativity and Cognition, Glasgow, United Kingdom, 22–25 June 2015. New York: ACM.

Terras, Melissa (2011). The digital wunderkammer: Flickr as a platform for amateur cultural and heritage content. Library Trends, vol. 59, no. 4, 2011, pp. 686–706.

The International Council of Museums (n.d.). Museum Definition - ICOM. https://icom.museum/en/resources/standards-guidelines/museum-definition/. Accessed 9 September 2020

The National Gallery of Art (n.d.). Mission Statement. https://www.nga.gov/about/mission-statement.html. Accessed 14 September 2020

Tsenova, Violeta; Gavin Wood; Andrea Dolfini; Annie Tindley; and David Kirk (2020). Un-authorised View: Leveraging Volunteer Expertise in Heritage. In CHI '20: Proceedings of the 2020 CHI Conference on Human Factors in Computing Systems, Honolulu HI, USA, 25–30 April 2020. New York: ACM, pp. 1–14.

Whitworth, Andrew; and Fred Garnett. (2011). MOSI-ALONG: Social media, the museum and the community. In MindTrek '11: Proceedings of the 15th International Academic MindTrek Conference: Envisioning Future Media Environments, Tampere, Finland, 28–30 September 2011. New York: ACM, pp. 161–164.

Zook, Matthew; Mark Graham; and Andrew Boulton (2015). Crowd-sourced augmented realities: Social media and the power of digital representation. In S. P. Mains, J. Cupples, and C. Lukinbeal (Eds.), Mediated Geographies and Geographies of Media. Dordrecht: Springer Netherlands.
Acknowledgements
We would like to thank Benjamin Zweig, Digital Projects Coordinator at the National Gallery of Art, and Caitlin Haynes, Nancy Kennedy, and Ching-Hsien Wang, at the Smithsonian Transcription Center, for sharing their insights with us. The research for this article was conducted within the project The Politics of Metadata (nr 2018-01068) funded by the Swedish Research Council.
Funding
Open access funding provided by Stockholm University.
Ethics declarations
Conflict of Interest
The authors declared that they have no conflict of interest.
Additional information
Publisher's Note
Springer Nature remains neutral with regard to jurisdictional claims in published maps and institutional affiliations.
Rights and permissions
Open Access This article is licensed under a Creative Commons Attribution 4.0 International License, which permits use, sharing, adaptation, distribution and reproduction in any medium or format, as long as you give appropriate credit to the original author(s) and the source, provide a link to the Creative Commons licence, and indicate if changes were made. The images or other third party material in this article are included in the article's Creative Commons licence, unless indicated otherwise in a credit line to the material. If material is not included in the article's Creative Commons licence and your intended use is not permitted by statutory regulation or exceeds the permitted use, you will need to obtain permission directly from the copyright holder. To view a copy of this licence, visit http://creativecommons.org/licenses/by/4.0/.
About this article
Cite this article
Hansson, K., Dahlgren, A.N. Choice, Negotiation, and Pluralism: a Conceptual Framework for Participatory Technologies in Museum Collections. Comput Supported Coop Work 31, 603–631 (2022). https://doi.org/10.1007/s10606-022-09441-8
Accepted:

Published:

Issue Date:

DOI: https://doi.org/10.1007/s10606-022-09441-8
Keywords