Abstract
The Snowden affair gave rise to a huge public debate about not only the legitimacy of the secret surveillance programs he revealed but also about Snowden himself and about the accuracy of the information he leaked. In this paper we present an analysis of how the affair was discussed in the English language blogosphere, based on a corpus of 15,000 blog posts written about Snowden and published from June 2013 to June 2014, as a sub-corpus of a larger corpus of 100,000 blog posts on the topic of surveillance, written during the period 2006–2014. Automated tools are used to identify the topics that characterize the blogging about surveillance and the posts about the Snowden affair. Through an in-depth analysis of the blog posts that commented on Snowden's revelations of the PRISM program for surveillance of social media users, we chart how bloggers responded to Snowden and his role in this disclosure, whether they found the information credible, and the extent to which they expressed criticism of the surveillance practices. The analysis is used as a basis for discussing the role of blogs in the civic engagement during the first phase of the Snowden affair.
Access options
Buy single article
Instant access to the full article PDF.
USD 39.95
Price includes VAT (USA)
Tax calculation will be finalised during checkout.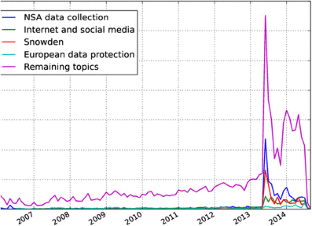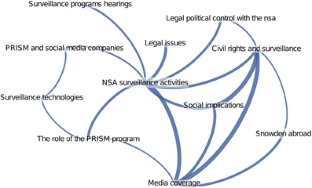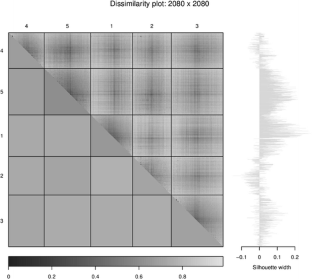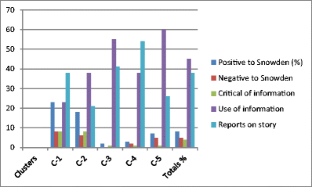 Notes
1.

2.

3.

"Greenwald," the name of the leading journalist working on Snowden for The Guardian, is mentioned.

4.

5.
References
Bacharach, M. and D. Gambetta (2001). Trust in Signs, in K. Cook (eds): Trust in Society. New York: Russell Sage.

Blei, D. M. and John D. Lafferty (2009). Topic models. A. N. Srivastava and M. Sahami (eds): Text mining: classification, clustering, and applications. London: Chapman and Hall, pp. 71–89.

Blei, David M., A. Y. Ng, and M. I. Jordan (2003). Latent dirichlet allocation. Journal of machine Learning research, vol. 3, pp. 993–1022.

Branum, J. and J. Charteris-Black (2015). The Edward Snowden Affair: A corpus study of the British press. Discourse and Communication, vol. 9, no. 2, pp. 1–22

Bruns, A. (eds) (2005). Gatewatching. Collaborative Online News Production. New York: Peter Lang.

Bruns, A. (2007). Methodologies for Mapping the Political Blogosphere: An Exploration Using the IssueCrawler Research Tool. First Monday. http://firstmonday.org/ojs/index.php/fm/article/view/1834/1718. Accessed 23 June 2015.

Bruns, A. and J. Jacobs (eds) (2006). The Uses of Blogs. New York: Peter Lang.

Chadwick, A. and B. Collister (2014). Boundary-Drawing Power and the Renewal of Professional News Organizations: The Case of The Guardian and the Snowden National Security Agency Leak. International Journal of Communication, vol. 8, pp. 2420–2441.

Couldry, N., S. Livingstone and T. Markham (2007). Media Consumption and Public Engagement. Basingstoke: Palgrave.

Dhillon, I.S. and D.S. Modha (2001). Concept Decompositions for Large Sparse Text Data Using Clustering. Machine Learning, vol. 42, no. 1, pp. 143–175.

Duns J. (2015). News of Devils. The media and Edward Snowden. CreateSpace Independent Publishing Platform.

Edward Snowden: the whistleblower behind the NSA surveillance revelations (2013, June 11). The Guardian. http://www.theguardian.com/world/2013/jun/09/edward-snowden-nsa-whistleblower-surveillance. Accessed: March 21, 2015.

Elster, Jon (2007). Explaining Human Behavior. Cambridge: Cambridge University Press.

Fleiss, J.L., B. Levin and M.C. Paik (2003): Statistical methods for rates and proportions, 3rd ed. Hoboken: Wiley.

Gambetta, D. and H. Hamill (2005). Streetwise. How Taxi Drivers Establish Their Customer's Trustworthiness. New York: Russell Sage.

Greenwald, G. (2014). No Place to Hide. Edward Snowden, the NSA and the Surveillance State. London: Hamish Hamilton.

Hornik, K., I. Feinerer, M. Kober and C. Buchta (2012). Spherical k-Means Clustering. Journal of Statistical Software, vol. 50, no. 10, 1–22.

Karpf, D. (2008). Understanding Blog Space. Journal of Information Technology and Politics. Vol. 5, no. 4, pp. 369–385.

Leccese, M. (2009). Online Information Sources of Political Blogs. Journalism and Mass Communication Quarterly. vol. 86, no. 3, pp. 578–593.

Manning, C. D., P. Raghavan and H. Schütze (2008). Introduction to Information Retrieval. Cambridge: Cambridge University Press.

Meinel, C., J. Bross, P. Bergen and P. Henning (2015). Blogosphere and its Exploration. New York: Springer.

Moe, H. (2011). Mapping the Norwegian Blogosphere: Methodological Challenges in Internationalizing Internet Research. Social Science Computer Review. Vol. 29, no. 3, pp. 313–326

Rasmussen, Eric (2006). Games and Information. An Introduction to Game Theory. London: Blackwell.

PEW Research Center (2013). Public Split over Impact of NSA Leak, But Most Want Snowden Persecuted. http://www.people-press.org/2013/06/17/public-split-over-impact-of-nsa-leak-but-most-want-snowden-prosecuted/. Last visited: March 21, 2015.

Rettberg, J. W. (2008). Blogging. Cambridge: Polity.

Rogers, R. (2013). Digital Methods. Cambridge: MIT Press.

Rousseeuw, P. J. (1987). Silhouettes: a Graphical Aid to the Interpretation and Validation of Cluster Analysis. Computational and Applied Mathematics, vol. 20, pp. 53–65. doi:10.1016/0377-0427(87)90125-7.

van Dijck, J. (2014). Datafication, dataism and dataveillance: Big data between scientific paradigm and ideology. Surveillance & Society, vol. 12, no. 2, pp. 197–208.

Wemple, E. (2013). Leaker, Source or Whistleblower. Washington Post http://www.washingtonpost.com/blogs/erik-wemple/wp/2013/06/10/edward-snowden-leaker-source-or-whistleblower/. Accessed 21 March 2015.
Acknowledgments
This research was supported by a grant from the Research Council of Norway's VERDIKT program (NTAP, project 213401). We are very grateful to Knut Hofland and Andrew Salway for their role in creating the corpus analyzed here.
Appendix
Appendix
Table 3
About this article
Cite this article
Elgesem, D., Feinerer, I. & Steskal, L. Bloggers' Responses to the Snowden Affair: Combining Automated and Manual Methods in the Analysis of News Blogging. Comput Supported Coop Work 25, 167–191 (2016). https://doi.org/10.1007/s10606-016-9251-z
Keywords
Blog research

Blogs

Cluster analysis

Social media

Surveillance

Topic analysis

Trust