Abstract
Within the field of computer-supported cooperative work, there are a continuously growing number of studies of the use of electronic media in groups and organisations. Despite the existence of this impressive body of research, there have been comparatively few in-depth studies of how the computer as a medium of communication is integrated in specific professional practices. The present study examines the role of electronic mail in a medium-sized Swedish newspaper office (newsroom) environment. Using an ethnographic perspective, the study attempts to combine two approaches: it is both focused on the social and communicative processes that are affected by the use of email and oriented toward the messages as such, looking at what kind of interaction is produced through particular email exchanges. Data have been collected during repeated observations, interviews and study of documents and artefacts in the newsroom environment over a period of almost 3 years. The picture that has emerged suggests that it is not the medium as such, but its interaction with other contextual preconditions that is decisive for the effects of the introduction of email. Important factors are the physical localization of co-workers in the near and remote editorial environment as well as their organisational roles in the time-critical news production process. Together, these relationships create a significantly more complex picture than previous studies of what happens when a new communication technology is introduced.
Access options
Buy single article
Instant access to the full article PDF.
US$ 39.95
Tax calculation will be finalised during checkout.
Subscribe to journal
Immediate online access to all issues from 2019. Subscription will auto renew annually.
US$ 79
Tax calculation will be finalised during checkout.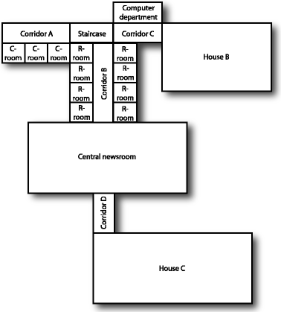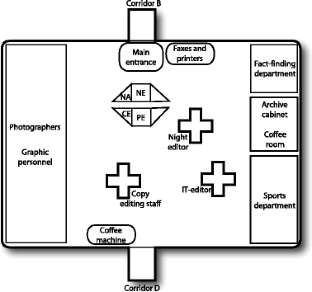 Notes
1.

2.

Computer-mediated communication.

3.

The original ambition was to work with a tape recorder and use small microphones attached to the garments of shadowed persons, to follow the ongoing dialogue between different colleagues. However, it turned out at an early stage that it was not accepted by the newspaper management to record the oral communication, mainly because of the need to protect news sources.

4.

It is based on a combination of replacement characters for frequent words, phrases and modal verb forms (e.g. "should"), as well as omission of certain auxiliaries and particles.

5.

6.

The use of email in the editorial office represents a situation beyond the initial phase in the use of intranets that extends beyond a pure information channel, and where email serves as a work tool embedded in the daily activities of the organization (Hede 2002: 177 ff.)

7.

The collection of the email messages involved an active contribution from NE, and thereby an awareness that the messages that he would send and receive during a week would be used for research purposes. In research on spoken language there have often been discussions of what it means that participants are aware of being involved in an investigation. It is widely considered that the observer effect normally does not hinder participants from acting naturally (Börestam Uhlmann 1994: 71 f).

8.

This includes mailings from companies, public authorities, institutions and organisations, whereas mail from private citizens account for a very small part of the messages being sent (Hössjer 2006).

9.

The figures are only presented to illustrate the variation in the actual data collected and they should not be seen as general patterns of communication in the newsroom.

10.

The text examples within boxes are email dialogues. All names of individuals in this and other examples have been changed. This is also the case for text elements that would otherwise risk revealing the newspaper where the study has been made.

11.

The list is a planning document in the form of a table with assignments and bookings for the current workday. The items appear under fixed headings and are updated continuously as a basis for discussions in different meetings and during the current work in the newsroom.

12.

The notion of message type, as we use it here, relates to genre in same way that this notion is used within American genre rhetoric. This refers to a systematic that is used more or less consciously by language users themselves as a way of dealing with a complex rhetorical practice with many disparate linguistic expressions. In this investigation we have performed this categorization by asking NE to determine the genre of different email messages (cf Miller 1984: 151).

13.

This information was given by NE in connection with the collection of Corpus 2; see Section 4.1.

14.

Email communication started in 1965, according to Wikipedia (www.wikipedia.org, Aug. 5, 2006).
References
Andreassen, H.K., M. Trondsen, P.E. Kummervold, D. Gammon and P. Hjortdahl (2006): Patients Who Use E-Mediated Communication with Their Doctor: New Constructions of Trust in the Patient–Doctor Relationship. Qualitative Health Research, vol. 16, pp. 238–248.

Bair, J (1979)): The Impact of Office Automation. In R. Uhlig, D. Farber and J. Bair (eds): The Office of The FutureNew York: North-Holland.

Baker, A. (1998): Cyberspace Couples Finding Romance Online Then Meeting for the First Time in Real Life. CMC Magazine. www.december.com/cmc/mag/1998/jul/baker.html.

Bälter, O. (1998): Electronic Mail in a Working Context. Doctoral Thesis, Interaction and Presentation Laboratory. Royal Institute of Technology, Department of Numerical Analysis and Computer Science, Stockholm.

Bälter, O. and C. Sidner (2002): Bifrost Inbox Organizer: Giving Users Control over the Inbox. In O.W Bertelsen, S. Bødker, and K. Kuutti (eds), Proceedings of NordiCHI 2002 (pp. 111–118). New York: ACM.

Bannon, L. and K. Schmidt (eds) (1993): Issues of Supporting Organizational Context in CSCW Systems. COMIC, Esprit Basic Research Project 6225. Lancaster, UK, Computing Department, Lancaster University.

Baron, N.S. (1998): Letters by Phone or Speech by Other Means: The Linguistics of E-mail. Language and Communication, vol. 18, pp. 133–170.

Baym, N.K. (1996): Agreement and Disagreement in Computer-Mediated Discussion. Research on Language and Social Interaction, vol. 29(4), pp. 315–345.

Bellotti, V., N. Ducheneaut, M. Howard and I. Smith (2003): Taking Email to Task: The Design and Evaluation of a Task Management Centered Email Tool. Proceedings of the ACM CHI'2003 Conference on Human Factors in Computing Systems, Ft Lauderdale, Florida, USA, ACM Press.

Bertacco, M. and A. Deponte (2005): Email as a Speed-Facilitating Device: A Contribution to the Reduced-Cues Perspective on Communication. Journal of Computer-Mediated Communication, vol. 10(3), article 2. http//jcmc.Indiana.edu/vol10/issue3/bertacco.html.

Bishop, L. and D.I. Levine (1999): Computer-Mediated Communication as Employee Voice: A Case Study. Industrial and Labor Relations Review, vol. 52(2), pp. 213–233.

Bonebake, K. (2002): College Students' Internet Use, Relationship Formation, and Personality Correlates. Cyber Psychology & Behavior, vol. 5(2), pp. 551–558.

Boneva, B., R. Kraut and D. Frohlich (2001): Using E-mail for Personal Relationships: The Difference Gender Makes. American Behavioral Scientist. Special Issue on the Internet and Everyday Life, vol. 45(3), pp. 530–549.

Börestam Uhlmann, U. (1994): Skandinaver samtalar: Språkliga och interaktionella strategier i samtal mellan danskar, norrmän och svenskar. (Skrifter utgivna av Institutionen för Nordiska språk vid Uppsala universitet 38.) Uppsala Universitet

Brigham, M. and J.M Corbett (1997): E-mail, Power and the Constitution of Organizational Reality. New Technology, Work and Employment, vol. 12(1), pp. 25–35.

Burke, A., K. Aytes and L. Chidambaram (2001): Media Effects on the Development of Cohesion and Process Satisfaction in Computer-Supported Workgroups: An Analysis of Results from Two Longitudinal Studies. Information Technology and People, vol. 14(2), pp. 122–141.

Castrén, J., M. Niemi and I. Virjo (2005): Use of Email for Patient Communication in Student Health Care: A Cross-sectional Study. BMC Medical Informatics and Decision Making, vol. 5(2). http://www.biomedcentral.com/1472–6947/5/2.

Cherny, L. (1999): Conversation and Community: Chat in a Virtual World. Stanford: CSLI.

Coate, J. (1998): Cyberspace Innkeeping: Building Online Community. http://cervisa.com/innkeeping.html.

Collot, M. and N. Belmore (1996): Electronic Language: A New Variety of English. In S.C. Herring (ed): Computer-Mediated Communication: Linguistic, Social and Cross-Cultural PerspectivesAmsterdam: John Benjamin, pp. 13–28.

Crystal, D. (2001): Language and the Internet. Cambridge: Cambridge University Press.

Culnan, M.J. and M.L. Markus (1987): Information Technologies. In F.M. Jablin, L.L. Putnam, K.H. Roberts and L.W. Porter (eds): Handbook of Organizational CommunicationsLondon: Sage, pp. 420–443.

Czarniawska, B. (1998): A Narrative Approach to Organization Studies (Qualitative Research Method Series NR 43). London: Sage.

Daft, R. and R. Lengel (1984): Information Richness: A New Approach to Managerial Behavior and Organizational Design. In L.L. Cummings and B.M. Staw (eds): Research in Organizational Behavior, vol. 6, pp. 191–233 Homewood, IL: JAI.

Danet, B., L. Ruedenberg and Y. Rosenbaum-Tamari (1997): Hmmm.. Where is that Smoke Coming From? Writing Play and Performance on Internet Relay Chat. Journal of Computer-Mediated Communication, vol. 2(4). http://www.ascusc.org/jcmc/vol2/issue4/danet.html.

Dixon-Woods, M. (2003): What Can Ethnography Do for Quality and Safety in Health Care? Quality and Safety in Health Care, vol. 12, pp. 326–327.

Ducheneaut, N. and V. Bellotti (2001): Email as Habitat: An Exploration of Embedded Personal Information Management. ACM Interactions, vol. 8(1), pp. 30–38.

Duthler, K.W. (2006): The Politeness of Requests Made Via Email and Voicemail: Support for the Hyperpersonal Model. Journal of Computer-Mediated-Communication, vol. 11(2). http://jcmc.indiana.edu/vol11/issue2/duthler.html.

Eelen, G. (2001): A Critique of Politeness Theories. Manchester: St. Jerome.

El-Shinnawy, M. and M.L. Markus (1997): The Poverty of Media Richness Theory: Explaining People's Choice of Electronic Mail. International Journal of Human-Computer Studies, vol. 46, pp. 443–467.

Ferrara, K., H. Brunner and G. Whittemore (1991): Interactive Written Discourse as an Emergent Register. Written Communication, vol. 8(1), pp. 8–34.

Fisher, D., A.J. Brush, E. Gleave and M. Smith (2006): Revisiting Whittaker & Sidner's "Email Overload" Ten Years Later. Proceedings of CSCW'06, November 4–8, 2006, Banff, Alberta, Canada. ACM.

Fletcher, J. (1999): Disappearing Acts. Gender, Power, and Relational Practice at Work. Cambridge: MIT Press.

Garfinkel, H. (1967): Studies in Ethnomethodology. Englewood Cliffs, NJ: Prentice-Hall.

Garton, L. and B. Wellman (1995): Social Impacts of Electronic Mail in Organizations: A Review of the Research Literature. Communications Yearbook, vol. 18, pp. 434–453.

Gaster, B., C.L. Knight, D.E. DeWitt, J.V. Sheffield, N.P. Assefi and D. Buchwald (2003): Physicans' Use and Attitudes Toward Electronic Mail for Patient Communication. Journal of General Internal Medicine, vol. 18, pp. 385–389.

Groth, K. (2004): On Knowing Who Knows – An Alternative Approach to Knowledge Management. Ph.D. thesis, TRITA-NA-0428, Royal Institute of Technology (KTH), Stockholm.

Hammersley, M. and P. Atkinson (1995): Ethnography. Principles in Practice (2nd edn.). London: Routledge.

Hård af Segerstad, Y. (2002): Use and Adaptation of Written Language to Conditions of Computer-Mediated Communication. Gothenburg Monographs in Linguistics 22, Department of Linguistics, Göteborg University.

Haythornthwaite, C. and S. Shoemaker (2000): Community Development Among Distance Learners: Temporal and Technological Dimensions. Journal of Computer-Mediated Communication, vol. 6(1). http://jcmc.indiana.edu/vol6/issue1/haythornthwaite.html.

Hede, M. (2002): Intranät – Nätet bakom brandväggar. In P. Dahlgren (ed): Internet, Medier Och KommunikationLund: Studentlitteratur, pp. 173–201.

Heim, M. (1987): Electric Language: A Philosophical Study of Word Processing. New Haven and London: Yale University Press.

Herring, S. (1996): Two Variants of an Electronic Message Schema. In S. Herring (ed): Computer-Mediated Communication. Linguistic, Social and Cross-cultural Perspectives (Pragmatics & Beyond New Series 39)Amsterdam: John Benjamins.

Herring, S.C. (2001): Computer-Mediated Discourse. In D. Schiffrin, D. Tannen and H. Hamilton (eds): The Handbook of Discourse AnalysisOxford: Blackwell, pp. 612–634.

Hiltz, S.R. and M. Turoff (1993): The Network Nation: Human Communication Via computer. Cambridge, MA: MIT Press.

Holmes, J. and S. Schnurr (2005): Politeness, Humour and Gender in the Workplace: Negotiating Norms and Identifying Contestation. Journal of Politeness Research, vol. 1, pp. 121–149.

Horrigan, J.B. and L. Rainie (2002): Emails that Matter: Changing Patterns of Internet Use Over a Year's Time. IT & Society, vol. 1(1), pp. 135–150.

Hössjer, A. (2002): Former för dialog och beslut. Om växling mellan kommunikationsformer och bruk av media i redaktionellt tidningsarbete. Technical report TRITA_NA_P0301, IPLab 206, Department of Numerical Analysis and Computer Science, Royal Institute of Technology, Stockholm.

Hössjer, A. (2006): Externa brev och intern vardagskommunikation. Om bruket av e-post på en tidningsredaktion. Technical report IPLab 265, Department of Numerical Analysis and Computer Science, Royal Institute of Technology, Stockholm.

Hössjer, A. (2008): At my age you feel fine... Politeness in Emails When Publishing a Print Journal. In Herring, S. Stein, D. And Virtanen T. (eds): Pragmatics of CMC. Amsterdam: John Benjamins (in press).

Houston, T.K., D.Z. Sands, B.R. Nash and D.E. Ford (2003): Experiences of Physicians Who Frequently Use E-mail with Patients. Health Communication, vol. 15, pp. 515–525.

Jackson, T., R.J. Dawson and D. Wilson (2001): The Cost of Email Interruption. Journal of Systems and Information Technology, vol. 5(1), pp. 81–92.

Kahai, S.S. and R.B. Cooper (2003): Exploring the Core Concepts of Media Richness Theory: The Impact of Cue Multiplicity and Feedback Immediacy on Decision Quality. Journal of Management Information Systems, vol. 20(1), pp. 263–299.

Karlsson, A.-M. (2003): Skrift och texter på bygget. En undersökning av vad och hur några byggnadsarbetare läser och skriver, verbalt och visuellt, i sitt arbete (Projektet Skriftbruk i arbetslivet, www.nordiska.su.se/skriftbruk, Rapport 2, 2003). Stockholm.

Katz, S.J., C.A. Moyer, D.T. Cox and D.T. Stern (2003): Effect of a Triage-Based E-mail System on Clinic Resource use and Patient and Physician Satisfaction in Primary Care: A Randomized Controlled Trial. Journal of General Internal Medicine, vol. 18, pp. 736–744.

Kettinger, W.J. and V. Grover (1997): The Use of Computer-Mediated Communication in an Interorganizational Context. Decision Sciences, vol. 28(3), pp. 513–555.

Kiesler, S., J. Siegel and T.W. McGuire (1984): Social Psychological Aspects of Computer-Mediated Communication. American Psychologist, vol. 39(10), pp. 53–84.

Köhler, H. (1986): Inflytande och datorbaserade kommunikationssystem. Institutionen för data- och systemvetenskap, Stockholm University.

Kraut, R., C. Steinfeld, A. Chan, B. Butler and A. Hoag (1998): Coordination and Virtualization: the Role of Electronic Networks and Personal Relationships. Journal of Computer-Mediated Communication, vol. 3(4).

Kraut, R.E., S.R. Fussell, S.E. Brennan and J. Siegel (2002): Understanding Effects of Proximity on Collaboration: Implications for Technologies to Support Remote Collaborative Work. In Pamela J. Hinds and Sara Kiesler (eds): Distributed Work, pp. 137–164 Cambridge, MA: MIT Press.

Lantz, A. (1998): Heavy Users of Electronic Mail. International Journal of Human-Computer Interaction, vol. 10(4), pp. 361–379.

Lea, M. (ed) (1992): Contexts of Computer-Mediated Communication. New York: Harvester Wheatsheaf.

Ljungberg, F. (1996): An Initial Exploration of Communication Overflow. Paper Presented at the 2nd International Conference on the Design of Cooperative Systems (COOP'96), Sophia-Antipolis, France.

Mackay, W.E. (1988): Diversity in the Use of Electronic Mail: A Preliminary Inquiry. ACM Transactions in Office Information Systems, vol. 6(4), pp. 380–397.

McDonald, D.W. and M.S. Ackerman (1998): Just talk to me. A field study of expertise location. Proceedings of CSCW'98. New York: ACM Press.

McKenny, J.L., M.H. Zack and V.S. Doherty (1992): Complementary Communication Media: A Comparison of Electronic Mail and Face-To-Face Communication in a Programming Team. In N. Nohria and R.G. Eccles (eds): Networks and Organizations: Structure, Form, and ActionBoston: Harvard Business School Press, pp. 262–287.

Miller, C.R. (1984): Genre as Social Action. Quarterly Journal of Speech, vol. 70, pp. 151–167.

Mills, S. (2003): Gender and Politeness. Cambridge: Cambridge University Press.

Morse, J.M. (1994): Designing Funded Qualitative Research. In N.K. Denzin and Y.S. Lincoln (eds): Qualitative Research, pp. 220–235 Thousand Oaks, CA: Sage.

Murray, D. (1988): The Context of Oral and Written Language\appfunc: A Framework for Mode and Medium Switching. Language and Society, vol. 17, pp. 351–373.

Palme, Jacob (1995): Electronic Mail. Norwood, MA: Artech House.

Parks, M.R. and K. Floyd (1996): Making Friends in Cyberspace. Journal of Communication, vol. 46, pp. 80–97.

Preece, J., D. Maloney-Krichmar and C. Abras (2003): History of Online Communities. In B. Wellman (ed): Encyclopedia of Community, pp. 1023–1027. Thousand Oaks, CA: Sage.

Randall, D., J.A. Hughes and D. Shapiro (1994): Using Ethnography to Inform Systems Design. Journal of Intelligent Systems, vol. 4(1–2), pp. 9–28.

Rice, R.E. (1994): Network Analysis and Computer-Mediated Communication Systems. In S. Wasserman and J. Galaskiwicz (eds): Advances in Social Network Analysis: Research in Social and Behavioral Sciences, pp. 167–203 Thousand Oaks: Sage.

Rice, R.E. and G. Love (1987): Electronic emotion: Socioemotional content in a computer-mediated network. Communication Research, vol. 14, pp. 85–108.

Romm, C.T. and N. Pliskin (1997): Toward a Virtual Politicking Model. Communications of the ACM, vol. 40(11), pp. 95–100.

Rubin, Lois (2002): I Just Think Maybe You Could...: Peer Critiquing Through Online Conversations. Teaching English in the Two Year College, vol. 29(4), pp. 382–392.

Savage, J. (2006): Ethnographic Evidence: The Value of Applied Ethnography in Healthcare. In Journal of Research in Nursing, vol. 11, pp. 383–393.

Severinson Eklundh, K. (1986): Dialogue Processes in Computer-Mediated Communication. A Study of Letters in the COM System. Ph.D. Thesis, Linköping Studies in Arts and Science 6. Linköping.

Severinson Eklundh, K. (1996): A Dialogue Perspective on Electronic Mail: Implications for Interface Design. In H. van Oostendorp and S. de Mul (eds): Cognitive Aspects of Electronic Text ProcessingNorwood, N.J., USA: Ablex.

Severinson Eklundh, K. (2008): To Quote or not to Quote: Setting the Context for Computer-Mediated Dialogues. In S.C. Herring (ed.): Computer-Mediated Conversation. Cresskill, NJ: Hampton Press (in press).

Shank, G. (1993): Abductive Multiloguing. The Semiotic Dynamics of Navigating the Net. The Arachnet Electronic Journal on Virtual Culture, vol. 1(1), March 1993. http://www.ibiblio.org/pub/academic/communications/papers/ejvc/SHANK.V1N1.

Shedletsky, L.J. and J.E. Aitken (2004): Human Communication on the Internet. Boston: Allyn & Bacon.

Short, J., E. Williams and B. Christie (1976): The Social Psychology of Telecommunications. New York: Wiley.

Skovholt, K. and J. Svennevig (2006): Email Copies in Workplace Interaction. Journal of Computer-Mediated Communication, vol. 12, pp. 42–62.

Sommerville, I., T. Rodden, R. Bentley and P. Sawyer (1992): Sociologists can be Surprisingly Useful in Interactive Systems Design. People and Computers VII: Proceedings of HCI'92, York University, September 1992, Eds A. Monk, D. Diaper and M. Harrison, pp. 341–354.

Spradley, J.P. (1980): Participant Observation. New York: Holt, Rinehart and Winston.

Sproull, L. and S. Kiesler (1991): Connections: New Ways of Working in the Networked Organization. Cambridge, MA: MIT Press.

Stafford, L, S.L. Kline and J. Dimmick (1999): Home E-mail: Relational Maintenance and Gratification Opportunities. Journal of Broadcasting & Electronic Media, vol. 43, 659–669.

Suchman, L. (1987): Plans and Situated Actions: The Problem of Human-Machine Communication. Cambridge: Cambridge University Press.

Tyler, J.T. and J.C. Tang (2003): When Can I Expect an Email Response? A Study of Rhythms in Email Usage. Proceedings of ECSCW '2003, pp.239–258.

Waldvogel, J. (2001): Email and Workplace Communication: A Literature Review. Language in the Workplace Occasional Papers 3. http://www.victoria.ac.nz/lals/publications/lwp.aspx.

Walther, J.B. and J.K. Burgoon (1992): Relational Communication in Computer-Mediated Interaction. Human Communication Research, vol. 19, pp. 50–88.

Watts, R. (1992): Relevance and Relational Work: Linguistic Politeness and Politic Behaviour. Multilingual, vol. 8(2/3), pp. 131–166.

Watts, R. (2003): Politeness. Cambridge: Cambridge University Press.

Weisenband, S.P., T. Schneider and T. Connolly (1995): Electronic Communication and Social Information. Status Salience and Status Differences. Academic Management Journal, vol. 38(4), pp. 1124–1151.

Wellman, B. and D. Tindall (1993): Reach Out and Touch Some Bodies: How Social Networks Connect Telephone Networks. In W. Richards Jr and G. Barnett (eds): Progress in Communicative Sciences, vol. 12, pp. 63–93 Norwood, NJ: Ablex.

Whittaker, S. and C. Sidner (1996): Email Overload: Exploring Personal Information Management of Email. Proceedings of CHI'96, pp. 276–283.

Wierzbicka, A. (1999): Emotions Across Languages and Cultures. Cambridge: Cambridge University Press.

Wilkins, H. (1991): Computer Talk. Written Communication, vol. 8(1), pp. 56–78.

Yates, J. (1989): Control through Communication: The Rise of System in American Management. Baltimore: The Johns Hopkins University Press.

Yates, S.J. (1996): Oral and Written Aspects of Computer Conferencing. In S.C. Herring (ed): Computer-Mediated Communication: Linguistic, Social and Cross-Cultural Perspectives, pp. 29–46 Amsterdam: John Benjamins.

Yell, S. (2003): New for Old? Converging Media and E-mail Practices in the Workplace. Australian Journal of Communication, vol. 30(1), pp. 93–108.

Yum, Y. and K. Hara (2005): Computer-Mediated Relationship Development: A Cross-Cultural Comparison. Journal of Computer-mediated Communication, vol. 11(1), http://jmc.indiana.edu/vol11/issue1/yum.html.

Zack, M.H. (1993): Interactivity and Communication Mode Choice in Ongoing Management Groups. Information Systems Research, vol. 4(3), pp. 207–239.
Acknowledgements
This study was carried out within the project "Decision Processes and Technology Use in Newspaper Editorial Work", funded by The Swedish Council for Work Life Research (now a part of the Swedish Agency for Innovation Systems). We are grateful to Else Nygren for valuable comments on previous versions of the manuscript, and to Donald MacQueen for help with improving the language.
Appendix
Appendix
The following key explains the transcription marks of various examples of conversations.
...:

Three dots: The turn continues but no note was recorded.

... :

Three dots underlined. Break in dialog by speaker.

the [text]:

Square brackets: Comment, clarification of reference between turns.

((shouts)):

Double parentheses: Comment on how a dialog takes place: for instance if someone is shouting, is handing over a text, etc.

[:

Simple square bracket: Overlapping speech. Indicated when a turn starts before another turn is finished. Exactly where the overlapping begins is not indicated.

[[:

Double square brackets: Simultaneously initiated utterances.

(word):

Simple parentheses around word: Interpretation uncertain.

/:

Slash: A brief pause; indicated only in telephone conversations where the interlocutor's response is not heard.

//:

Double slash: A long pause; indicated only in telephone conversations where the interlocutor's response is not heard.

(Lena):

Simple parentheses: Uncertainty about person's name, for example. Speaker's identity is not clear.

have :

Underlined auxiliary verb: omitted auxiliary verb that was supplied in transcription.
About this article
Cite this article
Hössjer, A., Eklundh, K.S. Making Space for a New Medium: On the Use of Electronic Mail in a Newspaper Newsroom. Comput Supported Coop Work 18, 1–46 (2009). https://doi.org/10.1007/s10606-008-9082-7
Received:

Accepted:

Published:

Issue Date:
Key words
electronic mail

computer-mediated communication

workplace studies

newspaper

newsroom environment

ethnographic study