Abstract
In the past 30 years, consumer credit card debt has expanded tremendously. We know that consumers willingly pay more for the same product when using credit cards versus cash, contrary to the classical rational agent model. Research suggests that it happens due to three imperfections in the classical model: imperfect self-knowledge, imperfect willpower, and imperfect recall. Traditional solutions to credit abuse address the first two imperfections; we examine the third. We propose reminding consumers, on every receipt, how much they have spent cumulatively. We test the effect of this proposal on spending via a controlled experiment. We find that printing this additional information on credit card receipts leads to a significant 9.6% reduction in overall spending compared to the status quo. We discuss the public policy implications of this finding as well as implementation issues.
This is a preview of subscription content, log in to check access.
Access options
Buy single article
Instant access to the full article PDF.
US$ 39.95
Price includes VAT for USA
Subscribe to journal
Immediate online access to all issues from 2019. Subscription will auto renew annually.
US$ 99
This is the net price. Taxes to be calculated in checkout.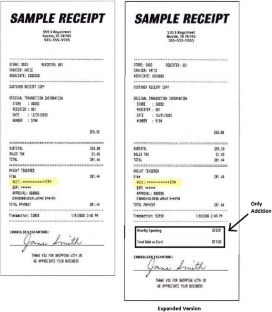 Notes
1.

We use a one-tail t test because we hypothesized that users of the expanded receipt version would spend specifically less than the control group, not simply a different amount (Mendenhall and Sincich 2003).
References
Agnew, J. R., & Sykman, L. R. (2005). Asset allocation and information overload: the influence of information display, asset choice, and investor experience. The Journal of Behavioral Finance, 6(2), 57–70.

Ainslie, G. (1975). Specious reward: a behavioral theory of impulsiveness and impulse control. Psychological Bulletin, 82(4), 463–496.

Ariely, D., & Wertenbroch, K. (2002). Procrastination, deadlines, and performance: self-control by precommitment. Psychological Science, 13(3), 219–224.

Bar-Gill, O., & Board, O. (2012). Product-use information and the limits of voluntary disclosure. American Law and Economics Review, 14(1), 235–270.

Barrington, R. (2011). 2011 credit card facts & statistics—is love for plastic still fantastic? Available at http://www.indexcreditcards.com/finance/creditcardstatistics/2011-report-on-credit-card-usage-facts-statistics.html. Last Accessed: Mar 2011.

Becher, S. I. (2008). Asymmetric information in consumer contracts: the challenge that is yet to be met. American Business Law Journal, 45(4), 723–774.

Bénabou, R., & Tirole, J. (2001). Self-knowledge and self-regulation: an economic approach. In I. Brocas & J. D. Carrillo (Eds.), Collected essays in psychology and economics. Oxford: Oxford University Press.

Crowe, A. (2009), "Just what you need: a mobile reminder to pay your credit card bill". Available at http://www.dailyfinance.com/2009/06/03/just-what-you-need-a-mobile-reminder-to-pay-your-credit-card-bi/. Accessed 9/6/2014.

Della Vigna, S., & Malmendier, U. (2006). Paying not to go to the gym. The American Economic Review, 96(3), 694–719.

Ellen, P. S., Weiner, J. L., & Fitzgerald, P. (2012). Encouraging individuals to save for their future: augmenting current efforts with positive visions of the future. Journal of Public Policy and Marketing, 31(1), 58–72.

Federal Reserve (2010). The survey of consumer payment choice. Federal Reserve Bank of Boston. Available at http://www.bos.frb.org/economic/cprc/index.htm. Last Accessed: Dec 2010.

Federal Reserve (2013). Consumer credit—G.19. Federal Reserve Bank. Release Date: July 8, 2013. Available at http://www.federalreserve.gov/releases/g19/current/default.htm.

Fehr, E. (2002). The economics of impatience. Nature, 415(6869), 269–272.

Feinberg, R. A. (1986). Credit cards as spending facilitating stimuli: a conditioning interpretation. Journal of Consumer Research, 13(3), 348–356.

Frederick, S., Loewenstein, G., & O'donoghue, T. (2002). Time discounting and time preference: a critical review. Journal of Economic Literature, 40(2), 351–401.

GAO (2012). Financial literacy: overlap of programs suggests there may be opportunities for consolidation. Washington: United States Government Accountability Office.

Gathergood, J. (2012). Self-control, financial literacy and consumer over-indebtedness. Journal of Economic Psychology, 33(3), 590–602.

Greene, I. (2009). The credit CARD act: a rundown. Available at http://www.businessinsider.com/the-credit-card-act-a-rundown-2011-3. Last Accessed: Mar 2011.

Heidhues, P., & Koszegi, B. (2010). Exploiting naivete about self-control in the credit market. American Economic Review, 100(5), 2279–2303.

Hirschman, E. C. (1979). Differences in consumer purchase behavior by credit card payment system. Journal of Consumer Research, 6(June), 58–66.

Karlen, D., McConnell, M., Sendhil, M., Zinman J. (2010). Getting to the top of the mind: how reminders increase saving. Working Paper.

Khan, J., & Craig-Lees, M. (2009). Cashless transactions: perceptions of money in mobile payments. International Business & Economics Review, 1(1), 23–32.

Laibson, D. (1997). Golden eggs and hyperbolic discounting. Quarterly Journal of Economics, 112(2), 443–477.

Leland, J. (2007). Debtors search for discipline through blogs. New York Times, February 18.

Lester, R., Ritvo, P. T., Mills, E. J., Kariri, A., Karanja, S., Chung, M. H., Jack, W., & Habyarimana, J.et al. (2010). Effects of a mobile phone short message service on antiretroviral treatment adherence in Kenya (WelTel Kenya1): a randomized trial. The Lancet, 396(9755), 1838–1845.

Lo, H.-Y., & Harvey, N. (2011). Shopping without pain: compulsive buying and the effects of credit card availability in Europe and the Far East. Journal of Economic Psychology, 32(1), 79–92.

Lusardi, A., & Tufano P. (2009). Debt literacy, financial experiences, and overindebtedness. National Bureau of Economic Research, Working Paper 14808.

Mastercard (2010). MasterCard unveils 'next generation debit card': Turkish bank TEB becomes first bank to offer next generation payment card with built-in display for control and security. Available at http://www.mastercard.com/us/company/en/newsroom/next_generation.html. Last accessed: July 2013.

Meier, S., & Sprenger, C. (2010). Present-biased preferences and credit card borrowing. American Economic Journal: Applied Economics, 2(1), 193–210.

Nilson Report (2010). The Nilson Report, Issue 961.

Oaten, M., & Cheng, K. (2007). Improvements in self-control from financial monitoring. Journal of Economic Psychology, 28(4), 487–501.

Perry, V., & Morris, M. D. (2005). Who is in control? the role of self-perception, knowledge and income in explaining consumer financial behavior. Journal of Consumer Affairs, 39(1), 299–313.

Prelec, D., & Lowenstein, G. (1998). The red and black: mental accounting of savings and debt. Marketing Science, 17(1), 4–28.

Prelec, D., & Simester, D. (2001). Always leave home without it: a further investigation of the credit-card effect on willingness to pay. Marketing Letters, 12(1), 5–12.

Ray, D. P., & Ghahremani Y. (2013). Credit card statistics, industry facts, debt statistics. Available at http://www.creditcards.com/credit-card-news/credit-card-industry-facts-personal-debt-statistics-1276.php#source%2043. Last accessed: July 2013.

Schor, J. (1998). The overspent American. New York: Basic Books.

Soman, D. (2001). Effects of payment mechanism on spending behavior: the role of rehearsal and immediacy of payments. Journal of Consumer Research, 27(March), 460–474.

VISA (2010). Becoming a Visa Merchant provides outstanding benefits—for you, and for your customer. VISA USA Website. Available at http://usa.visa.com/merchants/new_acceptance/benefits/index.html. Last Accesed: April 2011.

Wise, J. (2010). 7 Essential Steps to Mastering Temptation. Psychologytoday.com. Available at http://www.psychologytoday.come/blog/extreme-fear/201011/7-essential-steps-mastering-temptation. Last Accessed: Jan 2010.

World Bank (2010). World Development Indicators. Available at http://data.worldbank.org/data-catalog/world-development-indicators%3Fcid%3DGPD_WDI&sa=D&usg=AFQjCNGwDItltScKqIdRHF3tGUF_WFc8ow. Last Accessed: Jan 2011.
Acknowledgments
Partial funding for this research was provided by J Whitney College of Business Summer Research Grant.
About this article
Cite this article
Poddar, A., M. Ellis, C. & Ozcan, T. Imperfect Recall: The Impact of Composite Spending Information Disclosure on Credit Card Spending. J Consum Policy 38, 93–104 (2015). https://doi.org/10.1007/s10603-014-9279-8
Received:

Accepted:

Published:

Issue Date:
Keywords
Credit card spending

Consumer debt

Credit abuse

Imperfect recall