Abstract
Providing consumers with information that can lead to more energy-efficient choices can help reduce energy use and greenhouse gas emissions while reducing costs to consumers. A natural field experiment is conducted in collaboration with an electrical retailer to test strategies for influencing sales of household appliances. The experiment involves two product categories, fridge-freezers and tumble driers. Information on lifetime energy cost of appliances is provided through a label and training of sales staff. For fridge-freezers, the authors find no significant effects. For tumble driers, the combined treatment and training treatment reduce average energy use of tumble driers sold by 4.9% and 3.4%, respectively. The effect is strongest initially, over 12% on average for the first 3 months for the combined treatment but declines over time. The effect is significant at the 5% level for the combined treatment while not significant for sales staff training.
Access options
Buy single article
Instant access to the full article PDF.
US$ 39.95
Tax calculation will be finalised during checkout.
Subscribe to journal
Immediate online access to all issues from 2019. Subscription will auto renew annually.
US$ 79
Tax calculation will be finalised during checkout.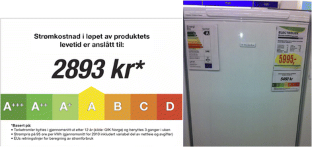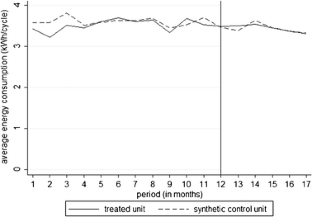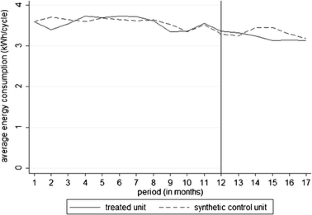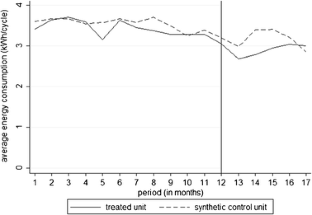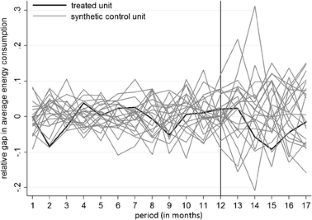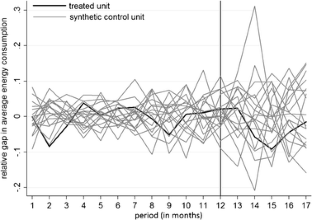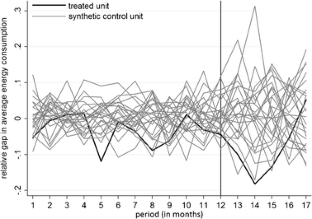 References
Abadie, A., & Gardeazabal, J. (2003). The economic costs of conflict: A case study of the Basque Country. American Economic Review, 93(1), 112–132.

Abadie, A., Diamnond, A., & Hainmueller, J. (2010). Synthetic control methods for comparative case studies: Estimating the effect of California's tobacco control program. Journal of the American Statistical Association, 105, 493–506.

Allcott, H., & Mullainathan, S. (2010). Behavior and energy policy. Science, 327, 1204–1205.

Allcott, H., & Wozny, N. (2010). Gasoline prices, fuel economy, and the energy paradox. Center for Energy and Environmental Policy Research. MIT Energy Initiative and Sloan School of Management.

Allcott, H., Mullainathan, S., & Taubinsky, D. (2011). Externalizing the internality. New York University Working Paper.

Anderson, C. D., & Claxton, J. D. (1982). Barriers to consumer choice of energy efficient products. Journal of Consumer Research, 9(2), 163–170.

Attari, S. Z., DeKay, M. L., Davidson, C. I., & Bruin, W. B. d. (2010). Public perceptions of energy consumption and savings. Proceedings of the National Academy of Sciences, 107(37), 16054–16059.

Cropper, M. L., & Oates, W. E. (1992). Environmental economics: A survey. Journal of Economics Literature, 30(2), 675–740.

Daft, R. L., & Lengel, R. H. (1986). Organizational information requirements, media richness and structural design. Management Science, 32(5), 554–574.

Deutsch, M. (2010a). The effect of life-cycle cost disclosure on consumer behavior: Evidence from a field experiment with cooling appliances. Energy Efficiency, 3(4), 303–315. doi:10.1007/s12053-010-9076-4.

Deutsch, M. (2010b). Life cycle cost disclosure, consumer behavior, and business implications. Journal of Industrial Ecology, 14(1), 103–120. doi:10.1111/j.1530-9290.2009.00201.x.

European Council. (1992). Council directive 92/75/EEC of 22 September 1992. Official Journal of the European Communities 13.10.92: European Council.

Frederick, S., Loewenstein, G., & O'Donoghue, T. (2002). Time discounting and time preference: A critical review. Journal of Economic Literature, 40(2), 351–401. doi:10.1257/002205102320161311.

Greene, D. L., Patterson, P. D., Singh, M., & Li, J. (2005). Feebates, rebates and gas-guzzler taxes: A study of incentives for increased fuel economy. Energy Policy, 33(6), 757–775. doi:10.1016/j.enpol.2003.10.003.

Harrison, G. W., & List, J. A. (2004). Field experiments. Journal of Economic Literature, 42(4), 1009–1055.

Heinzle, S. (2012). Disclosure of energy operating cost information: A silver bullet for overcoming the energy-efficiency gap? Journal of Consumer Policy, 35(1), 43–64. doi:10.1007/s10603-012-9189-6.

Heinzle, S. L., & Wüstenhagen, R. (2012). Dynamic adjustment of eco-labeling schemes and consumer choice—The revision of the EU energy label as a missed opportunity? Business Strategy and the Environment, 21(1), 60–70. doi:10.1002/bse.722.

Hutton, R. B., & Wilkie, W. L. (1980). Life cycle cost: A new form of consumer information. Journal of Consumer Research, 6(4), 349–360.

Jaffe, A. B., & Stavins, R. N. (1994). The energy efficiency gap—What does it mean? Energy Policy, 22(10), 804–810.

Kaenzig, J., & Wüstenhagen, R. (2010). The effect of life cycle cost information on consumer investment decisions regarding eco-innovation. Journal of Industrial Ecology, 14(1), 121–136. doi:10.1111/j.1530-9290.2009.00195.x.

Growth from Knowledge. (2007) Forbrukerdagbøker [consumer diaries] 2007. Oslo.

Korhonen, A., Roos, I., Throne-Holst, H., Jensen, H. M., Ahlkvist-Johansson, H., & Rosen, G. (2007). Impact of energy labelling on household appliances TemaNord (vol. 605): Nordic Council of Ministers.

Krewitt, W. (2002). External costs of energy—Do the answers match the questions?: Looking back at 10 years of ExternE. Energy Policy, 30(10), 839–848. doi:10.1016/s0301-4215(01)00140-9.

List, J., & Gallet, C. (2001). What experimental protocol influence disparities between actual and hypothetical stated values? Environmental and Resource Economics, 20(3), 241–254.

McNeill, D. L., & Wilkie, W. L. (1979). Public policy and consumer information: Impact of the new energy labels. Journal of Consumer Research, 6(1), 1–11.

Metz, B., Davidson, O. R., Bosch, P. R., Dave, R., & Meyer, L. A. (2007). Contribution of working group III to the fourth assessment report of the intergovernmental panel on climate change. Cambridge: Cambridge University Press.

Shen, J., & Saijo, T. (2009). Does an energy efficiency label alter consumers' purchasing decisions? A latent class approach based on a stated choice experiment in Shanghai. [research support, non-U.S. Gov't]. Journal of Environmental Management, 90(11), 3561–3573. doi:10.1016/j.jenvman.2009.06.010.

Stern, N. (2007): The economics of climate change - The Stern review. Cambridge: Cambridge University Press.

Thøgersen, J. (2007). Social marketing of alternative transportation modes. In T. Gärling & L. Steg (Eds.), Threats from car traffic to the quality of urban life (pp. 367–381). Amsterdam: Elsevier.

Thorne, J., & Egan, C. (2002). An evaluation of the federal trade commission's energy guide appliance label: Final report and recommendations. Washington D.C: American Council for an Energy-Efficient Economy.

Trope, Y., & Liberman, N. (2003a). Temporal construal. Psychological Review, 110(3), 403–421.

Trope, Y., & Liberman, N. (2003b). Construal-level theory of psychological distance. Psychological Review, 117(2), 440–463.
Acknowledgements
Thanks to Mikkel Alme, Martine Grønlund and Åshild Indresøvde at Elkjøp for significant help with designing and implementing the experiment. Thanks to Christian Bjørnæs, Torben Mideksa, Bård Romstad, and Hege Westskog at CICERO for help with conducting the experiment and analysing the results. The project was funded by GreeNudge. Special thanks to Beate Nossum and Gunhild A. Stordalen at GreeNudge for help with making the experiment possible.
About this article
Cite this article
Kallbekken, S., Sælen, H. & Hermansen, E.A.T. Bridging the Energy Efficiency Gap: A Field Experiment on Lifetime Energy Costs and Household Appliances. J Consum Policy 36, 1–16 (2013). https://doi.org/10.1007/s10603-012-9211-z
Received:

Accepted:

Published:

Issue Date:
Keywords
Energy efficiency

Field experiment

Cost disclosure

Household appliances