Abstract
In current political and scientific debates on sustainable consumption, the low- and middle-income classes of emerging countries are gaining attention. One common feature of such debates is the idea that these emerging consumer classes could be motivated to "leapfrog" directly to environmentally and socially aware consumption patterns and, thereby, avoid adopting the resource-intensive consumption styles of populations in industrialized countries. To be able to adapt sustainable product development or sustainable communication strategies to the needs of low- and medium-income classes, it is necessary to know more about the basic consumption orientations, current consumption habits, and future consumption aspirations of these societal groups. In order to contribute towards filling that knowledge gap, an exploratory survey was conducted, taking the example of emerging low- and middle-income classes in a Southern Brazilian city. The survey identified five different consumer types: the Home-Centered Traditionals, the Indifferent, the Up-to-date Privileged, the Wanna-be Materialists, and the Quality of Life-Oriented Postmaterialists. The paper outlines some ideas concerning how these types can be addressed with target-group-specific products and services as well as differentiated sustainability communication strategies. We conclude, however, that "leapfrogging" of Brazilian low- and middle-income classes towards sustainable consumption is not a very likely option. There are certain consumption orientations that sustainability strategies can link to, but these trends are not likely to compensate the general tendencies towards a resource-intensive lifestyle following the model of the industrialized countries.
Access options
Buy single article
Instant access to the full article PDF.
US$ 39.95
Tax calculation will be finalised during checkout.
Subscribe to journal
Immediate online access to all issues from 2019. Subscription will auto renew annually.
US$ 79
Tax calculation will be finalised during checkout.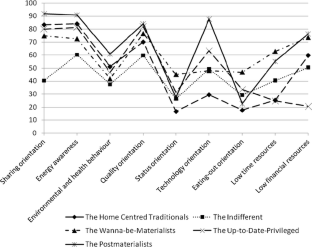 Notes
1.

The item "lack of time for information about ecological products" has a comparably low loading on this factor. But it was assessed as relevant to the factor as regards content. An additional EFA with only these four items revealed only one factor with all items loading above .58. A comparison of the Cronbach's alpha values revealed that it is lower when this item is not included: .57 compared to .6. Thus, it was seen as justified to include this item in the factor.

2.

Due to length concerns, the detailed results of the ANOVAs and the cluster analyses are not reported. They can be acquired from the authors on request.
References
Almeida, C. (2002, Juni 20). Mais renda, mais consumo de energia. O Globo, p. 35.

Backhaus, K., Erichson, B., Plinke, W., & Weiber, R. (2008). Multivariate Analysemethoden. Eine anwendungsorientierte Einführung. Berlin: Springer.

Barros, C. (2007). Consumo, hierarquia de mediacao: As dimensões culturais do consumo em um grupo de empregadas domesticas (Consumption, hierarchy of mediation: The cultural dimensions of consumption in a group of house maids). Dissertation, Universidade Federal de Rio de Janeiro, Rio de Janeiro

Belz, F.-M., & Peattie, K. (2009). Sustainability marketing: A global perspective. Chichester: Wiley.

Berger, P., & Hradil, S. (1990). Lebenslagen, Lebensläufe, Lebensstile. Göttingen: Schwartz.

Berquó, E. (2001). Demographic evolution of the Brazilian population during the twentieth century. In D. J. Hogan (Ed.), Population change in Brazil: Contemporary perspectives (pp. 13–33). Campinas: NEPO/UNICAMP.

Bilharz, M. (2006). Nachhaltiger Konsum: Die Suche nach dem nächsten Schritt. Freising: TU München. Diskussionsbeitrag Nr. 5 der Reihe Consumer Science.

BMU. (2009). Langfristszenarien und Strategien für den Ausbau Erneuerbarer Energien in Deutschland unter Berücksichtigung der europäischen und globalen Entwicklung. Leitszenario 2009. Retrieved November 11, 2010, from http://www.bmu.de/files/pdfs/allgemein/application/pdf/leitszenario2009_kurzfassung_bf.pdf

Bourdieu, P. (1984). Distinction: A social critique of the judgment of taste. London: Routledge & Kegan Paul.

Brand, K. W. (2000). Environmental consciousness and behaviour: The greening of lifestyles. In M. Redclift & G. Woodgate (Eds.), The international handbook on environmental sociology (pp. 204–217). Cheltenham: Edward Elgar Publishing.

Brasil tem um carro para cada 7,5 habitantes (Brazil has one car per 7.5 inhabitants). (2008). Retrieved November 11, 2010 from http://www.autoinforme.com.br/noticias.asp?id_noticia=6788&id_tipo_noticia=1&id_secao=4.

Burgierman, D. R. (2002). Deveríamos parar de comer carne? (Should we stop to eat meat?). Superinteressante, 175, 42–50.

Carlsson-Kanyama, A. (1998). Climate change and dietary choices—how can emissions of greenhouse gases from food consumption be reduced? Food Policy, 23, 277–293.

Carlsson-Kanyama, A., Pipping-Ekström, M., & Shanahan, H. (2003). Food and life cycle energy inputs: Consequences of diet and ways to increase efficiency. Ecological Economics, 44, 293–307.

Castilhos, R. B. (2007). Subindo o morro: Consumo, posição social e distinção entre famílias de classes populares (To get up the hill: Consumption, social position and distinction between families of low-income classes). 31th Annual Meeting of ANAPAD, Rio de Janeiro.

Charter, M. (2002). Marketing and sustainability. Cardiff: BRASS and CfSD.

Da Rocha, A., & Ferreira da Silva, J. (2008). Social inclusion and marketing at the bottom of the pyramid: A research agenda. RAE-eletrônica, 7, Art. 23.

Enneking, U., & Franz, R. (2005). Lebensstilkonzepte und Nachhaltigkeit. Stand der Forschung und Anwendungsbeispiele. München: Technische Universität. Discussion Paper Consumer Science No. 3.

GfK, A. G. (2007). The roper consumer styles. Nürnberg: GfK Lebensstilforschung.

Gois, A. (2002). Mulher tende mais a viver só (Women tend to live alone). Folha de São Paulo, 9, 1–6.

Götz, K. (2007). Mobilitätsstile. In O. Schöller et al. (Eds.), Handbuch Verkehrspolitik (pp. 760–784). Wiesbaden: VS Verlag für Sozialwissenschaften.

Götz, K., Loose, W., Schmied, M., & Schubert, S. (2003). Mobilitätsstile in der Freizeit. Minderung der Umweltbelastungen des Freizeit- und Tourismusverkehrs. Berlin: Erich Schmidt Verlag. Umweltbundesamt UBA Berichte Nr. 2/03.

Grunert, K. G., Brunsø, K., & Bisp, S. (1997). Food-related life style: Development of a cross-culturally valid instrument for market surveillance. In L. R. Kahle & L. Chiagouris (Eds.), Values, lifestyles and psychographics (pp. 337–354). Mahwah: Lawrence Erlbaum.

Grunert, K. G., Brunsø, K., Bredahl, L., & Bech, A. C. (2001). Food related lifestyle: A segmentation approach to European food consumers. In L. J. Frewer, E. Risvik, H. N. J. Schifferstein, & R. von Alvensleben (Eds.), Food choice in Europe (pp. 211–230). London: Springer Verlag London Ltd.

Holm, S.-O., & Englund, G. (2009). Increased ecoefficiency and gross rebound effect: Evidence from USA and six European countries 1960–2002. Ecological Economics, 68, 879–887.

IBGE. (2006). Synthesis of social indicators 2006. Rio de Janeiro: Brazilian Institute of Geography and Statistics.

IBGE. (2008). Synthesis of social indicators 2008. Rio de Janeiro: Brazilian Institute of Geography and Statistics.

IEA International Energy Agency. (2009). Energy production Brazil. Retrieved November 11, 2010 from http://www.iea.org/stats/pdf_graphs/BRPROD.pdf.

ISO Central Secretariat. (2008). The ISO survey of certifications 2008. Retrieved November 11, 2010 from https://za.dqs-ul.com/fileadmin/files/za/Documents/Content/survey_2008.pdf

Jänicke, M., Monch, H., Ranneberg, T., & Simonis, U. E. (1989). Structural change and environmental impact. Empirical evidence on thirty-one countries in east and west. Environmental Monitoring and Assessment, 12, 99–114.

Kaenzig, J., & Jolliet, O. (2007). Prioritizing sustainable consumption patterns: Key decisions and environmental gains. International Journal of Innovation and Sustainable Development, 2, 140–154.

Kahle, L. R. (1983). Social values and social change: Adaptation to life in America. New York: Praeger.

Kahle, L. R., & Chiagouris, L. (1997). Values, lifestyles, and psychographics. Mahwah: Lawrence Erlbaum.

Kahle, L. R., Beatty, S. E., & Homer, P. (1986). Alternative measurement approaches to consumer values: The list of values (LOV) and values and life style (VALS). Journal of Consumer Research, 13, 405–409.

Kirchgeorg, M., & Win, M. I. (2006). Sustainability marketing for the poorest of the poor. Business Strategy and the Environment, 15, 171–184.

Konietzka, D. (1997). Lebensstile im sozialstrukturellen Kontext. Opladen: Westdeutscher Verlag.

Kotler, P. (1992). Administração de marketing: Análise, planejamento, implementação e controle (Marketing adiministration: Analysis, planning, implementation and control). São Paulo: Atlas.

Kotler, P., & Armstrong, G. (2004). Principles of marketing. New York: Pearson Education.

Lange, H. (2005). Lebensstile. Der sanfte Weg zu mehr Nachhaltigkeit? In G. Michelsen & J. Godemann (Eds.), Handbuch für Nachhaltigkeitskommunikation. Grundlagen und Praxis (pp. 160–172). Munich: Oekom.

Lange, H., & Meier, L. (2009a). The new middle classes. Globalizing lifestyles, consumerism and environmental concern. Dordrecht: Springer.

Lange, H., & Meier, L. (2009b). Who are the new middle classes and why are they given so much public attention? In H. Lange & L. Meier (Eds.), The new middle classes. Globalizing lifestyles, consumerism and environmental concern (pp. 1–26). Dordrecht: Springer.

Lebensweltforschung, S. (1992). Lebensweltforschung und Soziale Milieus in West- und Ostdeutschland. Heidelberg: Asanger.

Lopes, E. L., Marin, E. R., & Pizzinatto, N. K. (2008). Segmentação psicográfica de consumidores de produtos de marca própria: Uma aplicação da escala VALS no varejo paulistano (Psychographic segmentation of own brand products: An application of the VALS scale to retailers in São Paulo). In XI Semead—Seminários em Administração FEA/USP, 2008, São Paulo. Retrieved November 11, 2010, from www.ead.fea.usp.br/semead/11semead/resultado/trabalhosPDF/670.pdf

Magalhaes, F., & Duran, M. (2009). Low carbon cities: Curitiba and Brasilia. Paper for the 45th ISOCARP Congress "Low Carbon Cities" on 19th till 22nd of October in Porto, Portugal. Retrieved November 11, 2010, from www.isocarp.net/Data/case_studies/1492.pdf

Mariano, F. (2007). A descoberta do Brasil no sèculo XXI: O consumidor de baixa renda (A discovery of Brazil in the 21st century: The low-income consumer). Revista de ESPM ed. 2. Sao Paulo: Referencia.

Marx, A. M., De Paula, I. C., & Sum, F. (2010). Sustainable consumption in Brazil: Identification of preliminary requirements to guide product development and the definition of public policies. National Ressources Forum, 34, 51–62.

McCarthy, E. J. (1960). Basic marketing: A managerial approach. Homewood: Irwin.

Mitchell, A. (1983). The nine American life styles. New York: Macmillan.

Myers, N., & Kent, J. (2002). New consumers: The influence of affluence on the environment. Proceedings of the National Academy of Sciences, 100, 4963–4968.

Niedergesäß, U., & Winkler, S. (2000). Lebensstile als Möglichkeit der Zielgruppen-Segmentierung für ökologisches Bauen und Wohnen—Die SynergieHaus-Studie von PreussenElektra. In C. Günther, C. Fischer, & S. Lerm (Eds.), Neue Wege zu nachhaltigem Konsumverhalten. Eine Veranstaltung der Deutschen Bundesstiftung Umwelt zur EXPO 2000 (pp. 125–134). Berlin: Deutsche Bundesstiftung Umwelt.

Ojima, R., & Hogan, D. J. (2009). Urban sprawl and environmental risks in Brazilian urban agglomerations: Challenges for urban sustainability. In A. de Sherbinin, A. Rahman, A. Barbieri, J. C. Fotso, & Y. Zhu (Eds.), Urban population-development-environment dynamics in the developing world: Case studies and lessons learned (pp. 281–316). Paris: CICRED.

Peattie, K. (2001). Towards sustainability. The third age of green marketing. The Marketing Review, 2, 129–146.

Prahalad, C. K. (2005). A riqueza na base da pirâmide: Como erradicar a pobreza com o lucro (Fortune at the bottom of the pyramid: Eradicating poverty through profits). Porto Alegre: Bookman.

Pretty, J. N., Ball, A. S., Lang, T., & Morison, J. I. L. (2005). Farm costs and food miles: An assessment of the the full cost of the UK weekly food basket. Food Policy, 1, 1–19.

Prose, F., & Wortmann, K. (1991). Energiesparen: Verbraucheranalyse und Marktsegmentierung der Kieler Haushalte. Kiel: Universität Kiel.

Reusswig, F. (1994). Lebensstile und Ökologie. Gesellschaftliche Pluralisierung und alltagsökologische Entwicklung unter besonderer Berücksichtigung des Energiebereichs. Frankfurt am Main: Institut für sozial-ökologische Forschung (ISOE). Discussion Paper No. 43.

Reusswig, F. (2002). Lebensstile und Naturorientierungen. Gesellschaftliche Naturbilder und Einstellungen zum Naturschutz. In D. Rink (Ed.), Lebensstile und Nachhaltigkeit. Konzepte, Befunde und Potentiale (pp. 156–180). Opladen: Leske & Budrich.

Reusswig, F. (2005). Changing global lifestyle and consumption patterns: The case of energy and food. In G. Radhakrishna (Ed.), Consumer behaviour: Effective measurement tools (pp. 197–210). Hyderabad: The ICFAI University Press.

Richers, R., & Lima, C. P. (1991). Segmentação. Opcões estratégicas para o mercado brasileiro. São Paulo: Nobel.

Rink, D. (Ed.). (2002). Lebensstile und Nachhaltigkeit. Opladen: Leske & Budrich.

Sawyer, D. (2001). Consumption patterns and environmental impacts in a global socioecosystemic perspective. In D. J. Hogan (Ed.), Human dimensions of global environmental change (pp. 279–296). Rio de Janeiro: Academia Brasileira de Ciências.

Sawyer, D. (2002). Population and sustainable consumption in Brazil. In D. J. Hogan, E. Berquó, & H. S. M. Costa (Eds.), Population and environment in Brazil: Rio + 10. Campinas: CNPD, ABEP, NEPO.

SBI Strategic Business Insights. (2009). The VALS segments—VALS types. Retrieved November 11, 2010, from http://www.strategicbusinessinsights.com/vals/ustypes.shtml.

Schaeffer, R., Szklo, A. S., Cima, F. M., & Machado, G. (2005). Indicators for sustainable energy development: Brazil's case study. Natural Resources Forum, 29, 284–297.

Schultz, I., Empacher, C., & Götz, K. (2000). Results of the study: A household exploration of the conditions, opportunities and limitations pertaining to sustainable consumer behaviour. Frankfurt am Main: Institut für sozial-ökologische Forschung (ISOE).

Schulze, G. (1992). Die Erlebnisgesellschaft: Kultursoziologie der Gegenwart. Frankfurt a.M: Campus.

SINUS. (2009). Informationen zu den SINUS-Milieus 2009. Heidelberg: Sinus Sociovision GmbH.

Spangenberg, J. H., & Lorek, S. (2002). Environmentally sustainable household consumption: from aggregate environmental pressures to priority fields of action. Ecological Economics, 43, 127–140.

Spellerberg, A. (1996). Soziale Differenzierung durch Lebensstile. Eine empirische Untersuchung zur Lebensqualität in Ost- und Westdeutschland. Berlin: edition sigma.

Stieß, I., & Hayn, D. (2005). Ernährungsstile im Alltag. Ergebnisse einer repräsentativen Untersuchung. Frankfurt am Main: Institut für sozial-ökologische Forschung (ISOE). Discussion Paper No. 5.

Sustainable consumption and production: Framework for action. (2008). Retrieved November 11, 2010, from http://www.score-network.org/score/score_module/index.php?doc_id=24115

Toledo, J. R. (2002). Transportes. In B. Lamounier & R. Figueiredo (Eds.), A era FHC: Um balance (pp. 241–292). São Paulo: Cultura.

Tukker, A. (2005). Leapfrogging into the future: Developing for sustainability. Int. J. Innovation and Sustainable Development, 1, 65–84.

UNDESA United Nations Department of Economic and Social Affairs. (2007a). Sustainable consumption and production. Promoting climate friendly household consumption patterns. Retrieved November 11, 2010, from http://www.un.org/esa/sustdev/publications.

UNDESA United Nations Department of Economic and Social Affairs. (2007b). Market transformation through energy efficiency standards and labeling. Retrieved November 11, 2010, from http://www.un.org/esa/sustdev/publications/energy_casestudies.

USDA. (2009). USDA Agricultural Projections to 2018. Retrieved November 11, 2010, from www.ers.usda.gov/publications

Veiga Neto, A. R. (2005). Mannering segmentation of using consumers of the Internet in the international context. In Revista do Centro Ciências Administrativas, Fortaleza, 11, 52–61.

WBCSD World Business Council of Sustainable Development. (2008). Sustainable consumption facts and trends. From a business perspective. Retrieved November 11, 2010, from http://www.wbcsd.org/DocRoot/I9Xwhv7X5V8cDIHbHC3G/WBCSD_Sustainable_Consumption_web.pdf

WWF-UK World Wide Fund for Nature. (2006). Living planet report 2006. Retrieved November 11, 2010, from http://assets.panda.org/downloads/living_planet_report.pdf
About this article
Cite this article
Schäfer, M., Jaeger-Erben, M. & dos Santos, A. Leapfrogging to Sustainable Consumption? An Explorative Survey of Consumption Habits and Orientations in Southern Brazil. J Consum Policy 34, 175–196 (2011). https://doi.org/10.1007/s10603-010-9150-5
Received:

Accepted:

Published:

Issue Date:
Keywords
Sustainable consumption

Lifestyle segmentation

Consumption styles

Low-income groups