Abstract
This paper seeks to estimate the economic growth effect of constitutional provisions for property rights protection. It does so using the unique situation in formerly communist countries in Central and Eastern Europe and the Caucasus where all but two introduced new constitutions after the fall of the Iron Curtain. The effects of implementing different constitutional provisions can therefore be observed in a group of countries with similar formal starting points. Estimates provide no evidence of positive effects and mainly point towards a negative conclusion: the introduction of constitutional protection of property rights is not associated with economic development in the long run, but tends to impose costs during a period of institutional transition and implementation proportional to the constitutional change.
Access options
Buy single article
Instant access to the full article PDF.
US$ 39.95
Tax calculation will be finalised during checkout.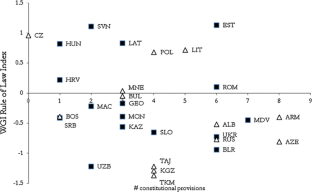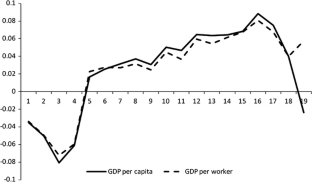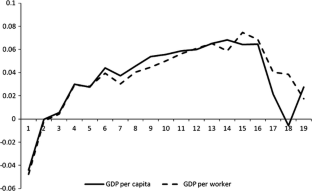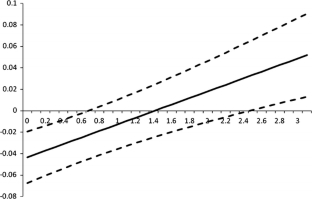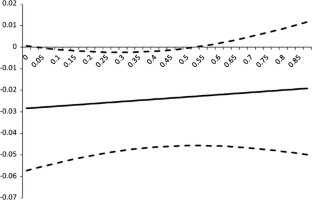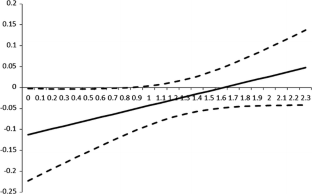 Notes
1.

A few studies try to get around the problem of subjectivity by measuring institutional performance on objective indicators. Examples include Durnev and Guriev (2011) who measure actual expropriation risk across industries and Glaeser and Saks (2006) who use actual corruption convictions across US states as a measure of performance.

2.

However, in some countries and certain international fora, some judicial communities are changing the constitutional conventions such that the active enforcement of certain social rights is now considered a legal duty. In these cases, an international consensus among legal scholars associated with the United Nations is a driving force in changing national constitutional conventions (Whelan 2010).

3.

Waldron's (2006) example of a constitutional convention is that the monarch of the United Kingdom is required to assent to all bills voted on in both Houses of Parliament. This rule, as the additional rule that the monarch must always follow the advice of her ministers, is not part of any constitution proper. Another example of a constitutional convention is the Queen's (or King's) Round in Denmark, which regulates the way new governments are chosen. The successive rounds of negotiations headed by the monarch are not described anywhere in the constitution but are considered constitutional.

4.

Technically, the Czech constitution refers to the United Nations Charter of Fundamental Rights and Basic Freedoms in article 112.1. As this is merely a reference to an international convention subject to change through simple political negotiation and reinterpretation, I do not count it as a constitutional provision. However, no results in the following are affected by counting this inclusion as a constitutional provision formally protecting property rights. I thank Annamaria Kubovcikova for directing my attention to this detail.

5.

In four cases—Kazakhstan, Kyrgyzstan, Moldova and Montenegro—the ICL does not provide an English translation of the constitution. In those cases, I use information in the 'Constitution Finder' provided by the University of Richmond School of Law (University of Richmond 2011).

6.

By controlling for common effects of the collapse of the Soviet Union through the annual fixed effects as well as country-specific transitional costs, as transition is considered specific to each country, I distinguish between two types of transitional costs. Transition is counted from the year a country gained its full independence or, in the case of Ex-Yugoslavia, from the year the civil war seized. The dating is identical to that used in Bjørnskov and Potrafke (2011).

7.

In addition, one might want to control for potential problems associated with the absence of a unit root in this type of data. While it cannot directly affect the main estimates, it could in principle affect results through omitted variables bias. In a set of estimates including a lagged dependent variable estimated with the Bruno (2005) estimator that deals with the problem of Nickell Bias (not shown but available upon request), the central estimates remain unchanged.

8.

As carefully pointed out by a referee, it may seem an inconsistent choice to use the rule of law indicator instead of the apparently more conceptually concise property rights indicator. However, the Country Commercial Guides, published by the US Department of Commerce and used as a basis for coding the property rights index at the Heritage Foundation, tend to mix de facto and de jure elements of property rights protection. Many statements assessing the status of de facto protection in Central and Eastern Europe actually refer to implementation of EU legislation and therefore reflect their de jure status. Furthermore, the Heritage Foundation (2012) includes "existence of corruption within the judiciary" but not the existence of corruption within the wider bureaucracy although non-judicial bureaucratic corruption is equally important for the de facto enforcement of private property rights. Although one can argue for the superiority of different choices, I prefer to use the overall measure of rule of law as it is slightly less likely to suffer from confusion between de facto and de jure status and includes a wider range (bureaucratic and judicial) of institutional failures from corruption.

9.

Education can in this group of countries be considered an approximately time-invariant characteristic. The reason is that major changes to educational systems take at least ten years from inception to fruition—the time it takes for the first new students to finish their education. The consequences are therefore not likely to be seen within the 19 years considered in the present paper.

10.

While the estimate on EU membership appears negative, it can be interpreted in a number of ways. For example, it may reflect transition costs of introducing EU regulations and trade policy, reflect a regression-to-mean effect if growth rates prior to accession were relatively high, or a reduction of reform speed as accession has lifted the external reform pressure. I refrain from commenting further on it as the estimate is of no importance for the main purpose of the paper.

11.

A potentially important caveat is that the overall length of constitutions differs between 51 articles (Bosnia) and 259 articles (the Yugoslav constitution in place in Serbia prior to 2006), and 3953 words (Albania) and 29,401 words (the former Yugoslavia). As such, the relevant measure of constitutional strength may be number of provisions relative to overall length. However, I report all results without any controls for constitutional length/garrulity since tests showed such measures never approach significance. I thank Jerg Gutmann for pointing out this potential complication to me.

12.

In particular, adding openness—the most obvious additional variable—does not change the main estimates. Although openness, measured by trade volumes, is sometimes significantly negative in the present specifications, further tests showed that it is a strongly positive predictor of investment rates. The combined effect is insignificantly negative and inconsequential to the estimates on constitutional provisions. Likewise, adding the de facto measure from the Heritage Foundation also leaves the central estimates unchanged. These tests are available upon request.
References
Acemoglu, D., Johnson, S., & Robinson, J. A. (2005). Institutions as a fundamental cause of long-run growth. In P. Aghion & S. N. Durlauf (Eds.), Handbook of economic growth (Vol. 1A, pp. 385–472). Amsterdam: Elsevier.

Aidt, T. (2003). Economic analysis of corruption: A survey. The Economic Journal, 113, F632–F652.

Aron, J. (2000). Growth and institutions: A review of the evidence. World Bank Research Observer, 15, 99–135.

Asoni, A. (2008). Protection of property rights and growth as political equilibria. Journal of Economic Surveys, 22, 953–987.

Barro, R., & Gordon, D. B. (1982). Rules, discretion and reputation in a model of monetary policy. Journal of Monetary Economics, 12, 101–121.

Baumol, W. J. (1990). Entrepreneurship: Productive, unproductive and destructive. Journal of Political Economy, 98, 893–921.

Berggren, N., Bergh, A., & Bjørnskov, C. (2012). The growth effects of institutional instability. Journal of Institutional Economics, 8, 187–224.

Bergh, A., & Henrekson, M. (2011). Government size and growth: A survey and interpretation of the evidence. Journal of Economic Surveys, 25, 872–897.

Bjørnskov, C. (2011). Combating corruption: On the interplay between institutional quality and social trust. Journal of Law and Economics, 54, 135–159.

Bjørnskov, C., & Potrafke, N. (2011). Politics and privatization in Central and Eastern Europe: A panel data analysis. Economics of Transition, 19, 201–230.

Brambor, T., Clark, W. R., & Golder, M. (2006). Understanding interaction models: Improving empirical analyses. Political Analysis, 14, 63–82.

Brunetti, A., & Weder, B. (1998). Investment and institutional uncertainty: A comparative study of different uncertainty measures. Weltwirtschaftliches Archiv, 134, 513–533.

Bruno, Giovanni S. F. (2005). Approximating the bias of the LSDV estimator for dynamic unbalanced panel data models. Economics Letters, 87, 361–366.

Demsetz, H. (1967). Toward a theory of property rights. American Economic Review, 57, 347–359.

Dicey, A. V. (1885). An introduction to the study of the law of the constitution. London: MacMillan.

Durnev, A. & Guriev, S. (2011). Expropriation risk and firm growth: A corporate transparency channel. Working Paper, Paris School of Economics.

Ellickson, R. C. (1998). Law and economics discovers social norms. Journal of Legal Studies, 27, 537–552.

Elkins, Z., Ginsburg, T., & Melton, J. (2009). The endurance of national constitutions. Cambridge: Cambridge University Press.

Feld, L., & Voigt, S. (2003). Economic growth and judicial independence: Cross-country evidence using a new set of indicators. European Journal of Political Economy, 19, 497–527.

Foundation, H. (2012). 2012 Index of economic freedom: Promoting economic opportunity and prosperity. Washington, DC: The Heritage Foundation and the Wall Street Journal.

Freytag, A., & Voll, S. (2013). Institutions and savings in developing and emerging economies. Public Choice, 157, 475–509.

Glaeser, E. L., la Porta, R., Lopez-de-Silanes, F., & Shleifer, A. (2004). Do institutions cause growth? Journal of Economic Growth, 9, 271–303.

Glaeser, E. L., & Saks, R. E. (2006). Corruption in America. Journal of Public Economics, 90, 1053–1072.

Haggard, S., & Tiede, L. (2011). The rule of law and economic growth: Where are we? World Development, 39, 673–685.

Hayek, F. A. (1973). Law, legislation and liberty: Rules and order. Chicago, IL: University of Chicago Press.

Hayo, B., & Voigt, S. (2007). Explaining de facto judicial independence. International Review of Law and Economics, 27, 269–290.

Henisz, W. (2002). The institutional environment for infrastructure investment. Industrial and Corporate Change, 11, 355–389.

Heston, A., Summers, R., & Aten, B. (2011). Penn World Tables, Mark 7. Pennsylvania: Center for International Comparisons, University of Pennsylvania.

ICL. (2011). International Constitutional Law. Database available at http://www.servat.unibe.ch/icl/info.html. Accessed Sept 2011.

Justesen, M. K. (2014). Better safe than sorry: How property rights and veto players jointly affect economic growth. Comparative Politics, 46, 147–167.

Kaufmann, D., Kraay, A., & Mastruzzi, M. (2008). Governance matters VII: Aggregate and individual governance indicators 1996–2007. Washington, DC: The World Bank, Working Paper 4654.

Keefer, P., & Knack, S. (1997). Why don't poor countries catch up? A cross-national test of an institutional explanation. Economic Inquiry, 35, 590–601.

Kingston, C., & Caballero, G. (2009). Comparing theories of institutional change. Journal of Institutional Economics, 5, 151–180.

Kurrild-Klitgaard, P., & Justesen, M. K. (2013). Institutional interactions and economic growth: The joint effects of property rights, veto players and democratic capital. Public Choice, 157, 449–474.

Kydland, F. E., & Prescott, E. C. (1977). Rules rather than discretion: The inconsistency of optimal plans. Journal of Political Economy, 85, 473–491.

Leff, N. H. (1964). Economic development through bureaucratic corruption. American Behavioral Scientist, 8, 8–14.

Libman, A. (2010). Constitutions, regulations, and taxes: Contradictions of different aspects of decentralization. Journal of Comparative Economics, 38, 395–418.

Melton, J., & Ginsburg, T. (2014). Does de jure judicial independence really matter? A reevaluation of explanations for judicial independence. Journal of Law and Courts, 2, 187–217.

Metelska-Szaniawska, K. (2009). Constitutions and economic reforms in transition: An empirical study. Constitutional Political Economy, 20, 1–41.

Metelska-Szaniawska, K. (2014). Economic effects of postsocialist constitutions (nearly) 25 years from the outset of transition. Paper presented at the annual meetings of the European Public Choice Society, Cambridge, April 3–6.

North, D. C., & Weingast, B. (1989). Constitution and commitment: The evolution of institutional governing public choice in seventeenth-century England. Journal of Economic History, 49, 803–832.

Pitlik, H. (2002). The path of liberalization and economic growth. Kyklos, 55, 57–79.

Ríos-Figueroa, J., & Staton, J. K. (2014). An evaluation of cross-national measures of judicial independence. Journal of Law Economics and Organization, 30, 104–137.

Rodrik, D., Subramanian, A., & Trebbi, F. (2004). Institutions rule: The primacy of institutions over geography and integration in economic development. Journal of Economic Growth, 9, 131–165.

Sager, L. G. (1978). The legal status of underenforced constitutional norms. Harvard Law Review, 91, 1212–1264.

Sonin, K. (2003). Why the rich may favor poor protection of property rights. Journal of Comparative Economics, 31, 715–731.

University of Richmond. (2011). Constitution finder. Online database at The University of Richmond School of Law; http://confinder.richmond.edu/. Accessed Oct 2011.

Voigt, S. (1999). Implicit constitutional change—changing the meaning of the constitution without changing the text of the document. European Journal of Law and Economics, 7, 197–224.

Voigt, S. (2013). How (not) to measure institutions. Journal of Institutional Economics, 9, 1–26.

Voigt, S., & Gutmann, J. (2013). Turning cheap talk into economic growth: On the relationship between property rights and judicial independence. Journal of Comparative Economics, 41, 66–73.

Voigt, S., Gutmann, J., & Feld, L. P. (2014). Economic growth and judicial independence, a dozen years on: Cross-country evidence using an updated set of indicators. CESifo Working Paper 5010.

Vreeland, J. R. (2008). The effect of political regime on civil war: Unpacking anocracy. Journal of Conflict Resolution, 52, 401–425.

Waldron, J. (2006). Are constitutional norms legal norms? Fordham Law Review, 75, 1697–1713.

Whelan, D. J. (2010). Indivisibility of human rights: A history. Philadelphia: University of Pennsylvania Press.

Williamson, O. E. (2000). The new institutional economics: Taking stock, looking ahead. Journal of Economic Literature, 38, 595–613.
Acknowledgments
The idea for the paper arose from discussions with Niclas Berggren, Nils Karlson and Stefan Voigt at a workshop at the Ratio Institute in Stockholm. The paper is part of the Ratio Institute Project "Property rights, the conditions for enterprise and economic growth". Financial support from the Marcus and Amalia Wallenberg Memorial Fund Foundation is gratefully acknowledged. I thank Sebastian von Engelhardt, Jerg Gutmann, Daniel Halvorsson, Annamaria Kubovcikova, Niklas Potrafke, participants at the 2012 World Congress of the Public Choice Societies (Miami) and two referees at this journal for comments that improved the paper. Niclas Berggren deserves special mention for providing many important suggestions. Vilhelm Krag Bjørnskov provided able research assistance.
About this article
Cite this article
Bjørnskov, C. Constitutional property rights protection and economic growth: evidence from the post-communist transition. Const Polit Econ 26, 247–280 (2015). https://doi.org/10.1007/s10602-015-9189-z
Keywords
Property rights

Economic growth

Constitutional political economy

Transition
JEL Classification