Abstract
The link between crisis and permanent increases in public spending has been investigated from the perspective of interest groups, bureaucratic growth, etc., while a demand perspective, i.e. the question of changing voter preferences, has been ignored. Survey data suggests that individuals become temporarily more in favor of government intervention in the aftermath of an economic crisis. The relationship is tested by an experiment in which salience of economic crisis generates favorable attitudes toward intervention for crisis related and unrelated topics.
Access options
Buy single article
Instant access to the full article PDF.
USD 39.95
Price excludes VAT (USA)
Tax calculation will be finalised during checkout.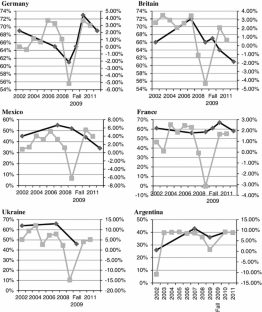 Notes
I am grateful for the financial support provided by the Office of Research and Sponsored Programs at the University of Wisconsin, Eau Claire, and for valuable research assistance by Mitchell Fisher. All remaining errors are mine.

In the original, or European sense.
References
Akerlof, G., & Kranton, R. (2000). Economics and identity. The Quarterly Journal of Economics, 115(3), 715–753.

Bartels, L. M. (2002). Beyond the running tally: Partisan bias in political perceptions. Political Behavior, 24(2), 117–150.

Bennoit, K., & Laver, M. (2006). Party policy in modern democracies. London: Routledge.

Brennan, G., & Buchanan, J. M. (1980). The power to tax: Analytical foundations of a fiscal constitution. Cambridge: Cambridge University Press.

Buchanan, J. M., & Wagner, R. E. (1977). Democracy in deficit: The political legacy of Lord Keynes. New York: Academic Press.

Caplan, B. (2001a). Rational irrationality and the microfoundations of political failure. Public Choice, 107(3), 311–331.

Caplan, B. (2001b). Rational ignorance versus rational irrationality. Kyklos, 54(1), 3–26.

Caplan, B. (2007). The myth of the rational voter. Princeton: Princeton University Press.

Caplan, B. (2010). Intelligence makes people think like economists: Evidence from the general social survey. Intelligence, 38(6), 636–647.

Chamlee-Wright, E., & Storr, H. V. (2011). Social capital, lobbying, and community bases interest groups. Public Choice, 149(1–2), 2011.

Chapman, G. B., & Johnson, E. J. (2002). Incorporating the irrelevant: Anchors in judgments of belief and value. In T. Gilovich, D. Griffin, & T. Kahneman (Eds.), Heuristics and biases: The psychology of intuitive judgment. Cambridge, UK: Cambridge University Press.

Coyne, C. (2011). Constitutions and crisis. Journal of Economic Behavior & Organization, 80(2), 351–357.

Darley, J. M., & Gross, P. H. (1983). A hypothesis—confirming bias in labeling effects. Journal of Personality and Social Psychology, 44(1), 20–33.

Eatwell, J., & Murray, M. (2011). The fall and rise of Keynesian economics. Oxford: Oxford University Press.

Giuliano, P. (forthcoming). Growing up in a recession. The Review of Economic Studies.

Haidt, J. (2012). The righteous mind: Why good people are divided by politics and religion. New York City: Pantheon Books.

Hayek, F. A. (1943). Scientism and the study of society. Economica, 10(37), 34–63.

Henrich, J., Heine, S. J., & Norenzayan, A. (2010). The weirdest people in the world? Behavioral and Brain Sciences, 33(2–3), 61–83.

Higgs, R. (1987). Crisis and leviathan: Critical episodes in the growth of American government. Oxford: Oxford University Press.

Jacoby, W. G. (2000). Issue framing and public opinion on government spending. American Journal of Political Science, 44(4), 750–767.

Jost, J. T., Frederico, C. M., & Napier, J. L. (2009). Political ideology: Its structure, functions, and elective affinities. Annual Review of Psychology, 60, 307–337.

Kahan, D. M., Braman, D., & Jenkins-Smith, H. (2011). Cultural cognition of scientific consensus. Journal of Risk Research, 14(2), 147–174.

Klein, D. B., & Stern, C. (2005). Professors and their politics: The policy views of social scientists. Critical Review, 17, 257–303.

Knack, S., & Keefer, P. (1997). Does social capital have an economic payoff? A cross-country investigation, Quarterly Journal of Economics, 112(4), 1251–1288.

Koppl, R., & Luther, W. (2012). Hayek, Keynes, and modern macroeconomics. The Review of Austrian Economics, 25(3), 223–241.

Lord, C. G., Ross, L., & Lepper, M. R. (1979). Biased assimilation and attitude polarization: The effects of prior theories on subsequently considered evidence. Journal of Personality and Social Psychology, 37(11), 2098–2109.

Lord, C. G., Ross, L., & Preston, E. (1984). Considering the opposite: A corrective strategy for social judgment. Journal of Personality and Social Psychology, 47, 1231–1243.

Nickerson, R. S. (1998). Confirmation bias: A ubiquitous phenomenon in many guises. Review of General Psychology, 2(2), 175–220.

Plous, S. (1991). Biases in the assimilation of technological breakdowns: Do accidents make us safer? Journal of Applied Social Psychology, 21(13), 1058–1082.

Putnam, R. (2000). Bowling alone—The collapse and revival of American communities. New York City: Simon and Schuster.

Rabin, M. (1998). Economics and psychology. Journal of Economic Literature, 36(1), 11–46.

Runst, P. (2013). Popular attitudes towards markets & institutional reform. Review of Social Economy, 72(1), 83–115.

Runst, P., & Wagner, R. (2011). Choice, emergence, and constitutional process: A framework for positive analysis. Journal of Institutional Economics, 7(1), 131–145.

Schlicht, E. (1998). On custom in the economy. Oxford: Clarendon Press.

Searle, J. (1997). The construction of social reality. New York: Free Press.

Smith, R. E. (2000). Research design. In H. T. Reis & C. M. Judd (Eds.), Handbook of research methods in social and personality psychology. Cambridge, UK: Cambridge University Press.

Storr, V. (2009). Why the market? Markets as social and moral spaces, Journal of Markets and Morality, 12(2), 277–296.

Storr, V. (2010). The facts of the social sciences are what people believe and think. In P. J. Boettke (Ed.), Handbook of Austrian economics. Cheltenham: Edward Elgar.

Taber, C. S., & Lodge, M. (2006). Motivated skepticism in the evaluation of political beliefs. American Journal of Political Science, 50(3), 755–769.

Thomas, D. W., & Martin, A. (2013). Two-tiered political entrepreneurship and the congressional committee system. Public Choice, 154(1–2), 21–37.

Tullock, G. (1967). The welfare costs of tariffs, monopolies and theft. Western Economic Journal, 5, 224–232.

Tullock, G. (1975). The transitional gains trap. The Bell Journal of Economics, 6(2), 671–678.

Wagner, R. (2010). Mind, society, and human action. London: Routledge.

Wagner, R., Smith, A., & Yandle, B. (2011). A theory of entangled political economy, with application to TARP and NRA. Public Choice, 148, 45–66.
About this article
Cite this article
Runst, P. Crisis and belief: confirmation bias and the behavioral political economy of recession. Const Polit Econ 25, 376–392 (2014). https://doi.org/10.1007/s10602-014-9167-x
Published:

Issue Date:

DOI: https://doi.org/10.1007/s10602-014-9167-x
Keywords
Behavioral political economy

Voting

Political preferences

Confirmation bias
JEL Classification