Abstract
The paper investigates the impact of historical legacies of the Habsburg and Ottoman Empires on demand for litigation in contemporary Romania in criminal cases. It finds that nowadays a key difference between these two historical zones is that in the Habsburg counties demand for litigation increases if the income goes up; in the Ottoman counties, however, the demand remains constant. Furthermore, the demand for litigation in poor counties is smaller in Habsburg than in Ottoman counties. We provide several explanations to this phenomenon and compare it to the anecdotal evidence of culture of judicial appeals in other countries.
Access options
Buy single article
Instant access to the full article PDF.
US$ 39.95
Tax calculation will be finalised during checkout.
Subscribe to journal
Immediate online access to all issues from 2019. Subscription will auto renew annually.
US$ 79
Tax calculation will be finalised during checkout.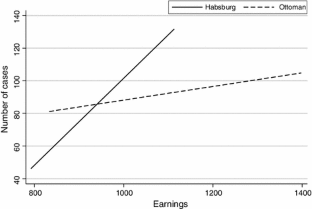 Notes
1.

The concepts of "institutions" and "culture" have overlapping and multiple meaning in social sciences. In this paper we define institutions, in line with North (1990), as rules constraining human behavior, both formal and informal. The notion of 'culture' is more debatable (Herrmann-Pillath 2010); we will use it to refer to particularly slow-moving (Williamson 2000; Roland 2004) and deeply rooted informal institutions, associated with collectively shared identities and mental models. Historical legacies are often associated with cultural effects, but they may also reflect themselves in formal institutions (e.g. survival of certain legal norms or concepts).

2.

For US courts of appeal see Songer and Sheehan 1992. More specifically, the literature argues that the effect is driven by relative litigation resources. However, the criminal cases in all parts of Romania involve dealing with the same centralized government, which has the same resources.

3.

Our argument holds for the demand for appeals by defendant in criminal proceedings. Eisenberg et al. (2012) remark that the effect of income on criminal litigation may be more complex, since income may also affect the number of crimes committed.

4.

Throughout the text Transylvania is defined broadly, including Banat and parts of Bukovina, unless not explicitly stated otherwise.

5.

The period of rule of Habsburg Emperors in the 18th and 19th centuries was even longer, with only nine rulers in 1705–1916.

6.

The Divan was the Highest Court in the Ottoman principalities. It was composed of boyars, the Metropolitan bishop and the prince as its head.

7.

The possibility to appeal lower court verdicts was introduced with the rule of Constantin Mavrocordat who adopted in 1740 a Constitution creating the first instance judges (ispravnics) and second instance judges (the judgments of the high boyars) (Mercure de France 1742:1512). The courts of high boyars (appeal courts) were also replicated by successive Moldavian and Wallachian rulers (e.g. Racoviţă, Ghica and Ipsilanti, see e.g. the description of Alexandru Ipsilanti judicial organization in Dariescu 2008).

8.

More specifically, we take the number of cases per position of the prosecutors at the tribunal level, i.e. number of prosecutors normatively assigned to the tribunal (some of these positions may be empty, as discussed in what follows). Thus, we are able to account for the size of the counties and the differences in judicial capacity to find out the actual demand for the appellate jurisprudence. As a caveat, we have to acknowledge that some of the cases processed by prosecutors may not be an outcome of the appeals but rather transferred for criminal investigation from lower-level prosecution offices to higher-level offices. However, for 2012 we have obtained data on both criminal cases considered by judges in tribunals and number of cases processed by prosecutors at the level of tribunals. One can show that both variables are highly correlated (correlation coefficient of 86 %), and, as discussed below, cases arriving at the level of tribunals are mostly an outcome of appeal by accused. Thus, we can rely on our data for the purposes of research question of this study.

9.

Even the intra-country studies of legacies face two difficulties: first, which historical border exactly has to be used (border between Habsburg and Ottoman zones shifted over time), and second, how to deal with counties divided between Ottoman and Habsburg (since we do not have macroeconomic data for units smaller than county, we also cannot use them in our analysis). Until mid-nineteenth century the territories of Moldavia and Walachia (what we consider the "Ottoman legacy" zone) have partly fallen under Habsburg or Russian occupation for brief periods of time; however, no permanent long-lasting presence was established and therefore the impact of the Habsburg legacies ought to be much weaker than in Transylvania or even Bukovina (which was occupied in 1774). As for the borders of counties, we have attributed the counties, which have mostly belonged to Bukovina or Transylvania in terms of territory to the Habsburg zone.

10.

We use two modifications of this variable: total number of criminal cases and average number of criminal cases per position of the prosecutor.

11.

Details on the sources and definitions of variables are available at request.

12.

The efficiency of courts is available only for all cases, and not merely for criminal cases.

13.

The results remain mostly unchanged if we control for the number of cases in trial courts instead of crime rates. We do not report robustness checks due to the space constraints; they are, however, available at request from the authors.

14.

Interview on 18 February 2013, Strassbourg.

15.

Personal communication with Laura Stefan, legal expert in the NGO expertforum.ro and former Director in the Romanian Ministry of Justice 21 September 2012.

16.

Interview with Gabriela Baltag, judge at the Neamt County Court, Piatra Neamt, 4 November 2010.

17.

Interviews with diverse Romanian judges between 2010 and 2013 and personal communication with Laura Stefan, 21 September 2012.

18.

Interview with Gabriela Baltag, 4 November 2010 and with Corneliu Barsan, Romanian Judge at the ECHR, Strasbourg, 1 September 2011. Legal instability and incoherence impact negatively on the functioning of the judicial system in Serbia (authors' interview with Dragoljub Popovic, Serbias judge at the ECHR, Strasbourg, 6 March 2012) and Moldova (authors' interview with Raisa Botezatu, Judge at the Supreme Court of Justice, Chisinau, 3 May 2011.

19.

Interview with Iulian Mitrofan and Gabriela Baltag, judges at the Neamt County Court, Piatra Neamt, 4 November 2010.

20.

A recent example is the case of Dan Voiculescu a Romanian politician who resigned from his post as a senator due to corruption allegations in order to be judged as a normal citizen, starting at the first instance court level and by so doing delaying the trial process with the aim to reach the statute of limitations. Interview with Laura Stefan, Freiburg, 2 September 2012.

21.

Interview with a Council of Europe representative, Strasbourg, 6 March 2012.

22.

Interview with Leonid Antohi, project manager at the Legal and Human Rights Capacity Building Department, Council of Europe, Strasbourg 18 July 2011 and personal communication on 21 September 2012.

23.

Personal communication with Vladislav Gribincea, Lawyer and Executive Director of the Legal Resources Centre, 23 September 2012.

24.

Authors interview with Leonid Antohi, project manager at the Legal and Human Rights Capacity Building Department, Council of Europe, Strasbourg 18 July 2011 and personal communication on 21 September 2012.

25.

Authors personal communication with Vladislav Gribincea, Lawyer and Executive Director of the Legal Resources Centre, 23 September 2012.

26.

Authors personal communication with Corneliu Gurin, legal expert at ADEPT (Association for Participatory Democracy) and vice-president of the Democratic Action Party, 22 September 2012.

27.

Clearly, it is partly an outcome of very poor performances of the domestic judicial system (see ECHR 2009). However, it is also the case that the implementation of the ECHR decisions is in many cases questionable and excessively delayed (especially in the non-democratic Russia), so, the instrumental logic of appeals to the ECHR may be contested.

28.

This result speaks to a number of recent papers looking at the legacies of Jewish settlements in Eastern Europe; while in this case there is also no continuity in terms of population, Grosfeld et al. (2013) show that there is a persistent effect of legacies (though driven by a very different mechanism than that discussed in this paper).

29.

See also Brown (1996) for a discussion of heterogeneity of Ottoman legacies.
References
Badescu, G., & Sum, P. E. (2005). Historical legacies, social capital and civil society: Comparing Romania on a regional level. Europe-Asia Studies, 57, 117–133.

Barendrecht, M., Bolt, K., & de Hoon, M. (2006). Appeal procedures: Evaluation and reform. Tilburg University Discussion Paper No. 31.

Becker, S. O., Boeckh, K., Hainz, C., & Woessmann, L. (2011). The empire is dead, long live the empire! Long-run persistence of trust and corruption in the bureaucracy. IZA Discussion Paper No. 5584.

Berger, P., & Thomas, L. (1967). The social construction of reality: A treatise in the sociology of knowledge. Garden City: Doubleday.

Bisin, A., & Verdier, T. (2000). 'Beyond the melting pot': Cultural transmission, marriage and the evolution of ethnic and religious traits. Quarterly Journal of Economics, 115, 955–988.

Bisin, A., & Verdier, T. (2001). The economics of cultural transmission and the dynamics of preferences. Journal of Economic Theory, 97, 298–319.

Boner, C. (1868). Siebenbuergen. Land und Leute, Leipzig: Verlagsbuchhandlung J.J. Weber.

Brailoui, C. N. (1865). Legiurea Caragea Bucuresti: Rassidescu.

Brown, L. C. (Ed.). (1996). Imperial legacy: The Ottoman imprint on the Balkans and the Middle East. New York: Columbia University Press.

Chappe, N. (2012). Demand for civil trials and court congestion. European Journal of Law and Economics, 33, 343–357.

Ciurea, E. (1956). Education, In A. Cretzianu (Ed.) Captive Rumania. A decade of Soviet rule. New York: Praeger, pp. 165–256.

Cornell, B. (1990). The incentive to Sue: An option-pricing approach. Journal of Legal Studies, 19, 173–187.

Darden, K., & Grzymala-Busse, A. (2006). The great divide: Literacy, nationalism, and the communist collapse. World Politics, 59, 83–115.

Dariescu, C. (2008). Istoria statului si dreptului romanesc din antichitate si pana la Marea Unire. Bucuresti: C.H. Beck.

Dauscher, A. (1869). Handbuch des gerichtlichen Verfahren in und ausser Streitsachen für Ungarn und Siebenbuergen auf Grundlage der neuen ungarischen Civil-Prozess Ordnung. Wien: Verlag von Urban & Schwarzenberg.

de Langeron, A. (1791). Langeron (1791), in Bezviconi, G. (1947) (ed) Calatori rusi in Moldova si Muntenia Bucuresti: Institutul de Istorie Nationala din Bucureti.

DiMaggio, P. J., & Powell, W. W. (1983). The iron cage revisited: Institutional isomorphism and collective rationality in organizational fields. American Sociological Review, 48, 147–160.

Dimitrova-Grajzl, V. (2007). The great divide revisited: Ottoman and Habsburg legacies in transition. Kyklos, 60, 539–558.

ECHR. (2009). Annual Report 2009, Registry of the European court of human rights, Strasbourg, 2010 http://www.echr.coe.int/NR/rdonlyres/C25277F5-BCAE-4401-BC9B-F58D015E4D54/0/Annual_Report_2009_versionProv.pdf. Accessed 17 Sept 2012.

Eisenberg, T., Kalantry, S., & Robinson, N. (2012): Litigation as a measure of well-being. Cornell legal studies research paper No. 12–28.

Fessler, I. A. (1825). Die Geschichten der Ungern und ihrer Landsassen, zehnter Theil. Leipzig: Johann Friedrich Gleditsch.

Galanter, M. (1977). Why the haves come out ahead: Speculations on the limits of social change. Law and Society Review, 9, 95–160.

Georgescu, V. (1991). The Romanians a history. Columbus: Ohio State University Press.

Goga, L. (2006). Politik und Rechtskultur in der Zwischenkriegszeit in Rumänien. In T. Giaro (Ed.), Modernisierung durch Transfer im 19. und frühen 20. Jahrhundert (pp. 31–68). Frankfurt/Main: Vittorio Klostermann.

Graham, L. S. (1982). Romania. A Developing Socialist State. Boulder: Westview Press.

Grosfeld, I., Rodnyansky, A., & Zhuravskaya, E. (2013). Persistent Anti-Market Culture: A legacy of the pale of settlement after the Holocaust. American Economic Journal: Economic Policy, 5, 189–226.

Grosjean, P. (2011). The institutional legacy of the Ottoman empire: Islamic rule and financial development in South Eastern Europe. Journal of Comparative Economics, 39, 1–16.

Grosjean, P., & Senik, C. (2011). Democracy, market liberalization and political preferences. Review of Economics and Statistics, 93, 365–381.

Hausleitner, M. (2001): Die Rumanisierung der Bukowina. Die Durchsetzung des nationalstaatlichen Anspruchs Grossrumaniens 1918–1944. Munchen: Oldenbourg Verlag.

Hendley, K. (2012). The puzzling non-consequences of societal distrust of courts: Explaining the use of Russian courts. Cornell International Law Review, 45, 517–567.

Hendley, K. (2013). Too much of a good thing? Assessing access to civilian justice in Russia. Slavic Review, 72, 802–827.

Herrmann-Pillath, C. (1993). Informal constraints, culture and incremental transition from plan to market. In H.-J. Wagener (Ed.), On the theory and policy of systemic change. Heidelberg: Physica Verlag.

Herrmann-Pillath, C. (2010). What have we learnt from 20 years of economic research into culture? International Journal of Cultural Studies, 13, 317–335.

Hillman, A. L. (2010). Expressive behavior in economics and politics. European Journal of Political Economy, 26, 403–418.

Holban, M. (1930). Un raport francez despre Moldova (1828) al consulului Lagan, Notice statistique sur la Moldavie (1828). Buletinul Comisiei istorice a Romaniei, IX, 147–184.

Hughes, J. W., & Snyder, E. A. (1995). Litigation and settlement under the English and American rules: Theory and evidence. Journal of Law and Economics, 38, 225–250.

Iakovenko, I. (2004) (1828): Situatia actuala a principatelor Moldova si Tara Romaneasca, in Filitti, G., Marinescu, B., Rădulescu-Zoner, S., Stroia, M., and P. Cernovodeanu, Călători străini despre ţările române în secolul al XIX-lea, tom. I (1801–1821), Bucuresti, 2004: Editura Academiei Romane.

Iancu, G. (2006). Justitie Romaneasca in Transilvania (1919). Cluj-Napoca: Editura Ecumenica Press.

Institutul Central de Statistica (1940): Anuarul Statistic al Romanei 1939 si 1940. Bucarest.

Iorga, N. (1933). Un observator englez asupra românilor din epoca lui Tudor Vladimirescu, Academia Română. Memoriile secţiunii istorice, Seria III, Tomul XIV, Mem. 4, Bucuresti: Imprimeria Naţională.

Jacobi, T. (2009). The role of politics and economics in explaining variation in litigation rates in the US States. Journal of Legal Studies, 38, 205–233.

Jelavich, B. (1983). A history of the Balkans, eighteenth and nineteenth centuries, Vol. 1, Cambridge.

Kann, R. A. (1974). A history of the Habsburg Empire, 1526–1918. Berkeley: University of California Press.

Kantemir, D. (1771). Historisch-geographisch-und politische Beschreibung der Moldau, nebst dem Leben des Verfassers und einer Landkarte, Frankfurt und Leipzig.

Knack, S., & Zack, P. J. (2003). Building trust: Public policy, interpersonal trust, and economic development. Supreme Court Economic Review, 10, 91–107.

Kuran, T. (2011). The long divergence: How Islamic Law held back the Middle East. Princeton: Princeton University Press.

Kuran, T., & Lustig, S. (2012). Judicial biases in Ottoman Istanbul: Islamic justice and its compatibility with modern economic life. Journal of Law and Economics, 55, 631–666.

Landes, W. M. (1971). An economic analysis of the courts. Journal of Law and Economics, 14, 101–106.

Laurencon, F. G. L. (1822). Nouvelles observations sur la Valachie, sur ses productions, son commerce, les moeurs et coutumes des habitans, et sur son gouvernement. Paris: Egron.

Leipold, H. (2006). Kulturvergleichende Institutionenökonomik: Studien zur kulturellen, institutionellen und wirtschaftlichen Entwicklung. Stuttgart: Lucius & Lucius, UTB.

Lin, N. (2002). Social capital: A theory of social structure and action. New York: Cambridge University Press.

March, J. G., & Olsen, J. P. (1989). Rediscovering institutions. New York: The Free Press.

Maxim, M. (2001). Romano-Ottomanica. Essays and documents from the Turkish archives. Istanbul: The ISIS Press.

Mendelski, M. (2012). EU-driven judicial reforms in Romania: A success story? East European Politics, 28, 23–42.

Mercure de France. (1742). Mercure de France, Juillet 1742, MDCCXLII, Paris mavro.

Muravyeva, M. (2013). Russian early modern criminal procedure and culture of appeal. Review of Central and East European Law, 38, 209–216.

Murrell, P. (2001). Demand and supply in Romanian commercial courts: Generating information for institutional reform. Mimeo.

Neigebaur, J. D. F. (1848). Die Rechtsverwaltung in der Moldau und Wallachei. Kritische Zeitschrift für Rechtswissenschaft und Gesetzgebung des Auslandes, 20, 39–51.

North, D. C. (1990). Institutions, institutional change and economic performance. Cambridge: Cambridge University Press.

Oleinik, A. (2005). A distrustful economy: An inquiry into foundations of the Russian Market. Journal of Economic Issues, 39, 53–74.

Olson, M. (1993). Dictatorship, democracy, and development. American Political Science Review, 87, 567–576.

Onisor, V. (1921). Istoria Dreptului Roman. Cluj: Libertatea.

Open Society Institute. (2006). Living abroad on a temporary basis: The economic migration of Romanians: 1990–2006. Budapest: Open Society Foundation.

Paget, J. (1850). Hungary and Transylvania (Vol. 1). Philadelphia: Lea & Blanchard.

Papp, I. P. (1945). Instaurarea Justitiei Romanesti in Ardeal. Transylvania, 76, 1–31.

Peisakhin, L. (2012). In history's shadow: Persistence of identities and contemporary political behavior. CEAS Working Paper No. 272.

Pertusier, C. (1822). La Valachie, la Moldavie, et de l'influence politique des Grecs du fanal. by. Type: Book. Publisher: Paris: Painparré.

Pistor, K. (2002). The demand for constitutional law. Constitutional Political Economy, 13, 73–87.

Popovici, A. C. (1918). La Question Roumaine en Transylvanie et en Hongrie. Lausanne: Libraire Payot & C.ie.

Posner, R. A. (1973). An economic approach to legal procedure and judicial administration. Journal of Legal Studies, 2, 399–458.

Putnam, R. D. (1993). Making democracy work: Civil traditions in modern Italy. Princeton: Princeton University Press.

Radulescu, A. (1923): Cultura Juridica Romaneasca in Ultimul Secol, Academia Romana Discursuri De Receptiune LIII.

Reinhard, C.F. (1807): Raport asupra Tarii Romknesti si Moldovei, in Filitti, G., Marinescu, B., Rădulescu-Zoner, S., Stroia, M., and P. Cernovodeanu (eds.), Călători străini despre ţările române în secolul al XIX-lea, tom. I (1801–1821), Bucuresti, 2004: Editura Academiei Romane (translated from Maria Holban, Texte d 'un rapport inedit du Ministre Reinhard sur la Valachie. Rapport remis par ordre de Sa Majeste a son Excellence Monseigneur le Ministre des Relations Exterieures. 30 Novembre 1807, in Revue historique du Sud Est Europeen", XII, 1935, p. 23–46; 125–141; 237–249).

Roland, G. (2004). Understanding institutional change: Fast-moving and slow-moving institutions. Studies in Comparative International Development, 38, 109–131.

Roper, S. D., & Fesnic, F. (2003). Historical legacies and their impact on post-communist voting behaviour. Europe-Asia Studies, 55, 131–199.

Samuelson, J. (1882). Roumania: Past and present. London: Longmans, Green and Co.

Savelsberg, J. J., & King, R. D. (2007). Law and collective memory. Annual Review of Law and Social Science, 3, 189–211.

Schuler von Libloy, F. (1848). Siebenbürgische Rechtsgeschichte, Dritter Band: Die siebenbürgischen Proceßrechte und das Strafrecht. Hermannstadt: Buchdruckerei der V. Closius'schen Erbin.

Sentz, A. (1852). Die provisorische Civilprozeßordnung für Siebenbürgen, Ungarn, Kroatien, Slavonien, die serbische Woiwodschaft und das Temeser Banat. Hermannstadt: T. Steinhausen.

Seton-Watson, R. W. (1911). Corruption and reform in Hungary. A Study of Electoral Practice. London: Constable & Co., Ltd.

Seton-Watson, R. W. (1925). IV. Transylvania since 1867. Slavonic Review, 4, 101–123.

Shavell, S. (1982). Suit, settlement, and trial: a theoretical analysis of alternative methods for the allocation of legal costs. Journal of Legal Studies, 11, 55–81.

Sindbaek, T., & Hartmuth, M. (Eds.). (2011). Images of imperial legacy: Modern discourses on the social and cultural impact of Ottoman and Habsburg rule in Southeast Europe. Berlin: Lit.

Snyder, R. (2001). Scaling down. The subnational comparative method Studies. Comparative International Development, 36, 93–110.

Songer, D. R., & Sheehan, R. S. (1992). Who wins on appeal? Upperdogs and underdogs in the United States Courts of Appeal. American Journal of Political Science, 36, 235–258.

Springer, J. (1840). Statistik des österreichischen Kaiserstaates. Zweiter Band, Wien: F. Beck's Universitäts-Buchhandlung.

Sugar, D. (1977). Southeastern Europe under Ottoman Rule, 1354–1804. Seattle: University of Washington Press.

Thornton, T. (1807). The present state of Turkey; or, A description of the political, civil, and religious constitution, government, and laws, of the Ottoman Empire. Together with the geographical, political, and civil, state of the principalities of Moldavia and Wallachia, London: J. Mawman.

Urechia, V. A. (1898): Justitia sub Ioan Caragea, Analele Academiei Romane, Seria II. Tom. XX., Bucuresci: Carol Goebl.

Veniamin, V. (1956). The judiciary. In A. Cretzianu (Ed.), Captive Rumania. A decade of Soviet Rule (pp. 301–324). New York: Praeger.

von Domin-Petrushevecz, A. (1869). Neuere österreichische Rechtsgeschichte. Wien: Manz.

von Ferdinandy, G. (1909). Staats und Verwaltungsrecht des Königreichs Ungarn und seiner Nebenländer. Hannover: Max Jänecke Verlagsbuchhandlung.

von Jung, J. (1818). Darstellung des ungarischen Privat-Rechtes Band 4, Wien.

von Schwartner, M. (1811). Statistik des Konigreichs Ungern. Ein Versuch. Zwether und Dritter Theil, Ofen:gedruckt mit königl. Universitäts-Schriften.

von Steeger, J. (1834). Darstellung der Rechte und rechtlichen Gewohnheiten der koeniglichen freyen Stadte in Ungarn. Zweyter Theil, Wien: Im Verlage bey Vauer und Dirnböck.

Wilkinson, W. (1820). An account the principalities of Wallachia and Moldavia: With various political observations relating to them. London: Longman.

Williamson, O. (2000). The new institutional economics: Taking stock, looking ahead. Journal of Economic Literature, 38, 595–613.

Wittenberg, J. (2006). Crucibles of political loyalty: Church institutions and electoral continuity in Hungary. Cambridge: Cambridge University Press.

World Bank. (2000). Anticorruption in transition: A contribution to the policy debate. Washington: World Bank.

Zacharia, E. (1840). Rechtsquellen in der Walachei. Kritische Zeitschrift für Rechtswissenschaft und Gesetzgebung des Auslandes, 12, 408–433.
Acknowledgments
An earlier version of this article was presented at the international workshop of the New Europe College and Yale University "Historical Legacies in the Black Sea Region", at the Public Choice Society conference, and at the seminars at the Frankfurt School of Finance & Management and the Russian Academy of Sciences. The authors appreciate the very helpful comments from the participants and thank especially Carsten Herrmann-Pillath, Ronald F. King, Konstantin Yanovsky, Elisaveta Gromoglasova and Joachim Zweynert. They are also grateful to the Editor and two Referees for their suggestions. All mistakes remain our own.
About this article
Cite this article
Mendelski, M., Libman, A. Demand for litigation in the absence of traditions of rule of law: an example of Ottoman and Habsburg legacies in Romania. Const Polit Econ 25, 177–206 (2014). https://doi.org/10.1007/s10602-014-9158-y
Keywords
Law and economics

Legal history

Historical legacies

Judicial performance

Contextual factors

Demand for litigation

Habsburg legacy

Ottoman legacy
JEL Classification