As part of our search for sedative substances derived from natural sources, two novel nitrogen compounds, kwansonine C (1) and oxypinnatanine A (2), and two novel salts of quinic acids (4) and (5) were isolated along with four known compounds, fulvanine A (3), icariside D2 (6), sallidroside (7), and (3S,4S)-3,4-dihydroxy-3-methyldihydrofuran-2-one (8), from Hemerocallis fulva L. var. sempervirens. These structures were elucidated by spectroscopic evidence and chemical methods.
Access options
Buy single article
Instant access to the full article PDF.
USD 39.95
Price excludes VAT (USA)
Tax calculation will be finalised during checkout.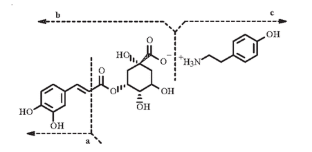 References
E. Uezu, Psychiatry Clin. Neurosci., 52, 136 (1998).

Y. Ogawa and T. Konishi, Chem. Pharm. Bull., 57, 1110 (2009).

T. Inoue, K. Iwagoe, T. Konishi, S. Kiyosawa, and Y. Fujiwara, Chem. Pharm. Bull., 38, 3187 (1990).

T. Inoue, T. Konishi, S. Kiyosawa, and Y. Fujiwara, Chem. Pharm. Bull., 42, 154 (1994).

L. Yun-Lian, L. Chung-Kuang, H. Yeh-Jeng, and C. Hong-Jhang, J. Agric. Food Chem., 59, 8789 (2011).

Y. Guo, Y. Zhao, C. Zheng, Y. Meng, and Y. Yang, Chem. Pharm. Bull., 58, 1627 (2010).

S. Nakamura, X. Li, H. Matsuda, and M. Yoshikawa, Chem. Pharm. Bull., 56, 536 (2008).

P. Yu, C. Hu, E. J. Meehan, and L. Chen, Chem. Biodivers., 7, 508 (2007).

S. Gogoi and N. P. Argade, Tetrahedron: Asymmetry, 17, 927 (2006).

J. de P. Teresa, J. C. H. Aubanell, A. S. Feliciano, and J. M. del Corral, Tetrahedron Lett., 21, 1359 (1980).
Acknowledgment
The authors thank Ms. Kayoko Oda, Kyoto Pharmaceutical University, and Professor Naoki Noda, Faculty of Pharmaceutical Sciences, Setsunan University, for measurements of FAB-MS. This work was supported by a Grant-in Aid for Scientific Research (C) (No. 22590025) from the Japan Society for the Promotion of Science.
Additional information
Published in Khimiya Prirodnykh Soedinenii, No. 6, November–December, 2013, pp. 851–854.
About this article
Cite this article
Ogawa, Y., Kawai, M., Kinoshita, A. et al. Nitrogen–containing compounds from Hemerocallis fulva var. sempervirens . Chem Nat Compd 49, 991–995 (2014). https://doi.org/10.1007/s10600-014-0806-2
Received:

Published:

Issue Date:

DOI: https://doi.org/10.1007/s10600-014-0806-2
Keywords
Hemerocallis fulva var. sempervirens

kwansonine C

oxypinnatanine A