Abstract
Primary care practices are in great need of practical guidance on the steps they can take to build behavioral health integration (BHI) capacities, particularly for smaller practice settings with fewer resources. 11 small primary care sites (≤ 5 providers) throughout New York State utilized a continuum framework of core components of BHI in combination with technical assistance. Surveys were collected at baseline, 6-months, and 12-months. Semi-structured interviews and focus groups were conducted during site visits, and a stakeholder roundtable was facilitated to address broader themes. Data were analyzed using qualitative thematic analysis. Practices reported successful engagement with the framework and actively participated in planning and advancing BHI operations. Greater success was observed in practices with existing on-site BHI services, identified champions for BHI, early and sustained training and involvement of providers and administrators, use of collaborative agreements with external behavioral health providers, and capacity to successfully receive reimbursements for BHI services. Advancing health information technologies was a challenge across sites. Financing and policy factors were viewed as critically important to advance integration efforts. The pilot of a continuum framework offers lessons for primary care practices and policymakers to advance integrated BH care.
Access options
Buy single article
Instant access to the full article PDF.
US$ 39.95
Tax calculation will be finalised during checkout.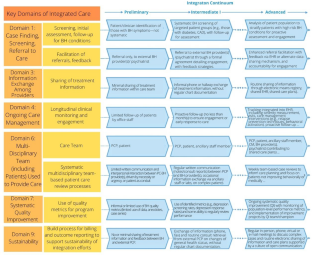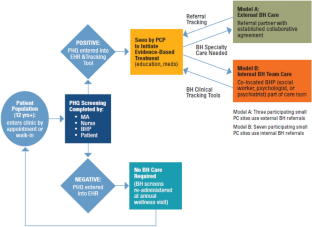 References
A Strategy for Expanding and Improving the Impact of the Medical Home Across New York City. (2016). Retrieved from July 8, 2019, from https://uhfnyc.org/media/filer_public/7a/15/7a1520ca-dde2-4a84-90e2-a42beceb9718/nyc-phip-apc-strategy_final-20160825.pdf.

Berwick, D. M., Nolan, T. W., & Whittington, J. (2008). The triple aim: Care, health and cost. Health Affairs (Millwood), 27(3), 759–769.

Blasi, P. R., Cromp, D., McDonald, S., et al. (2018). Approaches to behavioral health integration at high performing primary care practices. The Journal of the American Board of Family Medicine, 31(5), 691–701.

Chapman, E., Chung, H., & Pincus, H. A. (2017). Using a continuum-based framework for behavioral health integration into primary care in New York State. Psychiatric Services (Washington, D. C.). https://doi.org/10.1176/appi.ps.201700085

Damschroder, L. J., Aron, D. C., Keith, R. E., Kirsh, S. R., Alexander, J. A., & Lowery, J. C. (2009). Fostering implementation of health services research findings into practice: A consolidated framework for advancing implementation science. Implementation Science, 4, 50.

Druss, B. G., & Goldman, H. H. (2018). Integrating health and mental health services: A past and future history. American Journal of Psychiatry. https://doi.org/10.1176/appi.ajp.2018.18020169

Freeman, D. S., Manson, L., Howard, J., & Hornberger, J. (2018). Financing the primary care behavioral health model. Journal of Clinical Psychology in Medical Settings, 25(2), 197–209.

Goldman, M. L., Spaeth-Rublee, B., Nowels, A. D., Ramanuj, P. P., & Pincus, H. A. (2016). Quality measures at the interface of behavioral health and primary care. Current Psychiatry Reports, 18(4), 39.

Goldman, M. L., Smali, E., Richkin, T., Pincus, H. A., & Chung, H. (2020). A novel continuum-based framework for translating behavioral health integration to primary care settings. Translational Behavioral Medicine, 10(3), 580–589.

Institute for Healthcare Improvement. (2014). 90-Day R&D project final summary report: Integrating behavioral health and primary care. Cambridge, MA: Institute for Healthcare Improvement. Retrieved July 8, 2019, http://www.ihi.org/resources/Pages/Publications/BehavioralHealthIntegrationIHI90DayRDProject.aspx.

Katon, W., & Unutzer, J. (2011). Consultation psychiatry in the medical home and accountable care organizations: Achieving the triple aim. General Hospital Psychiatry, 33(4), 305–310.

Katon, W., Unutzer, J., Wells, K., & Jones, L. (2010a). Collaborative depression care: History, evolution and ways to enhance dissemination and sustainability. General Hospital Psychiatry, 32, 456–464.

Katon, W. J., Lin, E. H., Von Korff, M., et al. (2010b). Collaborative care for patients with depression and chronic illnesses. New England Journal of Medicine, 363, 2611–2620.

Liao, J. M., Navathe, A. S., & Press, M. J. (2019). Medicare's approach to paying for services that promote coordinated care. JAMA, 321(2), 147–148.

Miles, M. B., & Huberman, A. M. (1994). Qualitative data analysis: An expanded sourcebook. Thousand Oaks: Sage Publications.

Miller, C. J., Grogan-Kaylor, A., Perron, B. E., Kilbourne, A. M., Woltmann, E., & Bauer, M. S. (2013). Collaborative chronic care models for mental health conditions: Cumulative meta-analysis and meta-regression to guide future research and implementation. Medical Care, 51(10), 922–930.

New York State Department of Health. (2019). New York State Patient-Centered Medical Home (NYS PCMH). Retrieved January 31, 2010, from https://www.health.ny.gov/technology/nys_pcmh/.

New York State Report on Quality, Patient Safety, and Efficiency. (2014). Division of Information and Statistics, Office of Quality and Patient Safety, New York State Department of Health. Retrieved July, 8, 2019 from https://www.health.ny.gov/statistics/sparcs/sb/docs/hospital_quality_safety_efficiency_2014.pdf.

Williams, D., Eckstrom, J., Avery, M., & Unützer, J. (2015). Perspectives of behavioral health clinicians in a rural integrated primary care/mental health program. The Journal of Rural Health, 31(4), 346–353.
Funding
This study was funded by the United Hospital Fund [Grant Number 4126217] and the New York State Health Foundation [Grant Number 4126177], which were awarded to Dr. Henry Chung at the Montefiore Medical Center, and by the New York State Office of Mental Health Policy Scholars program [no grant number], which was awarded to Matthew L. Goldman, MD, MS.
Ethics declarations
Conflict of interest
All authors declare that they have no conflicts of interest to disclose.
Research Involving Human and Animal Rights
This study was reviewed and met the waiver exemption of the Institutional Review Board of the Albert Einstein College of Medicine.
Additional information
Publisher's Note
Springer Nature remains neutral with regard to jurisdictional claims in published maps and institutional affiliations.
Supplementary Information
Below is the link to the electronic supplementary material.
About this article
Cite this article
Goldman, M.L., Smali, E., Richkin, T. et al. Implementation of Behavioral Health Integration in Small Primary Care Settings: Lessons Learned and Future Directions. Community Ment Health J (2021). https://doi.org/10.1007/s10597-021-00802-z
Received:

Accepted:

Published:
Keywords
Behavioral health integration

Financial sustainability

Technology barriers

Qualitative evaluation

Implementation