Abstract
Veterans transitioning from military to civilian life are vulnerable to a loss of social support and an increase in isolation from their communities, which can exacerbate other difficulties they may be experiencing, such as physical or mental health problems. Veteran Coffee Socials are an innovative community-building pilot intervention designed to foster social support and community between veterans. In seven target communities, certified peer specialists initiated and facilitated weekly "Veteran Coffee Socials"—open peer support groups for veterans, held in local coffee shop or restaurants. Over a 9-month period, an average of 8.5 veterans attended each meeting, for a total of 2236 veteran engagements across seven towns. A range of activities were identified as commonly occurring during these Veteran Coffee Socials. Veteran attendees routinely formed relationships with each other, representatives from community organizations, and staff from local and VA healthcare resources. One of the most common activities involved veterans receiving information and directions for enrollment into needed healthcare supports and to local community resources. Case descriptions are provided illustrate the potential positive impact of this intervention to build community and expand social support for returning veterans through the examination of three individual and three group examples.
This is a preview of subscription content, log in to check access.
Access options
Buy single article
Instant access to the full article PDF.
US$ 39.95
Price includes VAT for USA
Subscribe to journal
Immediate online access to all issues from 2019. Subscription will auto renew annually.
US$ 99
This is the net price. Taxes to be calculated in checkout.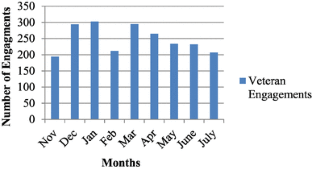 References
Ahern, J., Worthen, M., Masters, J., Lippman, S. A., Ozer, E. J., & Moos, R. (2015). The challenges of Afghanistan and Iraq veterans' transition from military to civilian life and approaches to reconnection. PloS One, 10(7), e0128599.

Bambara, J. K., Turner, A. P., Williams, R. M., & Haselkorn, J. K. (2014). Social support and depressive symptoms among caregivers of veterans with multiple sclerosis. Rehabilitation Psychology, 59(2), 230.

Burke, S. M., & Utley, A. (2013). Climbing towards recovery: Investigating physically injured combat veterans' psychosocial response to scaling Mt. Kilimanjaro. Disability and Rehabilitation, 35(9), 732–739.

Caddick, N., & Smith, B. (2014). The impact of sport and physical activity on the well-being of combat veterans: A systematic review. Psychology of Sport and Exercise, 15(1), 9–18.

Chang, C. W., Chung, C. L., Biegel, D. E., Pernice-Duca, F., Min, M. O., & D'Angelo, L. (2014). Predictors of loneliness of clubhouse members. Psychiatric Rehabilitation Journal, 37(1), 51.

Chaskin, R. J. (Ed.), (2001). Building community capacity (p. 12). New Jersey: Transaction Publishers

Coll, J. E., Weiss, E. L., & Yarvis, J. S. (2011). No one leaves unchanged: Insights for civilian mental health care professionals into the military experience and culture. Social Work in Health Care, 50(7), 487–500.

Constantine, S. (2013, July 8). Retrieved, from http://www.masslive.com/news/index.ssf/2013/07/local_american_legion_posts_re.html.

Danish, S. J., & Antonides, B. J. (2013). The challenges of reintegration for service members and their families. American Journal of Orthopsychiatry, 83(4), 550–558.

Davidson, L., Chinman, M., Kloos, B., Weingarten, R., Stayner, D., & Tebes, J. K. (1999). Peer support among individuals with severe mental illness: A review of the evidence. Clinical Psychology: Science and Practice, 6(2), 165–187.

Demers, A. (2011). When veterans return: The role of community in reintegration. Journal of Loss and Trauma, 16(2), 160–179.

Drebing, C. E., Reilly, E., Henze, K. T., Kelly, M., Russo, A., Smolinsky, J., … Penk, W. E. (2018). Using peer support groups to enhance community integration of veterans in transition. Psychological Services, 15(2), 135.

Ellison, M. L., Reilly, E. D., Mueller, L., Schultz, M., & Drebing, C. (2017). A supported education service for returning veterans with PTSD: Pilot findings. Psychological Services, 15, 200

Glynn, S. M., Drebing, C., & Penk, W. (2009). Psychosocial rehabilitation. Chapter 16. In Effective treatments for PTSD: Practice guidelines from the international society for traumatic stress studies (2nd ed., pp. 388–423). New York, NY: Guilford Press.

Greysen, S. R., Horwitz, L. I., Covinsky, K. E., Gordon, K., Ohl, M. E., & Justice, A. C. (2013). Does social isolation predict hospitalization and mortality among HIV+ and uninfected older veterans? Journal of the American Geriatrics Society, 61(9), 1456–1463.

Hawkins, B. L., McGuire, F. A., Britt, T. W., & Linder, S. M. (2015). Identifying contextual influences of community reintegration among injured servicemembers. Journal of Rehabilitation Research and Development, 52(2), 235–246.

Hinojosa, R., & Hinojosa, M. S. (2011). Using military friendships to optimize postdeployment reintegration for male operation Iraqi freedom/operation enduring freedom veterans. Journal of Rehabilitation Research and Development, 48(10), 1145–1158.

Jain, S., McLean, C., Adler, E. P., & Rosen, C. S. (2016). Peer support and outcome for veterans with posttraumatic stress disorder (PTSD) in a residential rehabilitation program. Community Mental Health Journal, 52(8), 1089–1092.

Koenig, C. J., Maguen, S., Monroy, J. D., Mayott, L., & Seal, K. H. (2014). Facilitating culture-centered communication between health care providers and veterans transitioning from military deployment to civilian life. Patient Education and Counseling, 95(3), 414–420. https://doi.org/10.1016/j.pec.2014.03.016.

Lin, N., Fu, Y. C., & Hsung, R. M. (2001). Measurement techniques for investigations of social capital. In N. Lin (Eds.), Social capital: theory and research. New York: Aldine-de Gruyter

MacQueen, K. M., McLellan, E., Metzger, D. S., Kegeles, S., Strauss, R. P., Scotti, R., … Trotter, R. T. (2001). What is community? An evidence-based definition for participatory public health. American Journal of Public Health, 91(12), 1929–1938.

Mamon, D., McDonald, E. C., Lambert, J. F., & Cameron, A. Y. (2017). Using storytelling to heal trauma and bridge the cultural divide between veterans and civilians. Journal of Loss and Trauma, 22(8), 669–680.

Matarazzo, B. B., Signoracci, G. M., Brenner, L. A., & Olson-Madden, J. H. (2016). Barriers and facilitators in providing community mental health care to returning veterans with a history of traumatic brain injury and co-occurring mental health symptoms. Community Mental Health Journal, 52(2), 158–164.

McGarity, S., Barnett, S. D., Lamberty, G., Kretzmer, T., Powell-Cope, G., Patel, N., & Nakase-Richardson, R. (2016). Community reintegration problems among veterans and active duty service members with traumatic brain injury. Journal of Head Trauma Rehabilitation, 32, 34–35

Montgomery, R. (2014, August 25). VFW battles to reverse a decline in membership. Retrieved May 30, 2017 from, http://www.kansascity.com/news/local/article1283131.html.

Mowatt, R. A., & Bennett, J. (2011). War narratives: Veteran stories, PTSD effects, and therapeutic fly-fishing. Therapeutic recreation journal, 45(4), 286.

Orazem, R. J., Frazier, P. A., Schnurr, P. P., Oleson, H. E., Carlson, K. F., Litz, B. T., & Sayer, N. A. (2016). Identity adjustment among Afghanistan and Iraq war veterans with reintegration difficulty. Psychological Trauma: Theory, Research, Practice, and Policy. https://doi.org/10.1037/tra0000225.

Patel, P., Frederick, T., & Kidd, S. A. (2016). Physical health, community participation and schizophrenia. Journal of Health Psychology. https://doi.org/10.1177/1359105316666654

Pietrzak, R. H., Johnson, D. C., Goldstein, M. B., Malley, J. C., & Southwick, S. M. (2015). Perceived stigma and barriers to mental health care utilization among OEF-OIF veterans. Psychiatric Services, 60(8), 1118–1122.

Putnam, R. D. (1995). Tuning in, tuning out: The strange disappearance of social capital in America. PS: Political Science & Politics, 28(4), 664–683.

Repper, J., & Carter, T. (2011). A review of the literature on peer support in mental health services. Journal of Mental Health, 20(4), 392–411.

Resnick, L., Bradford, D. W., Jette, A. M., Glynn, S. M., Jette, A. M., & Hernandez, C. J. (2012). Issues in defining and measuring veteran community reintegration: proceedings of the Working Group on Community Reintegration, VA Rehabilitation Outcomes Conference, Miami, Florida. Journal of Rehabilitation Research and Development, 49(1), 87–100.

Resnick, S. G., & Rosenheck, R. A. (2008). Integrating peer-provided services: A quasi-experimental study of recovery orientation, confidence, and empowerment. Psychiatric Services, 59(11), 1307–1314.

Resnik, L. J., & Allen, S. M. (2007). Using international classification of functioning, disability and health to understand challenges in community reintegration of injured veterans. Journal of Rehabilitation Research & Development, 44(7), 991–1006.

Romero, D. H., Riggs, S. A., & Ruggero, C. (2015). Coping, family social support, and psychological symptoms among student veterans. Journal of Counseling Psychology, 62(2), 242.

Sayer, N. A., Carlson, K. F., & Frazier, P. A. (2014). Reintegration challenges in US service members and veterans following combat deployment. Social Issues and Policy Review, 8(1), 33–73.

Sayer, N. A., Frazier, P., Orazem, R. J., Murdoch, M., Gravely, A., Carlson, K. F., … Noorbaloochi, S. (2011). Military to civilian questionnaire: A measure of postdeployment community reintegration difficulty among veterans using Department of Veterans Affairs medical care. Journal of Traumatic Stress, 24(6), 660–670.

Sayer, N. A., Noorbaloochi, S., Frazier, P., Carlson, K., Gravely, A., & Murdoch, M. (2010). Reintegration problems and treatment interests among Iraq and Afghanistan combat veterans receiving VA medical care. Psychiatric Services, 61(6), 589–597.

Sherman, M. D., Larsen, J., & Borden, L. M. (2015). Broadening the focus in supporting reintegrating Iraq and Afghanistan veterans: Six key domains of functioning. Professional Psychology: Research and Practice, 46(5), 355–365.

Sledge, W. H., Lawless, M., Sells, D., Wieland, M., O'Connell, M. J., & Davidson, L. (2011). Effectiveness of peer support in reducing readmissions of persons with multiple psychiatric hospitalizations. Psychiatric Services, 62(5), 541–544.

Solomon, P. (2004). Peer support/peer provided services underlying processes, benefits, and critical ingredients. Psychiatric Rehabilitation Journal, 27(4), 392.

Wells, K., Miranda, J., Bruce, M. L., Alegria, M., & Wallerstein, N. (2004). Bridging community intervention and mental health services research. American Journal of Psychiatry, 161(6), 955–963.

Wewiorski, N., Gorman, J. A., Scoglio, A. A. J., Fukuda, S., Reilly, E., Mueller, L., O'Connor, M., Penk, W. E., & Drebing, C. E. (2018). Best practices in vocational services for the community reintegration of returning veterans. Psychological Services, 15, 191

Wu, E., & Graham, D. P. (2016). Association of chronic pain and community integration of returning veterans with and without traumatic brain injury. The Journal of Head Trauma Rehabilitation, 31(1), E1–E12.
About this article
Cite this article
Gorman, J.A., Scoglio, A.A.J., Smolinsky, J. et al. Veteran Coffee Socials: A Community-Building Strategy for Enhancing Community Reintegration of Veterans. Community Ment Health J 54, 1189–1197 (2018). https://doi.org/10.1007/s10597-018-0288-y
Received:

Accepted:

Published:

Issue Date:
Keywords
Community reintegration

Veterans

Community-based interventions

Social support

Coffee Social

Peer