Abstract
Prevalence of mental disorders among children is affected by armed conflict and same is true in protracted conflict of Kashmir, where the ongoing conflict has affected mental health of children badly. In order to understand mental health condition of school going children, the present study was designed to study the nature and prevalence of mental disorders among school children in Kashmir valley. The present study employed multi-stage sampling and multi-informant reporting of mental health problems in children. A sample of 1000 school children was taken from 12 schools of Shopian district through systematic random sampling method. Data was collected at different levels of screening by using Strength and Difficulties Questionnaire (SDQ) (Teacher form) and Mini International Neuropsychiatric Inventory (MINI-Kid). Socio-demographic data sheet was included to gather relevant information. The prevalence rates of mental disorders among school children were presented at different levels of screening. It was found to be 27.1% based on SDQ and 22.2% when assessed by MINI-Kid at second level of screening. The most commonly found mental disorders were of anxiety (8.5%), followed by mood disorders (6.3%) and then behavioural disorders (4.3%). Percentage of schoolgoing children with mental disorders in Kashmir is much more than in other states of India. The political conflict in the state and lack of mental health facilities give rise to high prevalence rates of mental disorders and warrant our urgent attention.
Access options
Buy single article
Instant access to the full article PDF.
US$ 39.95
Tax calculation will be finalised during checkout.
Subscribe to journal
Immediate online access to all issues from 2019. Subscription will auto renew annually.
US$ 79
Tax calculation will be finalised during checkout.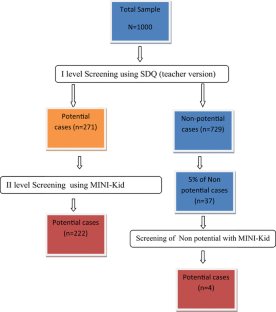 References
Anita, G., Vohra, A. K., Subash, S., & Khurana, H. (2003). Prevalence of psychiatric morbidity among 6–14 years old children. Indian Journal of Community Medicine, 28(3), 133–137.

Arumugam, B., Rajendran, S., & Nagalingam, S. (2013). Mental health problems among adolescents and its psychosocial correlates. PARIPEX - Indian Journal of Research, 2(3), 284–287.

Attanayake, V., Mckay, R., Joffres, M., Singh, S., Burkle, F., & Mills, E. (2009). Prevalence of mental disordersamong children exposed to war: a systematic review of 7920 children. Medicine,Conflict and Survival, 25(1), 4–19.

Bansal, P. D., & Barman, R. (2011). Psychopathology of school going children in the age group of 10–15 years. International Journal of Applied & Basic Medical Research, 1(1), 43–47.

Bhasin, A., & Khan, W. (2009). Prevalence of mental disorders among school children (Doctoral dissertation). Jamia Millia Islamia, New Delhi.

Bhasin, S. K., Sharma, R., & Saini, N. K. (2010). Depression, anxiety and stress among adolescent students belonging to affluent families: A school-based study. Indian Journal of Paediatrics, 77(2), 161–165.

Chaudhuri, A. R. (2013). The Changing Aspirations of Kashmiri Youth. Kashmir Lit-Online Journal of Kashmiri and Diasporic Writing. Retrieved from http://www.kashmirlit.org/2013-archive.

Cooley-Quille, M., Boyd, R., Frantz, E., & Walsh, J. (2001). Emotional and behavioural impact of exposure to community violence in inner-city adolescents. Journal of Clinical Child Psychology, 30, 199–206.

Daniel, W. W. (1999). Biostatistics: A foundation for analysis in the health studies: A practical manual. Geneva: World Health Organisation.

Dar, M. M., Hussain, S. K., Qadri, S., Hussain, S. S., & Fatima, S. S., Srinagar, K. (2015). Prevalence and pattern of psychiatric morbidity among children living in orphanages of Kashmir. International Journal of Health Sciences and Research, 5(11), 55–60.

Derluyn, I., Broekaert, E., Schuyten, G., & Temmerman, E. D. (2004). Post-traumatic stress in former Ugandan child soldiers. Lancet, 363, 861–863.

Dimitry, L. (2012). A systematic review on the mental health of children and adolescents in areas of armed conflict in the Middle East. Child: Care, Health and Development, 38(2), 153–161.

Ferrari, A. J., Charlson, F. J., Norman, R. E., et al. (2013). Burden of depressive disorders by country, sex, age, and year: findings from the global burden of disease study 2010. PLoS Med, 10, e1001547.

Findling, R. L., Schulz, S. C., Kashani, J. H., & Harlan, E. (2001). Psychotic disorders in children and adolescents. Thousand Oaks: Sage Publications Inc.

Giel, R., Arango, M. V., Climent, C. E., Harding, T. W., Ibrahim, H. H., Ladrido-Iqnacio, L., Murthy, R. S., Salazar, M. C., Wig, N. N., Younis, Y. O. (1981). Childhood Mental disorders in primary health care: results of observations in four developing countries, A report from the WHO collaborative Study on Strategies for Extending Mental Health Care. Pediatrics, 68, 677–683.

Goodman, R. (2001). Psychometric properties of the Strengths and Difficulties Questionnaire (SDQ). Journal of the American Academy of Child and Adolescent Psychiatry, 40, 1337–1345.

Goodman, R., Ford, T., Simmons, H., Gatward, R., & Meltzer, H. (2000). Using the Strengths and Difficulties Questionnaire (SDQ) to screen for child psychiatric disorders in a community sample. British Journal of Psychiatry, 177, 534–539.

Hackett, R., Hackett, L., Bhakta, P., & Gowers, S. (1999). The prevalence and associations of psychiatric disorder in children in Kerala, south India. Journal of Child Psychology and Psychiatry, 40, 801–807.

Housen, T., Lenglet, A., Ariti, C., Shah, S., Shah, H., Ara, S., Viney, K., Janes, S., Pintaldi, G. (2017). Prevalence of anxiety, depression and post-traumatic stress disorder in the Kashmir Valley. British Medical Journal Global Health, 2(4), e000419.

Jong, J., Komproe, I. H., & Ommeren, M. V. (2003). Common mental disorders in post conflict settings. The Lancet, 361(9375), 2128–2130.

Jong, K., Kami, S., Ford, N., Lokuge, K., Fromm, S., Galen, R., Reilley, B., Kleber, R. (2008). Conflict in the Indian Kashmir Valley II: Psychosocial impact. Conflict and Health, 2, 11. https://doi.org/10.1186/1752-1505-2-11.

Justino, P. (2012). Resilience in protracted crises: exploring coping mechanisms and resilience of households, communities and local institutions. Retriewed from http://www.fao.org/fileadmin/templates/cfs_high_level_forum/documents/Resilience_in_protracted_crises_PJustino_01.pdf.

Khan, A. Y., & Margoob, M. A. (2006). Paediatric PTSD: Clinical presentation, traumatic events and socio-demographic variables—Experience from a chronic conflict situation. JK-Practitioner, 13(1), S40-S44.

Malhotra, S., Kohli, A., & Arun, P. (2002). Prevalence of psychiatric disorders in school children in Chandigarh. India. Indian Journal of Medical Research, 116, 21–28.

Panter-Brick, C., Eggerman, M., Gonzalez, V., & Safdar, S. (2009). Violence, suffering, and mental health in Afghanistan: A school-based survey. Lancet, 374(9692), 807–816.

Pillai, A., Patel, V., Cardozo, P., Goodman, R., Weiss, H. A., & Andrew, G. (2008). Non-traditional lifestyles and prevalence of mental disorders in adolescents in Goa, India. The British Journal of Psychiatry, 192, 45–51.

Rahi, M., Kumavat, A. P., Garg, S., & Singh, M. M. (2005). Socio-demographic co-relates of psychiatric disorders. Indian Journal of Paediatrics, 72(5), 395–398.

Sagar, R., et al. (2017). Twelve-month prevalence and treatment gap for common mental disorders: Findings from a large-scale epidemiological survey in India. Indian journal of Psychiatry, 59(1), 46–55.

Sarkar, S., Sinha, V. K., & Praharaj, S. K. (2012). Depressive disorders in school children of suburban India: An epidemiological study. Social Psychiatry & Psychiatric Epidemiology, 47, 783–788.

Shekhawat, A. (2007). Conflict induced displacement: The Pandits of Kashmir. Conflict trends. Mumbai: Centre for African Studies, University of Mumbai.

Silove, D., Liddell, B., & Rees, S., et al. (2014). Effects of recurrent violence on post-traumatic stress disorder and severe distress in conflict-affected Timor-Leste: a 6-year longitudinal study. Lancet Glob Health, 2, e293–e300. https://doi.org/10.1016/S2214-109X(14)70196-2.

Sixty-fifth World Health Assembly. (2012). The global burden of mental disorders and the need for a comprehensive, coordinated response from health and social sectors at the country level. Geneva: Switzerland.

Srinath, S., Girimaji, S. C., Gururaj, G., Seshadri, S., Subbakrishna, D. K., Bhola, P., & Kumar, N. (2005). Epidemiological study of child & adolescent psychiatric disorders in urban & rural areas of Bangalore, India. The Indian Journal of Medical Research, 122(1), 67–79.

Steel, Z., Chey, T., Silove, D., et al. (2009). Association of torture and other potentially traumatic events with mental health outcomes among populations exposed to mass conflict and displacement: A systematic review and meta-analysis. JAMA, 302, 537–549.

Thabet, A. A., Abed, Y., & Vostanis, P. (2002). Emotional problems in Palestinian children living in a war zone: A cross-sectional study. Lancet, 359, 1801–1804.
Acknowledgements
Author is highly thankful to all teachers and participants who gave their consent and supported in completion of the study.
Ethics declarations
Conflict of interest
The authors declares that they have no conflict of interest.
Ethical Approval
The present study is approved by Ethical Committee of Jamia Millia Islamia, New Delhi. Author has taken good care of research ethics while dealing with participants and consent of participation has been taken formally.
About this article
Cite this article
Paul, M.A., Khan, W. Prevalence of Childhood Mental Disorders Among School Children of Kashmir Valley. Community Ment Health J 55, 1031–1037 (2019). https://doi.org/10.1007/s10597-018-0253-9
Received:

Accepted:

Published:

Issue Date:
Keywords
Prevalence

Socio-demographic variables

Mental disorders

School children

Kashmir