Abstract
The vast majority of autism spectrum disorder (ASD) research focuses on Caucasian populations in western world countries. While it is assumed that autism rates are similar across ethnic groups regardless of genetic background and environmental exposures, few studies have specifically examined how autism prevalence and severity may differ between majority and minority populations with distinct characteristics. Therefore, we evaluated ethnic differences in ASD prevalence and severity of Bedouin-Arab and Jewish children in the south of Israel. We compared demographic and clinical characteristics of 104 children from a Bedouin-Arab minority with 214 Jewish children who were referred to the main ASD clinic in Southern Israel with suspected communication disorders. Data were obtained from medical records. Jewish children's referral rates were almost 6 times more than that of Bedouin-Arab referral rates (21:1000 and 3.6:1000, respectively). The percentage of high functioning children with ASD was much higher in Jewish than in Bedouin-Arab children (29.6 and 2.6%, respectively). Bedouin-Arab children showed more severe autistic manifestations. Moreover, Bedouin-Arab children were more likely than Jewish children to have additional diagnosis of intellectual disability (14.5 and 6.9%, respectively). Autism prevalence and severity differs markedly between the Bedouin-Arab and Jewish populations in the south of Israel. Most striking is the almost complete absence of children with high-functioning autism in the Bedouin community. A better understanding of the causes for autism prevalence and severity differences across ethnic groups is crucial for revealing the impact of multiple genetic and environmental factors that may affect autism development in each group.
This is a preview of subscription content, log in to check access.
Access options
Buy single article
Instant access to the full article PDF.
US$ 39.95
Price includes VAT for USA
Subscribe to journal
Immediate online access to all issues from 2019. Subscription will auto renew annually.
US$ 99
This is the net price. Taxes to be calculated in checkout.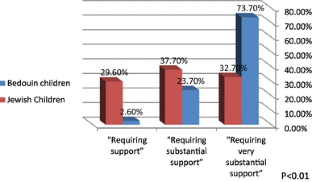 References
Al-Farsi, Y. M., Al-Sharbati, M. M., Al-Farsi, O. A., Al-Shafaee, M. S., Brooks, D. R., & Waly, M. I. (2011). Brief report: Prevalence of autistic spectrum disorders in the Sultanate of Oman. Journal of Autism and Developmental Disorders, 41(6), 821–825. https://doi.org/10.1007/s10803-010-1094-8

Al-Krenawi, A., Graham, J. R., Al-Bedah, E. A., Kadri, H. M., & Sehwail, M. A. (2009). Cross-national comparison of Middle Eastern university students: Help-seeking behaviors, attitudes toward helping professionals, and cultural beliefs about mental health problems. Community Mental Health Journal, 45(1), 26–36. https://doi.org/10.1007/s10597-008-9175-2

American Psychiatric Association. (2000). Diagnostic and statistical manual of mental disorders (4th ed.). Washington, DC: American Psychological Association.

American Psychiatric Association. (2013). Diagnostic and statistical manual of mental disorders (DSM-5) (5th ed.). Washington, DC: American Psychological Association.

Bilenko, N., Fraser, D., Vardy, H., & Belmaker, I. (2014). Impact of multiple micronutrient supplementation ("sprinkles") on iron deficiency anemia in Bedouin Arab and Jewish infants. The Israel Medical Association Journal, 16(7),434–438.

Binyaminy, B., Bilenko, N., Haas, E. J., Grotto, I., & Gdalevich, M. (2016). Socioeconomic status and vaccine coverage during wild-type poliovirus emergence in Israel. Epidemiology Infect, 144(13), 2840–2847. https://doi.org/10.1017/S0950268816000844

Daoud, N., Shoham-Vardi, I., Urquia, M. L., & O'Campo, P. (2014). Polygamy and poor mental health among Arab Bedouin women: Do socioeconomic position and social support matter? Ethnicity & Health, 19(4), 385–405. https://doi.org/10.1080/13557858.2013.801403

Dealberto, M. J. (2011). Prevalence of autism according to maternal immigrant status and ethnic origin. Acta Psychiatrica Scandinavica, 123(5), 339–348. https://doi.org/10.1111/j.1600-0447.2010.01662.x

Jarquin,V. G., Wiggins, L. D., Schieve, L. A., & Van Naarden-Braun, K. (2011). Racial disparities in community identification of autism spectrum disorders over time; Metropolitan Atlanta, Georgia, 2000–2006. Journal of Developmental & Behavioral Pediatrics, 32(3), 179–187. https://doi.org/10.1097/DBP.0b013e31820b4260

Khowaja, M. K., Hazzard, A. P., & Robins, D. L. (2015). Sociodemographic barriers to early detection of autism: Screening and evaluation using the M-CHAT, M-CHAT-R, and follow-up. Journal of Autism and Developmental Disorders, 45(6), 1797–1808. https://doi.org/10.1007/s10803-014-2339-8

Mahajnah, M., Sharkia, R., Shalabe, H., Terkel-Dawer, R., Akawi, A., & Zelnik, N. (2015). Clinical characteristics of autism spectrum disorder in Israel: Impact of ethnic and social diversities. Biomed Research International, 2015, 962093. https://doi.org/10.1155/2015/962093

Matson, J. L., Worley, J. A., Fodstad, J. C., Chung, K.-M., Suh, D., Jhin, H. K., … Furniss, F. (2011). A multinational study examining the cross cultural differences in reported symptoms of autism spectrum disorders: Israel, South Korea, the United Kingdom, and the United States of America. Research in Autism Spectrum Disorders, 5(4),1598–1604.

Melamed, Y., Bashiri, A., Shoham-Vardi, I., Furman, B., Hackmon-Ram, R., & Mazor, M. (2000). Differences in preterm delivery rates and outcomes in Jews and Bedouins in Southern Israel. European Journal of Obstetrics Gynecology and Reproductive Biology, 93(1), 41–46.

Na'amnih, W., Romano-Zelekha, O., Kabaha, A., Rubin, L. P., Bilenko, N., Jaber, L., … Shohat, T. (2014). Prevalence of consanguineous marriages and associated factors among Israeli Bedouins. Journal of Community Genetics, 5(4), 395–398. https://doi.org/10.1007/s12687-014-0188-y

Pedersen, A., Pettygrove, S., Meaney, F. J., Mancilla, K., Gotschall, K., Kessler, D. B., … Cunniff, C. (2012). Prevalence of autism spectrum disorders in Hispanic and non-Hispanic white children. Pediatrics, 129(3), e629–e635. https://doi.org/10.1542/peds.2011-1145

Ratzon, R., Sheiner, E., & Shoham-Vardi, I. (2011). The role of prenatal care in recurrent preterm birth. European Journal of Obstetrics & Gynecology Reproductive Biology, 154(1), 40–44. https://doi.org/10.1016/j.ejogrb.2010.08.011

State of Israel. (2010). Central bureau of statistics. Statistical abstract of Israel. http://www.cbs.gov.il

State of Israel. (2014). Central bureau of statistics. Statistical abstract of Israel. http://www.cbs.gov.il

State of Israel. (2015). Central bureau of statistics. Statistical abstract of Israel. http://www.cbs.gov.il

State of Israel. (2016). National Insurance Institute of Israel. http://www.cbs.gov.il. http://www.btl.gov.il/Mediniyut/Situation/haveruth1/2016/Pages/default.aspx

Treister-Goltzman, Y., Peleg, R., & Biderman, A. (2015). Anemia among Muslim Bedouin and Jewish women of childbearing age in Southern Israel. Annals of Hematology. https://doi.org/10.1007/s00277-015-2459-z

Zlotogora, J., & Shalev, S. A. (2010). The consequences of consanguinity on the rates of malformations and major medical conditions at birth and in early childhood in inbred populations. American Journal of Medical Genetics Part A, 152A(8), 2023–2028. https://doi.org/10.1002/ajmg.a.33537
About this article
Cite this article
Levaot, Y., Meiri, G., Dinstein, I. et al. Autism Prevalence and Severity in Bedouin-Arab and Jewish Communities in Southern Israel. Community Ment Health J 55, 156–160 (2019). https://doi.org/10.1007/s10597-018-0236-x
Received:

Accepted:

Published:

Issue Date:
Keywords