Abstract
There is a lack of research to guide collaborative treatment decision-making for children who have complex behavioral problems, despite the extensive use of mental health services in this population. We developed and pilot-tested a one-page Option Grid™ patient decision aid to facilitate shared decision-making for these situations. An editorial team of parents, child psychiatrists, researchers, and other stakeholders developed the scope and structure of the decision aid. Researchers included information about a carefully chosen number of psychosocial and pharmacological treatment options, using descriptions based on the best available evidence. Using semi-structured qualitative interviews (n = 18), we conducted user testing with four parents and four clinical prescribers and field testing with four parents, four clinical prescribers, and two clinic administrators. The researchers coded and synthesized the interview responses using mixed inductive and deductive methods. Parents, clinicians, and administrators felt the Option Grid had significant value, although they reported that additional training and other support would be required in order to successfully implement the Option Grid and achieve shared decision-making in clinical practice.
This is a preview of subscription content, log in to check access.
Access options
Buy single article
Instant access to the full article PDF.
US$ 39.95
Price includes VAT for USA
Subscribe to journal
Immediate online access to all issues from 2019. Subscription will auto renew annually.
US$ 99
This is the net price. Taxes to be calculated in checkout.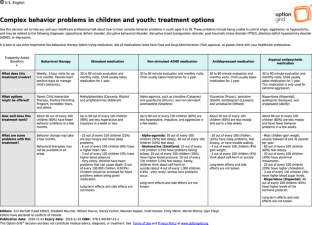 References
Arndorfer, R. E., Allen, K. D., & Aljazireh, L. (1999). Behavioral health needs in pediatric medicine and the acceptability of behavioral solutions: Implications for behavioral psychologists. Behavior therapy, 30(1), 137–148.

Braun, V., & Clarke, V. (2006). Using thematic analysis in psychology. Qualitative Research in Psychology, 3(2), 77–101.

Brinkman, W. B., Hartl, J., Rawe, L. M., Sucharew, H., Britto, M. T., & Epstein, J. N. (2011). Physicians' shared decision-making behaviors in attention-deficit/hyperactivity disorder care. Archives of Pediatrics & Adolescent Medicine, 165(11), 1013–1019.

Brinkman, W. B., Hartl Majcher, J., Poling, L. M., Shi, G., Zender, M., Sucharew, H., & Epstein, J. N. (2013). Shared decision-making to improve attention-deficit hyperactivity disorder care. Patient Education and Counseling, 93(1), 95–101. doi:10.1016/j.pec.2013.04.009.

Charles, C., Gafni, A., & Whelan, T. (1997). Shared decision-making in the medical encounter: What does it mean? (or it takes at least two to tango). Social Science & Medicine (1982), 44(5), 681–692.

Cohen, D., Dillon, F. R., Gladwin, H., & De La Rosa, M. (2013). American parents' willingness to prescribe psychoactive drugs to children: A test of cultural mediators. Social Psychiatry and Psychiatric Epidemiology, 48(12), 1873–1887. doi:10.1007/s00127-013-0710-2.

Connor, D. F., Carlson, G. A., Chang, K. D., Daniolos, P. T., Ferziger, R., & Findling, R. L. (2006). Juvenile maladaptive aggression: A review of prevention, treatment, and service configuration and a proposed research agenda. The Journal of Clinical Psychiatry, 67(5), 808–820.

Costello, E. J., Angold, A., Burns, B. J., Stangl, D. K., Tweed, D. L., Erkanli, A., & Worthman, C. M. (1996). The Great Smoky Mountains Study of Youth. Goals, design, methods, and the prevalence of DSM-III-R disorders. Archives of General Psychiatry, 53(12), 1129–1136.

Coyne, I. (2006). Consultation with children in hospital: Children, parents' and nurses' perspectives. Journal of Clinical Nursing, 15(1), 61–71. doi:10.1111/j.1365-2702.2005.01247.x.

Daviss, W. B., Barnett, E., Neubacher, K., & Drake, R. E. (2016). Use of antipsychotic medications for nonpsychotic children: Risks and implications for mental health services. Psychiatric Services, 67(3), 339–341. doi:10.1176/appi.ps.201500272.

Deegan, P. E. (2010). A web application to support recovery and shared decision making in psychiatric medication clinics. Psychiatric Rehabilitation Journal, 34(1), 23–28.

Deegan, P. E., & Drake, R. E. (2006). Shared decision making and medication management in the recovery process. Psychiatric Services, 57(11), 1636–1636.

Deegan, P. E., Rapp, C., Holter, M., & Riefer, M. (2008). Best practices: A program to support shared decision making in an outpatient psychiatric medication clinic. Psychiatric Services, 59(6), 603–603.

Delman, J., Clark, J., Eisen, S., & Parker, V. (2015). Facilitators and barriers to the active participation of clients with serious mental illnesses in medication decision making: The perceptions of young adult clients. The Journal of Behavioral Health Services & Research, 42(2), 238–253. doi:10.1007/s11414-014-9431-x.

Durand, M. A., Alam, S., Grande, S. W., & Elwyn, G. (2016). 'Much clearer with pictures': Using community-based participatory research to design and test a Picture Option Grid for underserved patients with breast cancer. BMJ Open, 6(2), e010008. doi:10.1136/bmjopen-2015-010008.

Elwyn, G., Laitner, S., Coulter, A., Walker, E., Watson, P., & Thomson, R. (2010). Implementing shared decision making in the NHS. BMJ, 341, c5146. doi:10.1136/bmj.c5146.

Elwyn, G., Lloyd, A., Joseph-Williams, N., Cording, E., Thomson, R., Durand, M. A., & Edwards, A. (2013). Option Grids: Shared decision making made easier. Patient Education and Counseling, 90(2), 207–212. doi:10.1016/j.pec.2012.06.036.

Elwyn, G., O'Connor, A., Stacey, D., Volk, R., Edwards, A., Coulter, A., & Whelan, T. (2006). Developing a quality criteria framework for patient decision aids: online international Delphi consensus process. BMJ, 333(7565), 417. doi:10.1136/bmj.38926.629329.AE.

Elwyn, G., Pickles, T., Edwards, A., Kinsey, K., Brain, K., Newcombe, R. G., & Wood, F. (2016). Supporting shared decision making using an Option Grid for osteoarthritis of the knee in an interface musculoskeletal clinic: A stepped wedge trial. Patient Education and Counseling, 99(4), 571–577. doi:10.1016/j.pec.2015.10.011.

Eyberg, S. M., Nelson, M. M., & Boggs, S. R. (2008). Evidence-based psychosocial treatments for children and adolescents with disruptive behavior. Journal of Clinical Child and Adolescent Psychology, 37(1), 215–237. doi:10.1080/15374410701820117.

Fay, M., Grande, S. W., Donnelly, K., & Elwyn, G. (2016). Using Option Grids: Steps toward shared decision-making for neonatal circumcision. Patient Education and Counseling, 99(2), 236–242. doi:10.1016/j.pec.2015.08.025.

Garland, A. F., Hough, R. L., McCabe, K. M., Yeh, M., Wood, P. A., & Aarons, G. A. (2001). Prevalence of psychiatric disorders in youths across five sectors of care. Journal of the American Academy of Child and Adolescent Psychiatry, 40(4), 409–418. doi:10.1097/00004583-200104000-00009.

Grim, K., Rosenberg, D., Svedberg, P., & Schon, U. K. (2016). Shared decision-making in mental health care-A user perspective on decisional needs in community-based services. International Journal of Qualitative Studies on Health and Well-being, 11, 30563. doi:10.3402/qhw.v11.30563.

Hamann, J., Mendel, R., Bühner, M., Kissling, W., Cohen, R., Knipfer, E., & Eckstein, H. H. (2012). How should patients behave to facilitate shared decision making–the doctors' view. Health Expectations, 15(4), 360–366. doi:10.1111/j.1369-7625.2011.00682.x.

Hansson, L., Jormfeldt, H., Svedberg, P., & Svensson, B. (2013). Mental health professionals' attitudes towards people with mental illness: Do they differ from attitudes held by people with mental illness? The International Journal of Social Psychiatry, 59(1), 48–54. doi:10.1177/0020764011423176.

Lambert, L., Friedman, E., Jerz, M., & Hacker, K. (2008). Medications & choices: The perspectives of family and youth. What parents and children tell us about psychiatric medications. Cambridge MA: Institute for Community Health.

Mistler, L. A., & Drake, R. E. (2008). Shared decision making in antipsychotic management. Journal of Psychiatric Practice, 14(6), 333–344.

O'Brien, M., Crickard, E., Lee, J., & Holmes, C. (2013). Attitudes and experience of youth and their parents with psychiatric medication and relationship to self-reported adherence. Community Mental Health Journal, 49(5), 567–575. doi:10.1007/s10597-012-9526-x.

Quirk, A., Chaplin, R., Lelliott, P., & Seale, C. (2012). How pressure is applied in shared decisions about antipsychotic medication: A conversation analytic study of psychiatric outpatient consultations. Sociology of Health & Illness, 34(1), 95–113.

Seale, C., Chaplin, R., Lelliott, P., & Quirk, A. (2006). Sharing decisions in consultations involving anti-psychotic medication: A qualitative study of psychiatrists' experiences. Social Science & Medicine, 62(11), 2861–2873. doi:10.1016/j.socscimed.2005.11.002.

Shenton, A. K. (2004). Strategies for ensuring trustworthiness in qualitative research projects. Education for Information, 22(2), 63–75.

Shepherd, A., Shorthouse, O., & Gask, L. (2014). Consultant psychiatrists' experiences of and attitudes towards shared decision making in antipsychotic prescribing, a qualitative study. BMC Psychiatry, 14, 127. doi:10.1186/1471-244X-14-127.

Trevena, L. J., Zikmund-Fisher, B. J., Edwards, A., Gaissmaier, W., Galesic, M., Han, P. K., & Woloshin, S. (2013). Presenting quantitative information about decision outcomes: a risk communication primer for patient decision aid developers. BMC Medical Informatics and Decision Making, 13(2), S7. doi:10.1186/1472-6947-13-s2-s7.

Tsulukidze, M., Grande, S. W., & Gionfriddo, M. R. (2015). Assessing Option Grid(R) practicability and feasibility for facilitating shared decision making: An exploratory study. Patient Education and Counseling, 98(7), 871–877. doi:10.1016/j.pec.2015.03.013.
Funding
This project was funded by the Department of Psychiatry, Geisel School of Medicine at Dartmouth, Gary Tucker Junior Investigator Research Award.
About this article
Cite this article
Barnett, E.R., Boucher, E.A., Daviss, W.B. et al. Supporting Shared Decision-making for Children's Complex Behavioral Problems: Development and User Testing of an Option Grid™ Decision Aid. Community Ment Health J 54, 7–16 (2018). https://doi.org/10.1007/s10597-017-0136-5
Received:

Accepted:

Published:

Issue Date:
Keywords
Behavioral disorders

Children

Child psychiatry

Shared decision making

Children's mental health

Decision aid