Abstract
Access to mental health treatment is a vital part of a comprehensive health care plan. Deaf individuals often have difficulty accessing mental health services. Four-hundred twenty-two participants completed an anonymous questionnaire about their perspectives of telemental health services for deaf individuals. Results showed that several variables, such as if the participant was unable to receive another type of psychotherapy and whether the therapist was ASL-fluent, were significantly related to whether the respondent would use TMH. The participants reported that TMH services are a viable option for treating a variety of mental health issues. Telemental health services can act as a bridge between consumers of mental health care and their providers allowing accessible and equitable healthcare opportunities.
Access options
Buy single article
Instant access to the full article PDF.
US$ 39.95
Tax calculation will be finalised during checkout.
Subscribe to journal
Immediate online access to all issues from 2019. Subscription will auto renew annually.
US$ 79
Tax calculation will be finalised during checkout.
References
Afrin, J., & Critchfeld, A. (1997). Low-cost telepsychiatry for the deaf in South Carolina. American Medical Informatics Association. Retrieved from http://www.ncbi.nlm.nih.gov/pmc/articles/PMC2233381/.

Behl, D., & Kahn, G. (2015). Provider perspectives on telepractice for serving families of children who are deaf or hard of hearing. International Journal of Telerehabilitation, 7(1), 1–12. doi:10.5195/IJT.2015.6170.

Blaiser, K., Behl, D., Callow-Heusser, C., & White, K. (2013). Measuring costs and outcomes of tele-intervention when serving families of children who are deaf/hard of hearing. International Journal of Telerehabilitation, 5(2), 3–10. doi:10.5195/IJT.2013.6129.

Cabral, L., Muhr, K., & Savageau, J. (2013). Perspectives of people who are deaf and hard of hearing on mental health, recovery, and peer support. Community Mental Health, 49, 649–657. doi:10.1007/s10597-012-9569-z.

Census Bureau. (2014). American community survey: One-year estimates. Retrieved from www.census.gov.

Chan, S., Torous, J., Hinton, L., & Yellowlees, P. (2014). Mobile tele-mental health: Increasing applications and a move to hybrid models of care. Healthcare, 2, 220–233.

Choi, N., Marti, C., Bruce, M., Hegel, M., Wilson, N., & Kunik, M. (2014). Six-month post-intervention depression and disability outcomes of in-home telehealth problem-solving therapy for depressed low-income homebound older adults. Depression and Anxiety, 31, 653–661.

Crowe, T. (2002). Translation of the Rosenberg Self-Esteem Scale: A principal components analysis. Social Work Research, 26(1), 57.

Gibson, J., Pennington, R., Stenhoff, D., & Hopper, J. (2010). Using desktop videoconferencing to deliver interventions to a preschool student with autism. Topics in Early Childhood Special Education, 29(4), 214–225.

Hailey, D., Roine, R., & Ohinmaa, A. (2008). The effectiveness of telemental health applications: A review. The Canadian Journal of Psychiatry, 53(11), 769–778.

Johnson, G. (2014). Toward uniform competency standards in telepsychiatry: A proposed framework for Canadian psychologists. Canadian Psychology, 55(4), 291–302.

Mitchell, R., Young, T., Bachleda, B., & Karchmer, M. (2006). How many people use ASL in the United States? Sign Language Studies, 6(3), 306–335.

Mohr, D. (2009). Telemental health: Reflections on how to move the field forward. Clinical Psychology: Science and Practice, 16(3), 343–347.

Montero, J., Carrasco, J., Roca, M., Serrano-Blanco, A., Gili, M., Mayoral, F., … Garcia-Campayo, J. (2013). Expectations, experiences, and attitudes of patients and primary health professionals regarding online psychotherapeutic interventions for depression: Protocol for a qualitative study. BMC Psychiatry, 13(64). Retrieved from http://www.biomedcentral.com/1471-244X/13/64.

National Institute of Communication Disorders. (2016). Quick statistics. Retrieved from www.nidcd.nih.gov/health/statistics/Pages/quick.aspx.

O'Reilly, R., Bishop, J., Maddox, K., Hutchinson, L., Fisman, M., & Takhar, J. (2005). Is telepsychiatry equivalent to face-to-face psychiatry? Results from a randomized controlled equivalence trial. Psychiatric Services, 58(6), 836–843.

Pruitt, L., Luxton, D., & Shore, P. (2014). Additional clinical benefits of home-based telemental health treatments. Professional Psychology: Research and Practice, 45(5), 340–346.

Richards, D., & Vigano, N. (2013). Online counseling: A narrative and critical review of the literature. Journal of Clinical Psychology, 69(9), 994–1011.

Santa Ana, E., & Stallings, D. (2013). Development of an in-home telehealth program for outpatient veterans with substance abuse disorders. Psychological Services, 10(3), 304–314.

Schein, J., & Delk, M. (1974). The deaf population of the United States. Silver Spring, MD: National Association of the Deaf.

Sequist, T. (2011). Ensuring equal access to specialty care. New England Journal of Medicine, 364(23), 2258–2259.

Shore, J. (2013). Telepsychiatry: Videoconferencing in the delivery of psychiatric care. American Journal of Psychiatry, 170(3), 256–262.

Sorocco, K., Bratkovich, K., Wingo, R., Qureshi, S., & Mason, P. (2013). Integrating care coordination home telehealth and home based primary care in rural Oklahoma: A pilot study. Psychological Services, 10(3), 350–352.

Stredler-Brown, A. (2012). The future of telepractice for children who are deaf and hard of hearing. The Volta Review, 112(3), 435–442.

Wilson, J., & Schild, S. (2014). Provision of mental health care services to deaf individuals using telehealth. Professional Psychology: Research and Practice, 45(5), 324–331.
Appendix 1: Survey Instrument
Appendix 1: Survey Instrument
What Do YOU Think About TeleMental Health (TMH) Services for Deaf Individuals?
Please answer the following questions. When you are finished, please give your questionnaire to the person who gave it to you. Thank you for sharing your opinions about this type of service.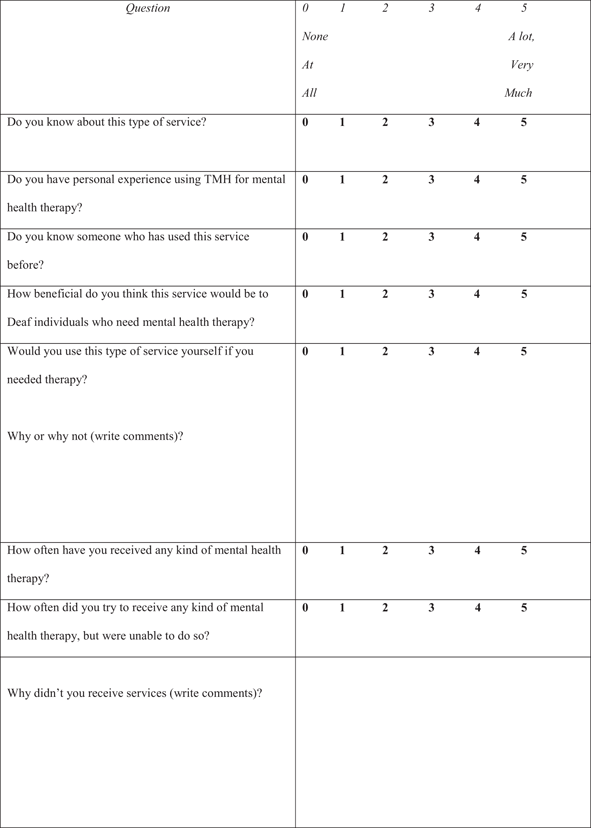 About YOU

What Types of Problems Do You Think TMH Services Could Help Deaf Individuals Solve?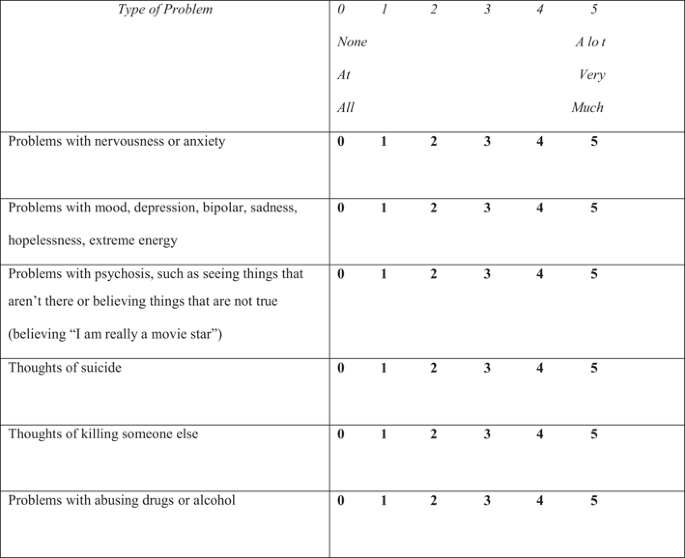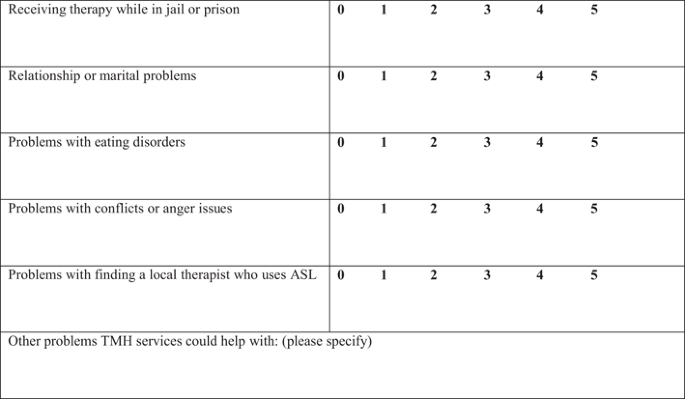 About this article
Cite this article
Crowe, T.V. Is Telemental Health Services a Viable Alternative to Traditional Psychotherapy for Deaf Individuals?. Community Ment Health J 53, 154–162 (2017). https://doi.org/10.1007/s10597-016-0025-3
Received:

Accepted:

Published:

Issue Date:
Keywords
Telemental health

Telepractice

Deaf

Mental health