Abstract
As veterans disproportionately experience higher rates of mental illness than civilians, conflicting results surround the impact of race/ethnicity on treatment utilization. This study utilized the CDC's Texas Behavioral Risk Factor Surveillance System data, a random-digit dialed telephone survey of non-institutionalized adults. A subset of Texas respondents (n = 8563) were asked questions related to mental health treatment, stigma, help-seeking attitudes and emotional support. While no differences were found in health care utilization between non-Hispanic white veterans and non-veterans, there were distinct patterns among racial/ethnic minority veterans and non-veterans. Black and Latino non-veterans reported significantly lower health care utilization compared to non-Hispanic white non-veterans. Among veterans, there were no differences in reported utilization rates comparing non-Hispanic whites and Latinos and also non-Hispanic whites and Blacks. Our study adds to the literature by examining health care utilization among a diverse group of veterans by focusing on Veterans Administration (VA) and non-VA services to veterans.
Access options
Buy single article
Instant access to the full article PDF.
US$ 39.95
Tax calculation will be finalised during checkout.
Subscribe to journal
Immediate online access to all issues from 2019. Subscription will auto renew annually.
US$ 79
Tax calculation will be finalised during checkout.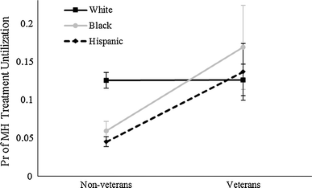 References
Alegria, M., Canino, G., Rios, R., Vera, M., Calderon, J., Rusch, D., & Ortega, A. (2002). Mental health care for Latinos: Inequalities in use of specialty mental health services among Latinos, African Americans and non-Latino whites. Psychiatric Services, 53(12), 1547–1555.

Blais, R. K., & Renshaw, K. D. (2013). Stigma and demographic correlates of help-seeking intentions in returning service members. Journal of Traumatic Stress, 26(1), 77–85. doi:10.1002/jts.21772.

Centers for Disease Control and Prevention. (2014). About the TX-BRFSS. http://www.dshs.state.tx.us/chs/brfss/. Accessed 31 July 2013.

Centers for Disease Control and Prevention (CDC). (2007). Behavioral risk factor surveillance system survey data. Atlanta, GA: Department of Health and Human Services, Centers for Disease Control and Prevention.

Diala, C. C., Multaner, C., Walrath, C., Nickerson, K., LaVeist, T., & Leaf, P. (2001). Racial/ethnic differences in attitudes toward seeking professional mental health services. American Journal of Public Health, 91(5), 805–807.

Elhai, J. D., Grubaugh, A. L., Richardson, J. D., Egede, L. E., & Creamer, M. (2008). Outpatient medical and mental healthcare utilization models among military veterans: Results from the 2001 national survey of veterans. Journal of Psychiatric Research, 42(10), 858–867. doi:10.1016/j.jpsychires.2007.09.006.

Fasoli, D. R., Glickman, M. E., & Eisen, S. V. (2010). Predisposing characteristics, enabling resources and need as predictors of utilization and clinical outcomes for veterans receiving mental health services. Medical Care, 48(4), 288–295.

Grossbard, J. R., Lehavot, K., Hoerster, K. D., Jakupcak, M., Seal, K. H., & Simpson, T. L. (2013). Relationships among veteran status, gender, and key health indicators in a national young adult sample. Psychiatric Services, 64(6), 547–553. doi:10.1176/appi.ps.003002012.

Hoge, C. W., Castro, C. A., Messer, S. C., McGurk, D., Cotting, D. I., & Koffman, R. L. (2004). Combat duty in Iraq and Afghanistan, mental health problems, and barriers to care. New England Journal of Medicine, 351, 13–22.

Hoge, C., Grossman, S., Auchterlonie, J., Riviere, L., Milliken, C., & Wilk, J. (2014). PTSD treatment for soldiers after combat deployment: Low utilization of mental health care and reasons for dropout. Psychiatric Services, 65(8), 997–1004. doi:10.1176/appi.ps.201300307.

Institute of Medicine. (2003). Unequal treatment: Confronting racial and ethnic disparities in health care. Washington, DC: National Academy Press.

Lee, J., Sanders, K. M., & Cox, M. (2014). Honoring those who have served: How can health professionals provide optimal care for members of the military, veterans, and their families. Academic Medicine, 89(9), 1198–2000.

National Institutes of Health, National Institute of Mental Health. (n.d.). Statistics: Any disorder among adults. http://www.nimh.nih.gov/statistics/1ANYDIS_ADULT.shtml. Retrieved 21 April 2014.

Nelson, K. M., Strakebaum, G. A., & Reiber, G. E. (2007). Veterans using and uninsured veterans not using Veterans Affairs (VA) health care. Public Health Reports, 122(1), 93–100.

Nock, M. K., Stein, M. B., Heeringa, S. G., Ursano, R. J., Colpe, L. J., Fullerton, C. S., et al. (2014). Prevalence and correlates of suicidal behavior among soldiers: Results from the Army study to assess risk and resilience in service members (Army STARRS). JAMA Psychiatry, 71(5), 514–522. doi:10.1001/jamapsychiatry.2014.30.

Pietrzak, R. H., Johnson, D. C., Goldstein, M. B., Malley, J. C., & Southwick, S. M. (2009). Perceived stigma and barriers to mental health care utilization among OEF–OIF veterans. Psychiatric Services, 60(8), 1118–1122. doi:10.1176/appi.ps.60.8.1118.

Rosenheck, R., & Fontana, A. (1994). Utilization of mental health services by minority veterans of the Vietnam era. Journal of Nervous and Mental Disease, 182(12), 685–691.

Saha, S., Freeman, M., Toure, J., Tippens, K. M., Weeks, C., & Ibrahim, S. (2008). Racial and ethnic disparities in the VA health care system: A systematic review. Journal of General Internal Medicine, 23(5), 654–671. doi:10.1007/s11606-008-0521-4.

Seal, K. H., Maguen, S., Cohen, B., Gima, K. S., Metzler, T. J., Ren, L., et al. (2010). VA mental health services utilization in Iraq and Afghanistan veterans in the first year of receiving new mental health diagnoses. Journal of Trauma and Stress, 23, 5–16. doi:10.1002/jts.20493.

Seal, K. H., Metzler, T. J., Gima, K. S., Bertenthal, D., Gaguen, S., & Marmar, C. R. (2009). Trends and risk factors for mental health diagnoses among Iraq and Afghanistan veterans using Department of Veterans Affairs health care, 2002–2008. American Journal of Public Health, 99(9), 1651–1658.

Shim, R. S., Compton, M. T., Rust, G., Druss, B. G., & Kaslow, N. J. (2009). Race–ethnicity as a predictor of attitudes toward mental health treatment seeking. Psychiatric Services, 60(10), 1336–1341. doi:10.1176/appi.ps.60.10.1336.

Spoont, M. R., Murdoch, M., Hodges, J., & Nugent, S. (2010). Treatment receipt by veterans after a PTSD diagnosis in PTSD, mental health, or general medical clinics. Psychiatric Services, 61(1), 58–63. doi:10.1176/ps.2010.61.1.58.

Trivedi, A. N., Grebla, R. C., Wrights, S. M., & Washington, D. L. (2011). Despite improved quality of care in the veterans affairs health system, racial disparity persists for important clinical outcomes. Health Affairs, 30(4), 707–715. doi:10.1377/hlthaff.2011.0074.

U.S. Department of Health and Human Services. (2001). Mental health: Culture, race, and ethnicity—a supplement to Mental health: A report of the Surgeon General. Rockville, MD.

U.S. Department of Veterans Affairs, Mental Health Services, Suicide Prevention Program. (2013). Suicide Data Report, 2012. https://www.va.gov/opa/docs/duicide-data-report-2012-final.pdf.

Weiss, E., Coll, J., & Metal, M. (2011). The influence of military culture and veteran worldviews on mental health treatment: Practice implications for combat veteran help-seeking and wellness. International Journal of Health, Wellness & Society, 1(2), 75–86.

White House. (2013). Interagency Task For on Military and Veterans Mental Health: 2013 Interim Report. http://www.whitehouse.gov/sites/default/files/uploads/2013_interim_report_of_the_interagency_task_force_on_military_and_veterans_mental_health.pdf. Retrieved 12 Jan 2015.
About this article
Cite this article
De Luca, S.M., Blosnich, J.R., Hentschel, E.A.W. et al. Mental Health Care Utilization: How Race, Ethnicity and Veteran Status are Associated with Seeking Help. Community Ment Health J 52, 174–179 (2016). https://doi.org/10.1007/s10597-015-9964-3
Received:

Accepted:

Published:

Issue Date:
Keywords
Veteran

Mental health

Mental health treatment utilization

Racial/ethnic disparities