Abstract
Equine-assisted learning (EAL) is an experiential modality which utilizes horses to provide a unique learning experience for personal growth. Research by Damon et al. (Appl Dev Sci 7:119–128, 2003) suggests a positive relationship between hope and positive developmental trajectories. Hagen et al. (Am J Orthopsychiatr 75:211–219, 2005) showed hope to be a protective factor associated with adaptive functioning in at-risk youth. Ashby et al. (J Couns Dev 89:131–139, 2011) found a significant inverse relationship between hope and depression: as hope increases, depression decreases. The current study investigates the impact of a non-riding EAL curriculum entitled L.A.S.S.O. (Leading Adolescents to Successful School Outcomes) on levels of hope and depression in at-risk youth. The study uses an experimental design with longitudinal, repeated measures. Participants were randomly assigned to treatment and control groups. Participants in the treatment received 5 weeks of EAL, while participants in the control group received treatment as usual. Repeated measures ANOVA of participants' levels of hope and depression showed statistically significant improvements in the treatment group as compared with the control group. Even a brief (5-week) intervention of EAL had a positive impact on the lives and attitudes of at-risk adolescents, with increased levels of hope and decreased levels of depression.
Access options
Buy single article
Instant access to the full article PDF.
USD 39.95
Price excludes VAT (USA)
Tax calculation will be finalised during checkout.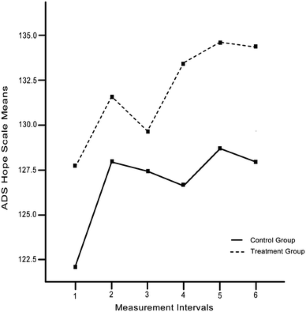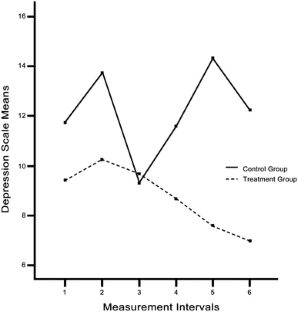 References
American Psychiatric Association. (2000). Diagnostic and statistical manual of mental disorders (4th ed.). Washington, DC: American Psychiatric Association.

Arnau, R. C., Rosen, D. H., Finch, J. F., Rhudy, J. L., & Fortunato, V. J. (2007). Longitudinal effects of hope on depression and anxiety: A latent variable analysis. Journal of Personality, 75, 43–64.

Ashby, J. S., Dickinson, W. L., Gnilka, P. B., & Noble, C. L. (2011). Hope as a mediator and moderator of multidimensional perfectionism and depression in middle school students. Journal of Counseling & Development, 89, 131–139.

Bailey, T. C., Eng, W., Frisch, M. B., & Snyder, C. R. (2007). Hope and optimism as related to life satisfaction. The Journal of Positive Psychology, 2(3), 168–175.

Bailey, T. C., & Snyder, C. R. (2007). Satisfaction with life and hope: A look at age and marital status. Psychological Record, 57(2), 233–240.

Bass, M. M., Duchowny, C. A., & Llabre, M. M. (2009). The effect of therapeutic horseback riding on social functioning in children with autism. Journal of Autism and Developmental Disorders, 39(9), 1261–1267.

Bech, P. (1998). Quality of life in the psychiatric patient. London, England: Mosby-Wolfe.

Bech, P., Rasmussen, N. A., Raabaek-Olsen, L., Noerholm, V., & Abildgaard, W. (2001). The sensitivity and specificity of the major depression inventory, using the present state examination as the index of diagnostic validity. Journal of Affective Disorders, 66, 159–164.

Bergh, D. D. (1995). Problems with repeated measures analysis: Demonstration with a study of the diversification and performance relationship. Academy of Management Journal, 38(6), 1692–1708.

Berkovits, I., Hancock, G. R., & Nevitt, J. (2000). Bootstrap resampling approaches for repeated measure designs: Relative robustness to sphericity and normality violations. Educational and Psychological Measurement, 60(6), 877–892.

Carifio, J., & Rhodes, L. (2002). Construct validities and the empirical relationships between optimism, hope, self-efficacy, and locus of control. Work, 19, 125–136.

Carpenter, S. (1997). Therapeutic roles of animals. Journal of the American Veterinary Medical Association, 211, 154–155.

Chandler, C. K. (2005). Animal assisted therapy in counseling. New York: Routledge.

Chang, E. C. (2003). A critical appraisal and extension of hope theory in middle-aged men and women: Is it important to distinguish agency and pathways components? Journal of Social and Clinical Psychology, 22, 121–143.

Cohen, J. (1988). Statistical power analysis for the behavioral sciences (2nd ed.). New York, NY: Academic Press.

Cohen, J. (1992). A power primer. Psychological Bulletin, 112(1), 155–159.

Cowen, E. L. (1991). In pursuit of wellness. American Psychologist, 46, 404–408.

Damon, W., Menon, J., & Bronk, K. C. (2003). The development of purpose during adolescence. Applied Developmental Science, 7, 119–128.

Dryfoos, J. G. (2000). Safe passage: Making it through adolescence in a risky society. Oxford, England: Oxford University Press.

Eccles, J. S., Midgley, C., Wigfield, A., Buchanan, C. M., Reuman, D., Flanagan, C., & Iver, D. M. (1993). Development during adolescence: The impact of stage-environment fit on young adolescents' experiences in schools and in families. American Psychologist, 48(2), 90–101.

Ewing, C. A., MacDonald, P. M., Taylor, M., & Bowers, M. J. (2007). Equine-facilitated learning for youths with severe emotional disorders: A quantitative and qualitative study. Child and Youth Care Forum, 36, 59–72.

Faul, F., Erdfelder, E., Buchner, A., & Lang, A.-G. (2009). Statistical power analyses using G*Power 3.1: Tests for correlation and regression analyses. Behavior Research Methods, 41, 1149–1160.

Frederick, K. (2011). Adolescent Domain-Specific Hope Scale.

Hagen, K. A., Myers, B. J., & Mackintosh, V. H. (2005). Hope, social support, and behavioral problems in at-risk children. American Journal of Orthopsychiatry, 75, 211–219.

Harrington, R., & Clark, A. (1998). Prevention and early intervention for depression in adolescence and early adult life. European Archives of Psychiatry and Clinical Neuroscience, 248, 32–45.

Johnson, N. G., Roberts, M. C., & Worell, J. (Eds.). (1999). Beyond appearances: A new look at adolescent girls. Washington, DC: American Psychological Association.

Katcher, A. H., & Wilkins, G. G. (1998). Animal-assisted therapy in the treatment of disruptive behavior disorders in children. In A. Lundberg (Ed.), The environment and mental health: A guide for clinicians (pp. 193–204). Mahwah, NJ: Lawrence Erlbaum Associates Inc.

Kersten, G. & Thomas, L. (2004) Equine Assisted Psychotherapy and Learning Un-Training Manual. Santaquin, UT: Equine assisted growth and learning association (EAGALA).

Konstantinidis, A., Martiny, K., Bech, P., & Kasper, S. (2011). A comparison of the major depression inventory and the beck depression inventory in severely depressed patients. International Journal of Psychiatry in Clinical Practice, 15, 56–61.

Marx, R. D., & Cumella, E. J. (2003). Questions and answers. Eating Disorders, 11, 143–147.

McCormick, A., & McCormick, M. D. (1997). Horse sense and the human heart: what horses can teach us about trust, bonding, creativity, and spirituality. Deerfield Beach, FL: Health Communications Inc.

Moore, L., Wagner, P., & Jeffrey, H. (2009). Addiction programming model at its best. Paper presented at the 10th annual conference of the equine assisted growth and learning association, Asheville, NC.

Morris, R. (2000). Curriculum for at-risk students. Carrollton, GA: State University of West Georgia.

Olsen, L. R., Jensen, D. V., Noerholdm, V., Martiny, K., & Bech, P. (2003). The internal and external validity of the Major Depression Inventory in measuring severity of depressive states. Psychological Medicine, 33, 351–356.

Schmid, K. L., Phelps, E., Kiely, M. K., Napolitano, C. M., Boyd, M. J., & Lerner, R. M. (2011). The role of adolescents' hopeful futures in predicting positive and negative developmental trajectories: Findings from the 4-H study of positive youth development. Journal of Positive Psychology, 6, 45–56.

Snyder, C. R. (1994). The psychology of hope: You can get there from here. New York, NY: Free Press.

Snyder, C. R., Cheavins, J., & Michael, S. T. (1997a). Hope: An individual motive for social commerce. Group Dynamics: Theory, Research, and Practice, 1, 107–118.

Snyder, C. R., Hoza, B., Pelham, W. E., Rapoff, M., Ware, L., Danovsky, M., et al. (1997b). The development and validation of the children's hope scale. Journal of Pediatric Psychology, 22, 399–421.

Texas Education Agency (2009). Glossary for the Academic Excellence Indicator System 2009-2010. Retrieved from: http://ritter.tea.state.tx.us/perfreport/aeis/2010/glossary.html

Trotter, K. S., Chandler, C. K., Goodwin-Bond, D. G., & Casey, J. (2008). A comparative study of the efficacy of group equine assisted counseling with at-risk children and adolescents. Journal of Creativity in Mental Health, 3(3), 254–284.

Tyler, J. J. (1994). Equine psychotherapy: Worth more than just a horse laugh. Women and Therapy, 15(3–4), 139–146.

Valle, M. F., Huebner, E. S., & Suldo, S. M. (2006). An analysis of hope as a psychological strength. Journal of School Psychology, 44, 393–406.

Vasey, M.W., & Thayer, J.F. (1987). The continuing problem of false positives in repeated measures ANOVA in psychophysiology: A multivariate solution. Psychophysiology, 24, 479–486.
Conflict of Interest
The authors declare that they have no conflict of interest. No person or organization benefits, financially or otherwise, by the publication of this research.
Appendix
Appendix
Texas Education Agency (2009) Definition of At-Risk
"The statutory criteria for at-risk status include each student who is under 21 years of age and who:
1.

Was not advanced from one grade level to the next for one or more school years;

2.

Is in grades 7, 8, 9, 10, 11, or 12 and did not maintain an average equivalent to 70 on a scale of 100 in two or more subjects in the foundation curriculum during a semester in the preceding or current school year or is not maintaining such an average in two or more subjects in the foundation curriculum in the current semester;

3.

Did not perform satisfactorily on an assessment instrument administered to the student under TEC Subchapter B, Chapter 39, and who has not in the previous or current school year subsequently performed on that instrument or another appropriate instrument at a level equal to at least 110 percent of the level of satisfactory performance on that instrument;

4.

Is in prekindergarten, kindergarten or grades 1, 2, or 3 and did not perform satisfactorily on a readiness test or assessment instrument administered during the current school year;

5.

Is pregnant or is a parent;

6.

Has been placed in an alternative education program in accordance with §TEC 37.006 during the preceding or current school year;

7.

Has been expelled in accordance with §TEC 37.007 during the preceding or current school year;

8.

Is currently on parole, probation, deferred prosecution, or other conditional release;

9.

Was previously reported through the PEIMS to have dropped out of school;

10.

Is a student of limited English proficiency, as defined by §TEC 29.052;

11.

Is in the custody or care of the Department of Protective and Regulatory Services or has, during the current school year, been referred to the department by a school official, officer of the juvenile court, or law enforcement official;

12.

Is homeless, as defined by 42 U.S.C. Section 11302 and its subsequent amendments; or

13.

Resided in the preceding school year or resides in the current school year in a residential placement facility in the district, including a detention facility, substance abuse treatment facility, emergency shelter, psychiatric hospital, halfway house, or foster group home."
About this article
Cite this article
Frederick, K.E., Ivey Hatz, J. & Lanning, B. Not Just Horsing Around: The Impact of Equine-Assisted Learning on Levels of Hope and Depression in At-Risk Adolescents. Community Ment Health J 51, 809–817 (2015). https://doi.org/10.1007/s10597-015-9836-x
Received:

Accepted:

Published:

Issue Date:

DOI: https://doi.org/10.1007/s10597-015-9836-x
Keywords