Abstract
We investigated the feasibility of implementing a recovery-oriented cognitive therapy (CT-R) milieu training program in an urban acute psychiatric inpatient unit. Over a 1-month period, 29 staff members learned short-term CT-R strategies and techniques in an 8-h workshop. Trainees' perceptions of CT-R, beliefs about the therapeutic milieu, and attitudes about working with individuals with psychosis were evaluated both before the workshop and 6 months after the workshop had been completed. Incidents of seclusion and restraint on the unit were also tallied prior to and after the training. Results indicate that staff perceptions of CT-R and their beliefs about the therapeutic environment significantly improved, whereas staff attitudes towards individuals with psychosis remained the same. Incidents of seclusion and restraint also decreased after the training. These findings provide evidence that CT-R training is feasible and can improve the therapeutic milieu of an acute psychiatric inpatient unit.
This is a preview of subscription content, log in to check access.
Access options
Buy single article
Instant access to the full article PDF.
US$ 39.95
Price includes VAT for USA
Subscribe to journal
Immediate online access to all issues from 2019. Subscription will auto renew annually.
US$ 99
This is the net price. Taxes to be calculated in checkout.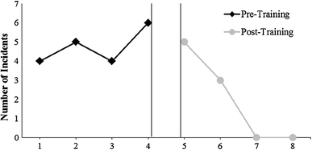 References
Bahareethan, M., & Shah, A. (2000). Aggressive behaviour, staff attitude and staff perception of patients on two continuing care psychogeriatric wards. Aging and Mental Health, 4(1), 66–71.

Baker, J. A., Lovell, K., & Harris, N. (2008). A best-evidence synthesis review of the administration of psychotropic pro re nata (PRN) medication in in-patient mental health settings. Journal of Clinical Nursing, 17(9), 1122–1131.

Barrowclough, C., Haddock, G., Lowens, I., Connor, A., Pidliswyj, J., & Tracey, N. (2001). Staff expressed emotion and causal attributions for client problems on a low security unit: An exploratory study. Schizophrenia Bulletin, 27(3), 517–526.

Beck, A. T., Rector, N. A., Stolar, N. M., & Grant, P. M. (2009). Schizophrenia: Cognitive theory, research and therapy. NY: Guilford Press.

Bellack, A. S. (2006). Scientific and consumer models of recovery in schizophrenia: Concordance, contrasts, and implications. Schizophrenia Bulletin, 32(3), 432–442.

Chakrabarti, A., Whicher, E., Morrison, M., & Douglas-Hall, P. (2007). 'As required' medication regimens for seriously mentally ill people in hospital. Cochrane Database Systematic Review, 3, CD003441.

Chang, N. A., Farash, S. (2010). The CT-R interview. Unpublished test.

Clarke, I., & Wilson, H. (2009). Cognitive behaviour therapy for acute inpatient mental health units: Working with clients, staff and the milieu. London; New York: Routledge.

Davenport, S. (2002). Acute wards: Problems and solutions. Psychiatric Bulletin, 26(10), 385–388.

Davidson, L., Harding, C. M., & Spaniol, L. (2005). Recovery from severe mental illness: Research evidence and implications for practice (Vol. 1). Boston: Center for Psychiatric Rehabilitation of Boston University.

Davidson, L., Harding, C. M., & Spaniol, L. (2006). Recovery from severe mental illness: Research evidence and implications for practice (Vol. 2). Boston: Center for Psychiatric Rehabilitation of Boston University.

Davidson, L., Tondora, J., Lawless, M. S., O'Connell, M. J., & Rowe, M. (2009). A practical guide to recovery-oriented practice: Tools for transforming mental health care. Oxford, UK: Oxford University Press.

Dean, A. J., Duke, S. G., George, M., & Scott, J. (2007). Behavioral management leads to reduction in aggression in a child and adolescent psychiatric inpatient unit. Journal of the American Academy of Child and Adolescent Psychiatry, 46(6), 711–720.

Department of Health and Human Services. (2003). Achieving the promise: Transforming mental health care in America. (DHHS Pub SMA-03-3832). President's New Freedom Commission on Mental Health. Final Report. Rockland, MD: US Department of Health and Human Services.

Forster, P. L., Cavness, C., & Phelps, M. A. (1999). Staff training decreases use of seclusion and restraint in an acute psychiatric hospital. Archives of Psychiatric Nursing, 13(5), 269–271.

Georgieva, I., de Haan, G., Smith, W., & Mulder, C. L. (2010). Successful reduction of seclusion in a newly developed psychiatric intensive care unit. Journal of Psychiatric Intensive Care, 6(1), 31–38.

Gilbody, S., Cahill, J., Barkham, M., Richards, D., Bee, P., & Glanville, J. (2006). Can we improve the morale of staff working in psychiatric units? A systematic review. Journal of Mental Health, 15(1), 7–17.

Grant, P. M., Huh, G. A., Perivoliotis, D., Stolar, N. M., & Beck, A. T. (2012). Randomized trial to evaluate the efficacy of cognitive therapy for low-functioning patients with schizophrenia. Archives of General Psychiatry, 69(2), 121–127.

Heresco-Levy, U., Ermilov, M., Giltsinsky, B., Lichtenstein, M., & Blander, D. (1999). Treatment-resistant schizophrenia and staff rejection. Schizophrenia Bulletin, 25(3), 457–465.

Holmes, J. (2002). Acute wards: Problems and solutions. Psychiatric Bulletin, 26(10), 383–385.

Howard, V., & Holmshaw, J. (2010). Inpatient staff perceptions in providing care to individuals with co-occurring mental health problems and illicit substance use. Journal of Psychiatric and Mental Health Nursing, 17(10), 862–872.

IBM Corp. (2010). IBM SPSS statistics for windows (version 19.0). Armonk, NY: IBM Corp.

Kreyenbuhl, J., Nossel, I. R., & Dixon, L. B. (2009). Disengagement from mental health treatment among individuals with schizophrenia and strategies for facilitating connections to care: A review of the literature. Schizophrenia Bulletin, 35(4), 696–703.

Laker, C., Rose, D., Flach, C., Csipke, E., McCrone, P., Craig, T., et al. (2012). Views of the therapeutic environment (VOTE): Stakeholder involvement in measuring staff perceptions of acute in-patient care. International Journal of Nursing Studies, 49(11), 1403–1410.

LePage, J. P., DelBen, K., Pollard, S., McGhee, M., VanHorn, L., Murphy, J., et al. (2003). Reducing assaults on an acute psychiatric unit using a token economy: A 2-year follow-up. Behavioral Interventions, 18(3), 179–190.

McLeod, H. J., Deane, F. P., & Hogbin, B. (2002). Changing staff attitudes and empathy for working with people with psychosis. Behavioural and Cognitive Psychotherapy, 30(4), 459–470.

Morrison, M. F., Grant, P. M., Cummings, W., Boyle, P. D., Simmons, W., Gardiner, G. C. (2013). Meeting the challenge of olmstead v. L.C.: A recovery-oriented pilot program to improve outcomes from long-term psychiatric inpatient care. Paper presented at the American Psychiatric Association's Institute of Psychiatric Services, Philadelphia, PA.

Nelson, H. (2005). Cognitive behavioral therapy with schizophrenia: A practice manual. Cheltenham: Stanley Thornes Ltd.

Perivoliotis, D., Grant, P. M., & Beck, A. T. (in press). Recovery-oriented cognitive therapy for schizophrenia: A comprehensive treatment manual. New York: Guilford.

Rogers, C. R., Gendlin, E. T., Kiesler, D. J., & Truax, C. B. (1967). The therapeutic relationship and its impact: A study of psychotherapy with schizophrenics. Madison: University of Wisconsin Press.

Sharfstein, S. S. (2008). Reducing restraint and seclusion: A view from the trenches. Psychiatric Services, 59(2), 197.

Silverstein, S. M., & Bellack, A. S. (2008). A scientific agenda for the concept of recovery as it applies to schizophrenia. Clinical Psychology Review, 28(7), 1108–1124.

Truax, C. B., & Carkhuff, R. R. (1967). Toward effective counseling and psychotherapy: Training and practice. Chicago: Aldine.

Wright, J. H., Thase, M. E., Beck, A. T., & Ludgate, J. W. (1993). Cognitive therapy with inpatients: Developing a cognitive milieu. New York: Gullifod Press.
Acknowledgments
We would like to thank Kathryn Byars, Aaron Brinen, Ashley Chambers, Marion Conneen, Katie Daly, Sarah Farash, Jody Foster, Reed Goldstein, Samantha Goodin, Spencer Kostinsky, Kerry McCole, Dimitri Perivoliotis, Susan Rappaport, Zach Rosenberg, Eren Semen, and Tony Zapisek for their assistance with this project. Study results were presented at the 2012 annual meeting of the American Psychological Association, Orlando.
Conflict of interest
Drs. Grant and Beck have received royalties from Guilford Press. The remaining authors have no interests to disclose.
About this article
Cite this article
Chang, N.A., Grant, P.M., Luther, L. et al. Effects of a Recovery-Oriented Cognitive Therapy Training Program on Inpatient Staff Attitudes and Incidents of Seclusion and Restraint. Community Ment Health J 50, 415–421 (2014). https://doi.org/10.1007/s10597-013-9675-6
Received:

Accepted:

Published:

Issue Date:
Keywords
Recovery

Schizophrenia

Inpatient

Milieu training

Cognitive therapy