Abstract
In Our Own Voice (IOOV) is a 90-min anti-stigma program that comprises face-to-face stories of challenges of mental illness and hopes and dreams commensurate with recovery. We pared down IOOV to a 30-min version, using information from two focus groups. In this study, effects of 90- versus 30-min IOOV are contrasted with 30 min of education. Two hundred research participants were randomly assigned to one of these three conditions and completed a measure of stigmatizing perceptions and recollections. People in the education group remembered more negatives than the two IOOV groups. To control for overall response rate, a difference ratio was determined (difference in positive and negative recollection divided by overall recollections). Results showed the two IOOV conditions had significantly better ratios than education. These findings suggest the 30 min version of IOOV is as effective as the 90 min standard.
This is a preview of subscription content, log in to check access.
Access options
Buy single article
Instant access to the full article PDF.
US$ 39.95
Price includes VAT for USA
Subscribe to journal
Immediate online access to all issues from 2019. Subscription will auto renew annually.
US$ 99
This is the net price. Taxes to be calculated in checkout.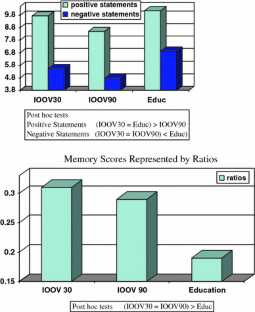 References
Corrigan, P. W., & Penn, D. (1999). Lessons from social psychology on discrediting psychiatric stigma. American Psychologist, 54, 765–776.

Corrigan, P. W., River, L., Lundin, R. K., Penn, D. L., Uphoff-Wasowski, K., Campion, J., et al. (2001). Three strategies for changing attributions about severe mental illness. Schizophrenia Bulletin, 27, 187–195.

Corrigan, P. W., Rowan, D., Green, A., Lundin, R., River, P., Uphoff-Wasowski, K., et al. (2002). Challenging two mental illness stigmas: Personal responsibility and dangerousness. Schizophrenia Bulletin, 28, 293–310.

Hinshaw, S. P. (2007). The mark of shame: Stigma of mental illness and an agenda for change. Oxford: Oxford University Press.

Johnston, L. C., & Macrae, C. N. (1994). Changing social stereotypes: The case of the information seeker. European Journal of Social Psychology, 24, 581–592.

Lincoln, T. M., Arens, E., Berger, C., & Rief, W. (2008). Can anti-stigma campaigns be improved? A test of the impact of biogenetic versus psychosocial causal explanations on implicit and explicit attitudes to schizophrenia. Schizophrenia Bulletin, 34, 984–994.

Link, B. G., & Phelan, J. C. (2001). Conceptualizing stigma. Annual Review of Sociology, 27, 363–385.

Macrae, C. N., Bodenhausen, G. V., Milne, A. B., & Jetten, J. (1994). Out of mind but back in sight: Stereotypes on the rebound. Journal of Personality and Social Psychology, 67, 808–817.

Rusch, L. C., Kanter, J. W., Angelone, A. F., & Ridley, R. C. (2008). The impact of In Our Own Voice on stigma. American Journal of Psychiatric Rehabilitation, 11, 373–389.

Rüsch, N., Corrigan, P. W., Todd, A. R., & Bodenhausen, G. V. (2010a). Implicit self-stigma in people with mental illness. Journal of Nervous and Mental Disease.

Rüsch, N., Todd, A. R., Bodenhausen, G. V., & Corrigan, P. W. (2010b). Biogenetic models of psychopathology, implicit guilt and mental illness stigma. Psychiatry Research.

Rüsch, N., Todd, A. R., Bodenhausen, G. V., Olschewski, M., & Corrigan, P. W. (2010c). Automatically activated shame reactions and perceived legitimacy of discrimination: A longitudinal study among people with mental illness. Journal of Behavior Therapy and Experimental Psychiatry, 41, 60–63.

Thornicroft, G. (2006). Shunned: Discrimination against people with mental illness. Oxford: Oxford University Press.

Wood, A. L., & Wahl, F. (2006). Evaluating the effectiveness of a consumer-provided mental health recovery education presentation. Psychiatric Rehabilitation Journal, 30, 46–53.
Disclosure of Interest and Funding
Patricia Doyle is an employee of the National Alliance on Mental Illness (NAMI) in DuPage County, and Sarah O'Brien is an employee of NAMI National. Nicolas Rüsch was supported by a Marie Curie Outgoing International Fellowship of the European Union.
About this article
Cite this article
Corrigan, P.W., Rafacz, J.D., Hautamaki, J. et al. Changing Stigmatizing Perceptions and Recollections About Mental Illness: The Effects of NAMI's In Our Own Voice. Community Ment Health J 46, 517–522 (2010). https://doi.org/10.1007/s10597-009-9287-3
Received:

Accepted:

Published:

Issue Date:
Keywords
Stigma

Discrimination

In Our Own Voice

Anti-stigma intervention

Contact

Education

Recollection

Memory