Acetic aldehyde in multicomponent synthesis of azolopyrimidine derivatives in water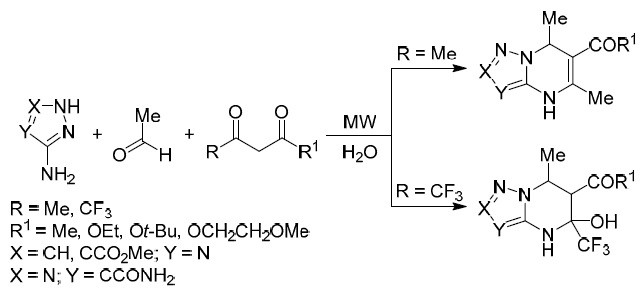 Three-component reaction of 3-amino-1H-1,2,4-triazole or 5-amino-2H-1,2,3-triazole derivatives, acetaldehyde, and 1,3-dicarbonyl compounds (acetylacetone or β-keto esters) in water under microwave irradiation leads to regioselective formation of 4,7-dihydro[1,2,4]-triazolo- and 4,7-dihydro[1,2,3]triazolo[1,5-a]pyrimidines. Using ethyl 4,4,4-trifluoro-3-oxobutanoate as 1,3-dicarbonyl compound under the same conditions allows to obtain the corresponding 5-hydroxy-4,5,6,7-tetrahydro derivatives, which fail to dehydrate in the reaction medium.
Keywords
acetaldehyde 
1,3-dicarbonyl compound 
1,2,3-triazole 
1,2,4-triazole 
triazolo[1,5-a]pyrimidine 
microwave-assisted synthesis 
multicomponent reaction 
Notes
Authors thank National Academy of Sciences of Ukraine for financial support in the frame of projects ''Creation of modern basis for obtaining and analyzing substances and components of materials for pharmaceutical purposes'' (0119U100727) and ''Investigation of structural features of nitrogen-containing heterocycles with potential biological activity'' (0119U100716).
Copyright information
© Springer Science+Business Media, LLC, part of Springer Nature 2019