Synthesis and fungicidal activity of methylsulfanylmethyl ether derivatives of levoglucosenone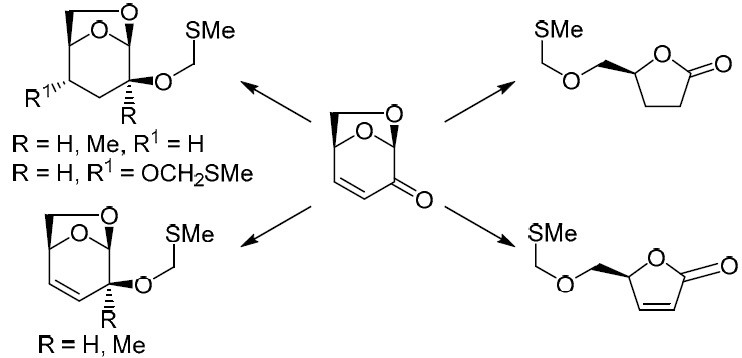 A series of derivatives were synthesized on the basis of levoglucosenone that contained hydroxy groups at the С-4 atom or С-2 and С-4 atoms or a hydroxy and methyl group at the С-4 atom. In addition, 4-hydroxymethylbutanolides were synthesized. Derivatives containing hydroxy groups were obtained as methylsulfanylmethyl ethers. It was established that compounds containing a 6,8-dioxabicyclo[3.2.1]-octane ring exhibited fungicidal activity against Rhizoctonia solani. It was shown that the presence of a methylsulfanylmethyl moiety in the ring could increase the fungicidal activity of compounds.
Keywords
γ-butanolides 
levoglucosenone 
methylthiomethyl ethers 
fungicidal activity 
Rhizoctonia solani
Notes
The work was performed according to the State contracts No. АААА-А17-117011910022-5, АААА-А18-118022190098-9) and with financial support from the Russian Foundation for Basic Research (grant 17-43-020166 r_a).
Analytical support was provided using equipment at the Collective Use Center "Chemistry" of the Institute of Chemistry, Ufa Federal Research Center of the Russian Academy of Sciences.
Copyright information
© Springer Science+Business Media, LLC, part of Springer Nature 2019