2-Arylazetidines as ligands for nicotinic acetylcholine receptors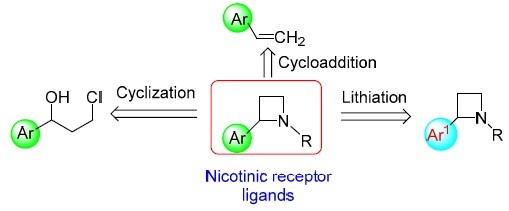 Alternative and complementary procedures were adopted for preparing 2-arylazetidine derivatives in moderate to good yields. Preliminary biological evaluation of 2-arylazetidines as ligands of nicotinic acetylcholine receptors allowed to identify chloro-substituted analogs as the most interesting congeners. The title compounds may be considered as suitable hit compounds for developing new nicotinic acetylcholine receptor ligands that may be safer than the currently available drugs targeting nicotinic acetylcholine receptors. Our described synthetic approaches enable facile access to a large number of diversely decorated azetidines for studying the structure–activity relationships and for refining the toxico-pharmacological profile of these agents.
Keywords
azetidine 
ligand efficiency metrics 
lipophilicity 
neurodegeneration 
nicotinic acetylcholine receptors 
pain 
schizophrenia 
smoking cessation 
Notes
We thank the University of Bari for support. We are grateful to Dr. Laura Carroccia for precious contribution to the work.
Copyright information
© Springer Science+Business Media New York 2017