2-(Chloromethyl)-5,6,7,8-tetrahydropyrido[4',3':4,5]thieno[2,3-d]pyrimidin-4(3Н)-ones reacted with acetylenedicarboxylate ester, methyl propiolate or acetylacetylene, forming mixtures of 2-(chloromethyl)-5,6,7,10-tetrahydropyrimido[5',4':4,5]thieno[3,2-d]azocin-4(3Н)-ones and 2'-chloromethyl-6'-methylidene-2,3-dihydro-1Н-spiro[pyrido[4,5']thieno[2,3-d]pyrimidin]-4'(3'H)-ones in various ratios. Analogous products were also obtained in the reaction of 2-(methoxymethyl) derivative with methyl propiolate, while using 2-[(morpholin-4-yl)-methyl] derivative in a similar reaction led to the formation of a more complex product mixture.
Access options
Buy single article
Instant access to the full article PDF.
USD 39.95
Price excludes VAT (USA)
Tax calculation will be finalised during checkout.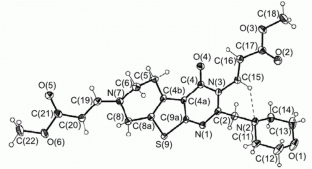 References
Steiner, G.; Schellhaas, K.; Lubisch, W.; Holzenkamp, U.; Starck, D.; Knopp, M.; Szabo, L.; Emling, F.; Garcia-Ladona, F. J.; Hofmann, H.-P.; Unger, L. DE Patent 19900545.

Abbott GmbH & Co. KG DE Patent 10259382.

Ouf, N. H.; Amr, A. E. Monatsh. Chem. 2008, 139, 579.

Eichenberger, K.; Schmidt, P.; Schweizer, E. DE Patent 1937459.

Steiner, G.; Lubisch, W.; Bach, A.; Emling, F.; Wicke, K.; Teschendorf, H.-J.; Behl, B.; Kerrigan, F.; Cheetham, S. DE Patent 19636769.

Voskressensky, L. G.; Borisova, T. N.; Kovaleva, S. A.; Listratova, A. V.; Kulikova, L. N.; Khrustalev, V. N.; Ovcharov, M. V.; Varlamov, A. V. Russ. Chem. Bull., Int. Ed. 2012, 61, 370. [Izv. Akad. Nauk, Ser. Khim. 2012, 368.]

Voskressensky, L. G.; Borisova, T. N.; Ovcharov, M. V.; Kulikova, L. N.; Sorokina, E. A.; Borisov, R. S.; Varlamov, A. V. Chem. Heterocycl. Compd. 2008, 44, 1510. [Khim. Geterotsikl. Soedin. 2008, 1861.]

Bogolubsky, A. V.; Ryabukhin, S. V.; Stetsenko, S. V.; Chupryna, A. A.; Volochnyuk, D. M.; Tolmachev, A. A. J. Comb. Chem. 2007, 9, 661.

Kovaleva, S. A. Diss. Cand. Chem. Sci., Moscow, 2011.

Sheldrick, G. M. Acta Crystallogr., Sect. A: Found Crystallogr. 2008, A64, 112.
This work received financial support from the Russian Foundation for Basic Research (grant 14-03-00311а).
Additional information
Translated from Khimiya Geterotsiklicheskikh Soedinenii, 2015, 51(1), 17–25
Electronic supplementary material
Below is the link to the electronic supplementary material.
About this article
Cite this article
Voskressensky, L.G., Kovaleva, S.A., Borisova, T.N. et al. Synthesis of 2-(chloro(methoxy, morpholino)methyl)-hexahydropyrimidothieno[3,2-c]azocines and tetrahydrospiro[pyrido[4,5']thieno[2,3-d]pyrimidines]. Chem Heterocycl Comp 51, 17–25 (2015). https://doi.org/10.1007/s10593-015-1652-2
Received:

Accepted:

Published:

Issue Date:

DOI: https://doi.org/10.1007/s10593-015-1652-2
Keywords