Abstract
Genetic diversity of organisms is an indicator of their long-term survival and can potentially be shaped by the extent of geneflow between populations. Geographical features and anthropogenic interferences can both obstruct and also facilitate animal movement, directly or indirectly. Such patterns have not been extensively studied across grasslands in the Indian subcontinent which is a mosaic of both natural and man-made topography. This study looks at genetic variation in an endemic ungulate, the Antilope cervicapra or blackbuck, throughout its distribution range. Using mitochondrial and nuclear (microsatellite) information, we find that different markers shed light on different aspects of their evolutionary history. Absence of robust geographical clustering in mitochondrial DNA indicate recent isolation in these populations, while lack of shared haplotypes between sampling locations suggests female philopatry. Nuclear data shows the presence of three genetic clusters in this species, pertaining to the Northern, Southern and Eastern regions of India. Our study also shows that an ancestral stock separated into two groups that gave rise to the North and South clusters and the East population was derived from the South at a later time period. Both microsatellite and mitochondrial data indicate that the population from the Eastern part of India is genetically distinct and the species as a whole shows signatures of having undergone recent genetic expansion. In spite of immense losses in grassland habitats across India, blackbucks seem to have well-adapted to human altered landscapes and their numbers are beginning to show an upward trend.
Access options
Buy single article
Instant access to the full article PDF.
USD 39.95
Price excludes VAT (USA)
Tax calculation will be finalised during checkout.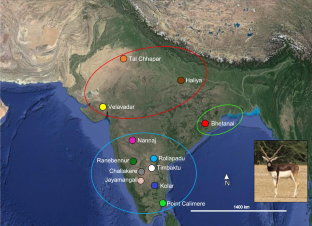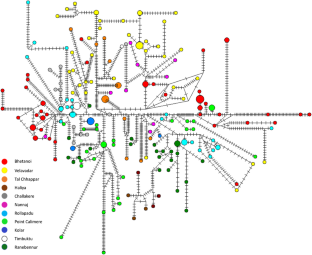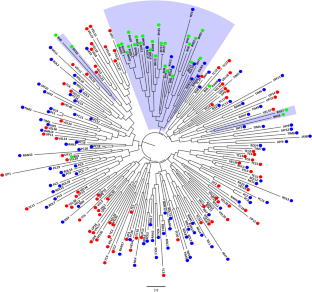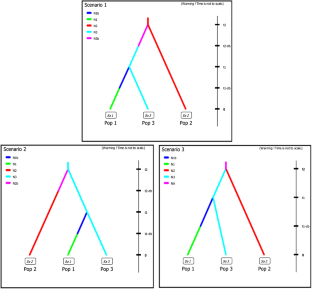 Data availability
The DNA sequences used in this study have been uploaded to GenBank.
References
Al-Atiyat RM, Salameh NM, & Tabbaa MJ (2014) Analysis of genetic diversity and differentiation of sheep populations in Jordan. Electron J Biotechnol 17(4): 168–173

Asif M, Modse S (2016) The distribution pattern and population of blackbuck Antilope cervicapra Linnaeus in Bidar, Karnataka. Indian For 142:965–970

Baskaran N, Ramkumaran K, Karthikeyan G (2016) Spatial and dietary overlap between blackbuck (Antilope cervicapra) and feral horse (Equus caballus) at Point Calimere Wildlife Sanctuary, Southern India: competition between native versus introduced species. Mamm Biol. https://doi.org/10.1016/j.mambio.2016.02.004

Beja‐Pereira ALBANO, Zeyl EVE, Ouragh L, Nagash H, Ferrand N, Taberlet P, Luikart G (2004) Twenty polymorphic microsatellites in two of North Africa's most threatened ungulates: Gazella dorcas and Ammotragus lervia (Bovidae; Artiodactyla). Mol Ecol Notes 4(3):452–455

Bhaskar R, Kanaparthi P, Sakthivel R (2021) Genetic diversity and phylogenetic analysis of blackbuck (Antilope cervicapra) in southern India. Mol Biol Rep 48(2):1255–1268

Bikash Rath Y, Rao G (2005) Bhetanoi-Balipadara Blackbuck Habitat. E-planet 9(2):42–49.

BirdLife International (2020) Important Bird Areas factsheet: Rollapadu Wildlife Sanctuary. Downloaded from http://www.birdlife.org.

Biswas S, Pawar SS (2006) Phylogenetic tests of distribution patterns in South Asia: towards an integrative approach. J Biosci 31:95–113

Clutton-Brock TH(1989) Review lecture: mammalian mating systems. Proceedings of the Royal Society of London. B. Biological Sciences, 236(1285), 339–372

Chen J, Li C, Yang J, Luo Z, Tang S, Li F, Li C, Liu B, Jiang Z (2012) Isolation and characterization of cross-amplification microsatellite panels for species of Procapra (Bovidae; Antilopinae). Int J Mol Sci 13(7):8805–8818

Cornuet JM, Luikart G (1996) Description and power analysis of two tests for detecting recent population bottlenecks from allele frequency data. Genetics 144:2001–2014. https://doi.org/10.1093/oxfordjournals.jhered.a111627

Cornuet JM, Pudlo P, Veyssier J et al (2014) DIYABC v2.0: a software to make approximate Bayesian computation inferences about population history using single nucleotide polymorphism, DNA sequence and microsatellite data. Bioinformatics 30:1187–1189. https://doi.org/10.1093/bioinformatics/btt763

Creel S, Spong G, Sands JL, Rotella J, Zeigle J, Joe L, Murphy KM, Smith D (2003) Population size estimation in yellowstone wolves with error-prone noninvasive microsatellite genotypes. Mol Ecol 12:2003–2009. https://doi.org/10.1046/j.1365-294X.2003.01868.x

De R, Kumar V, Ankit K, Khan KA, Kumar H, Kumar N, Goyal SP (2021) Cross-amplification of ungulate microsatellite markers in the endemic Indian antelope or blackbuck (Antilope cervicapra) for population monitoring and conservation genetics studies in south Asia. Mol Biol Rep 48(6):5151–5160

Dutta T, Sharma S, Maldonado JE et al (2013) Fine-scale population genetic structure in a wide-ranging carnivore, the leopard (Panthera pardus fusca) in central India. Divers Distrib 19:760–771. https://doi.org/10.1111/ddi.12024

Dutta T, Sharma S, Maldonado JE et al (2015) Genetic variation, structure, and geneflow in a sloth bear (Melursus ursinus) meta-population in the Satpura-Maikal landscape of central India. PLoS ONE 10:7–9. https://doi.org/10.1371/journal.pone.0123384

Eblate EM, Lughano KJ, Sebastian CD, Peter ML, Knut RH (2011) Polymorphic microsatellite markers for genetic studies of African antelope species. Afr J Biotechnol 10(56):11817–11820

Evanno G, Regnaut S, Goudet J (2005) Detecting the number of clusters of individuals using the software structure: a simulation study. Mol Ecol 14:2611–2620. https://doi.org/10.1111/j.1365-294X.2005.02553.x

Excoffier L, Lischer HEL (2010) Arlequin suite ver 3.5: a new series of programs to perform population genetics analyses under Linux and Windows. Mol Ecol Resour 10:564–567. https://doi.org/10.1111/j.1755-0998.2010.02847.x

Excoffier L, Foll M, Petit RJ (2009) Genetic consequences of range expansions. Annu Rev Ecol Evol Syst 40:481–501. https://doi.org/10.1146/annurev.ecolsys.39.110707.173414

Falconer DS (1996) Introduction to quantitative genetics. Pearson Education India, Noida

Frankel O, Soulé ME (1981) Conservation and evolution. Camb University Press, Cambridge

Frankham R (1996) Relationship of genetic variation to population size in wildlife. Conserv Biol 10(6):1500–1508

Frankham R, Ballou SEJD, Briscoe DA, Ballou JD (2002) Introduction to conservation genetics. Cambridge University Press, Cambridge

Futuyma DJ (1986) Evolutionary biology, 2nd edn. Sinauer, Sunderland, Mass

Fu Y (1997) Statistical tests of neutrality of mutations against population growth, hitchhiking and background selection. Genetics 147:915–925

Garcia-Cisneros A, Palacín C, Ben Khadra Y, Pérez-Portela R (2016) Low genetic diversity and recent demographic expansion in the red starfish Echinaster sepositus (Retzius 1816). Sci Rep 6:1–16. https://doi.org/10.1038/srep33269

Ghosh-Harihar M, An R, Athreya R et al (2019) Protected areas and biodiversity conservation in India. Biol Conserv 237:114–124. https://doi.org/10.1016/j.biocon.2019.06.024

Gilmour D (2018) The British in India: three centuries of ambition and experience. Penguin, UK

Goodman SJ, Tamate HB, Wilson R et al (2001) Bottlenecks, drift and differentiation : the population structure and demographic history of sika deer (Cervus nippon) in the Japanese archipelago. Mol Ecol 10(6):1357–1370

Greenwood PJ (1980) Mating systems, philopatry and dispersal in birds and mammals. Anim Behav 28:1140–1162. https://doi.org/10.1016/S0003-3472(80)80103-5

Gürler Ş, & Bozkaya F. (2013). Genetic diversity of three native goat populations raised in the South-Eastern region of Turkey. Kafkas Üniversitesi Veteriner Fakültesi Dergisi 19(2), 207-213

Hora SL (1949) Satpura hypothesis of the distribution of the Malayan fauna and flora to peninsular India. Proc Natl Inst Sci India 15:309–314

Horváth MB, Martínez-Cruz B, Negro JJ, Kalmár L, Godoy JA (2005) An overlooked DNA source for non‐invasive genetic analysis in birds. J Avian Biol 36(1):84–88

Hughes JE (2009) Animal kingdoms: princely power, the environment, and the hunt in colonial India. UT Austin Diss

Hume BCC, Voolstra CR, Arif C et al (2016) Ancestral genetic diversity associated with the rapid spread of stress-tolerant coral symbionts in response to Holocene climate change. PNAS 113:4416–4421. https://doi.org/10.1073/pnas.1601910113

IUCN SSC Antelope Specialist Group (2017) The IUCN Red List of Threatened species 2017: e.T1681A50181949

Jana A, Karanth P (2019) Multilocus nuclear markers provide new insights into the origin and evolution of the blackbuck (Antilope cervicapra, Bovidae). Mol Phylogenet Evol 139:106560. https://doi.org/10.1016/j.ympev.2019.106560

Jhala YV, Giles RH (1991) The status and conservation of the wolf in Gujarat and Rajasthan, India. Conserv Biol 5:476–483. https://doi.org/10.1111/j.1523-1739.1991.tb00354.x

Joshi A, Vaidyanathan S, Mondo S et al (2013) Connectivity of tiger (Panthera tigris) populations in the human-influenced forest mosaic of central India. PLoS ONE. https://doi.org/10.1371/journal.pone.0077980

Kearse M, Moir R, Wilson A et al (2012) Geneious Basic: An integrated and extendable desktop software platform for the organization and analysis of sequence data. Bioinformatics 28:1647–1649. https://doi.org/10.1093/bioinformatics/bts199

Kerth G, Mayer F, König B (2000) Mitochondrial DNA (mtDNA) reveals that female Bechstein's bats live in closed societies. Mol Ecol 9:793–800. https://doi.org/10.1046/j.1365-294X.2000.00934.x

Knowles LL (2000) Tests of pleistocene speciation in montane grasshoppers (Genus melanoplus) from the sky islands of western North America. Evolution (N Y) 54:1337–1348. https://doi.org/10.1111/j.0014-3820.2000.tb00566.x

Kumar V, Sharma N, Singal K, Sharma A (2018) A wildlife forensic study for the species identification of Indian Blackbuck through forensically informative nucleotide sequencing (FINS). Biosci Biotechnol Res Asia 15(1):175

Kurup GU (1974) Mammals of Assam and the mammal-geography of India. In: Mani MS (ed) Ecology and biogeography in India. Dr. W. Junk b.v, Publishers, The Hague, pp 585–613

Lappan S (2007) Patterns of dispersal in Sumatran Siamangs (Symphalangus syndactylus): preliminary mtDNA evidence suggests more frequent male than female dispersal to adjacent groups. Am J Primatol. https://doi.org/10.1002/ajp.20382

Lukoschek V (2018) Population declines, genetic bottlenecks and potential hybridization in sea snakes on Australia's Timor Sea reefs. Biol Conserv 225:66–79. https://doi.org/10.1016/j.biocon.2018.06.018

Mahmoudi B, Babayev MS (2009). The investigation of genetic variation in Taleshi goat using microsatellite markers. Res J Biol Sci 4(6): 644-646

Mallon DP (2008) Antilope cervicapra. The IUCN red list of threatened species 2008: e.T1681A6448761. https://doi.org/10.2305/IUCN.UK.2008.RLTS.T1681A6448761.en

Mallon DP, Kingswood SC(2001) (compilers).  Antelopes. Part 4: North Africa, the Middle East, and Asia. Global Survey and Regional Action Plans. SSC Antelope Specialist Group. IUCN, Gland, Switzerland and Cambridge, UK. viii + 260pp

Mamatha MD, Hosetti BB (2018) Census study on blackbucks Antilope cervicapra (L.) in Hullathi section of Ranebennur Wildlife Sanctuary (RWLS), Ranebennur, Haveri district, Karnataka. Int J Zool Appl Biosci 3:283–288

Mani MS (1974) Physical features. In: Mani MS (ed) Ecology and Biogeography in India. Dr. W. Junk b.v Publishers, The Hague, pp 11–58

Maudet, F., Maillard, J. C., Chardonnet, P.,& Sauzier, J. (1999). Study of genetic diversity in a Rusa deer (Cervus timorensis russa) population in Mauritius using derived bovine microsatellites. In Third Annual Meeting of Agricultural Scientists (p.131)

Meena R, Saran RP (2018) Distribution, ecology and conservation status of blackbuck (Antilope cervicapra): an update. Int J Biol Res 3:79–86

Modolo L, Salzburger W, Martin RD (2005) Phylogeography of Barbary macaques (Macaca sylvanus) and the origin of the Gibraltar colony. PNAS 102:7392–7397

Movahedin, M. R., Amirinia, C., Noshary, A., & Mirhadi, S. A. (2010) Detection of genetic variation in sample of Iranian proofed Holstein cattle by using microsatellite marker. Afr J Biotechnol 9(53): 9042-9045

Moore WS (1995) Inferring phylogenies from mtDNA variation: mitochondrial-gene trees versus nuclear-gene trees. Evolution (N Y) 49:718–726. https://doi.org/10.2307/2411136

Morin PA, Chambers KE, Boesch C, Vigilant L (2001) Quantitative polymerase chain reaction analysis of DNA from noninvasive samples for accurate microsatellite genotyping of wild chimpanzees (Pan troglodytes verus). Mol Ecol 10(7):1835–1844

Mukherjee S, Krishnan A, Tamma K et al (2010) Ecology driving genetic variation: a comparative phylogeography of jungle cat (Felis chaus) and leopard cat (Prionailurus bengalensis) in India. PLoS ONE. https://doi.org/10.1371/journal.pone.0013724

Mungall EC(1978) The Indian blackbuck antelope: a Texas view (No. QL737. M86 1978.)

Nag KSC, Pramod P, Karanth KP (2011) Taxonomic implications of a field study of morphotypes of hanuman langurs (Semnopithecus entellus) in Peninsular India. Int J Primatol 32:830–848. https://doi.org/10.1007/s10764-011-9504-0

Nei M (1978) Estimation of average heterozygosity and genetic distance from a small number of individuals. Genetics 89:583–590

Noss RF (1990) Indicators for monitoring biodiversity: a hierarchical approach. Conserv Biol 4:355–364

Nutt KJ (2008) A comparison of techniques for assessing dispersal behaviour in gundis: Revealing dispersal patterns in the absence of observed dispersal behaviour. Mol Ecol 17:3541–3556. https://doi.org/10.1111/j.1365-294X.2008.03858.x

Orrú L, Napolitano F, Catillo G, Moioli B (2006) Meat molecular traceability: How to choose the best set of microsatellites?. Meat Sci 72(2):312–317

Peakall R, Smouse PE (2006) GENALEX 6: genetic analysis in excel. Population genetic software for teaching and research. Mol Ecol Notes 6:288–295. https://doi.org/10.1111/j.1471-8286.2005.01155.x

Peakall R, Smouse PE (2012) GenALEx 6.5: genetic analysis in excel. Population genetic software for teaching and research-an update. Bioinformatics 28:2537–2539. https://doi.org/10.1093/bioinformatics/bts460

Polzin T, Daneshmand SV (2001) Improved algorithms for the Steiner problem in networks. Discret Appl Math 112:263–300. https://doi.org/10.1016/S0166-218X(00)00319-X

Pompanon F, Bonin A, Bellemain E, Taberlet P (2005) Genotyping errors: causes, consequences and solutions. Nat Rev Genet 6(11):847–859

Pritchard JK, Stephens M, Donnelly P (2000) Inference of population structure using multilocus genotype data. Genetics 155:945–959

Ramachandran V, Robin VV, Tamma K, Ramakrishnan U (2017) Climatic and geographic barriers drive distributional patterns of bird phenotypes within peninsular India. J Avian Biol 48:620–630. https://doi.org/10.1111/jav.01278

Ranjitsinh MK (1989) The Indian blackbuck. Natraj Publishers, Dehradun

Rasmussen AL, Okumura A, Ferris MT et al (2014) Host genetic diversity enables Ebola hemorrhagic fever pathogenesis and resistance. Sci (80-) 346:987–992

Reddy S (2014) What's missing from avian global diversification analyses? Mol Phylogenet Evol 77:159–165. https://doi.org/10.1016/j.ympev.2014.04.023

Reed DH, Frankham R (2003) Correlation between fitness and genetic diversity. Conserv Biol 17:230–237. https://doi.org/10.1046/j.1523-1739.2003.01236.x

Ripley SD, Beehler BM (1990) Patterns of speciation in Indian birds. J Biogeogr 17:639–648

Rivers MC, Brummitt NA, Lughadha E, Meagher TR (2014) Do species conservation assessments capture genetic diversity ? Glob Ecol Conserv 2:81–87. https://doi.org/10.1016/j.gecco.2014.08.005

Røed, K. H. (1998). Microsatellite variation in Scandinavian cervidae using primers derived from Bovidae. Hereditas, 129(1), 19-25

Roonwal ML (1984) Tail form and carriage in Asian and other primates, and their behavioral and evolutionary significance. In: Roonwal ML, Mohnot SM, Rathore NS (eds) Current primate research. Jodhpur University Press, Jodhpur, India. 93–151

Roth, T., Pfeiffer, I., Weising, K., & Brenig, B. (2006). Application of bovine microsatellite markers for genetic diversity analysis of European bison (Bison bonasus). J Anim Breed Genet 123(6): 406-409

Roy S, Sen (2019) Spatial patterns of trends in seasonal extreme temperatures in India during 1980–2010. Weather Clim Extrem 24:100203. https://doi.org/10.1016/j.wace.2019.100203

Rozas J, Ferrer-Mata A, Sanchez-DelBarrio JC et al (2017) DnaSP 6: DNA sequence polymorphism analysis of large data sets. Mol Biol Evol 34:3299–3302. https://doi.org/10.1093/molbev/msx248

Sabuni CA, Van Houtte N, Gryseels S et al (2016) Genetic structure and diversity of the black and rufous sengi in Tanzanian coastal forests. J Zool 300:305–313. https://doi.org/10.1111/jzo.12384

Schaller GB (2009) The deer and the tiger. University of Chicago Press, Chicago

Sharma DK, Maldonado JE, Jhala YV, Fleischer RC (2004) Ancient wolf lineages in India. Proc R Soc B Biol Sci 271:2–5. https://doi.org/10.1098/rsbl.2003.0071

Slate J, Coltman DW, Goodman SJ, MacLean I, Pemberton JM, Williams JL (1998) Bovine microsatellite loci are highly conserved in red deer (Cervus elaphus), sika deer (Cervus nippon) and Soay sheep (Ovis aries). Anim Genet 29(4):307–315

Sonsthagen SA, Wilson RE, Underwood JG (2017) Genetic implications of bottleneck effects of differing severities on genetic diversity in naturally recovering populations: an example from Hawaiian coot and Hawaiian gallinule. Ecol Evol 7:9925–9934. https://doi.org/10.1002/ece3.3530

Taberlet P, Griffin S, Goossens B, Questiau S, Manceau V, Escaravage N, Waits LP, Bouvet J (1996) Reliable genotyping of samples with very low DNA quantities using PCR. Nucleic Acids Res 24:3189–3194. https://doi.org/10.1093/nar/24.16.3189

Tajima F (1996) The amount of DNA polymorphism maintained in a finite population when the neutral mutation rate varies among sites. Genetics 1465:1457–1465

Tamma K, Ramakrishnan U (2015) Higher speciation and lower extinction rates influence mammal diversity gradients in Asia. BMC Evol Biol 15:1–13. https://doi.org/10.1186/s12862-015-0289-1

Tamura K, Peterson D, Peterson N et al (2011) MEGA5: molecular evolutionary genetics analysis using maximum likelihood, evolutionary distance, and maximum parsimony methods. Mol Biol Evol 28:2731–2739. https://doi.org/10.1093/molbev/msr121

Thangaraj K, Prathap Naidu B, Crivellaro F et al (2010) The influence of natural barriers in shaping the genetic structure of Maharashtra populations. PLoS ONE 5:1–9. https://doi.org/10.1371/journal.pone.0015283

Van Oosterhout C, Hutchinson WF, Wills DPM, Shipley P (2004) MICRO-CHECKER: Software for identifying and correcting genotyping errors in microsatellite data. Mol Ecol Notes 4:535–538. https://doi.org/10.1111/j.1471-8286.2004.00684.x

Vial L, Maudet C, Luikart G (2003) Thirty‐four polymorphic microsatellites for European roe deer. Mol Ecol Notes 3(4):523–527

Vidya TNC, Fernando P, Melnick DJ, Sukumar R (2005a) Population differentiation within and among Asian elephant (Elephas maximus) populations in southern India. Heredity (Edinb) 94:71–80. https://doi.org/10.1038/sj.hdy.6800568

Vidya TNC, Fernando P, Melnick DJ, Sukumar R (2005b) Population genetic structure and conservation of Asian elephants (Elephas maximus) across India. Anim Conserv 8:377–388. https://doi.org/10.1017/S1367943005002428

Vidya TNC, Sukumar R, Melnick DJ (2009) Range-wide mtDNA phylogeography yields insights into the origins of Asian elephants. Proc R Soc B Biol Sci 276:893–902. https://doi.org/10.1098/rspb.2008.1494

Wang GZ, Chen SS, Chao TL, Ji ZB, Hou L, Qin ZJ, Wang JM (2017) Analysis of genetic diversity of Chinese dairy goats via microsatellite markers. J Anim Sci 95(5):2304–2313

Wang W, Zheng Y, Zhao J, Yao M (2019) Low genetic diversity in a critically endangered primate: shallow evolutionary history or recent population bottleneck? BMC Evol Biol 19:1–13. https://doi.org/10.1186/s12862-019-1451-y

Waterman J (2008) Male mating strategies in rodents Rodent societies. University of Chicago Press, Chicago, pp 27–41

Wereszczuk A, Leblois R, Zalewski A (2017) Genetic diversity and structure related to expansion history and habitat isolation: Stone marten populating rural-urban habitats. BMC Ecol 17:1–16. https://doi.org/10.1186/s12898-017-0156-6

White OL, Densmore LD III (1992) Mitochondrial DNA isolation. Molecular genetic analysis of populations, a practical approach, 1st edn. IRL Press, Oxford, pp 29–55

Willis SC, Nunes M, Montaña CG et al (2010) The Casiquiare river acts as a corridor between the Amazonas and Orinoco river basins: Biogeographic analysis of the genus Cichla. Mol Ecol 19:1014–1030. https://doi.org/10.1111/j.1365-294X.2010.04540.x

Worley K, Strobeck C, Arthur S et al (2004) Population genetic structure of North American thinhorn sheep (Ovis dalli). Mol Ecol 13:2545–2556. https://doi.org/10.1111/j.1365-294X.2004.02248.x
Funding
This work was supported by grants to PK under the partnership between the Department of Biotechnology, Govt. of India, and Indian Institute of Science (DBT-IISc partnership) and permits to AJ from the state forest departments of Karnataka, Andhra Pradesh, Tamil Nadu, Maharashtra and Gujarat and the village panchayat of Bhetanai in Orissa. AJ would like to thank Bibidishananda Basu and Kavya Lakshmikanth for helping out with part of the wet-lab work.
Ethics declarations
Conflict of interest
The authors declare no conflict of interest.
Ethical approval
All sampling was non-invasive, and the animals were not stressed or harmed in any manner.
Additional information
Publisher's Note
Springer Nature remains neutral with regard to jurisdictional claims in published maps and institutional affiliations.
Supplementary Information
Below is the link to the electronic supplementary material.
Rights and permissions
Springer Nature or its licensor (e.g. a society or other partner) holds exclusive rights to this article under a publishing agreement with the author(s) or other rightsholder(s); author self-archiving of the accepted manuscript version of this article is solely governed by the terms of such publishing agreement and applicable law.
About this article
Cite this article
Jana, A., Karanth, K.P. Not all is black and white: phylogeography and population genetics of the endemic blackbuck (Antilope cervicapra). Conserv Genet 24, 41–57 (2023). https://doi.org/10.1007/s10592-022-01479-x
Received:

Accepted:

Published:

Issue Date:

DOI: https://doi.org/10.1007/s10592-022-01479-x
Keywords
Microsatellite

Grassland

Ungulate

Indian subcontinent

Non-invasive