Abstract
New Zealand's iconic, flightless and endangered species of kiwi (Apterygidae) are at risk of extinction on the mainland due to predation by introduced mammals. In order to provide effective conservation management a robust understanding of genetic variation in the group is needed. Recent genomic analyses of kiwi suggest that several cryptic and as yet undescribed lineages occur in the South Island, most notably within a taxon that has until now been called Apteryx australis australis, the South Island Brown Kiwi or Tokoeka. In order for these lineages to be formally described and treated as separate conservation units it is first necessary to determine from which lineage of Tokoeka the holotype was collected. To determine this, we generated a near complete mitochondrial genome and nuclear SNP dataset for the holotype and compared these with living kiwi populations. Our results definitively assign the holotype to the Stewart Island population of brown kiwi which until now was recognized as a distinct subspecies Apteryx australis lawyri (Rothschild, 1893). This leads us to synonymize Apteryx lawryi Rothschild, 1893 within Apteryx australis Shaw, 1813. As the holotype was collected by sealers in the early 19th century, the result also provides a novel insight into the activities of early sealers in New Zealand. New names for taxa will need to be erected for any mainland South Island taxa described, because there are no scientific names available for taxonomy.
Access options
Buy single article
Instant access to the full article PDF.
USD 39.95
Price excludes VAT (USA)
Tax calculation will be finalised during checkout.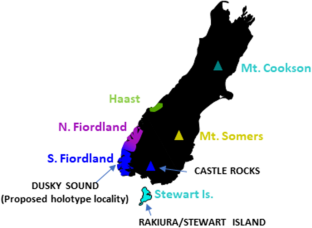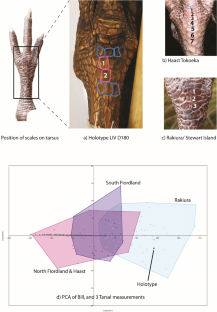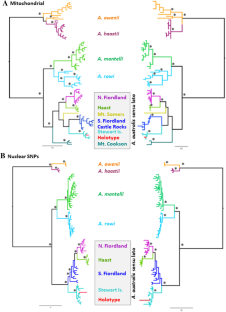 Data availability
Sequence data included on Genbank (see manuscript for details).
References
Andrews JRH (1987) The southern ark: zoological discovery in New Zealand, 1769–1900. Century Hutchinson, Wellington

Bolger AM, Lohse M, Usadel B (2014) Trimmomatic: a flexible trimmer for Illumina Sequence Data. Bioinformatics Bioinformatics 30(15):2114–2120

Carøe C, Gopalakrishnan S, Vinner L, Mak SST, Mikkel-Holger SS, Samaniego JA, Wales N, Sicheritz-Pontén T, Gilbert MTM, Johnston S (2017) Single-tube library preparation for degraded DNA. Methods Ecol Evol 9(2):410–419

Dierckxsens N, Mardulyn P, Smits G (2016) NOVOPlasty: De novo assembly of organelle genomes from whole genome data. Nucleic Acids Res 45:e18. https://doi.org/10.1093/nar/gkw955

Elshire RJ, Glaubitz JC, Sun Q, Poland JA, Kawamoto K, Buckler ES, Mitchell SE (2011) A robust, simple genotyping-by-sequencing (GBS) approach for high diversity species. PLoS ONE 6:1–10

Fleming CA (1983) George Edward Lodge: unpublished bird paintings. Michael Joseph, Wellington

Gill B (ed) (2010) Checklist of the birds of New Zealand, Norfolk and Macquarie Islands, and the Ross Dependency, Antarctica, 4th edn. Te Papa Press, Wellington

Gray GR (1840) A list of the genera of birds: with their synonyma an indication of the typical species of each genus. J.E. Taylor, London

Gray JE (1852) in Bartlett, A.D. On the Genus Apteryx. Proceedings of the Zoological Society, London for 1850 (18):274–276

Haeckel E (1866) Generelle Morphologie der Organismen. Allgemeine Grundzüge der organischen Formen-Wissenschaft, mechanisch begründet durch die von C. Darwin reformirte Descendenz-Theorie, etc. Berlin, G. Reimer

Howard BH (1940) Rakiura: a history of Stewart Island, New Zealand. AH & AW Reed, for the Stewart Island Centennial Committee

Langdon WB (2015) Performance of genetic programming optimised Bowtie2 on genome comparison and analytic testing (GCAT) benchmarks. BioData Mining 8(1):1

Levesque R (2001) History of Micronesia 18. Russian expeditions, 1808–1827. Éditions Lévesque, Gatineau.

Li H, Handsaker B, Wysoker A, Fennell T, Ruan J, Homer N, Marth G, Abecasis G, Durbin R (2009) The sequence alignment/map format and SAMtools. Bioinformatics 25(16):2078–9

Robertson HA, Colbourne R (2017) Kiwi best practice manual. Department of Conservation, Wellington, p 109

Ronquist F, Huelsenbeck JP (2003) MrBayes 3: Bayesian phylogenetic inference under mixed models. Bioinformatics 19(12):1572–1574

Shaw G (1813) Apteryx australis. The Naturalists Miscellany 24(286): pls 1057–1060

Shepherd LD, Worthy TH, Tennyson AJ, Scofield RP, Ramstad KM, Lambert DM (2012) Ancient DNA analyses reveal contrasting phylogeographic patterns amongst kiwi (Apteryx spp.) and a recently extinct lineage of spotted kiwi. PLoS ONE 7:e42384

Stamatakis A (2014) RAxML version 8: a tool for phylogenetic analysis and post-analysis of large phylogenies. Bioinformatics 30:1312–1313

Tennyson AJD, Palma RL, Robertson HA, Worthy TH, Gill BJ (2003) A new species of kiwi (Aves, Apterygiformes) from Okarito, New Zealand. Records of the Auckland Museum 40:55–64

Wagstaffe R (1978) Type specimens of birds in the Merseyside County Museums. Merseyside County Museum, Liverpool

Weir JT, Haddrath O, Robertson HA, Colbourne RM, Baker AJ (2016) Explosive ice age diversification of kiwi. Proc. Natl Acad Sci USA 113:E5580–E5587

Yarrell W (1833) VIII. Description, with some additional particulars, of the Apteryx australis of Shaw. Trans Zool Soc Lond 1:71–76
Acknowledgements
We gratefully acknowledge the Ngati Hine, Ngati Hei, Tuhoe, Ngati Tuwharetoa, Ngati Raukawa, and Ngai Tahu peoples, who permitted genetic analyses of kiwi blood samples obtained from their lands (and originally published in Weir et al. 2016). We wish to thank Clemency Fisher and Tony Parker at the World Museum Liverpool for hosting us and giving permission to sample the kiwi specimen collected over 200 years ago. We acknowledge the consultation and guidance given by the Te Whare Taonga o Ngā Pākihi Whakatekateka o Waitaha Ohaki O Nga Tipuna (Canterbury Museums' Maori Liaison Committee) for our work and have incorporated the Committee's comments into this manuscript.
Funding
Funded by New Zealand Department of Conservation and the "Security for iconic species: Kiwi Rescue" Endeavour Fund grant from the New Zealand Ministry of Business and Innovation, Lea de Nascimento was supported by the European Union's Horizon 2020 research and innovation programme under the Marie Skłodowska-Curie grant agreement No 700952 and Vanesa De Pietri was supported the Marsden Fund Council from Government funding, managed by Royal Society Te Apārangi (CTM-16-001) .
Ethics declarations
Conflict of interest
The authors declare that they have no conflict of interest.
Ethical approval
The people of Ngati Hine, Ngati Hei, Tuhoe, Ngati Tuwharetoa, Ngati Raukawa, and Ngai Tahu peoples, permitted genetic analyses of kiwi blood samples obtained from their lands. The World Museum Liverpool gave permission to sample the holotype. Te Whare Taonga o Ngā Pākihi Whakatekateka o Waitaha Ohaki O Nga Tipuna (Canterbury Museums' Maori Liaison Committee) gave their whakaae for this work.
Additional information
Publisher's Note
Springer Nature remains neutral with regard to jurisdictional claims in published maps and institutional affiliations.
Supplementary Information
Below is the link to the electronic supplementary material.
About this article
Cite this article
Scofield, R.P., Wood, J.R., de Nascimento, L. et al. Identification of the type locality of the South Island Brown Kiwi Apteryx australis. Conserv Genet 22, 645–652 (2021). https://doi.org/10.1007/s10592-021-01349-y
Received:

Accepted:

Published:

Issue Date:

DOI: https://doi.org/10.1007/s10592-021-01349-y
Keywords