Abstract
Species conservation with fragmented and endangered populations must be based on a prior and thorough knowledge of the structure and population dynamics. Oophaga lehmanni is a dendrobatid species endemic of Colombia and is restricted to its type locality. This species has a fragmented distribution and is considered as critically endangered mainly due to habitat destruction and overexploitation. Oophaga lehmanni exhibits phenotypic variation in the dorsal color pattern (red and yellow morphs). We reconstructed the overexploitation history that this species has faced in the last 40 years. In addition, we collected genetic and morphological data for the first time in natural populations to describe genetic diversity between and within populations, and to evaluate morphological and genetic differences between red and yellow morphs. Overexploitation data suggest that more than 80.000 (Min = 60.047–Max = 102.236) frogs were extracted from the field in the last four decades, probably generating the local extirpation or population decline from the type locality. Genetic data showed reduced genetic diversity. Observed heterozygosity (mean ± s.d. = 0.599 ± 0.165) is lower than expected (mean ± s.d. = 0.867 ± 0.082). We did not find differences in body size and heterozygosity between the two morphs; however, individuals analyzed were assigned to two genetic clusters, which corresponded to the O. lehmanni-yellow and O. lehmanni-red. In addition, FST (0.209) and Nei genetic distance (0.18) values indicated genetic differentiation between the two morphs; therefore, red and yellow morphs should be treated as independent management units. This information will help to define appropriate and long-term conservation units, as a useful tool to mitigate the extinction risk of this species.
This is a preview of subscription content,
to check access.
Access this article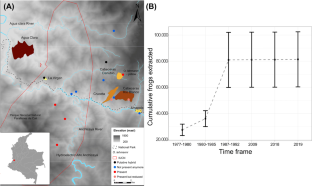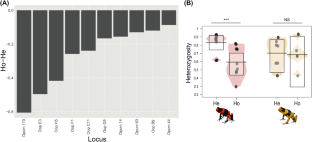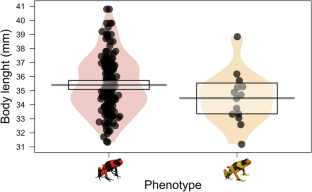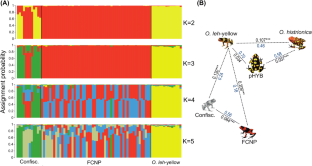 References
Acosta Galvis AR (2017) Lista de los Anfibios de Colombia. In: Ref. en linea V.07.2017.0. https://www.batrachia.com. Accessed 17 Jul 2017

Allee WC, Bowen ES (1932) Studies in animal aggregations: mass protection against colloidal silver among goldfishes. J Exp Zool 61:185–207. https://doi.org/10.1002/jez.1400610202

Amézquita A (2016) Lehmann's Poison Frog, Oophaga lehmanni (Myers & Daly, 1976). In: Kahn TR, La Marca E, Lötters S, et al. (eds) Aposematic Poison Frogs (Dendrobatidae) of the Andean Countries: Bolivia, Colombia, Ecuador, Peru and Venezuela, Tropical Field Guide Series, 1st edn. Conservation International, Arlington, pp 404–410

Becker C, Fonseca C, Baptista Haddad C et al (2007) Habitat split and the global decline of amphibians. Science 318:1775–1777. https://doi.org/10.1126/science.1149374

Becker CG, Loyola RD, Haddad CFB, Zamudio KR (2010) Integrating species life-history traits and patterns of deforestation in amphibian conservation planning. Divers Distrib 16:10–19. https://doi.org/10.1111/j.1472-4642.2009.00625.x

Beebee TJC (2008) Buccal swabbing as a source of DNA from squamate reptiles. Conserv Genet 9:1087–1088. https://doi.org/10.1007/s10592-007-9464-2

Berger L, Speare R, Daszak P et al (1998) Chytridiomycosis causes amphibian mortality associated with population declines in the rain forests of Australia and Central America. Proc Natl Acad Sci USA 95:9031–9036. https://doi.org/10.1073/pnas.95.15.9031

Berven KA, Grudzien TA (1990) Dispersal in the wood frog (Rana sylvatica): implications for genetic population structure. Evolution 44:2047–2056. https://doi.org/10.2307/2409614

Betancourth-Cundar M, Palacios-Rodríguez P (2018) Oophaga lehmanni (Myers y Daly, 1976) Rana venenosa de Lehmann. In: Rivera-Correa M (ed) Catálogo de anfibios y reptiles de Colombia. Asociación Colombiana de Herpetología, pp 45–51

Bosch J, Carrascal LM, Durán L et al (2007) Climate change and outbreaks of amphibian chytridiomycosis in a montane area of Central Spain; is there a link? Proc Biol Sci 274:253–260. https://doi.org/10.1098/rspb.2007.3768

Brown J, Morales V, Summers K (2010) A key ecological trait drove the evolution of biparental care and monogamy in an amphibian. Am Nat 175:436–446. https://doi.org/10.1086/650727

Brown J, Morales V, Summers K (2009) Home range size and location in relation to reproductive resources in poison frogs (Dendrobatidae): a Monte Carlo approach using GIS data. Anim Behav 77:547–554. https://doi.org/10.1016/j.anbehav.2008.10.002

Bruford M, Wayne R (1993) Microsatellites and their application to population genetic studies. Curr Opin Genet Dev 3:939–943. https://doi.org/10.1016/0959-437X(93)90017-J

Brust DG (1993) Maternal brood care by Dendrobates pumilio: a frog that feeds its young. J Herpetol 27:96–98. https://doi.org/10.2307/1564914

Burrowes PA, Joglar RL, Green DE (2004) Potential causes for amphibian declines in Puerto Rico. Herpetologica 60:141–154. https://doi.org/10.1655/03-50

Caldwell JP (1997) Pair bonding in spotted poison frogs. Nature 385:211–211

Caldwell JP, de Oliveira VRL (1999) Determinants of biparental care in the spotted poison frog, Dendrobates vanzolinii (Anura: Dendrobatidae). Copeia 1999:565–575

Castro-Herrera F, Amézquita A (2004) Rana venenosa de Lehmann Dendrobates lehmanni. In: Rueda-Almonacid J, Lynch J, Amézquita A (eds) Libro rojo de anfibios de Colombia. Serie de libros rojos de especies amenazadas de Colombia, 1st edn. Conservación Internacional Colombia, Instituto de Ciencias Naturales Universidad de Colombia, Ministerio del Medio Ambiente, Bogotá D.C., pp 162–167

Chapuis M-P, Estoup A (2007) Microsatellite null alleles and estimation of population differentiation. Mol Biol Evol 24:621–631. https://doi.org/10.1093/molbev/msl191

Collins JP, Storfer A (2003) Global amphibian declines: sorting the hypotheses. Divers Distrib 9:89–98. https://doi.org/10.1046/j.1472-4642.2003.00012.x

Courchamp F, Clutton-Brock T, Grenfell B (1999) Inverse density dependence and the allee effect. Trends Ecol Evol 14:405–410. https://doi.org/10.1016/S0169-5347(99)01683-3

Crump ML (1996) Parental care among the amphibia. In: Rosenblatt J, Snowdon C (eds) Parental care: evolution, mechanisms, and adaptive significance. Academic Press, San Diego, CA, pp 109–144

Cushman SA (2006) Effects of habitat loss and fragmentation on amphibians: a review and prospectus. Biol Conserv 128:231–240. https://doi.org/10.1016/j.biocon.2005.09.031

Earl DA, vonHoldt BM (2012) STRUCTURE HARVESTER: a website and program for visualizing STRUCTURE output and implementing the Evanno method. Conserv Genet Resour 4:359–361. https://doi.org/10.1007/s12686-011-9548-7

Evanno G, Regnaut S, Goudet J (2005) Detecting the number of clusters of individuals using the software STRUCTURE: a simulation study. Mol Ecol 14:2611–2620. https://doi.org/10.1111/j.1365-294X.2005.02553.x

Excoffier L, Laval G, Schneider S (2005) Arlequin (version 3.0): an integrated software package for population genetics data analysis. Evol Bioinform Online 1:47–50. https://doi.org/10.1177/117693430500100003

Falush D, Stephens M, Pritchard JK (2003) Inference of population structure using multilocus genotype data: linked loci and correlated allele frequencies. Genetics 164:1567–1587

Fisher MC, Garner TW, Walker SF (2009) Global emergence of Batrachochytrium dendrobatidis and amphibian chytridiomycosis in space, time, and host. Annu Rev Microbiol 63:291–310. https://doi.org/10.1146/annurev.micro.091208.073435

Flechas SV, Sarmiento C, Amézquita A (2012) Bd on the beach: high prevalence of Batrachochytrium dendrobatidis in the lowland forests of Gorgona Island (Colombia, South America). Ecohealth 9:298–302. https://doi.org/10.1007/s10393-012-0771-9

Flechas SV, Paz A, Crawford AJ et al (2017) Current and predicted distribution of the pathogenic fungus Batrachochytrium dendrobatidis in Colombia, a hotspot of amphibian biodiversity. Biotropica 49:685–694. https://doi.org/10.1111/btp.12457

Frost DR (2018) Amphibian species of the world: an online reference. Version 6.0. In: Am. Museum Nat. Hist. New York, USA. https://research.amnh.org/herpetology/amphibia/index.html. Accessed 20 Jun 2018

Fuller E (2003) The great auk: the extinction of the original penguin (lost worlds). Bunker Hill Publishing, Boston

Garraffo H, Jain P, Spande T et al (2001) Structure of alkaloid 275A, a novel 1-azabicyclo[5.3.0]decane from a Dendrobatid Frog, Dendrobates lehmanni: Synthesis of the tetrahydrodiastereomers. J Nat Prod 64:421–427. https://doi.org/10.1021/NP0005098

Gascon C, Lougheed SC, Bogart JP (1998) Patterns of genetic population differentiation in four species of Amazonian Frogs: a test of the riverine barrier hypothesis. Biotropica 30:104–119. https://doi.org/10.1111/j.1744-7429.1998.tb00373.x

Gibbon J, Scott D, Ryan T et al (2000) The global decline of Reptiles, Déjà Vu Amphibians. Bioscience 50:653–666. https://doi.org/10.1641/0006-3568(2000)050[0653:TGDORD]2.0.CO;2

Goldberg CS, Kaplan ME, Schwalbe CR (2003) From the frog's mouth: buccal swabs for collection of DNA from amphibians. Herpetol Rev 34:220–221

Gorzula S (1996) The trade in dendrobatid frogs from 1987 to 1993. Herpetol Rev 27:116–123

Goudet J (1995) Computer note FSTAT (version 1.2): a computer program to calculate F-statistics. J Hered 86:485–486

Griffiths RA, Pavajeau L (2008) Captive breeding, reintroduction, and the conservation of amphibians. Conserv Biol 22:852–861. https://doi.org/10.1111/j.1523-1739.2008.00967.x

Harding G, Griffiths RA, Pavajeau L (2016) Developments in amphibian captive breeding and reintroduction programs. Conserv Biol 30:340–349. https://doi.org/10.1111/cobi.12612

Hartl DL, Clark AG (1997) Principles of population genetics, 4th edn. Sinauer Associates, Inc. Publishers, Sunderland

Hauswaldt JS, Ludewig AK, Hagemann S et al (2009) Ten microsatellite loci for the strawberry poison frog (Oophaga pumilio). Conserv Genet 10:1935–1937. https://doi.org/10.1007/s10592-009-9859-3

Houlahan JE, Findlay CS, Schmidt BR et al (2000) Quantitative evidence for global amphibian population declines. Nature 404:752–755. https://doi.org/10.1038/35008052

IUCN SSC Amphibian Specialist Group (2019) Oophaga lehmanni (Lehmann's Poison Frog). In: IUCN Red List Threat. Species 2019 e.T55190A85891808. https://www.iucnredlist.org/species/55190/85891808. Accessed 21 Jan 2020

Jarne P, Lagoda P (1996) Microsatellites, from molecules to populations and back. Trends Ecol Evol 11:424–429. https://doi.org/10.1016/0169-5347(96)10049-5

Kahn T, La Marca E, Lötters S et al (2016) Aposematic Poison Frogs (Dendrobatidae) of the Andean Countries: Bolivia, Colombia, Ecuador, Peru and Venezuela. Conservation International Tropical Field Guide Series. Conservation International, Arlington

Kalinowski S, Taper M, Marshall T (2007) Revising how the computer program CERVUS accommodates genotyping error increases success in paternity assignment. Mol Ecol 16:1099–1106. https://doi.org/10.1111/j.1365-294X.2007.03089.x

La Marca E, Lips KR, Lötters S et al (2005) Catastrophic population declines and extinctions in neotropical harlequin frogs (Bufonidae: Atelopus). Biotropica 37:190–201. https://doi.org/10.1111/j.1744-7429.2005.00026.x

Lawler JJ, Shafer SL, White D et al (2009) Projected climate-induced faunal change in the Western Hemisphere RID C-7190-2009 RID E-4643-2011. Ecology 90:588–597. https://doi.org/10.1890/08-0823.1

Lips K, Brem F, Brenes R et al (2006) Emerging infectious disease and the loss of biodiversity in a Neotropical amphibian community. Proc Natl Acad Sci USA 103:3165–3170. https://doi.org/10.1073/pnas.95.15.9031

Lips KR (1999) Mass mortality and population declines of anurans at an upland site in western Panama. Conserv Biol 13:117–125. https://doi.org/10.1046/j.1523-1739.1999.97185.x

Lötters S (1992) Zur Validität von Dendrobates lehmanni Myers & Daly, 1976 aufgrund zweier neuer Farbformen von Dendrobates histrionicus Berthold, 1845. Salamandra 28:138–144

Lötters S, Glaw F, Kohler J, Castro F (1999) On the geographic variation of the advertisement call of Dendrobates histrionicus BERTHOLD, 1845 and related forms from north-western South America (Anura: Dendrobatidae). Herpetozoa 12:23–38

Lötters S, Jungfer K, Henkel F, Schmidt W (2007) Poison frogs. Biology, species & captive husbandry, 1st edn. Chimaira, Frankfurt

Medina I, Wang IJ, Salazar C (2013) Hybridization promotes color polymorphism in the aposematic harlequin poison frog, Oophaga histrionica. Ecol Evol 3:4388–4400. https://doi.org/10.1002/ece3.794

Minteer BA, Collins JP, Love KE, Puschendorf R (2014) Avoiding (re)extinction. Science 344:260–261. https://doi.org/10.1126/science.1250953

Myers CW, Daly JW (1976) Preliminary evaluation of skin toxins and vocalizations in taxonomic and evolutionary studies of poison-dart frogs (Dendrobatidae). Bull Am Museum Nat Hist 157:173–262

Nei M (1972) Genetic distance between populations. Am Nat 106:283–292. https://doi.org/10.1086/282771

Newman RA, Squire T (2001) Microsatellite variation and fine-scale population structure in the wood frog (Rana sylvatica). Mol Ecol 10:1087–1100. https://doi.org/10.1046/j.1365-294X.2001.01255.x

Nijman V, Shepherd CR (2010) The role of Asia in the global trade in CITES II-listed poison arrow frogs: hopping from Kazakhstan to Lebanon to Thailand and beyond. Biodivers Conserv 19:1963–1970. https://doi.org/10.1007/s10531-010-9814-0

Peakall R, Smouse PE (2012) GenAlEx 6.5: genetic analysis in Excel. Population genetic software for teaching and research—an update. Bioinformatics 28:2537–2539. https://doi.org/10.1093/bioinformatics/bts460

Pemberton JM, Slate J, Bancroft DR, Barrett JA (1995) Nonamplifying alleles at microsatellite loci: a caution for parentage and population studies. Mol Ecol 4:249–252. https://doi.org/10.1111/j.1365-294X.1995.tb00214.x

Pidancier N, Miquel C, Miaud C (2003) Buccal swabs as a non-destructive tissue sampling method for DNA analysis in amphibians. Herpetol J 13:175–178

Portik DM, Smith LL, Bi K (2016) An evaluation of transcriptome-based exon capture for frog phylogenomics across multiple scales of divergence (Class: Amphibia, Order: Anura). Mol Ecol Resour 16:1069–1083. https://doi.org/10.1111/1755-0998.12541

Pounds JA (2001) Climate and amphibian declines. Nature 410:639–640. https://doi.org/10.1038/35070683

Pounds JA, Bustamante MR, Coloma LA et al (2006) Widespread amphibian extinctions from epidemic disease driven by global warming. Nature 439:161–167. https://doi.org/10.1038/nature04246

Powers RP, Jetz W (2019) Global habitat loss and extinction risk of terrestrial vertebrates under future land-use-change scenarios. Nat Clim Change. https://doi.org/10.1038/s41558-019-0406-z

Pritchard JK, Stephens M, Donnelly P (2000) Inference of population structure using multilocus genotype data. Genetics 155:945–959

Pröhl H (2005) Territorial behavior in dendrobatid frogs. J Herpetol 39:354–365. https://doi.org/10.1670/162-04A.1

Pröhl H, Hödl W (1999) Parental investment, potential reproductive rates, and mating system in the strawberry dart-poison frog, Dendrobates pumilio. Behav Ecol Sociobiol 46:215–220. https://doi.org/10.1007/s002650050612

R Core Team (2013) R: a language and environment for statistical computing. https://www.R-project.org/

Ramasamy R, Ramasamy S, Bindroo B, Naik V (2014) STRUCTURE PLOT: a program for drawing elegant STRUCTURE bar plots in user friendly interface. Springerplus 3:431. https://doi.org/10.1186/2193-1801-3-431

Raymond M, Rousset F (1995) GENEPOP (version 1.2): population genetics software for exact tests and ecumenicism. J Hered 86:248–249. https://doi.org/10.1093/oxfordjournals.jhered.a111573

Reading CJ, Loman J, Madsen DT (1991) Breeding pond fidelity in the common toad, Bufo bufo. J Zool 225:201–222

Roland AB, Coloma LA, O'Connell LA et al (2017) Radiation of the polymorphic Little Devil poison frog (Oophaga sylvatica) in Ecuador. Ecol Evol 7:9750–9762. https://doi.org/10.1002/ece3.3503

Roland AB, O'Connell LA (2015) Poison frogs as a model system for studying the neurobiology of parental care. Curr Opin Behav Sci 6:1–6. https://doi.org/10.1016/j.cobeha.2015.10.002

Ron SR, Duellman WE, Coloma LA, Bustamante MR (2003) Population decline of the Jambato toad Atelopus ignescens (Anura: Bufonidae) in the Andes of Ecuador. J Herpetol 37:116–126. https://doi.org/10.1670/0022-1511(2003)037[0116:PDOTJT]2.0.CO;2

Rosser AM, Mainka S (2002) Overexploitation and species extinctions. Conserv Biol 16:584–586

Rueda J, Castro F, Cortez C (2006) Técnicas para el inventario y muestreo de anfibios: Una compilación. In: Angulo A, Rueda-Almonacid J, Rodríguez-Mahecha J, La Marca E (eds) Técnicas de Inventario y Monitoreo para los Anfibios de la Región Tropical Andina, 1st edn. Conservación Internacional, Bogotá D.C., pp 135–172

Scheele BC, Pasmans F, Skerratt LF et al (2019) Amphibian fungal panzootic causes catastrophic and ongoing loss of biodiversity. Science 363:1459–1463. https://doi.org/10.1126/SCIENCE.AAV0379

Schlaepfer MA, Hoover C, Dodd K (2005) Challenges in evaluating the impact of the trade in amphibians and reptiles on wild populations. Bioscience 55:256–264

Schneider C, Rasband W, Eliceiri K (2012) NIH Image to ImageJ: 25 years of image analysis. Nat Methods 9:671–675. https://doi.org/10.1038/nmeth.2089

Shaffer H, Fellers G, Magee A, Voss R (2000) The genetics of amphibian declines: population substructure and molecular differentiation in the Yosemite Toad, Bufo canorus (Anura, Bufonidae) based on single-strand conformation polymorphism analysis (SSCP) and mitochondrial DNA sequence data. Mol Ecol 9:245–257

Shaffer HB, Gidiş M, McCartney-Melstad E et al (2015) Conservation genetics and genomics of amphibians and reptiles. Annu Rev Anim Biosci 3:113–138. https://doi.org/10.1146/annurev-animal-022114-110920

Stockwell M, Clulow S, Clulow J, Mahony M (2008) The impact of the Amphibian Chytrid Fungus Batrachochytrium dendrobatidis on a Green and Golden Bell Frog Litoria aurea reintroduction program at the Hunter Wetlands Centre Australia in the Hunter Region of NSW. Aust Zool 34:379–386. https://doi.org/10.7882/AZ.2008.015

Stuart SN, Chanson JS, Cox NA et al (2004) Status and trends of amphibian declines and extinctions worldwide. Science 306:1783–1786. https://doi.org/10.1126/science.1103538

Summers K, McKeon C (2004) The evolutionary ecology of phytotelmata use in neotropical poison frogs. In: Lehtinen R (ed) Ecology and evolution of phytotelm-breeding anurans. Miscellaneous publications. Museum of Zoology, University of Michigan, Michigan, pp 55–73

Summers K, Tumulty J (2014) Parental care, sexual selection, and mating systems in neotropical poison frogs. In: Macedo R, Machado G (eds) Sexual selection: perspectives and models from the neotropics, 1st edn. Academic Press, New York, pp 289–320

Tumulty J, Morales V, Summers K (2013) The biparental care hypothesis for the evolution of monogamy: experimental evidence in an amphibian. Behav Ecol 00:1–9. https://doi.org/10.1093/beheco/art116

Van Oosterhout C, Hutchinson WF, Willls DP, Shipley P (2004) MICRO-CHECKER: software for identifying and correcting genotyping errors in microsatellite data. Mol Ecol Notes 4:535–538. https://doi.org/10.1111/j.1471-8286.2004.00684.x

Van Oosterhout C, Weetman D, Hutchinson WF (2006) Estimation and adjustment of microsatellite null alleles in nonequilibrium populations. Mol Ecol Notes 6:255–256. https://doi.org/10.1111/j.1471-8286.2005.01082.x

Vargas-Salinas F, Amézquita A (2013) Stream noise, hybridization, and uncoupled evolution of call traits in two lineages of poison frogs: Oophaga histrionica and Oophaga lehmanni. PLoS ONE 8(10):e77545. https://doi.org/10.1371/journal.pone.0077545

Velásquez B, Corredor Londoño G, Velasco J, Amézquita A (2009) Evaluación del estado de conservación de Oophaga lehmanni, con fines de establecer una reserva natural para su proteción. Corporación Autónoma del Valle del Cauca CVC, Wildlife Conservation Society WCS y Fundación CREA - Zoológico de Cali, Santiago de Cali

von Wahlund S (1927) Zusammensetzung von populationen und korrelationserscheinungen vom standpunkt der vererbungslehre aus betrachtet. Hereditas 11:65–106

Wang IJ, Summers K (2009) Highly polymorphic microsatellite markers for the highly polymorphic strawberry poison-dart frog and some of its congeners. Conserv Genet 10:2033–2036. https://doi.org/10.1007/s10592-009-9887-z

Warren R, Vanderwal J, Price J et al (2013) Quantifying the benefit of early climate change mitigation in avoiding biodiversity loss. Nat Clim Change 3:678–682. https://doi.org/10.1038/nclimate1887

Weir BS, Cockerham CC (1984) Estimating F-statistics for the analysis of population structure. Evolution 38:1358–1370. https://doi.org/10.2307/2408641

Wells K (1977) The social behaviour of anuran amphibians. Anim Behav 25:666–693. https://doi.org/10.1016/0003-3472(77)90118-X

Wells K (2007) The ecology and behavior of amphibians. The University of Chicago Press Chicago, Chicago

Weygoldt P (1987) Evolution of parental care in dart poison frogs (Amphibia: Anura: Dendrobatidae). J Zool Syst Evol Res 25:51–67. https://doi.org/10.1111/j.1439-0469.1987.tb00913.x

Weygoldt P (1980) Complex brood care and reproductive behaviour in captive poison-arrow frogs, Dendrobates pumilio O. Schmidt. Behav Ecol Sociobiol 7:329–332. https://doi.org/10.1007/BF00300674

Young BE, Lips KR, Reaser JK et al (2001) Population declines and priorities for amphibian conservation in Latin America. Conserv Biol 15:1213–1223

Zimmermann H, Zimmermann E (1986) Breeding terrarium animals, 1st edn. TFH Publications, Neptune

Zumbado-Ulate H, Bolaños F, Willink B, Soley-Guardia F (2010) Population status and natural history notes on the critically endangered stream-dwelling frog Craugastor ranoides (Craugastoridae) in a Costa Rican Tropical Dry Forest. Herpetol Conserv Biol 6:455–464
Acknowledgements
This work was supported by Asociación Colombiana de Herpetología-ACH—Botas al Campo (Grant 01-2014 to MBC), Iniciativa de Especies Amenazadas Jorge Ignacio Hernández-Camacho and Fundación Omacha (Grant 04-2015 to MBC), Consejo Profesional de Biología—CPBiol (Grant 07-2016 to MBC), Facultad de Ciencias, Universidad de los Andes—Colombia (Seed Grant 2014-1 to MBC), Departamento Administrativo de Ciencia, Tecnología e Innovación—COLCIENCIAS and Empresa de Energía del Pacifico—EPSA (734-2015). The funders had no role in study design, data collection, and analysis, decision to publish, or preparation of the manuscript. We are highly thankful to RF Molina, LA Barragan, A Zarling, M Guayara, C Amorocho, L Tabares and JD Rueda for their help in the samples collection and lab work. To V Santamaria and Tesoros de Colombia for providing us data about poison frogs reproduction in captivity. To HN Vargas for its friendly management in achieving financing. To R Marquez for helpful comments and suggestions that greatly improved this manuscript. To Instituto de Protección y Bienestar Animal de la Alcaldía de Bogotá for providing us with data on frog confiscations.
Ethics declarations
Conflict of interest
The authors have declared that no competing interests exist.
Ethical approval
All applicable international, national, and/or institutional guidelines for the care and use of animals were followed. All procedures performed in studies involving animals were in accordance with the ethical standards of Comité Institucional para el Cuidado y Uso de Animales de Laboratorio (CICUAL) at Universidad de Los Andes. Procedures for capture, handling and samples collections of live animals in the field were approved by Parques Nacionales Naturales de Colombia under research permits 017-2016 and 024-2017 granted to MBC and Autoridad Nacional de Licencias Ambientales-ANLA (Permiso Marco: Resolution 1177 de 2014 to Universidad de los Andes).
Additional information
Publisher's Note
Springer Nature remains neutral with regard to jurisdictional claims in published maps and institutional affiliations.
Microsatellite data are available from the Dryad Digital Repository: https://doi.org/10.5061/dryad.0zpc866tx
Electronic supplementary material
Below is the link to the electronic supplementary material.
About this article
Cite this article
Betancourth-Cundar, M., Palacios-Rodríguez, P., Mejía-Vargas, D. et al. Genetic differentiation and overexploitation history of the critically endangered Lehmann's Poison Frog: Oophaga lehmanni. Conserv Genet 21, 453–465 (2020). https://doi.org/10.1007/s10592-020-01262-w
Received:

Accepted:

Published:

Issue Date:

DOI: https://doi.org/10.1007/s10592-020-01262-w
Keywords