Abstract
Declines in abundance and genetic diversity in plant and animal populations are increasingly of conservation concern. Genetic rescue, or the supplementation of declining populations with individuals from genetically different sources, may aid in demographic and genetic recovery efforts, assuming introduced individuals successfully reproduce following translocation. However, the relative reproductive contributions of resident and translocated individuals are not frequently evaluated. In the northern lower peninsula of Michigan, USA, fourteen brown trout (Salmo trutta) from each of three different tributaries were introduced into a research stream (Hunt Creek) to supplement a small, isolated resident brown trout population. Mean expected heterozygosity and mean allelic richness differed between the three translocated populations compared to residents. Additionally, inter-population variance in allele frequency (FST) between resident and translocated populations ranged from 0.024 to 0.098. Using genetic parentage assignments, we documented that translocated and resident brown trout did interbreed; however, intra-population mating events were more common. Simulations indicated that increases in genetic diversity among age-1 offspring were the result of reproduction by translocated adults, as genetic variation was significantly above levels expected by reproduction among residents alone (p < 0.001). To achieve management goals for genetic rescue programs, managers would be advised to conduct simulations and hypothesis testing in addition to collection of empirical genetic data to evaluate introduction outcomes.
Access options
Buy single article
Instant access to the full article PDF.
USD 39.95
Price includes VAT (USA)
Tax calculation will be finalised during checkout.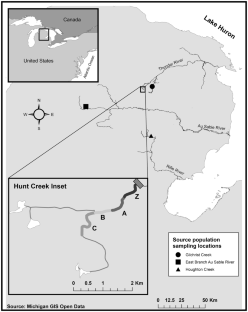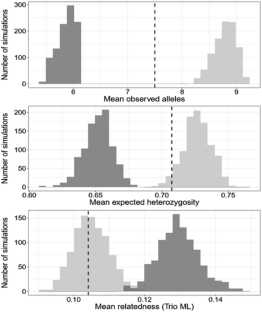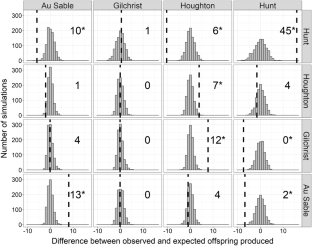 References
Anderson JH, Pess GR, Carmichael RW et al (2014) Planning pacific salmon and steelhead reintroductions aimed at long-term viability and recovery. North Am J Fish Manag 34:72–93. https://doi.org/10.1080/02755947.2013.847875

Angers B, Bernatchez L, Angers A, Desgroseillers L (1995) Specific microsatellite loci for brook charr reveal strong population subdivision on a microgeographic scale. J Fish Biol 47:177–185. https://doi.org/10.1111/j.1095-8649.1995.tb06054.x

Archer FI, Adams PE, Schneiders BB (2017) STRATAG: an R package for manipulating, summarizing and analysing population genetic data. Mol Ecol Resour 17:5–11. https://doi.org/10.1111/1755-0998.12559

Both C, Bouwhuis S, Lessells CM, Visser ME (2006) Climate change and population declines in a long-distance migratory bird. Nature 441:81–83. https://doi.org/10.1038/nature04539

Bradford MJ, Irvine JR (2000) Land use, fishing, climate change, and the decline of Thompson River, British Columbia, coho salmon. Can J Fish Aquat Sci 57:13–16. https://doi.org/10.1139/f99-283

Cochran-Biederman JL, Wyman KE, French WE, Loppnow GL (2015) Identifying correlates of success and failure of native freshwater fish reintroductions. Conserv Biol 29:175–186. https://doi.org/10.1111/cobi.12374

Cowx IG (1994) Stocking strategies. Fish Manag Ecol 1:15–30. https://doi.org/10.1111/j.1365-2400.1970.tb00003.x

Do C, Waples RS, Peel D et al (2013) NeEstimator v2: re-implementation of software for the estimation of contemporary effective population size (Ne) from genetic data. Mol Ecol Resour 14:209–214. https://doi.org/10.1111/1755-0998.12157

Dresser CM, Ogle RM, Fitzpatrick BM (2017) Genome scale assessment of a species translocation program. Conserv Genet 18:1191–1199. https://doi.org/10.1007/s10592-017-0970-6

Edmands S (2007) Between a rock and a hard place: evaluating the relative risks of inbreeding and outbreeding for conservation and management. Mol Ecol 16:463–475. https://doi.org/10.1111/j.1365-294X.2006.03148.x

Estoup A, Presa P, Krieg F et al (1993) CT)n and (GT)n microsatellites: a new class of genetic markers for Salmo trutta L. (brown trout. Heredity (Edinb) 71:488–496. https://doi.org/10.1038/hdy.1993.167

Evans ML, Johnson MA, Jacobson D et al (2015) Evaluating a multi-generational reintroduction program for threatened salmon using genetic parentage analysis. Can J Fish Aquat Sci 73:844–852. https://doi.org/10.1139/cjfas-2015-0317

Fitzpatrick SW, Funk CW (2019) Genomics for genetic rescue. In: Population genomics. Springer, Cham

Fitzpatrick SW, Gerberich JC, Angeloni LM et al (2016) Gene flow from an adaptively divergent source causes rescue through genetic and demographic factors in two wild populations of Trinidadian guppies. Evol Appl 9:879–891. https://doi.org/10.1111/eva.12356

Frankham R (2015) Genetic rescue of small inbred populations: meta-analysis reveals large and consistent benefits of gene flow. Mol Ecol 24:2610–2618. https://doi.org/10.1111/mec.13139

Frankham R, Ralls K (1998) Inbreeding leads to extinction. Nature 392:441–442. https://doi.org/10.1038/33025

Frankham R, Ballou JD, Eldridge MDB et al (2011) Predicting the probability of outbreeding depression. Conserv Biol 25:465–475. https://doi.org/10.1111/j.1523-1739.2011.01662.x

Geist DR, Dauble DD (1998) Redd site selection and spawning habitat use by fall chinook salmon: the importance of geomorphic features in large rivers. Environ Manag 22:655–669. https://doi.org/10.1007/s002679900137

George AL, Kuhajda BR, Williams JD et al (2009) Guidelines for propagation and translocation for freshwater fish conservation. Fisheries 34:529–545. https://doi.org/10.1577/1548-8446-34.11.529

Gilpin ME (1986) Minimal viable populations: processes of species extinction. Conserv Biol Sci

Griffith B, Scott JM, Carpenter JW, Reed C (1989) Translocation as a species conservation tool: status and strategy. Science 245:477–480. https://doi.org/10.1126/science.245.4917.477

Haddad NM, Brudvig LA, Clobert J et al (2015) Habitat fragmentation and its lasting impact on Earth's ecosystems. Sci Adv 1:e1500052. https://doi.org/10.1126/sciadv.1500052

Hansen MM, Ruzzante DE, Nielsen EE, Mensberg KD (2000) Microsatellite and mitochondrial DNA polymorphism reveals life-history dependent interbreeding between hatchery and wild brown trout (Salmo trutta L.). Mol Ecol 9:583–594. https://doi.org/10.1046/j.1365-294x.2000.00898.x

Hedrick PW, Fredrickson R (2010) Genetic rescue guidelines with examples from Mexican wolves and Florida panthers. Conserv Genet 11:615–626. https://doi.org/10.1007/s10592-009-9999-5

Hedrick PW, Peterson RO, Vucetich LM et al (2014) Genetic rescue in Isle Royale wolves: genetic analysis and the collapse of the population. Conserv Genet 15:1111–1121. https://doi.org/10.1007/s10592-014-0604-1

Hochberg Y (1995) Controlling the false discovery rate: a practical and powerful approach to multiple testing author (s): Yoav Benjamini and Yosef Hochberg source. J R Stat Soc Ser B (Methodol) 57(1):289–300

Kalinowski ST, Wagner AP, Taper ML (2006) ML-RELATE: a computer program for maximum likelihood estimation of relatedness and relationship. Mol Ecol Notes 6:576–579. https://doi.org/10.1111/j.1471-8286.2006.01256.x

Kazyak DC, Rash J, Lubinski BA, King TL (2018) Assessing the impact of stocking northern-origin hatchery brook trout on the genetics of wild populations in North Carolina. Conserv Genet 19:207–219. https://doi.org/10.1007/s10592-017-1037-4

Lande R (1988) Genetics and demography in biological conservation. Science 241:1455–1460

Middaugh CR, Magoulick DD (2017) Interactive effects of flow regime, climate change, and angler harvest on smallmouth bass at the southern range extent. https://doi.org/10.13140/RG.2.2.30559.56481

Minckley WL (1995) Translocation as a tool for conserving imperiled fishes: experiences in western United States. Biol Conserv 72:297–309. https://doi.org/10.1016/0006-3207(94)00091-4

Olsen JB, Bentzen P, Seeb JE (1998) Characterization of seven microsatellite loci derived from pink salmon. Mol Ecol 7:1087–1089

Olson ZH, Whittaker DG, Rhodes OE (2013) Translocation history and genetic diversity in reintroduced bighorn sheep. J Wildl Manag 77:1553–1563. https://doi.org/10.1002/jwmg.624

Olsson O (2007) Genetic origin and success of reintroduced white storks. Conserv Biol 21:1196–1206. https://doi.org/10.1111/j.1523-1739.2007.00763.x

Petereit C, Bekkevold D, Nickel S et al (2018) Population genetic structure after 125 years of stocking in sea trout (Salmo trutta L.). Conserv Genet 19:1123–1136. https://doi.org/10.1007/s10592-018-1083-6

Peterson DA, Hilborn R, Hauser L (2014) Local adaptation limits lifetime reproductive success of dispersers in a wild salmon metapopulation. Nat Commun 5:1–7. https://doi.org/10.1038/ncomms4696

Pew J, Muir PH, Wang J, Frasier TR (2015) related: An R package for analysing pairwise relatedness from codominant molecular markers. Mol Ecol Resour 15:557–561. https://doi.org/10.1111/1755-0998.12323

Pimm SL, Dollar L, Bass OL (2006) The genetic rescue of the Florida panther. Anim Conserv 9:115–122. https://doi.org/10.1111/j.1469-1795.2005.00010.x

Rousset F (2008) GENEPOP' 007: a complete re-implementation of the GENEPOP software for Windows and Linux

Sard NM, Johnson MA, Jacobson DP et al (2016) Genetic monitoring guides adaptive management of a migratory fish reintroduction program. Anim Conserv 19:570–577. https://doi.org/10.1111/acv.12278

Schwartz MK, Luikart G, Waples RS (2007) Genetic monitoring as a promising tool for conservation and management. Trends Ecol Evol 22:25–33. https://doi.org/10.1016/J.TREE.2006.08.009

Scribner KT, Gust JR, Fields RL (1996) Isolation and characterization of novel salmon microsatellite loci: cross-species amplification and population genetic applications. Can J Fish Aquat Sci 53(4):833–841

Sheller FJ, Fagan WF, Unmack PJ (2006) Using survival analysis to study translocation success in the Gila topminnow (Poeciliopsis occidentalis). Ecol Appl 16:1771–1784. https://doi.org/10.1890/1051-0761(2006)016[1771:USATST]2.0.CO;2

Sinnock P (1975) The Wahlund effect for the two-locus model. Am Nat 109:565–570. https://doi.org/10.1086/283027

Stockwell CA, Mulvey M, Vinyard GL (1996) Translocations and the preservation of allelic diversity. Conserv Biol 10:1133–1141

Tallmon DA, Luikart G, Waples RS (2004) The alluring simplicity and complex reality of genetic rescue. Trends Ecol Evol 19:489–496. https://doi.org/10.1016/j.tree.2004.07.003

Walther G-R, Post E, Convey P et al (2002) Ecological responses to recent climate change. Nature 416:389. https://doi.org/10.1158/1055-9965.EPI-11-0085

Wang J (2007) Triadic IBD coefficients and applications to estimating pairwise relatedness. Genet Res 89:135–153. https://doi.org/10.1017/s0016672307008798

Wang J (2011) Coancestry: a program for simulating, estimating and analysing relatedness and inbreeding coefficients. Mol Ecol Resour 11:141–145. https://doi.org/10.1111/j.1755-0998.2010.02885.x

Wang J, Santure AW (2009) Parentage and sibship inference from multilocus genotype data under polygamy. Genetics 181:1579–1594. https://doi.org/10.1534/genetics.108.100214

Waples RS, Chi DO (2008) ldne: a program for estimating effective population size from data on linkage disequilibrium. Mol Ecol Resour 8:753–756. https://doi.org/10.1111/j.1755-0998.2007.02061.x

Waples RS, Antao T, Luikart G (2014) Effects of overlapping generations on linkage disequilibrium estimates of effective population size. Genetics 197:769–780. https://doi.org/10.1534/genetics.114.164822

Wells ZRR, Bernos TA, Yates MC, Fraser DJ (2019) Genetic rescue insights from population- and family-level hybridization effects in brook trout. Conserv Genet. https://doi.org/10.1007/s10592-019-01179-z

Whiteley AR, Fitzpatrick SW, Funk CW, Tallmon DA (2015) Genetic rescue to the rescue. Trends Ecol Evol 30:42–49. https://doi.org/10.1016/j.tree.2014.10.009

Wilcove DS, Rothstein D, Dubow J et al (1998) Quantifying threats to imperiled species in the United States. Bioscience 48:607–615. https://doi.org/10.2307/1313420

Willoughby JR, Christie MR (2017) Captive ancestry upwardly biases estimates of relative reproductive success. J Hered 108:583–587. https://doi.org/10.1093/jhered/esx046

Yano A, Nicol B, Jouanno E et al (2013) The sexually dimorphic on the Y-chromosome gene (sdY) is a conserved male-specific Y-chromosome sequence in many salmonids. Evol Appl 6:486–496. https://doi.org/10.1111/eva.12032
Acknowledgements
We thank technicians at the Hunt Creek field site for efforts to collect and mark fish and collect tissue samples from brown trout from all populations. Todd Wills provided background on sampling methods and demographic data. Lauren Stanchek assisted with the microsatellite genotyping. Jeannette Kanefsky optimized PCR conditions for the sexing primers and assisted in genetic sexing. Funding was provided by the Michigan Department of Natural Resources.
Additional information
Publisher's Note
Springer Nature remains neutral with regard to jurisdictional claims in published maps and institutional affiliations.
Electronic supplementary material
Below is the link to the electronic supplementary material.
About this article
Cite this article
Weise, E.M., Sard, N.M., Nehfer, A. et al. Adaptive genetic management: assessing the benefits of translocations. Conserv Genet 21, 277–287 (2020). https://doi.org/10.1007/s10592-020-01249-7
Received:

Accepted:

Published:

Issue Date:
Keywords
Relatedness

Parentage analysis

Genetic rescue

Adaptive management

Assortative mating