Abstract
Isolation can affect genetic structure of populations near the edge of a species' geographic range by reducing gene flow and allelic diversity, resulting in greater among-population differentiation. Spruce Grouse (Falcipennis canadensis), which are restricted to the boreal forest biome of North America, persist in small, disjunct lowland conifer patches at the southeastern extent of their range in the Adirondack Mountains of New York. This isolated peripheral population has declined since the early twentieth century and is considered highly vulnerable to extirpation. We examined haplotype diversity of mitochondrial control region sequences, comparing modern Spruce Grouse populations sampled from 2004 to 2013 in the Adirondacks and Algonquin Provincial Park, ca. 250 km to the northwest. Genetic diversity in the modern Adirondack population sample was very low compared to our smaller sample from Algonquin Park (three haplotypes vs seven). The modern Adirondack population shared no haplotypes with birds sampled from Algonquin, and these two populations are highly differentiated today (Fst = 0.632). We obtained shorter control region sequences from 18 museum specimens collected in the Adirondack from 1881 to 1986, in which we found six haplotypes, including five no longer found in the Adirondack Region. Some haplotypes that were once found in both regions have been lost from the Adirondacks as that population has declined demographically and shrunk geographically, indicating that the current differentiation is partly the result of these losses; when all 18 historical samples of Adirondack Spruce Grouse are included in the analysis, Fst between Adirondacks and Algonquin drops to 0.359. Haplotype diversity in Adirondack specimens collected prior to demographic decline (1881–1905, n = 10) was h = 0.778 compared to h = 0.245 in the modern Adirondack population, an over a three-fold decrease over period of ca. 130 years. These findings suggest that conservation measures that include supplementation of individuals from more diverse populations may restore genetic diversity in the Adirondack population to levels that existed a century ago.
Access options
Buy single article
Instant access to the full article PDF.
US$ 39.95
Tax calculation will be finalised during checkout.
Subscribe to journal
Immediate online access to all issues from 2019. Subscription will auto renew annually.
US$ 79
Tax calculation will be finalised during checkout.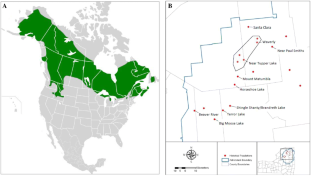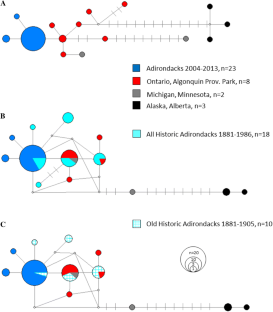 References
Alexander C (2013) Spruce Grouse (Falcipennis canadensis). In: Renfrew RB (ed) The second atlas of breeding birds of Vermont. University Press of New England, Lebanon, pp 106–107

Barrowclough GF, Schroeder MA (2016) Distribution of natal dispersal distances and the genetic structure of Spruce Grouse (Falcipennis canadensis) populations. Can J Zool 94:421–425

Barry PD, Tallmon DA (2010) Genetic differentiation of a subspecies of Spruce Grouse (Falcipennis canadensis) in an endemism hotspot. Auk 127:617–625

Boag DA, Schroeder MA (1992) Spruce Grouse. In: Poole A, Stetenheim P, Gill F (eds) The birds of North America, No. 5. The Academy of Natural Sciences, Washington DC. The American Ornithologist's Union, Philadelphia

Bouta RP (1991) Population status, historical decline and habitat relationships of Spruce Grouse in the Adirondacks of New York. Thesis, State University of New York College of Environmental Science and Forestry, Syracuse, NY

Bouta RP, Chambers RE (1990) Status of threatened spruce grouse populations in New York: a historical perspective. In: Ecosystem management: rare species and significant habitats. New York State Museum Bulletin, vol 471, pp 82–91

Bull JL (1974) Birds of New York State. Doubleday, Natural History Press, Garden City

Channell R (2004) The conservation value of peripheral populations: the supporting science. In: Hooper TD (ed) Proceedings of the species at risk 2004 pathways to recovery conference, pp 1–16

DeKay JE (1844) Zoology of New York, Part II, Birds. Carroll and Cook, Printers to the Assembly, Albany

Drovetski SV (2002) Molecular phylogeny of grouse: individual and combined performance of W-linked, autosomal, and mitochondrial loci. Syst Biol 51:930–945

Eaton EH (1910) The birds of New York, New York State Museum Memoir 12, vol I

Eckert CG, Samis KE, Lougheed SC (2008) Genetic variation across species' geographical ranges: the central–marginal hypothesis and beyond. Mol Ecol 17:1170–1188

Ellison LN (1975) Density of Alaskan spruce grouse before and after fire. J Wildl Manage 39:468–471

Fritz RS (1979) Consequences of insular population structure: distribution and extinction of Spruce Grouse populations. Oecologia 42:57–65

Fritz RS (1985) Spruce Grouse in habitat patches in the Adirondack Mountains: dispersal vs. rarity. Auk 102:393–394

Glennon MJ, Curran RP (2013) How much is enough? Distribution and protection status of habitats in the Adirondacks. Adirond J Environ Stud 19:36–46

Hoss M, Paabo S (1993) DNA extraction from Pleistocene bones by a silica-based purification method. Nucleic Acids Res 21:3913–3914

Hunter ML, Hutchinson A (1994) The virtues and shortcomings of parochialism: conserving species that are locally rare but globally common. Conserv Biol 8:1163–1165

Jenkins J, Keal A (2004) The Adirondack atlas: a geographic portrait of the Adirondack Park. Syracuse University Press and the Adirondack Museum, Syracuse

Johnson JA, Dunn PO (2006) Low genetic variation in the Heath Hen prior to extinction and implications for the conservation of prairie-chicken populations. Conserv Genet 7:37–48

Johnson G, Ross A (2008) Spruce Grouse. In: McGowan KJ, Corwin K (eds) The second atlas of breeding bird in New York. State Cornell University Press, Ithaca, p 140

Kirchman JJ, Ralston J (2016) The Adirondack Archipelago. Adirond J Environ Stud 20:17–27

Librado P, Rozas J (2009) DnaSP v5: a software for comprehensive analysis of DNA polymorphism data. Bioinformatics 25:1451–1452

Madsen T, Shine R, Olsson M, Wittzell H (1999) Conservation biology: restoration of an inbred adder population. Nature 402:34–35

Mussmann SM, Douglas MR, Anthonysamy WJB, Davis MA, Simpson SA, Louis M, Douglas ME (2017) Genetic rescue, the greater prairie chicken and the problem of conservation reliance in the Anthropocene. R Soc Open Sci 4:160736

Pimm SL, Dollar L, Bass OL Jr (2006) The genetic rescue of the Florida panther. Anim Conserv 9:115–122

Pironon S, Papuga G, Villellas J, Angert AL, Garcia MB, Thompson JT (2016) Geographic variation in genetic and demographic performance: new insights from an old biogeographical paradigm. Biol Rev 2016:1–33

Rehm EM, Olivas P, Stroud J, Feeley KJ (2015) Losing your edge: climate change and the conservation value of range-edge populations. Ecol Evol 5(19):4315–4326

Ross AM (2008) Spruce Grouse distribution, movements and habitat selection: a mid-successional species in an aging forested landscape. Thesis, State University of New York College of Environmental Science and Forestry, Syracuse, NY

Ross AM, Johnson G, Gibbs JP (2016) Spruce grouse decline in maturing lowland boreal forests of New York. For Ecol Manage 359:118–125

Sambrook J, Fritsch EF, Maniatus T (1989) Molecular cloning: a laboratory manual, 2nd edn. Cold Spring Harbor Laboratory, Cold Spring Harbor

Schroeder MA, Boag DA (1991) Spruce grouse populations in successional lodgepole pine. Ornis Scand 22:186–191

Sefc KM, Payne RB, Sorenson MD (2007) Single base errors in PCR products from avian museum specimens and their effect on estimates of historical genetic diversity. Conserv Genet 8:879–884

Seutin G, White BN, Boag PT (1991) Preservation of avian blood and tissue samples for DNA analyses. Can J Zool 69:82–90

Sorenson MD, Ast JC, Dimcheff DE, Yuri T, Mindell DP (1999) Primers for a PCR-based approach to mitochondrial genome sequencing in birds and other vertebrates. Mol Phylogenet Evol 12:105–114

Steen DA, Barrett K (2015) Should States in the USA value species at the edge of their geographic range? J Wildl Manage 79:872–876

Szuba K (2007) Spruce Grouse. In: Cadman MD, Southerland DA, Beck GG, Lepage D, Coururier AR (eds) Atlas of the breeding birds of Ontario, 2001-2005. Bird studies Canada, Environment Canada, Ontario Field Ornithologists, Ontario Ministry of Natural Resources, and Ontario Nature, Toronto, pp 126–127

Westemeier RL, Brawn JD, Simpson SA, Esker TL, Jansen RW, Walk JW, Kershner EL, Bouzat JL, Paige KN (1998) Tracking the long-term decline and recovery of an isolated population. Science 282:1695–1698

Whiteley AR, Fitzpatrick SW, Funk WC, Tallmon DA (2015) Genetic rescue to the rescue. Trends Ecol Evol 30(1):42–44
Acknowledgements
We thank the curators and collections staff at these institutions for allowing us to sample toe pads from Spruce Grouse specimens: American Museum of Natural History, Buffalo Museum of Science, Cornell University Museum of Vertebrates, Museum of Comparative Zoology (Harvard University), Roosevelt Wildlife Collection (SUNY-ESF), and Rochester Museum and Science Center. Tissue samples from Alberta, Canada, were provided by Andrew Iwaniuk (University of Lethbridge). Funding for lab work was provided by the New York State Museum. Field work was funded by the New York State Wildlife Grants and Pittman-Robertson Act funds from the United States Fish and Wildlife Service as administered by the New York State Department of Environmental Conservation. Funding was also provided by the New York Natural Heritage Program, the Edna Bailey Sussman Fund, the American Wildlife Research Foundation, the Joseph and Joan Cullman Conservation Foundation, the Walker Fellowship, the Robert J. Hill Endowment for Environmental Science, Northern New York Audubon, and State University of New York at Potsdam Research and Sponsored Programs. We are grateful to N. Cranker, T. Crockett, C. Fuller, K. Gorzynski, A. Hollister, B. Jesmer, P. Novak, S. Plautz, S. Schlueter, and A. Sorrell for field assistance. G. Batcheller, M. Brown, L. Durfey, J.F. Farquhar III, N. Gibbs, T.W. Gilman, M. Glennon, W.H. Gordon, K. Kogut, S. Langdon, B.A. Loucks, K. Moser, P. Novak, P. Nye, J. Ozard, P. Riexinger, D. Rosenblatt, S. Ross, and M. Williams provided invaluable logistical support. For permission to survey and capture grouse we thank the landowners and staff of Bay Pond Park, Kildare Club, The Nature Conservancy, Timbervest, LandVest, Lyme Timber, Fountain Forestry, M & W Forestry, Molpus Woodlands Group, Joe Indian Pond Association, Finch Pruyn, Rayonier, Ross Park, Seneca Waterways Boy Scout Council, Elk Lake, Brandreth Park, and Shingle Shanty Preserve.
Additional information
Publisher's Note
Springer Nature remains neutral with regard to jurisdictional claims in published maps and institutional affiliations.
Electronic supplementary material
Below is the link to the electronic supplementary material.
About this article
Cite this article
Kirchman, J.J., Ross, A.M. & Johnson, G. Historical decline of genetic diversity in a range-periphery population of Spruce Grouse (Falcipennis canadensis) inhabiting the Adirondack Mountains. Conserv Genet 21, 373–380 (2020). https://doi.org/10.1007/s10592-019-01246-5
Received:

Accepted:

Published:

Issue Date:
Keywords
Adirondack Mountains

Extirpation

Museum specimens

Insular population

Spruce grouse