Abstract
The koala (Phascolarctos cinereus) is an iconic Australian species that is currently undergoing a number of threatening processes, including disease and habitat loss. A thorough understanding of population genetic structuring and genomic variability of this species is essential to effectively manage populations across the species range. Using a reduced representation genome sequencing method known as double digest restriction-associated sequencing, this study has provided the first genome-wide SNP marker panel in the koala. In this study, 33,019 loci were identified in the koala and a filtered panel of 3060 high-utility SNP markers, including 95 sex-linked markers, were used to provide key insights into population variability and genomic variation in 171 koalas from eight populations across their geographic range. Broad-scale genetic differentiation between geographically separated populations (including sub-species) was assessed and revealed significant differentiation between all populations (FST range = 0.01–0.28), with the largest divergence observed between the three geographically distant subgroups (QLD, NSW and VIC) along the east coast of Australia (average FST range = 0.17–0.23). Sub-group divergence appears to be a reflection of an isolation by distance effect and sampling strategy rather than true evidence of sub-speciation. This is further supported by low proportions of AMOVA variation between sub-species groups (11.19 %). Fine-scale analysis using genome-wide SNP loci and the NETVIEW pipeline revealed cryptic genetic sub-structuring within localised geographic regions, which corresponded to the hierarchical mating system of the species. High levels of genome-wide SNP heterozygosity were observed amongst all populations (He = 0.25–0.35), and when evaluating across the species to other vertebrate taxa were amongst the highest values observed. This illustrates that the species as a whole still retains high levels of diversity which is comparable to other outbred vertebrate taxa for genome-wide SNPs. Insights into the potential for adaptive variation in the koala were also gained using outlier analysis of genome-wide SNPs. A total of 10 putative outlier SNPs were identified indicating the high likelihood of local adaptations within populations and regions. This is the first use of genome-wide markers to assess population differentiation at a broad-scale in the koala and the first time that sex-linked SNPs have been identified in this species. The application of this novel genomic resource to populations across the species range will provide in-depth information allowing informed conservation priorities and management plans for in situ koalas across Australia and ex situ around the world.
Access options
Buy single article
Instant access to the full article PDF.
US$ 39.95
Tax calculation will be finalised during checkout.
Subscribe to journal
Immediate online access to all issues from 2019. Subscription will auto renew annually.
US$ 79
Tax calculation will be finalised during checkout.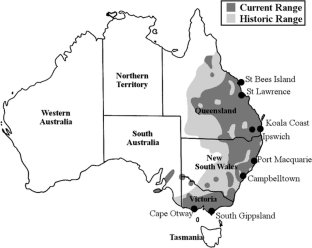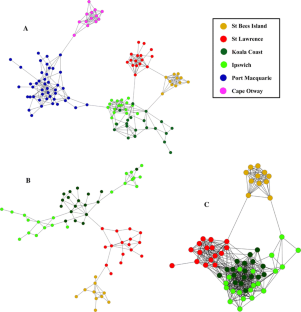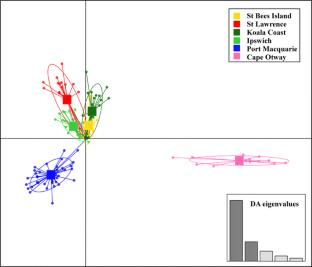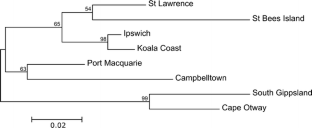 References
Adamkewicz SL, Harasewych MG (1996) Systematics and biogeography of the genus Donax (Bivalvia: Donacidae) in eastern North America. Am Malacol Bull 13:97–103

Adams-Hosking C, Moss P, Rhodes J, Grantham H, McAlpine C (2011) Modelling the potential range of the koala at the Last Glacial Maximum: future conservation implications. Aust Zool 35:983–990

Alho JS, Välimäki K, Merilä J (2010) Rhh: an R extension for estimating multilocus heterozygosity and heterozygosity–heterozygosity correlation. Mol Ecol Resour 10:720–722

Altham PME (1969) Exact Bayesian analysis of a 2 × 2 contingency table, and fisher's "Exact" significance test. J R Stat Soc 31:261–269

Andrews S (2010) FastQC A quality control tool for high throughput sequence data. http://www.bioinformatics.babraham.ac.uk/projects/fastqc/

Andrews KR, Hohenlohe PA, Miller MR et al (2014) Trade-offs and utility of alternative RADseq methods: reply to Puritz et al. Mol Ecol 23:5943–5946

Angeloni F, Wagemaker N, Vergeer P, Ouborg J (2012) Genomic toolboxes for conservation biologists. Evol Appl 5:130–143

Antao T, Lopes A, Lopes RJ, Beja-Pereira A, Luikart G (2008) LOSITAN: a workbench to detect molecular adaptation based on a FST-outlier method. BMC Bioinf 9:323

Avila-Arcos MC, Ho SYW, Ishida Y et al (2013) One 120 years of Koala retrovirus evolution determined from museum. Mol Biol Evol 30(2):299–304

Belkhir K, Borsa P, Chikhi L, Raufaste N, Bonhomme F (1996) GENETIX 4.05, logiciel sous Windows TM pour la génétique des populations. Lab Génome, Popul Interact CNRS UMR 5000:1996–2004

Berck L (1995) St. Bees Island : its history, life-styles & tales/by Lionel Berck. Boolarong Press, Brisbane

Biotium (2013) AccuBlue™ high sensitivity dsDNA quantitation kits

Brisbane City Council (2014) Protecting biodiversity. QLD Government, Brisbane. http://www.brisbane.qld.gov.au/environment-waste/natural-environment/bushland-parklands-wetlands/protecting-biodiversity

Cánovas A, Bannasch DL, Oberbauer AM, Medrano JF (2014) Single nucleotide polymorphism (SNP) variation of wolves (Canis lupus) in southeast Alaska and comparison with wolves, dogs, and coyotes in North America. J Hered 106(1):26–36

Carmichael SN, Bekaert M, Taggart JB et al (2013) Identification of a sex-linked SNP marker in the salmon louse (Lepeophtheirus salmonis) using RAD sequencing. PLoS One 8:8

Catchen J, Amores A, Hohenlohe P, Cresko W, Postlethwait J (2011) Stacks: building and genotyping loci de novo from short-read sequences. G3 1(3):171–182

Comeron JM (2014) Background selection as baseline for nucleotide variation across the Drosophila Genome. PLoS Genet 10:e1004434

Consortium BH (2009) Genome-wide survey of SNP variation uncovers the genetic structure of cattle breeds. Science 324:528–532

Cronin MA, Rincon G, Meredith RW et al (2014) Molecular phylogeny and SNP variation of polar bears (Ursus maritimus), brown bears (U. arctos), and black bears (U. americanus) derived from genome sequences. J Hered 105(3):312–323

Cronin MA, Cánovas A, Bannasch DL, Oberbauer AM, Medrano JF (2015) Single Nucleotide Polymorphism (SNP) variation of wolves (Canis lupus) in Southeast Alaska and comparison with wolves, dogs, and coyotes in North America. J Hered 106:26–36

Davey JW, Hohenlohe PA, Etter PD et al (2011) Genome-wide genetic marker discovery and genotyping using next-generation sequencing. Nat Rev Genet 12:499–510

DeFaveri J, Viitaniemi H, Leder E, Merila J (2013) Characterizing genic and nongenic molecular markers: comparison of microsatellites and SNPs. Mol Ecol Resour 13:377–392

Desjardins P, Conklin D (2010) NanoDrop microvolume quantitation of nucleic acids. J Vis Exp doi:10.3791/2565

Edmands S (2007) Between a rock and a hard place: evaluating the relative risks of inbreeding and outbreeding for conservation and management. Mol Ecol 16:463–475

Ellis W, Hale PT, Carrick FN (2002) Breeding dynamics of koalas in open woodlands. Wildl Res 29:19–25

Ellis WA, Melzer A, Bercovitch FB (2009) Spatiotemporal dynamics of habitat use by koalas: the checkerboard model. Behav Ecol Sociobiol 63:1181–1188

Fabbri E, Miquel C, Lucchini V et al (2007) From the Apennines to the Alps: colonization genetics of the naturally expanding Italian wolf (Canis lupus) population. Mol Ecol 16:1661–1671

Feltus FA, Wan J, Schulze SR et al (2004) An SNP resource for rice genetics and breeding based on sub-species indica and japonica genome alignments. Genome Res 14:1812–1819

Féral J-P (2002) How useful are the genetic markers in attempts to understand and manage marine biodiversity? J Exp Mar Biol Ecol 268:121–145

Fernández ME, Goszczynski DE, Lirón JP et al (2013) Comparison of the effectiveness of microsatellites and SNP panels for genetic identification, traceability and assessment of parentage in an inbred Angus herd. Genet Mol Biol 36:185–191

Fish and Wildlife Service (1998) Endangered and threatened wildlife and plants; proposed determination of threatened status for the Koala (ed. INTERIOR DOT)

Foll M (2012) BayeScan v2. 1 user manual. Ecology 20:1450–1462

Foll M, Gaggiotti O (2008) A genome-scan method to identify selected loci appropriate for both dominant and codominant markers: a bayesian perspective. Genetics 180:977–993

Fowler EV, Houlden BA, Hoeben P, Timms P (2000) Genetic diversity and gene flow among southeastern Queensland koalas (Phascolarctos cinereus). Mol Ecol 9:155–164

Frankel OH (1981) Conservation and evolution. CUP Archive, Cambridge

Frankham R, Briscoe DA, Ballou JD (2002) Introduction to conservation genetics. Cambridge University Press, Cambridge

Frankham R, Ballou JD, Eldridge MDB et al (2011) Predicting the probability of outbreeding depression predicción de la depresión por exogámica. Conserv Biol 25:465–475

Frantz A, Pourtois JT, Heuertz M et al (2006) Genetic structure and assignment tests demonstrate illegal translocation of red deer (Cervus elaphus) into a continuous population. Mol Ecol 15:3191–3203

Fraser DJ, Bernatchez L (2001) Adaptive evolutionary conservation: towards a unified concept for defining conservation units. Mol Ecol 10:2741–2752

Funk WC, McKay JK, Hohenlohe PA, Allendorf FW (2012) Harnessing genomics for delineating conservation units. Trends Ecol Evol 27:489–496

GE Healthcare Life Sciences (2000) Sephadex G-50 fine. GE Healthcare Life Sciences

Goedbloed D, Megens H, Van Hooft P et al (2013) Genome-wide single nucleotide polymorphism analysis reveals recent genetic introgression from domestic pigs into Northwest European wild boar populations. Mol Ecol 22:856–866

Gordon G, Hrdina F, Patterson R (2006) Decline in the distribution of the Koala Phascolarctos cinereus in Queensland. Aust Zool 33:345–358

Gravuer K, von Wettberg E, Schmitt J (2005) Population differentiation and genetic variation inform translocation decisions for Liatris scariosa var. novae-angliae, a rare New England grassland perennial. Biol Conserv 124:155–167

Gray MM, Granka JM, Bustamante CD et al (2009) Linkage disequilibrium and demographic history of wild and domestic canids. Genetics 181:1493–1505

Haynes GD, Latch EK (2012) Identification of novel single nucleotide polymorphisms (SNPs) in deer (Odocoileus spp.) using the bovineSNP50 BeadChip. PLoS One 7:e36536

Heaton MP, Harhay GP, Bennett GL et al (2002) Selection and use of SNP markers for animal identification and paternity analysis in US beef cattle. Mamm Genome 13:272–281

Hoffman JI, Simpson F, David P et al (2014) High-throughput sequencing reveals inbreeding depression in a natural population. Proc Natl Acad Sci U.S.A 111:3775–3780

Houlden BA, England P, Sherwin WB (1996a) Paternity exclusion in koalas using hypervariable microsatellites. J Hered 87:149–152

Houlden BA, England PR, Taylor AC, Greville WD, Sherwin WB (1996b) Low genetic variability of the koala Phascolarctos cinereus in south eastern Australia following a severe population bottleneck. Mol Ecol 5:269–281

Houlden BA, Greville WD, Sherwin WB (1996c) Evolution of MHC class I loci in marsupials: characterization of sequences from koala (Phascolarctos cinereus). Mol Biol Evol 13:1119–1127

Houlden BA, Costello BH, Sharkey D et al (1999) Phylogeographic differentiation in the mitochondrial control region in the koala, Phascolarctos cinereus (Goldfuss 1817). Mol Ecol 8:999–1011

Huang H, Knowles LL (2014) Unforeseen consequences of excluding missing data from next-generation sequences: simulation study of RAD sequences. Syst Biol 57:719–731

Iredale T, Troughton ELG (1934) A check-list of the mammals recorded from Australia. Mem Aust Mus 6:1–122

Johnson M, Zaretskaya I, Raytselis Y et al (2008) NCBI BLAST: a better web interface. Nucleic Acids Res 36:W5–W9

Johnston SE, Orell P, Pritchard VL et al (2014) Genome-wide SNP analysis reveals a genetic basis for sea-age variation in a wild population of Atlantic salmon (Salmo salar). Mol Ecol 23:3452–3468

Jombart T (2008) adegenet: a R package for the multivariate analysis of genetic markers. Bioinformatics 24:1403–1405

Jones Felicity C, Chan Yingguang F, Schmutz J et al (2012) A genome-wide SNP genotyping array reveals patterns of global and repeated species-pair divergence in sticklebacks. Curr Biol 22:83–90

Kalinowski ST, Wagner AP, Taper ML (2006) ML-Relate: a computer program for maximum likelihood estimation of relatedness and relationship. Mol Ecol Notes 6:576–579

Kijas JW, Townley D, Dalrymple BP et al (2009) A genome wide survey of SNP variation reveals the genetic structure of sheep breeds. PLoS One 4:e4668

Koblmüller S, Nord M, Wayne RK, Leonard JA (2009) Origin and status of the Great Lakes wolf. Mol Ecol 18:2313–2326

Kovach RP, Gharrett AJ, Tallmon DA (2012) Genetic change for earlier migration timing in a pink salmon population. Proc R Soc Lond B 279:3870–3878

Kurushima J, Lipinski M, Gandolfi B et al (2013) Variation of cats under domestication: genetic assignment of domestic cats to breeds and worldwide random-bred populations. Anim Genet 44:311–324

Kyle C, Johnson A, Patterson B et al (2006) Genetic nature of eastern wolves: past, present and future. Conserv Genet 7:273–287

Larmuseau M, Raeymaekers J, Hellemans B, Van Houdt J, Volckaert F (2010) Mito-nuclear discordance in the degree of population differentiation in a marine goby. Heredity 105:532–542

Larson WA, Seeb LW, Everett MV et al (2014) Genotyping by sequencing resolves shallow population structure to inform conservation of Chinook salmon (Oncorhynchus tshawytscha). Evol Appl 7:355–369

Lau Q, Jobbins SE, Belov K, Higgins DP (2013) Characterisation of four major histocompatibility complex class II genes of the koala (Phascolarctos cinereus). Immunogenetics 65:37–46

Lau Q, Jaratlerdsiri W, Griffith J, Gongora J, Higgins D (2014) MHC class II diversity of koala (Phascolarctos cinereus) populations across their range. Heredity 113:287–296

Leache AD, Fujita MK, Minin VN, Bouckaert RR (2014) Species delimitation using genome-wide SNP data. Syst Biol 63:534–542

Lee KE, Seddon JM, Corley SW et al (2010) Genetic variation and structuring in the threatened koala populations of Southeast Queensland. Conserv Genet 11:2091–2103

Lee KE, Seddon JM, Johnston S et al (2012a) Genetic diversity in natural and introduced island populations of koalas in Queensland. Aust J Zool 60:303–310

Lee T, Zenger KR, Close RL, Phalen DN (2012b) Genetic analysis reveals a distinct and highly diverse koala (Phascolarctos cinereus) population in South Gippsland, Victoria, Australia. Aust Mammal 34:68–74

Lepais O, Weir JT (2014) SimRAD: an R package for simulation-based prediction of the number of loci expected in RADseq and similar genotyping by sequencing approaches. Mol Ecol Resour 14:1314–1321

Luikart G, Ryman N, Tallmon DA, Schwartz MK, Allendorf FW (2010) Estimation of census and effective population sizes: the increasing usefulness of DNA-based approaches. Conserv Genet 11(2):355–373

Lunney D, O'Neill L, Matthews A, Sherwin WB (2002) Modelling mammalian extinction and forecasting recovery: koalas at Iluka (NSW, Australia). Biol Conserv 106:101–113

Lunney D, Stalenberg E, Santika T, Rhodes JR (2014) Extinction in Eden: identifying the role of climate change in the decline of the koala in south eastern NSW. Wildl Res 41:22–34

MacEachern S, Hayes B, McEwan J, Goddard M (2009) An examination of positive selection and changing effective population size in Angus and Holstein cattle populations (Bos taurus) using a high density SNP genotyping platform and the contribution of ancient polymorphism to genomic diversity in Domestic cattle. BMC Genom 10:181

Martin R (1985) Overbrowsing, and decline of a population of the koala, Phascolarctos cinereus, in Victoria. I. Food preference and food tree defoliation. Wildl Res 12:355–365

Melzer A, Carrick F, Menkhorst P, Lunney D, John BS (2000) Overview, critical assessment, and conservation implications of koala distribution and abundance. Conserv Biol 14:619–628

Menkhorst P (2008) Hunted, marooned, re-introduced, contracepted: a history of Koala management in Victoria. Royal Zoological Society New South Wales, Mosman

Miller W, Schuster SC, Welch AJ et al (2012) Polar and brown bear genomes reveal ancient admixture and demographic footprints of past climate change. Proc Natl Acad Sci 109:E2382–E2390

Miller JM, Malenfant RM, David P et al (2014) Estimating genome-wide heterozygosity: effects of demographic history and marker type. Heredity 112:240–247

Mitchell P (1990a) The home ranges and social activity of koalas-a quantitative analysis. Biol Koala 35(3):171–187

Mitchell P (1990b) Social behaviour and communication of koalas. Biol Koala Chipp Nort (Aust) 2:151–170

Moritz C, Worthington Wilmer J, Pope L et al (1996) Applications of genetics to the conservation and management of Australian fauna: four case studies from Queensland. Mol Genet Approaches Conserv 26:442–456

Narum SR, Hess JE (2011) Comparison of FST outlier tests for SNP loci under selection. Mol Ecol Resour 11:184–194

Narum S, Banks M, Beacham T et al (2008) Differentiating salmon populations at broad and fine geographical scales with microsatellites and single nucleotide polymorphisms. Mol Ecol 17:3464–3477

Natural Resource Management Ministerial Council (2009) National Koala Conservation and Management Strategy 2009–2014. (Department of the Environment W, Heritage and the Arts, Canberra.). Natural Resource Management Ministerial Council, Canberra

Nei M, Tajima F, Tateno Y (1983) Accuracy of estimated phylogenetic trees from molecular data. J Mol Evol 19:153–170

Nielsen R, Williamson S, Kim Y et al (2005) Genomic scans for selective sweeps using SNP data. Genome Res 15:1566–1575

Novicic ZK, Jelic M, Jovanovic M et al (2011) Microsatellite variability of Drosophila subobscura populations from the central Balkans. Evol Ecol Res 13:479–494

Olsen MT, Volny VH, Berube M et al (2011) A simple route to single-nucleotide polymorphisms in a nonmodel species: identification and characterization of SNPs in the Artic ringed seal (Pusa hispida hispida). Mol Ecol Resour 11:9–19

Peel D, Ovenden J, Peel S (2004) NeEstimator: software for estimating effective population size, version 1.3. Queensland Government, Department of Primary Industries and Fisheries

Peterson BK, Weber JN, Kay EH, Fisher HS, Hoekstra HE (2012) Double Digest RADseq: an inexpensive method for de novo SNP discovery and genotyping in model and non-model species. PLoS One 7:11

Phillips SS (2000) Population trends and the koala conservation debate. Conserv Biol 14:650–659

Pilot M, Greco C, vonHoldt BM et al (2014) Genome-wide signatures of population bottlenecks and diversifying selection in European wolves. Heredity 112:428–442

Piry S, Alapetite A, Cornuet J-M et al (2004) GENECLASS2: a software for genetic assignment and first-generation migrant detection. J Hered 95:536–539

Pollinger JP, Lohmueller KE, Han E et al (2010) Genome-wide SNP and haplotype analyses reveal a rich history underlying dog domestication. Nature 464:898–902

Pollinger JP, Earl DA, Knowles JC et al (2011) A genome-wide perspective on the evolutionary history of enigmatic wolf-like canids. Genome Res 21:1294–1305

Pujolar JM, Jacobsen MW, Als TD et al (2014) Genome-wide single-generation signatures of local selection in the panmictic European eel. Mol Ecol 23:2514–2528

Rasic G, Filipovic I, Weeks AR, Hoffmann AA (2014) Genome-wide SNPs lead to strong signals of geographic structure and relatedness patterns in the major arbovirus vector, Aedes aegypti. BMC Genomics 15:12

Ross KG, Fletcher DJ (1985) Comparative study of genetic and social structure in two forms of the fire ant Solenopsis invicta (Hymenoptera: Formicidae). Behav Ecol Sociobiol 17:349–356

Ruiz-Rodriguez CT, Ishida Y, Greenwood AD, Roca AL (2014) Development of 14 microsatellite markers in the Queensland koala (Phascolarctos cinereus adustus) using next generation sequencing technology. Conserv Genet Resour 6:429–431

Schneider S, Roessli D, Excoffier L (2000) Arlequin: a software for population genetics data analysis. User Man Ver 2:2496–2497

Schwartz MK, Luikart G, Waples RS (2007) Genetic monitoring as a promising tool for conservation and management. Trends Ecol Evol 22:25–33

Seabrook L, McAlpine C, Phinn S, Callaghan J, Mitchell D (2002) Landscape legacies: koala habitat change in Noosa Shire, south-east Queensland. Aust Zool 32:446–461

Seabrook L, McAlpine C, Baxter G et al (2011) Drought-driven change in wildlife distribution and numbers: a case study of koalas in south west Queensland. Wildl Res 38:509–524

Senn H, Ogden R, Frosch C et al (2014) Nuclear and mitochondrial genetic structure in the Eurasian beaver (Castor fiber)–implications for future reintroductions. Evol Appl 7:645–662

Shaffer ML (1981) Minimum population sizes for species conservation. Bioscience 31:131–134

Sherwin WB, Timms P, Wilcken J, Houlden B (2000) Analysis and conservation implications of koala genetics. Conserv Biol 14:639–649

Sinnock P (1975) The Wahlund effect for the two-locus model. Am Nat 109:565–570

Smith P, Smith J (1990) Decline of the urban koala (Phascolarctos cinereus) population in Warringah Shire, Sydney. Aust Zool 26:109–129

Steinig EJ, Neuditschko M, Khatkar MS, Raadsma HW, Zenger KR (2015) Netview p: a network visualization tool to unravel complex population structure using genome-wide SNPs. Mol Ecol Res. doi:10.1111/1755-0998.12442

Stephens MR, Clipperton NW, May B (2009) Sub-species-informative SNP assays for evaluating introgression between native golden trout and introduced rainbow trout. Mol Ecol Resour 9:339–343

Strahan R (1995) The mammals of Australia, 2nd edn. Reed Books, Chatswood, Australia

Tamura K, Stecher G, Peterson D, Filipski A, Kumar S (2013) MEGA6: molecular evolutionary genetics analysis version 6.0. Mol Biol Evol 30:2725–2729

Taylor AC, Graves JAM, Murray ND, Sherwin WB (1991) Conservation genetics of the koala (Phascolarctos cinereus) 2. Limited variability in minisatellite dna-sequences. Biochem Genet 29:355–363

Taylor AC, Graves JM, Murray ND et al (1997) Conservation genetics of the koala (Phascolarctos cinereus), low mitochondrial DNA variation amongst southern Australian populations. Genet Res 69:25–33

Thermo Scientific (2014) Sera-mag speedbeads carboxylate-modified magnetic particles

Thomas O (1923) On some queensland phalangeridae. Ann Mag Nat Hist 11:246–250

Thompson J (2006) The comparative ecology and population dynamics of koalas in the Koala Coast region of south-east Queensland. University of Queensland, St Lucia

Tiffin P, Ross-Ibarra J (2014) Advances and limits of using population genetics to understand local adaptation. Trends Ecol Evol 29:673–680

Troughton ELG (1935) The southern race of the koala. Aust Nat 9:137–140

Tsangaras K, Avila-Arcos MC, Ishida Y et al (2012) Historically low mitochondrial DNA diversity in koalas (Phascolarctos cinereus). BMC Genet 13:11

Vignal A, Milan D, SanCristobal M, Eggen A (2002) A review on SNP and other types of molecular markers and their use in animal genetics. Genet Select Evol 34:275–305

Weir BS, Cockerham CC (1984) Estimating F-statistics for the analysis of population structure. Evolution 38:1358–1370

Whisson DA, Holland GJ, Carlyon K (2012) Translocation of overabundant species: implications for translocated individuals. J Wildl Manag 76:1661–1669

White NA (1999) Ecology of the koala (Phascolarctos cinereus) in rural south-east Queensland, Australia. Wildl Res 26:731–744

Willing E-M, Dreyer C, van Oosterhout C (2012) Estimates of genetic differentiation measured by FST do not necessarily require large sample sizes when using many SNP markers. PLoS One 7:e42649

Wilmer JMW, Melzer A, Carrick F, Moritz C (1993) Low genetic diversity and inbreeding depression in Queensland koalas. Wildl Res 20:177–188

Zenger K, Khatkar M, Tier B et al (2007) QC analyses of SNP array data: experiences from a large population of dairy sires with 23.8 million data points. Proc Seve Conf Genetic Improv Mak Happen 17:123–126
Acknowledgments
We would like to express our gratitude to Eike Joachim Steinig for his help and support with regard to NETVIEW and various other analyses, Damien Higgins for supplying our Port Macquarie samples, Diedre de Villiers for supplying Koala Coast and Ipswich samples and David Phalen for providing samples from NSW and VIC. Monal Lal for his comments and advice on draft manuscripts and Maria Nayfa for her helpful advice regarding outlier analyses. Funding was provided via an Australian Research Council (ARC) Linkage Project grant (LP120200630), with industry funding and in-kind support from partners San Diego Zoo Koala Education & Conservation Program and James Cook University, Sydney University, and Science for Wildlife.
Additional information
Shannon R. Kjeldsen and Kyall R. Zenger have contributed equally to this work.
Electronic supplementary material
Below is the link to the electronic supplementary material.
Genotype file in the STRUCTURE format containing 3060 SNP markers across all individuals. A value of '−9' indicates missing data. Supplementary material 1 (XLSX 3331 kb)
About this article
Cite this article
Kjeldsen, S.R., Zenger, K.R., Leigh, K. et al. Genome-wide SNP loci reveal novel insights into koala (Phascolarctos cinereus) population variability across its range. Conserv Genet 17, 337–353 (2016). https://doi.org/10.1007/s10592-015-0784-3
Received:

Accepted:

Published:

Issue Date:
Keywords
Koala

Phascolarctos cinereus

Genetic diversity

ddRAD

Selection

SNP