Abstract
Introgression is an important evolutionary force, which can lead to adaptation and speciation on one hand, but on the other hand also to genetic extinction. It is in the latter sense that introgression is a major conservation concern, especially when domestic species reproduce with their rare wild relatives. Hence, monitoring introgression in natural populations subject to hybridization is crucial to elucidate the threat represented by introgression. Here, we monitored introgression between wildcats (Felis silvestris silvestris) and domestic cats (Felis silvestris catus) in a wildcat population in the Swiss Jura Mountains using systematically and non-invasively collected hair samples. We found 21 % admixed individuals based on 68 diagnostic nuclear SNP-markers, corresponding to a migration rate from domestic cats to wildcats of 0.02 migrants per generation. In contrast, gene flow from wildcats into domestic cats was negligible. Haphazard sampling of the same wildcat population, mostly via road kills, led to similar results. Hybridization occurred between wildcat male and domestic cat female and vice versa and, based on the occurrence of backcrosses, both female and male F1-hybrids seem viable and fertile. The observed hybridization pattern may indicate an expanding wildcat population with introgression as a byproduct of this expansion but alternative explanations cannot be excluded with the current data.
Access options
Buy single article
Instant access to the full article PDF.
USD 39.95
Price excludes VAT (USA)
Tax calculation will be finalised during checkout.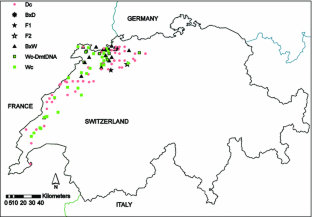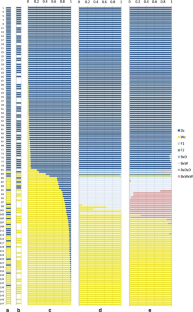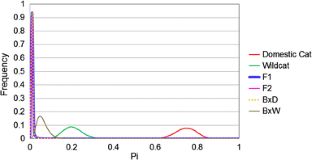 References
Anderson EC, Thompson EA (2002) A model-based method for identifying species hybrids using multilocus genetic data. Genetics 160:1217–1229

Arnold ML (2006) Evolution through genetic exchange. Oxford University Press, New York

Baack EJ, Rieseberg LH (2007) A genomic view of introgression and hybrid speciation. Curr Opin Genet Dev 17:513–518

Barton NH (2001) The role of hybridization in evolution. Mol Ecol 10:551–568

Beaumont M, Barratt EM, Gottelli D, Kitchener AC, Daniels MJ, Pritchard JK, Bruford MW (2001) Genetic diversity and introgression in the Scottish wildcat. Mol Ecol 10:319–336

Beysard M, Perrin N, Jaarola M, Heckel G, Vogel P (2012) Asymmetric and differential gene introgression at a contact zone between two highly divergent lineages of field voles (Microtus agrestis). J Evol Biol 25:400–408

BUWAL (1994) Rote Listen der gefährdeten Tierarten in der Schweiz. 310.704 d

Cabria MT, Michaux JR, Gomez-Moliner BJ, Skumatov D, Maran T, Fournier P, de Luzuriaga JL, Zardoya R (2011) Bayesian analysis of hybridization and introgression between the endangered european mink (Mustela lutreola) and the polecat (Mustela putorius). Mol Ecol 20:1176–1190

Cavalli-Sforza LL, Menozzi P, Piazza A (1994) The history and geography of human genes. Princeton University Press, New Jersey, pp 54–59

Currat M, Ruedi M, Petit RJ, Excoffier L (2008) The hidden side of invasions: massive introgression by local genes. Evolution 62:1908–1920

Devillard S, Jombart T, Léger F, Pontier D, Say L, Ruette S (2013) How reliable are morphological and anatomical characters to distinguish European wildcats, domestic cats and their hybrids in France? J. Zool. Syst. Evol. Res. doi:10.1111/jzs.12049

Driscoll C, Nowell K (2010) Felis silvestris. In: IUCN 2011. IUCN Red List of Threatened Species. Version 2011.2. www.iucnredlist.org

Driscoll CA, Menotti-Raymond M, Roca AL, Hupe K, Johnson WE, Geffen E, Harley EH, Delibes M, Pontier D, Kitchener AC, Yamaguchi N, O'Brien SJ, Macdonald DW (2007) The near eastern origin of cat domestication. Science 317:519–523

Ellstrand NC, Prentice HC, Hancock JF (1999) Gene flow and introgression from domesticated plants into their wild relatives. Annu Rev Ecol Syst 30:539–563

Faure E, Kitchener AC (2009) An archaeological and historical review of the relationships between felids and people. Anthrozoos 22:221–238

Feulner PGD, Gratten J, Kijas JW, Visscher PM, Pemberton JM, Slate J (2013) Introgression and the fate of domesticated genes in a wild mammal population. Mol Ecol 22(16):4210–4221

Gagneux P, Boesch C, Woodruff DS (1997) Microsatellite scoring errors associated with noninvasive genotyping based on nuclear DNA amplified from shed hair. Mol Ecol 6:861–868

Germain E, Benhamou S, Poulle ML (2008) Spatio-temporal sharing between the European wildcat, the domestic cat and their hybrids. J Zool 276:195–203

Godinho R, Llaneza L, Blanco JC, Lopes S, Alvares F, Garcia EJ, Palacios V, Cortes Y, Talegon J, Ferrand N (2011) Genetic evidence for multiple events of hybridization between wolves and domestic dogs in the Iberian Peninsula. Mol Ecol 20:5154–5166

Goedbloed DJ, Megens HJ, Van Hooft P, Herrero-Medrano JM, Lutz W, Alexandri P, Crooijmans RPMA, Groenen M, Van Wieren SE, Ydenberg RC, Prins HHT (2013) Genome-wide single nucleotide polymorphism analysis reveals recent genetic introgression from domestic pigs into Northwest European wild boar populations. Mol Ecol 22:856–866

Goodman SJ, Barton NH, Swanson G, Abernethy K, Pemberton JM (1999) Introgression through rare hybridization: a genetic study of a hybrid zone between red and sika deer (genus Cervus) in Argyll, Scotland. Genetics 152:355–371

Grant PR, Grant BR, Keller LF, Markert JA, Petren K (2003) Inbreeding and interbreeding in Darwin's finches. Evolution 57:2911–2916

Grant PR, Grant BR, Markert JA, Keller LF, Petren K (2004) Convergent evolution of Darwin's finches caused by introgressive hybridization and selection. Evolution 58:1588–1599

Halbert ND, Derr JN (2007) A comprehensive evaluation of cattle introgression into US federal bison herds. J Hered 98:1–12

Haupt H, Ludwig G, Gruttke H, Binot-Hafke M, Otto C, Pauly A (2009) Rote Liste gefährdeter Tiere. Pflanzen und Pilze Deutschlands, Bundesamt für Naturschutz, Bonn-Bad Godesberg

Hertwig ST, Schweizer M, Stepanow S, Jungnickel A, Bohle UR, Fischer MS (2009) Regionally high rates of hybridization and introgression in German wildcat populations (Felis silvestris, Carnivora, Felidae). J Zool Syst Evol Res 47:283–297

Hindrikson M, Mannil P, Ozolins J, Krzywinski A, Saarma U (2012) Bucking the trend in wolf-dog hybridization: first evidence from Europe of hybridization between female dogs and male wolves. PLoS One 7:12

ICNB (2004) Livro vermelho dos vertebrados de Portugal—Online version. 525-526

Kalinowski ST, Taper ML, Marshall TC (2007) Revising how the computer program cervus accommodates genotyping error increases success in paternity assignment. Mol Ecol 16:1099–1106

Kays R, Curtis A, Kirchman JJ (2010) Rapid adaptive evolution of northeastern coyotes via hybridization with wolves. Biol Lett 6:89–93

Kéry M, Gardner B, Stoeckle T, Weber D, Royle JA (2011) Use of spatial capture-recapture modeling and DNA data to estimate densities of elusive animals. Conserv Biol 25:356–364

Kidd AG, Bowman J, LesbarrÈRes D, Schulte-Hostedde AI (2009) Hybridization between escaped domestic and wild American mink (Neovison vison). Mol Ecol 18:1175–1186

Kitchener AC, Yamaguchi N, Ward JM, Macdonald DW (2005) A diagnosis for the Scottish wildcat (Felis silvestris): a tool for conservation action for a critically-endangered felid. Anim Conserv 8:223–237

Klar N, Fernandez N, Kramer-Schadt S, Herrmann M, Trinzen M, Buttner I, Niemitz C (2008) Habitat selection models for European wildcat conservation. Biol Conserv 141:308–319

Lecis R, Pierpaoli M, Biro ZS, Szemethy L, Ragni B, Vercillo F, Randi E (2006) Bayesian analyses of admixture in wild and domestic cats (Felis silvestris) using linked microsatellite loci. Mol Ecol 15:119–131

Mallet J (2005) Hybridization as an invasion of the genome. Trends Ecol Evol 20:229–237

Mallet J (2007) Hybrid speciation. Nature 446:279–283

Nussberger B, Weber D, Hefti-Gautschi B, Lüps P (2007) Neuester Stand des Nachweises und der Verbreitung der Waldkatze (Felis silvestris) in der Schweiz. Mitteilungen der Naturforschenden Gesellschaft in Bern 64:67–80

Nussberger B, Greminger MP, Grossen C, Keller LF, Wandeler P (2013) Development of SNP markers identifying European wildcats, domestic cats, and their admixed progeny. Mol Ecol Resour 13:447–460

Nussberger B, Wandeler P, Camenisch G (2014) A SNP chip to detect introgression in wildcats allows accurate genotyping of single hairs. Eur J Wildl Res 60:405–410

O'Brien J, Devillard S, Say L, Vanthomme H, Leger F, Ruette S, Pontier D (2009) Preserving genetic integrity in a hybridising world: are European Wildcats (Felis silvestris silvestris) in eastern France distinct from sympatric feral domestic cats? Biodivers Conserv 18:2351–2360

Oliveira R, Godinho R, Randi E, Alves PC (2008a) Hybridization versus conservation: are domestic cats threatening the genetic integrity of wildcats (Felis silvestris silvestris) in Iberian Peninsula? Philos Trans R Soc Lond B Biol Sci 363:2953–2961

Oliveira R, Godinho R, Randi E, Ferrand N, Alves PC (2008b) Molecular analysis of hybridisation between wild and domestic cats (Felis silvestris) in Portugal: implications for conservation. Conserv Genet 9:1–11

Petit RJ, Bodenes C, Ducousso A, Roussel G, Kremer A (2004) Hybridization as a mechanism of invasion in oaks. New Phytol 161:151–164

Ponta N (2012) Population structure of wildcats (Felis silvetris silvestris) in the Franco-Swiss Jura, as revealed by mitochondrial DNA and microsatellites. Master thesis. Swiss Federal Institute of Technology Zurich and University of Zurich

Pritchard JK, Stephens M, Donnelly P (2000) Inference of population structure using multilocus genotype data. Genetics 155:945–959

Ragni B, Possenti M (1996) Variability of coat-colour and markings system in Felis silvestris. Ital J Zool 63:285–292

Randi E (2008) Detecting hybridization between wild species and their domesticated relatives. Mol Ecol 17:285–293

Randi E, Lucchini V (2002) Detecting rare introgression of domestic dog genes into wild wolf (Canis lupus) populations by Bayesian admixture analyses of microsatellite variation. Conserv Genet 3:31–45

Randi E, Pierpaoli M, Beaumont M, Ragni B, Sforzi A (2001) Genetic identification of wild and domestic cats (Felis silvestris) and their hybrids using Bayesian clustering methods. Mol Biol Evol 18:1679–1693

Rhymer JM, Simberloff D (1996) Extinction by hybridization and introgression. Annu Rev Ecol Syst 27:83–109

Say L, Devillard S, Léger F, Pontier D, Ruette S (2012) Distribution and spatial genetic structure of European wildcat in France. Anim Conserv 15:18–27

Schauenberg P (1970) Le chat forestier d'Europe Felis s. silvestris Schreber 1777 en Suisse. Rev Suisse Zool 77:127–160

Senn HV, Pemberton JM (2009) Variable extent of hybridization between invasive sika (Cervus nippon) and native red deer (C. elaphus) in a small geographical area. Mol Ecol 18:862–876

Shurtliff QR (2013) Mammalian hybrid zones: a review. Mamm Rev 43:1–21

Simberloff D (1996) Hybridization between native and introduced wildlife species: importance for conservation. Wildl Biol 2:143–150

Verardi A, Lucchini V, Randi E (2006) Detecting introgressive hybridization between free-ranging domestic dogs and wild wolves (Canis lupus) by admixture linkage disequilibrium analysis. Mol Ecol 15:2845–2855

Verband für Heimtiernahrung (2013) Katzenpopulation 1995–2012 http://www.vhn.ch/daten-und-fakten/zahlen-heimtiermarkt/ Accessed 16 Sept 2013

Vigilant L (1999) An evaluation of techniques for the extraction and amplification of DNA from naturally shed hairs. Biol Chem 380:1329–1331

Vigne JD, Guilaine J, Debue K, Haye L, Gerard P (2004) Early taming of the cat in Cyprus. Science 304:259

Wilson GA, Rannala B (2003) Bayesian inference of recent migration rates using multilocus genotypes. Genetics 163:1177–1191
Acknowledgments
We thank Thomas Briner (Federal Office of Environment) for initiating the Swiss wildcat monitoring project. We are grateful to the fieldwork-team: Benjamin Allen, Sébastien Balmer, Manuel Chalverat, Fernand Dupré, Claude Etienne, Jean-Pierre Flück, Blaise Hofer, Frédéric Maeder, Jean-Pierre Monnerat, Hans Riechsteiner, Jean-Claude Schaller, Thierry Studer, Mark Struch, Gabriel Sutter, Louis Tschanz, Hans Wampfler, Christian Zbinden; as well as to other persons providing cat samples: Marie-Pierre Ryser and Manuela Weber (Centre for Fish and Wildlife Health, Berne), Beatrice Blöchlinger and Stefan Hertwig (Natural History Museum Berne), Peter Flückiger (Natural History Museum Olten), Sunila Sen-Gupta (Natural History Museum La Chaux-de-Fonds), Martin Zimmerli (Natural History Museum Neuchâtel), Daniel Peier, Alain Seletto, Pierre Ecoffey, Pierre Henrioux, Patrick Boujon, Kerstin Murer, Eva Bader, Sabine Hasler. We are grateful to three anonymous reviewers for their very helpful comments, and to Mark Beaumont for helpful discussions about introgression and its detection. This work was funded by Lotterie + Sport-Toto-Fonds Solothurn, Zürcher Tierschutz, University Research Priority Program, Service des forêts, de la faune et de la nature du canton de Vaud, and Service de la Faune et de la Pêche de l'État de Genève. B.N., P.W., D.W., L.F.K. designed research; B.N., D.W. implemented fieldwork; B.N. performed labwork and data analyses, and wrote the paper with P.W., D.W., L.F.K.
Conflict of interest
The authors declare no conflict of interest.
Electronic supplementary material
Below is the link to the electronic supplementary material.
About this article
Cite this article
Nussberger, B., Wandeler, P., Weber, D. et al. Monitoring introgression in European wildcats in the Swiss Jura. Conserv Genet 15, 1219–1230 (2014). https://doi.org/10.1007/s10592-014-0613-0
Received:

Accepted:

Published:

Issue Date:

DOI: https://doi.org/10.1007/s10592-014-0613-0
Keywords