Abstract
Mesoamerican biodiversity is increasingly threatened by anthropogenic destruction of natural land cover. Habitat degradation and climate change are primary threats to specialized forest odonate species that are important model organisms for forest health and defining conservation units. The extreme niche specialization of Megaloprepus caerulatus, the world's largest extant odonate, makes it well suited as an indicator for changing environmental conditions. Megaloprepus, which is considered to be a monospecific genus, is highly dependent on old growth forests whose water filled tree holes are limiting reproductive resources for this species. Here, we focus on the question how historical and recent fragmentation events, strong niche conservatism and ecological conditions have affected population dynamics, viability and the species status in this evolutionarily old genus. Two mitochondrial sequence markers (ND1 and 16S rRNA) and a set of microsatellites were used to analyze population structure and genetic diversity of M. caerulatus in the northern part of its distributional range. Results suggested an absence of gene flow and no shared haplotypes among the study populations. Statistical parsimony indicated high sub-structuring among populations with sequence diversity similar to levels found at the species level compared to other odonates. In sum, the genetic data suggest that Megaloprepus may actually consist of more than one species. The taxonomic status of the group should be revised in light of the three distinct genetic clusters found in different forest regions. The results may also allow insights into the impact of recent and historical habitat fragmentation on a strong Neotropical forest restricted insect species.
Access options
Buy single article
Instant access to the full article PDF.
USD 39.95
Price excludes VAT (USA)
Tax calculation will be finalised during checkout.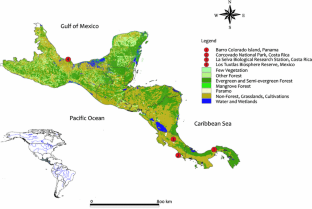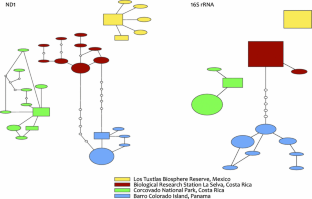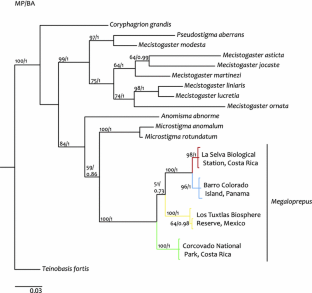 References
Abraham D, Ryrholm N, Wittzell H, Holloway JD, Scoble MJ, Löfstedt C (2001) Molecular phylogeny of the subfamilies in Geometridae (Geometroidea: Lepidoptera). Mol Phylogenet Evol 20:65–77

Akaike H (1973) Information theory and an extension of the maximum likelihood principle. In: Petrov BN, Csaki F (eds) 2nd international symposium on information theory. Akademiai Kiado, Budapest

Balint M, Domisch S, Engelhardt CHM, Haase P, Lehrian S, Sauer J, Theissinger K, Pauls SU, Nowak C (2011) Cryptic biodiversity loss linked to global climate change. Nat Clim Change 1:313–318

Barrantes G (2009) The role of historical and local factors in determining species composition of the highland avifauna of Costa Rica and Western Panamá. Rev Biol Trop 57:333–349

Bisby F, Roskov Y, Culham A, Orrell T, Nicolson D, Paglinawan L, Bailly N, Kirk P, Bourgoin T, Baillargeon G, Hernandez F, De Wever A, Kunze T (2013) Species 2000 & ITIS Catalogue of Life. In: Species 2000, p. Digital resource at www.catalogueoflife.org/col/, Reading

Brodie J, Post E, Laurance WF (2011) Climate change and tropical biodiversity: a new focus. Trends Ecol Evol (Personal edition) 27:145–150

Brown KS (1997) Diversity, disturbance, and sustainable use of Neotropical forests: insects as indicators for conservation monitoring. J Insect Conserv 1:25–42

Calderón R, Boucher T, Bryer M, Sotomayor L, Kappelle M (2004) Setting biodiversity conservation priorities in Central America: action site selection for the development of a first portfolio. The Nature Conservancy, Sna José

Carballa OL, Giere S, Cordero A, Hadrys H (2007) Isolation and characterization of microsatellite loci to study parthenogenesis in the citrine forktail, Ischnura hastata (Odonata: Coenagrionidae). Mol Ecol Notes 7:839–841

Carrillo E, Saenz JC, Fuller TK (2002) Movements and activities of white-lipped peccaries in Corcovado National Park, Costa Rica. Biol Conserv 108:317–324

Clausnitzer V, Lindeboom M (2002) Natural history and description of the dendrolimnetic larva of Coryphagrion grandis (Odonata). Int J Odonatol 5:29–44

Clement M, Posada D, Crandall K (2000) TCS: a computer program to estimate gene genealogies. Mol Ecol 9(10):1657–1660

Coen E (1983) Climate. In: Janzen DH (ed) Costa Rican natural history. The University of Chicago Press, Chicago, pp 35–46

Corbet PS (1999) Dragonflies: behaviour and ecology of Odonata. Harley Books, Essex

Cordero Rivera A (2006) Forests and Dragonflies. Fourth WDA International Symposium of Odonatology. Pensoft, Sofia

Córdoba-Aguilar A (2008) Dragonflies and damselflies. Model organism for ecological and evolutionary research. Oxford University Press, Oxford

Damm S, Hadrys H (2012) A dragonfly in the desert: genetic pathways of the widespread Trithemis arteriosa (Odonata: Libellulidae) suggest male-biased dispersal. Org Divers Evol 12:267–279

Damm S, Dijkstra K-DB, Hadrys H (2010a) Red drifters and dark residents: the phylogeny and ecology of a Plio-Pleistocene dragonfly radiation reflects Africa′s changing environment (Odonata, Libellulidae, Trithemis). Mol Phylogenet Evol 54:870–882

Damm S, Schierwater B, Hadrys H (2010b) An integrative approach to species discovery in odonates: from character-based DNA barcoding to ecology. Mol Ecol 19:3881–3893

Davies DAL, Tobin P (1984) A synopsis of the dragonflies of the world: a systematic list of the extant species of Odonata. In: Societas Internationalis Odonatologia Rapid Communications (Supplements), vol 1, Zygoptera, Anisozygoptera. Utrecht

DeClerck FAJ, Chazdon R, Holl KD, Milder JC, Finegan B, Martinez-Salinas A, Imbach P, Canet L, Ramos Z (2010) Biodiversity conservation in human-modified landscapes of Mesoamerica: past, present and future. Biol Conserv 143:2301–2313

DeSalle R, Amato G (2004) The expansion of conservation genetics. Nat Rev Genet 5:702–712

Deutsch CA, Tewksbury JJ, Huey RB, Sheldon KS, Ghalambor CK, Haak DC, Martin PR (2008) Impacts of climate warming on terrestrial ectotherms across latitude. Proc Natl Acad Sci 105:6668–6672

Dirzo R, García MC (1992) Rates of deforestation in Los Tuxtlas a neotropical area in south east Mexico. Conserv Biol 6:84–90

Edgar RC (2004) MUSCLE: multiple sequence alignment with high accuracy and high throughput. Nucleic Acids Res 32:1792–1797

ESRI (2002) ArcView GIS 3.3. (ed. Environmental Systems Research Institute I, Redlands), California

Estrada A (1982) Survey and census of howler monkeys (Alouatta palliata) in the rain forest of "Los Tuxtlas", Veracruz, Mexico. Am J Primatol 2:363–372

Evanno G, Regnaut S, Goudet J (2005) Detecting the number of clusters of individuals using the software structure: a simulation study. Mol Ecol 14:2611–2620

Excoffier L, Lischer HEL (2010) Arlequin suite ver 3.5: a new series of programs to perform population genetics analyses under Linux and Windows. Mol Ecol Resour 10:564–567

Excoffier L, Smouse PE, Quattro JM (1992) Analysis of molecular variance inferred from metric distances among DNA haplotypes: application to human mitochondrial DNA restriction data. Genetics 131:479–491

Felsenstein J (1985) Confidence limits on phylogenies: an approach using the bootstrap. Evolution 39:783–791

Fincke OM (1992) Interspecific competition for tree holes: consequences for mating systems and coexistence in neotropical damselflies. Am Nat 139:80–101

Fincke OM (1994) Population regulation of a tropical damselfly in the larval stage by food limitation, cannibalism, intraguild predation and habitat drying. Oecologia 100:118–127

Fincke OM (1998) The population ecology of Megaloprepus caerulatus and its effect on species assemblages in water-filled tree holes. Kluwer Academic, Dordrecht

Fincke OM (2006) Use of forest and tree species, and dispersal by giant damselflies (Pseudostigmatidae): their prospects in fragmented forests. In: Rivera AC (ed) Forest and dragonflies. 4th WDA International Symposium of Odonatology. Pensoft, Sofia, pp 103–125

Fincke OM, Hadrys H (2001) Unpredictable offspring survivorship in the Damselfly, Megaloprepus coerulatus, shapes parental behavior, constrains sexual selection, and challenges traditional fitness estimates. Evolution 55:762–772

Fincke OM, Hedström I (2008) Differences in forest use and colonization by Neotropical tree-hole damselflies (Odonata: Pseudostigmatidae): implications for forest conversion. Studies Neotrop Fauna Environ 43:35–45

Garrison RW, von Ellenrieder N, Louton JA (2010) Damselfly genera of the new world: an illustrated and annotated key to the Zygoptera. The Johns Hopkins University Press, Baltimore

Gienapp P, Teplitsky C, Alho JS, Mills JA, MerilÄ J (2008) Climate change and evolution: disentangling environmental and genetic responses. Mol Ecol 17:167–178

Giere S, Hadrys H (2006) Polymorphic microsatellite loci to study population dynamics in a dragonfly, the libellulid Trithemis arteriosa (Burmeister 1839). Mol Ecol Notes 6:933–935

Groeneveld LF, Clausnitzer V, Hadrys H (2007) Gigantism in damselflies of Africa and South America: convergent evolution or homologous structures? Evidence from nuclear and mitochondrial sequence data. Mol Phylogenet Evol 42:339–346

Gullan PJ, Cranston PS (2010) The insects: an outline of entomology, vol 4. Wiley-Blackwell, New York

Hadrys H, Balick M, Schierwater B (1992) Applications of random amplified polymorphic DNA (RAPD) in molecular ecology. Mol Ecol 1:55–63

Hadrys H, Schroth W, Schierwater B, Streit B, Fincke O (2005) Tree hole odonates as environmental monitors: non-invasive isolation of polymorphic microsatellites from the neotropical damselfly Megaloprepus caerulatus. Conserv Genet 6:481–483

Hadrys H, Clausnitzer V, Groeneveld LF (2006) The present role and future promise of conservation genetics for forest Odonates. In: Rivera AC (ed) Forest and dragonflies. 4th WDA International Symposium of Odonatology. Pensoft, Sofia, pp 279–299

Hadrys H, Timm J, Streit B, Giere S (2007a) A panel of microsatellite markers to study sperm precedence patterns in the emperor dragonfly Anax imperator (Odonata: Anisoptera). Mol Ecol Notes 7:296–298

Hadrys H, Wargel A, Giere S, Kraus B, Streit B (2007b) A panel of microsatellite markers to detect and monitor demographic bottlenecks in the riverine dragonfly Orthetrum coerulescens F. Mol Ecol Notes 7:287–289

Harvey CA, Komar O, Chazdon R, Ferguson BG, Finegan B, Griffith DM, MartÍNez-Ramos M, Morales H, Nigh R, Soto-Pinto L, Van Breugel M, Wishnie M (2008) Integrating agricultural landscapes with biodiversity conservation in the Mesoamerican Hotspot. Conserv Biol 22:8–15

Hassall C, Thompson DJ (2008) The impact of environmental warming on Odonata—a review. Int J Odonatol 11:131–153

Hayes L, Mann DJ, Monastyrskii AL, Lewis OT (2009) Rapid assessments of tropical dung beetle and butterfly assemblages: contrasting trends along a forest disturbance gradient. Insect Conserv Divers 2:194–203

Heckman CW (2008) Encyclopedia of South American aquatic insects: Odonata—Zygoptera. Springer, Leiden

Hedström I, Sahlén G (2001) A key to the adult Costa Rican helicopter damselflies Odonata: Pseudostigmatidae with notes on their phenology and life zone preferences. Revista de Biología Tropical 49:1037–1056

Hedström I, Sahlén G (2003) An extended description of the larva of Megaloprepus caerulatus from Costa Rica (Odonata: Pseudostigmatidae). Int J Odonatol 6:23–31

Holt RD, Gomulkiewicz R (2004) Conservation implications of niche conservatism and evolution in heterogeneous environments. In: Ferriere R, Dieckmann U, Couvet D (eds) Evolutionary conservation biology. Cambridge University Press, Cambridge, pp 244–264

Ingley SJ, Bybee SM, Tennessen KJ, Whiting MF, Branham MA (2012) Life on the fly: phylogenetics and evolution of the helicopter damselflies (Odonata, Pseudostigmatidae). Zoologica Scripta 41:637–650

Kalkman VJ, Clausnitzer V, Dijkstra K-D, Orr A, Paulson D, Tol J (2008) Global diversity of dragonflies (Odonata) in freshwater. In: Freshwater animal diversity assessment, vol 595. Springer Netherlands, pp 351–363

Kimura M (1980) A simple method for estimating evolutionary rates of base substitutions through comparative studies of nucleotide sequences. J Mol Evol 16:111–120

Kozak KH, Wiens JJ (2010) Accelerated rates of climatic-niche evolution underlie rapid species diversification. Ecol Lett 13:1378–1389

Laurance WF, Carolina Useche D, Rendeiro J, Kalka M, Bradshaw CJA, Sloan SP, Laurance SG, Campbell M, Abernethy K, Alvarez P, Arroyo-Rodriguez V, Ashton P, Benitez-Malvido J, Blom A, Bobo KS, Cannon CH, Cao M, Carroll R, Chapman C, Coates R et al (2012) Averting biodiversity collapse in tropical forest protected areas. Nature 489:290–294

Leigh EG (1999) Tropical forest ecology: a view from Barro Colorado Island. Oxford University Press, New York

Lewis OT, Basset Y (2007) Insect conservation in tropical forests. In: Stewart A, New T, Lewis O (eds) Insect conservation biology. The Royal Entomological Society, London, pp 34–56

Librado P, Rozas J (2009) DnaSP v5: A software for comprehensive analysis of DNA polymorphism data. Bioinformatics 25:1451–1452

Magurran AE, Dornelas M (2010) Biological diversity in a changing world. Philos Trans R Soc B 365:3593–3597

Mayhew PJ, Jenkins GB, Benton TG (2008) A long-term association between global temperature and biodiversity, origination and extinction in the fossil record. Proc R Soc B 275:47–53

McDade LA, Hartshorn GS (1994) La Selva Biological Station. In: McDade LA, Bawa KS, Hespenheide HA, Hartshorn GS (eds) La Selva: ecology and natural history of a neotropical rain forest. University of Chicago Press, Chicago, pp 6–18

Mendoza E, Fay J, Dirzo R (2005) A quantitative analysis of forest fragmentation in Los Tuxtlas, southeast Mexico: patterns and implications for conservation. Revista Chilena de Historia Natural 78:451–467

Miller K, Chang E, Johnson N (2001) Defining common ground for the Mesoamerican Biological Corridor. World Resources Institute, Washington, D.C.

Müller J, Müller K (2003) QuickAlign: a new alignment editor. Plant Mol Biol Rep 21:5

Murphy PG, Lugo AE (1995) Dry forests of Central America and the Caribbean. In: Bullock S, Mooney H, Medina E (eds) Seasonally dry tropical forests. Cambridge University Press, Cambridge, pp 9–34

Myers N, Mittermeier RA, Mittermeier CG, da Fonseca GAB, Kent J (2000) Biodiversity hotspots for conservation priorities. Nature 403:853–858

Orr AG (2006) Odonata in Bornean tropical rain forest formations: diversity, endemicity and implications for conservation management. In: Cordero-Rivera A (ed) Forests and dragonflies. Sofia, Pensoft, pp 51–78

Pannebakker BA, Niehuis O, Hedley A, Gadau J, Shuker DM (2010) The distribution of microsatellites in the Nasonia parasitoid wasp genome. Insect Mol Biol 19:91–98

Paulson D (2006) The importance of forests to Neotropical Dragonflies. In: Rivera AC (ed) Forests and Dragonflies. Fourth WDA International Symposium of Odonatology. Pensoft, Sofia, pp 79–101

Pertoldi C, Bijlsma R, Loeschcke V (2007) Conservation genetics in a globally changing environment: present problems, paradoxes and future challenges. Biodivers Conserv 16:4147–4163

Pimm SL, Raven P (2000) Biodiversity: extinction by numbers. Nature 403:843–845

Pimm SL, Russell GJ, Gittleman JL, Brooks TM (1995) The future of biodiversity. Science 269:347–350

Posada D, Crandall KA (1998) Modeltest: testing the model of DNA substitution. Bioinformatics 14:817–818

Pritchard JK, Stephens M, Donnelly P (2000) Inference of population structure using multilocus genotype data. Genetics 155:945–959

Rich PV, Rich TH (1983) The Central American dispersal route: biotic history and palaeogeography. In: Janzen DH (ed) Costa Rican natural history. The University of Chicago Press, Chicago, pp 12–34

Ronquist F, Huelsenbeck JP (2003) MRBAYES 3: Bayesian phylogenetic inference under mixed models. Bioinformatics 19:1572–1574

Rousset F (2008) Genepop'007: a complete reimplementation of the Genepop software for Windows and Linux. Mol Ecol Resour 8:103–106

Rutkowski R, Szczuka A, Zalewsk M, Korczyńska J, Gryziak G (2011) Failure of microsatellite's cross-species amplification in common ground beetle Pterostichus melanarius (Illiger). Baltic J Coleopterol 11:17–24

Schultz TD, Fincke OM (2009) Structural colours create a flashing cue for sexual recognition and male quality in a Neotropical giant damselfly. Funct Ecol 23:724–732

Schulze CH, Waltert M, Kessler PJA, Pitopang R, Veddeler D, Mühlenberg M, Gradstein SR, Leuschner C, Steffan-Dewenter I, Tscharntke T (2004) Biodiversity indicator groups of tropical land-use systems: comparing plants, birds, and insects. Ecol Appl 14:1321–1333

Simon C, Frati F, Beckenbach A, Crespi B, Liu H, Floors P (1994) Evolution, weighting, and phylogenetic utility of mitochondrial gene sequences and a compilation of conserved polymerase chain reaction primers. Ann Entomol Soc Am 87:651–701

Solórzano García B, Ellis EA, Rodríguez-Luna E (2012) Deforestation and primate habitat availability in Los Tuxtlas biosphere reserve, Mexico. Int J Ecosyst 2:61–66

Stehli FG, Webb SD (1985) The great American biotic interchange. Plenum Press, New York

Steinmann H (1997) World catalogue of Odonata: Zygoptera. Walter de Gruyter

Sutherland WJ, Adams WM, Aronson RB, Aveling R, Blackburn TM, Broad S, Ceballos G, CÔTÉ IM, Cowling RM, Da Fonseca GAB, Dinerstein E, Ferraro PJ, Fleishman E, Gascon C, Hunter Jr M, Hutton J, Kareiva P, Kuria A, Macdonald DW, Mackinnon K, Madgwick FJ, Mascia MB, McNeely J, Milner-Gulland EJ, Moon S, Morley CG, Nelson S, Osborn D, Pai M, Parsons ECM, Peck LS, Possingham H, Prior SV, Pullin AS, Rands MRW, Ranganathan J, Redford KH, Rodriguez JP, Seymour F, Sobel J, Sodhi NS, Stott A, Vance-Borland K, Watkinson AR (2009) One hundred questions of importance to the conservation of global biological diversity cien preguntas de importancia para la conservación de la diversidad biológica global. Conserv Biol 23:557–567

Swofford DL (2002) PAUP* phylogenetic analysis using parsimony (*and other methods). Sinauer Associates, Sunderland

Tamura K, Peterson D, Peterson N, Stecher G, Nei M, Kumar S (2011) MEGA5: molecular evolutionary genetics analysis using maximum likelihood, evolutionary distance, and maximum parsimony methods. Mol Biol Evol 28:2731–2739

Urbina-Cardona JN, Olivares-Pérez M, Reynoso VH (2006) Herpetofauna diversity and microenvironment correlates across a pasture–edge–interior ecotone in tropical rainforest fragments in the Los Tuxtlas Biosphere Reserve of Veracruz, Mexico. Biol Conserv 132:61–75

Watts PC, Rouquette JR, Saccheri IJ, Kemp SJ, Thompson DJ (2004) Molecular and ecological evidence for small-scale isolation by distance in an endangered damselfly, Coenagrion mercuriale. Mol Ecol 13:2931–2945

Watts PC, Rousset F, Saccheri IJ, Leblois R, Kemp SJ, Thompson DJ (2007) Compatible genetic and ecological estimates of dispersal rates in insect (Coenagrion mercuriale: Odonata: Zygoptera) populations: analysis of 'neighbourhood size' using a more precise estimator. Mol Ecol 16:737–751

Wiens JJ, Graham CH (2005) NICHE CONSERVATISM: integrating evolution, ecology, and conservation biology. Annu Rev Ecol Evol Syst 36:519–539

Wiens JJ, Ackerly DD, Allen AP, Anacker BL, Buckley LB, Cornell HV, Damschen EI, Jonathan Davies T, Grytnes J-A, Harrison SP, Hawkins BA, Holt RD, McCain CM, Stephens PR (2010) Niche conservatism as an emerging principle in ecology and conservation biology. Ecol Lett 13:1310–1324

Wright SJ, Muller-Landau HC (2006) The future of tropical forest species. Biotropica 38:287–301

Yanoviak SP (1999) Community structure in water-filled tree holes of Panama: effects of hole height and size. Selbyana 20:106–115
Acknowledgments
We appreciate support received from the following Biological Stations and National Parks: the Smithsonian Tropical Research Institue—Barro Colorado Island, the Área de Conservación Osa (ACOSA)—Corcovado National Park, the Organization for Tropical Studies—Biological Station La Selva, and the Instituto de Biología, Universidad Nacional Autónoma de México (UNAM)—Los Tuxtlas Tropical Biology Station; their administrative directors and scientists: Wendy A. Barrantes R., Rosamond I. Coates, Enrique González Soriano, and Oris Acevedo. Furthermore, we would like to thank the Autoridad Nacional del Ambiente (ANAM), the Ministerio de Ambiente, Energía y Telecomunicaciones (MINAET), and the Secretaría de Medio Ambiente y Recursos Naturales (SEMARNAT) for permission to collect and do research. We are grateful to Bernd Schierwater, Sandra Damm, Annika Schlötelburg, and Rosamond I. Coates for helpful comments. This work was supported by a German Science Foundation (DFG) grant HA 1947/6-1 given to HH, travel grants from the German Academic Exchange Service (DAAD) and the Graduate Academy from the Leibniz University Hannover to WF, and by NSF grant IOS-0641679 to OMF.
Electronic supplementary material
Below is the link to the electronic supplementary material.
About this article
Cite this article
Feindt, W., Fincke, O. & Hadrys, H. Still a one species genus? Strong genetic diversification in the world's largest living odonate, the Neotropical damselfly Megaloprepus caerulatus . Conserv Genet 15, 469–481 (2014). https://doi.org/10.1007/s10592-013-0554-z
Received:

Accepted:

Published:

Issue Date:

DOI: https://doi.org/10.1007/s10592-013-0554-z
Keywords