Abstract
Pupfishes (genus Cyprinodon) are iconic of biodiversity and endemism in the desert southwest of North America. Most of these species are imperiled, primarily because of excessive exploitation of water resources in this arid region. The critically endangered Julimes pupfish, Cyprinodon julimes, is restricted to a small, isolated, and highly modified desert spring in Chihuahua, México. We evaluated effective population size (microsatellites) and genetic variation (microsatellites and mitochondrial DNA) to determine the conservation genetic status of this species. The effective population size was critically low and indicated that this pupfish is at genetic risk of extinction through loss of adaptive variance and, potentially, from inbreeding depression. Mitochondrial variation was also extremely low, and haplotype frequency was biased heavily in favor of one of two variants. The uncommon haplotype was derived from a past hybridization event with the closely related C. eximius; whether cessation of introgressive hybridization is relevant to conservation management of Julimes pupfish is unknown but may be important to consider. Minimally, C. julimes is compromised genetically. Baseline population genetic information provided by this study will be vital to long-term monitoring of this highly imperiled species.
This is a preview of subscription content, log in to check access.
Access options
Buy single article
Instant access to the full article PDF.
US$ 39.95
Price includes VAT for USA
Subscribe to journal
Immediate online access to all issues from 2019. Subscription will auto renew annually.
US$ 99
This is the net price. Taxes to be calculated in checkout.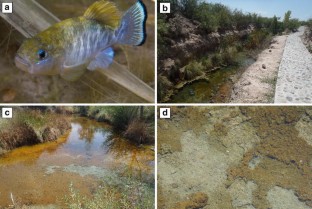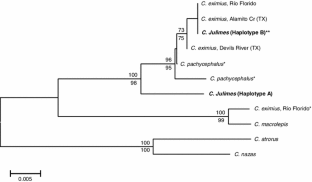 References
Alò D, Turner TF (2005) Effect of habitat fragmentation on effective population size in the endangered rio grande silvery minnow. Conserv Biol 19:1138–1148

Avise JC (1996) Introduction: the scope of conservation genetics. In: Avise JC, Hamrick J (eds) Conservation genetics: case histories from nature. Chapman & Hall, New York, pp 1–9

Carson EW, Dowling TE (2006) Influence of hydrogeographic history and hybridization on the distribution of genetic variation in the pupfishes Cyprinodon atrorus and C. bifasciatus. Mol Ecol 15:667–679

Carson EW, Tobler M, Minckley WL, Ainsworth RJ, Dowling TE (2012) Relationships between spatio-temporal environmental and genetic variation reveal an important influence of exogenous selection in a pupfish hybrid zone. Mol Ecol 21:1209–1222

Carson EW, Beasley RR, Jones KL, Lance SL, De Ma Lozano-Vilano L, Vela-Valladares L, Banda-Villanueva I, Turner TF, De la Maza-Benignos M (2013a) Development of polymorphic microsatellite markers for the microendemic pupfishes Cyprinodon julimes and C. pachycephalus. Conserv Genet Resour 5:853–856

Carson EW, Espinosa-Pérez H, Souza V (2013b) Low mitochondrial DNA sequence variation in the microendemic Cuatro Ciénegas platy fish Xiphophorus gordoni. West N Am Naturalist 73:224–229

Contreras-Balderas S, De Lozano-Vilano ML (1996) Extinction of most sandia and potosí valleys (Nuevo León, México) endemic pupfishes, crayfishes, and snails. Ichthyol Explor Freshw 7:33–40

Darriba D, Taboada GL, Doallo R, Posada D (2012) jModelTest 2: more models, new heuristics, and parallel computing. Nat Methods 9:772

De la Maza-Benignos M (2009) Presentación. In: De la Maza-Benignos M (ed) Los Peces del Río Conchos. Alianza WWF-Fundación Gonzalo Río Arronte, I.A.P. y Gobierno del Estado de Chihuahua, México, pp 9–12

De la Maza-Benignos M, Vela-Valladares L (2009) Cyprinodon julimes sp. nov. In: De la Maza-Benignos M (ed) Los Peces del Río Conchos. Alianza WWF-Fundación Gonzalo Río Arronte, I.A.P. y Gobierno del Estado de Chihuahua, México, pp 185–189

De la Maza-Benignos M, Rodriguez-Pineda JA, De la Mora-Covarrubias A, Carson EW, Quiñones-Martínez M, Lavín-Murcio P, Vela-Valladares L, Lozano-Vilano Ma de L, Parra-Gallo H, Macías-Duarte A, Lebgue-Keleng T, Pando-Pando E, Pando-Pando M, Andazola-González M, Anchondo-Najera A, Quintana-Martínez G, Zapata-López J, Banda-Villanueva IA, Ibarrola-Reyes HJ (2012) Planes de Manejo y Programa de Monitoreo de Signos Vitales para las Áreas de Manantiales de la UMA El Pandeño; y San Diego de Alcalá en el Desierto Chihuahuense. Vol 1. Pronatura Noreste, A. C. Amigos del Pandeño, A. C.

Echelle AA, Echelle AF, Contreras-Balderas S, Ma de L Lozano-Vilano(2001) Pupfishes of the Northern Chihuahuan Desert: status and conservation. Aquatic Fauna of the Northern Chihuahuan Desert, contributed papers from a special session within the thirty-third annual symposium of the Desert Fishes Council. Special Publications, Museum of Texas Tech University, vol 46, pp 111–126

Echelle AA, Carson EW, Echelle AF, Van Den Bussche RA, Dowling TE, Meyer A (2005) Historical biogeography and the role of genetic introgression in the evolution of the new world pupfish genus Cyprinodon (Teleostei: Cyprinodontiformes). Copeia 2005:320–339

Excoffier L, Lischer HEL (2010) Arlequin suite ver. 3.5: a new series of program to perform population genetics analyses under linux and windows. Mol Ecol Resour 10:564–567

Franklin IR (1980) Evolutionary change in small populations. In: Soule ME, Wilcox BA (eds) Conservation biology: an evolutionary-ecology perspective. Sinauer Associates, Sunderland, pp 138–148

Gold JR, Saillant E, Burridge CP, Blanchard A, Patton JC (2004) Population structure and effective size in critically endangered cape fear shiners Notropis mekistocholas. Southeast Nat 3:89–102

Guidon S, Gascuel O (2003) A simple, fast, and accurate method to estimate large phylogenies by maximum-likelihood. Syst Biol 5:696–704

Hedrick PW, Kalinowski ST (2000) Inbreeding depression in conservation biology. Annu Rev Ecol Syst 31:139–162

Hershler R, Liu H-P, Landye J (2011) New species and records of springsnails (Caenogastropoda: Cochliopidae: Tryonia) from the Chihuahuan desert (México and United States), an imperiled biodiversity hotspot. Zootaxa 3001:1–32

Kallman KD (1964) Genetics of tissue transplantation in isolated platy fish populations. Copeia 1964:513–522

Koike H, Echelle AA, Loftis D, Van Den Bussche RA (2008) Microsatellite DNA analysis of success in conserving genetic diversity after 33 years of refuge management for the desert pupfish complex. Anim Conserv 11:321–329

Martin A, Wilcox JL (2004) Evolutionary history of ash meadows pupfish (genus Cyprinodon) populations inferred using microsatellite markers. Conserv Genet 5:769–782

Miller RR, Minckley WL, Norris S (2005) Freshwater fishes of México. University of Chicago Press, Chicago

Minckley WL, Marsh PC (2002) Inland fishes of the greater southwest: chronicle of a vanishing biota. University of Arizona Press, Tucson

Minckley WL, Minckley CO (1986) Cyprinodon pachycephalus, a new species of pupfish (Cyprinodontidae) from the Chihuahuan desert of northern México. Copeia 1986:184–192

Minckley WL, Meffe GK, Soltz DL (1991) Conservation and management of short-lived fishes: the cyprinodontoids. In: Minckley WL, Deacon JE (eds) Battle against extinction: native fish management in the American West. Univ. of Arizona Press, Tucson, pp 247–282

Osborne MJ, Davenport SR, Hoagstrom CW, Turner TF (2010) Genetic effective size, N e , tracks density in a small freshwater cyprinid, pecos bluntnose shiner (Notropis simus pecosensis). Mol Ecol 19:2832–2844

Reed DH, Frankham R (2003) Correlation between fitness and genetic diversity. Conserv Biol 17:230–237

Reyes I (2009) Reconocimiento geomorfológico del área de Julimes, Chihuahua. World Wildlife Fund, Chihuahuan Desert Program and Facultad de Ingeniería de laUniversidad Autónoma de Chihuahua, México

Rieman BE, Allendorf FW (2001) Effective population size and genetic conservation criteria for bull trout. N Am J Fish Manage 21:756–764

Rodríguez-Ramírez A, Ballesteros-Barrera C (2009) Estudio paleoambiental del área "El Pandeño", Julimes. Chihuahua, Facultad de Ciencias de la UNAM for World Wildlife Fund

Saillant E, Patton JC, Ross KE, Gold JR (2004) Conservation genetics and demographic history of the endangered Cape Fear shiner (Notropis mekistocholas). Mol Ecol 13:2947–2958

Salgueiro P, Carvalho G, Collares-Pereira MJ, Coelho MM (2003) Microsatellite analysis of genetic population structure of the endangered cyprinid Anaecypris hispanica in Portugal: implications for conservation. Biol Conserv 109:47–56

Schmidt TR, Bielawski JP, Gold JR (1998) Molecular phylogenetics and evolution of the cytochrome b gene in the cyprinid genus Lythrurus (Actinopterygii: Cypriniformes). Copeia 1998:14–22

Schwartz MK, Luikart G, Waples RS (2007) Genetic monitoring as a promising tool for conservation and management. Trends Ecol Evol 22:25–33

SEMARNAT (2012) Fomento a la Conservación y al Aprovechamiento Sustentable de la Vida Silvestre 08D01-00025/1201 Amigos del Pandeño, A.C. under Lineamientos para obtener subsidios de fomento a la conservación y aprovechamiento sustentable de la vida silvestre en UMA o PIMVS en las comunidades rurales de la República Mexicana. Ejercicio 2012

Tamura K, Peterson D, Peterson N, Stecher G, Nei M, Kumar S (2011) MEGA5: molecular evolutionary genetics analysis using maximum likelihood, evolutionary distance, and maximum parsimony methods. Mol Biol Evol 28:2731–2739

Tibbets CA, Dowling TE (1996) Effects of intrinsic and extrinsic factors on population fragmentation in three species of north American minnows (Teleostei: Cyprinidae). Evolution 50:1280–1292

Tobler M, Carson EW (2010) Environmental variation, hybridization, and phenotypic diversification in Cuatro Ciénegas pupfishes. J Evol Biol 23:1475–1489

Turner BJ, Liu RK (1977) Extensive interspecific genetic compatibility in the new world killifish genus Cyprinodon. Copeia 1977:259–269

Waples RS, Do C (2008) LDNE: a program for estimating effective population size from data on linkage disequilibrium. Mol Ecol Resour 8:753–756

Waples RS, Do C (2010) Linkage disequilibrium estimates of contemporary N e using highly variable genetic markers: a largely untapped resource for applied conservation and evolution. Evol Appl 3:244–262
Acknowledgments
We thank Hailey Conover for assistance in the laboratory; for curatorial assistance, we thank Alexandra Snyder, Collection Manager, Division of Fishes, Museum of Southwestern Biology, University of New México. We extend special thanks to Amigos del Pandeño, A. C., for their invaluable participation and partnership. Pronatura Noreste, A. C., provided funding. Specimens were obtained in accordance with permits provided under Oficio SGPA/DGVS/02833/12 to Ma. De Lourdes Lozano-Vilano. The photograph of a breeding male Julimes pupfish was taken by Juan Miguel Artigas Azas for De la Maza-Benignos (editor). De la Maza-Benignos De la Maza-Benignos and De la Maza-Benignos 2009. Los Peces del Río Conchos. Alianza WWF-Fundación-Gonzalo Río Arronte y Gobierno del Estado de Chihuahua.
About this article
Cite this article
Carson, E.W., De la Maza-Benignos, M., de Lourdes Lozano-Vilano, M. et al. Conservation genetic assessment of the critically endangered Julimes pupfish, Cyprinodon julimes . Conserv Genet 15, 483–488 (2014). https://doi.org/10.1007/s10592-013-0548-x
Received:

Accepted:

Published:

Issue Date:
Keywords
Cyprinodon julimes

Effective population size

Genetic diversity

Introgression

Population bottleneck

Endangered species