Abstract
Bluemask darters (Etheostoma akatulo) were sampled from the four drainages where extant populations of this narrowly endemic freshwater fish are known to exist. Population genetic diversity and structure were assessed at 10 microsatellite loci. All populations exhibited low levels of genetic variation, with expected heterozygosity ranging from 0.2 to 0.35. Significant population subdivision was found among most tributaries, and genetic divergence was strongly correlated with geographic distance. Bayesian population assignment and pairwise population differentiation measures both identified a lack of differentiation between E. akatulo populations inhabiting Cane Creek and the Caney Fork. This observation reduced the number of distinct breeding populations of this species to three. We also used approximate Bayesian computation to compare three models of demographic history in this species. A constant population size model was favored over models that included historic or recent population reductions. Our results suggest that impoundment of the Caney Fork and its tributaries, by completion of Great Falls Dam in 1916, was not responsible for the reduced genetic diversity in the sampled populations. Given the low levels of genetic diversity within populations and the limited geographic distribution, future conservation efforts should seek to maximize available habitat while simultaneously limiting the influences of anthropogenic stressors in the system.
Access options
Buy single article
Instant access to the full article PDF.
US$ 39.95
Tax calculation will be finalised during checkout.
Subscribe to journal
Immediate online access to all issues from 2019. Subscription will auto renew annually.
US$ 79
Tax calculation will be finalised during checkout.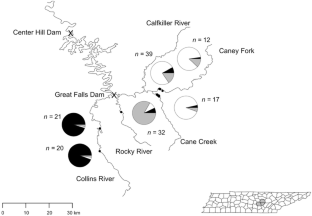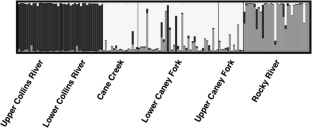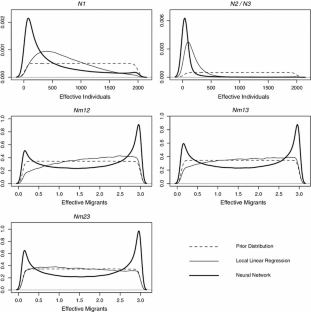 References
Anderson CNK, Ramakrishnan U, Chan YL, Hadly EA (2005) Serial SimCoal: a population genetic model for data from multiple populations and points in time. Bioinformatics 21:1733–1734

Beneteau CL, Mandrak NE, Heath DD (2007) Characterization of eight polymorphic microsatellite DNA markers for the greenside darter, Etheostoma blennioides (Percidae). Mol Ecol Notes 7:641–643

Bertorelle G, Benazzo A, Mona S (2010) ABC as a flexible framework to estimate demography over space and time: some cons, many pros. Mol Ecol 19:2609–2625

Blum MGB, François O (2010) Non-linear regression models for approximate Bayesian computation. Stat Comput 20:63–73

Csilléry K, François O, Blum MGB (2012) abc: an R package for approximate Bayesian computation (ABC). Methods Ecol Evol. doi:10.1111/j.2041-210X.2011.00179.x

DeWoody JA, Avise JC (2000) Microsatellite variation in marine, freshwater, and anadromous fishes compared with other animals. J Fish Biol 56:461–473

Di Rienzo A, Peterson AC, Garza JC, Valdes AM, Slatkin M, Freimer NB (1994) Mutational processes of simple-sequence repeat loci in human populations. Proc Nat Acad Sci USA 91:3166–3170

Earl DA, vonHoldt BM (2011) STRUCTURE HARVESTER: a website and program for visualizing STRUCTURE output and implementing the Evanno method. Conserv Genet Resour. doi:10.1007/s12686-011-9548-7

Etnier DA (1997) Jeopardized Southeastern freshwater fishes: a search for causes. In: Benz GW, Collins DE (eds) Aquatic fauna in peril: the southeastern perspective. Special Publ. 1, Southeast Aquatic Research Institute, Lenz Design and Communications, Decatur, pp 87–104

Evanno G, Regnaut S, Goudet J (2005) Detecting the number of clusters of individuals using the software STRUCTURE: a simulation study. Mol Ecol 14:2611–2620

Excoffier L, Lischer HEL (2010) Arlequin suite ver. 3.5: a new series of programs to perform population genetics analyses under Linux and Windows. Mol Ecol Resour 10:564–567

Excoffier L, Novembre J, Schneider S (2000) SIMCOAL: a general coalescent program for simulation of molecular data in interconnected populations with arbitrary demography. J Hered 91:506–509

Falush D, Stephens M, Pritchard JK (2003) Inference of population structure using multilocus genotype data: linked loci and correlated allele frequencies. Genetics 164:1567–1587

Falush D, Stephens M, Pritchard JK (2007) Inference of population structure using multilocus genotype data: dominant markers and null alleles. Mol Ecol Notes 7:574–578

Franklin IR (1980) Evolutionary changes in small populations. In: Soule ME, Wilcox BA (eds) Conservation biology, an evolutionary-ecological perspective. Sinauer Associates, Sunderland, pp 135–149

Gabel JM, Dakin EE, Freeman BJ, Porter BA (2008) Isolation and identification of eight microsatellite loci in the Cherokee darter (Etheostoma scotti) and their variability in other members of the genera Etheostoma, Ammocrypta, and Percina. Mol Ecol Resour 8:149–151

Gerlach G, Jueterbock A, Kraemer P, Deppermann J, Harmand P (2010) Calculations of population differentiation based on G(ST) and D: forget G(ST) but not all of statistics! Mol Ecol 19:3845–3852

Hollingsworth PR, Near TJ (2009) Temporal patterns of diversification and microendemism in eastern highland endemic barcheek darters (Percidae: Etheostomatinae). Evolution 63:228–243

Hubisz MJ, Falush D, Stephens M, Pritchard JK (2009) Inferring weak population structure with the assistance of sample group information. Mol Ecol 9:1322–1332

Jarne P, Lagoda PJL (1996) Microsatellites, from molecules to populations and back. Trends Ecol Evol 11:424–429

Jelks HL, Walsh SJ, Burkhead NM et al (2008) Conservation status of imperiled North American freshwater and diadromous fishes. Fisheries 33:372–407

Jensen JL, Bohonak AJ, Kelley ST (2005) Isolation by distance, web service. BMC Genet 6:13. v.3.23. http://ibdws.sdsu.edu/. Accessed 16 May 2012

Jost L (2008) GST and its relatives do not measure differentiation. Mol Ecol 17:4015–4026

Kalinowski ST (2005) HP-Rare: a computer program for performing rarefaction on measures of allelic diversity. Mol Ecol Notes 5:187–189

Kass RE, Raftery AE (1995) Bayes factors. J Am Stat Assoc 90:773–795

Khudamrongsawat J, Heath LS, Heath HE, Harris PM (2007) Microsatellite DNA primers for the endangered vermilion darter, Etheostoma chermocki, and cross-species amplification in other darters (Percidae: Etheostoma). Mol Ecol Notes 7:811–813

Krabbenhoft TJ, Rohde FC, Leibman AN, Quattro JM (2008) Concordant mitochondrial and nuclear DNA partitions define evolutionarily significant units in the imperiled pinewoods darter, Etheostoma mariae (Pisces: Percidae). Copeia 2008:909–915

Layman SR, Mayden RL (2009) A new species of the dart subgenus Doration (Percidae: Etheostoma) from the Caney Fork river system, Tennessee. Copeia 2009:157–170

Layman SR, Simons AM, Wood RM (1993) Status of the dirty darter, Etheostoma olivaceum, and bluemask darter, Etheostoma (Doration) sp., with notes on fishes of the Caney Fork river system, Tennessee. J Tenn Acad Sci 68(2):65–70

Lydeard C, Mayden RL (1995) A diverse and endangered ecosystem of the southeast United States. Conserv Biol 9:800–805

Mayden RL (1988) Vicariance biogeography, parsimony, and evolution in North American freshwater fishes. Syst Zool 37:329–355

Ohta T, Kimura M (1973) A model of mutation appropriate to estimate the number of electrophoretically detectable alleles in a finite population. Genet Res 22:201–204

Page LM, Hardman M, Near TJ (2003) Phylogenetic relationships of barcheek darters (Percidae: Etheostoma, Subgenus Catonotus) with descriptions of two new species. Copeia 2003:512–530

Palstra FP, Ruzzante DE (2008) Genetic estimates of contemporary effective population size: what can they tell us about the importance of genetic stochasticity for wild population persistence? Mol Ecol 17:3428–3447

Peakall R, Smouse PE (2006) GENALEX 6: genetic analysis in Excel. Population genetic software for teaching and research. Mol Ecol Notes 6:288–295

Pritchard JK, Stephens M, Donnelly P (2000) Inference of population structure using multilocus genotype data. Genetics 155:945–959

R Development Core Team (2012) R: a language and environment for statistical computing. R Foundation for Statistical Computing, Vienna, Austria. ISBN 3-900051-07-0. http://www.R-project.org. Accessed 25 Sep 2012

Ricciardi A, Rasmussen JB (1999) Extinction rates of North American freshwater fauna. Conserv Biol 13:1220–1222

Rissler LJ, Smith WH (2010) Mapping amphibian contact zones and phylogeographical break hotspots across the United States. Mol Ecol 19:5404–5416

Rosenberg NA (2004) Distruct: a program for the graphical display of population structure. Mol Ecol Notes 4:137–138

Rousset F (1997) Genetic differentiation and estimation of gene flow from F-statistics under isolation by distance. Genetics 145:1219–1228

Rousset F (2008) GENEPOP'007: a complete re-implementation of the GENEPOP software for Windows and Linux. Mol Ecol Resour 8:103–106

Simmons JW, Layzer JB, Smith DD (2008) Age-class structure and variability of two populations of the bluemask darter Etheostoma (Doration) sp. Am Midl Nat 160:300–309

Simon TP, Wallus R (2006) Reproductive biology and early life history of fishes in the Ohio River drainage, Percidae-perch, pikeperch, and darters, vol 4. CRC Press, Boca Raton

Strayer DL, Dudgeon D (2010) Freshwater biodiversity conservation: recent progress and future challenges. J N Am Benthol Soc 29:344–358

Tonnis BD (2006) Microsatellite DNA markers for the rainbow darter, Etheostoma caeruleum (Percidae), and their potential utility for other darter species. Mol Ecol Notes 6:230–232

U.S. Fish and Wildlife Service (1993) Final decision on relict and bluemask darters. Fed Reg 58:68480–68486

Waples RS, Do C (2008) LDNE: a program for estimating effective population size from data on linkage disequilibrium. Mol Ecol Resour 8:753–756

Waples RS, Do C (2010) Linkage disequilibrium estimates of contemporary Ne using highly variable genetic markers: a largely untapped resource for applied conservation and evolution. Evol Appl 3:244–262

Warren ML, Burr BM, Walsh SJ et al (2000) Diversity, distribution, and conservation status of native freshwater fishes of the southern United States. Fisheries 25:7–31
Acknowledgments
All collections were made under Tennessee Wildlife Resources Agency permit 750 and U.S. Fish and Wildlife Service Threatened/Endangered permit TE117405-2. Support for this project was provided by the Tennessee Valley Authority and the U.S. Fish and Wildlife Service, Cookeville, Tennessee field office. The authors would like to thank C.L. Phillips, J.T. Baxter, R.A. Kennon, G. Call, T. Shaw, and K. Robinson for assistance with field collections. Additionally, two reviewers provided helpful comments on the manuscript during peer review.
About this article
Cite this article
Robinson, J.D., Simmons, J.W., Williams, A.S. et al. Population structure and genetic diversity in the endangered bluemask darter (Etheostoma akatulo). Conserv Genet 14, 79–92 (2013). https://doi.org/10.1007/s10592-012-0427-x
Received:

Accepted:

Published:

Issue Date:
Keywords
Approximate Bayesian Computation (ABC)

Microsatellite

Bayesian population assignment

Cumberland River system