Abstract
Interspecies hybridisation in nature is a well-studied phenomenon, but it has not been analysed using genetic markers in the class Chondrichthyes (sharks, rays and chimeras). Two black-tip whaler shark species (Australian, Carcharhinus tilstoni; Common, C. limbatus) have overlapping distributions in Australia, distinct mitochondrial DNA sequence (ND4, COI, control region) and distinct morphological features such as length at sexual maturity, length at birth and number of vertebrae. A mismatch was observed between species identification using mtDNA sequence and species identification using morphological characters. To test whether hybridisation between the two species was responsible, a nuclear gene with species-specific mutations was sequenced. Extensive interspecies hybridisation was found to be occurring. Hybrids were found from five locations on the eastern Australian coastline, spanning 2,000 km. If hybrid fitness is low and hybrids are common, then fisheries recruitment may be overestimated and the productivity of the black-tip shark fishery may be well below that required to support commercial exploitation. To guard against identification errors, the likelihood of hybridisation and subsequent introgression should be assessed prior to using mtDNA (e.g. barcoding) to identify shark species. The C. limbatus–C. tilstoni species complex provides a unique opportunity to investigate the ability of sharks to adapt to environmental change, in particular, the impact of hybridization on species distributions which favour C. tilstoni along the north and C. limbatus along the south eastern Australian coastline.
Access options
Buy single article
Instant access to the full article PDF.
US$ 39.95
Tax calculation will be finalised during checkout.
Subscribe to journal
Immediate online access to all issues from 2019. Subscription will auto renew annually.
US$ 79
Tax calculation will be finalised during checkout.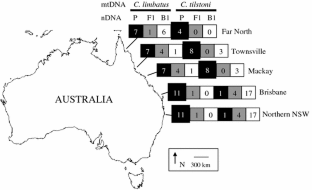 References
Alacs EA, Georges A, FitzSimmons NN, Robertson J (2009) DNA detective: a review of molecular approaches to wildlife forensics. Forensic Sci Med Pathol 6:180–194

Allendorf FW, Leary RF, Spruell P, Wenburg JK (2001) The problems with hybrids: setting conservation guidelines. Trends Ecol Evol 16:613–622

Arnold ML (2006) Evolution through genetic exchange. Oxford University Press, Oxford

Arnold ML, Martin NH (2010) Hybrid fitness across time and habitats. Trends Ecol Evol 25:530–536

Boomer JJ, Peddemors V, Stow AJ (2010) Genetic data show that Carcharhinus tilstoni is not confined to the tropics, highlighting the importance of a multifaceted approach to species identification. J Fish Biol 77:1165–1172

Compagno LJV, Dando M, Fowler S (2005) Sharks of the world, 1st edn. Princeton University Press, Princeton and Oxford

Cooper WJ, Smith LL, Westneat MW (2009) Exploring the radiation of a diverse reef fish family: phylogenetics of the damselfishes (Pomacentridae), with new classifications based on molecular analyses of all genera. Mol Phylogenet Evol 52:1–16

Epifanio J, Philipp D (2000) Simulating the extinction of parental lineages from introgressive hybridization: the effects of fitness, initial proportions of parental taxa, and mate choice. Rev Fish Biol Fish 10:339–354

Harry AV (2011) The life histories of commercially important tropical sharks from the Great Barrier Reef World Heritage Area. Doctor of Philosophy, James Cook University, Townsville, Queensland Australia

Keeney DB, Heist EJ (2003) Characterization of microsatellite loci isolated from the blacktip shark and their utility in requiem and hammerhead sharks. Mol Ecol Notes 3:501–504

Keeney DB, Heist EJ (2006) Worldwide phylogeography of the blacktip shark (Carcharhinus limbatus) inferred from mitochondrial DNA reveals isolation of western Atlantic populations coupled with recent Pacific dispersal. Mol Ecol 15:3669–3679

Last PR, Stevens JD (2009) Sharks and rays of Australia, 2nd edn. CSIRO Australia, Collingwood

Lavery S (1992) Electrophoretic analysis of phylogenetic relationships among Australian Carcharhinid sharks. Aust J Mar Freshw Res 43:97–108

Lavery S, Shaklee JB (1991) Genetic evidence for separation of two sharks Carcharhinus limbatus and C. tilstoni from northern Australia. Mar Biol 108:1–4

Marshall AD, Bennett MB (2010) Reproductive ecology of the reef manta ray Manta alfredi in southern Mozambique. J Fish Biol 77:169–190

Mayr E (1942) Systematics and the origin of species. Columbia University Press, New York

Morgan JAT, Welch D, Harry A, Street R, Broderick D, Ovenden JR (2011) Species-identification assay for Australian blacktip sharks, Carcharhinus tilstoni, C. limbatus and C. amblyrhynchoides using real-time PCR and high-resolution melt analysis. Mol Ecol Resour 11:813–819

Muhlfeld CC, Kalinowski ST, McMahon TE, Taper ML, Painter S, Leary RF, Allendorf FW (2009) Hybridization rapidly reduces fitness of a native trout in the wild. Biol Lett 5:328–331

Ovenden JR, Broderick D, Street R (2006) Microsatellite primers for two carcharinid sharks (Carcharinus tilstoni and C. sorrah) and their usefulness across a wide range of shark species. Mol Ecol Notes 6:415–418

Ovenden JR, Morgan J, Kashiwagi T, Broderick D, Salini J (2010) Towards better management of Australia's shark fishery: genetic analyses reveal unexpected ratios of cryptic blacktip species Carcharhinus tilstoni and C. limbatus. Mar Freshw Res 61:253–262

Pierce SJ, Pardo SA, Bennett MB (2009) Reproduction of the blue-spotted maskray Neotrygon kuhlii (Myliobatoidei: Dasyatidae) in south-east Queensland, Australia. J Fish Biol 74:1291–1308

Powter DM, Gladstone W (2008) The reproductive biology and ecology of the Port Jackson shark Heterodontus portusjacksoni in the coastal waters of eastern Australia. J Fish Biol 72:2615–2633

Ridgway KR (2007) Long-term trend and decadal variability of the southward penetration of the East Australian Current. Geophys Res Lett 34:5

Seehausen O (2004) Hybridization and adaptive radiation. Trends Ecol Evol 19:198–207

Stevens J, Wiley P (1986) Biology of two commercially important carcharhinid sharks from northern Australia. Aust J Mar Freshw Res 37:671–688

Ward RD, Holmes BH, White WT, Last PR (2008) DNA barcoding in Australasian chondrichthyans: results and potential uses in conservation. Mar Freshw Res 59:57–71

Wilson-Wilde L, Norman J, Robertson J, Sarre S, Georges A (2010) Current issues in species identification for forensic science and the validity of using the cytochrome oxidase I (COI) gene. Forensic Sci Med Pathol 6:233–241

Wong EHK, Shivji MS, Hanner RH (2009) Identifying sharks with DNA barcodes: assessing the utility of a nucleotide diagnostic approach. Mol Ecol Resour 9:243–256
Acknowledgments
This study was made possible by the many fishers and scientists who collected tissue samples for this project, including those associated with the Marine and Tropical Science Research Facility project 4.8.4 (GBRWHA Inshore fisheries), James Cook University and the fisheries observer programs in Queensland and New South Wales. We thank three anonymous reviewers for their suggestions that improved the quality of the manuscript. The Australian Fisheries Research and Development Corporation supported this study (project 2007/035).
About this article
Cite this article
Morgan, J.A.T., Harry, A.V., Welch, D.J. et al. Detection of interspecies hybridisation in Chondrichthyes: hybrids and hybrid offspring between Australian (Carcharhinus tilstoni) and common (C. limbatus) blacktip shark found in an Australian fishery. Conserv Genet 13, 455–463 (2012). https://doi.org/10.1007/s10592-011-0298-6
Received:

Accepted:

Published:

Issue Date:
Keywords
Introgression

Hybrid fitness

Chondrichthyes

Barcoding

Mitochondrial DNA

Nuclear DNA