Abstract
Beetles comprise nearly one quarter of described species and show high levels of morphological and ecological diversification. Because of their wide distribution, ease of detection, and correlation of species richness patterns with other taxa, tiger beetles have been recommended for use as a global indicator of regional biodiversity, requiring accurate taxonomic designations. The Bruneau Dune tiger beetle (Cicindela waynei), whose habitat consists of an isolated dune field in southern Idaho, was recently described as a distinct species from the St. Anthony Dunes tiger beetle (C. arenicola) based on morphological characteristics. While these characteristics include distinct differences in genital morphology that could indicate intrinsic reproductive isolation, morphological characteristics have sometimes been misleading in tiger beetle taxonomy. To evaluate genetic support for this species designation, we analyzed 1,751 base pairs of mitochondrial DNA sequence from 147 tiger beetles collected throughout the range of both C. arenicola and C. waynei. Maximum-likelihood and Bayesian phylogenetic analyses indicated monophyly for C. waynei on a well-supported, short branch nested within C. arenicola. Bayesian species delimitation analyses strongly supported C. waynei as a distinct species (speciation probability = 1.0) with the estimated time of divergence ca. 14,500–67,000 years ago. This lack of reciprocal monophyly and recency of speciation is consistent with C. waynei as a member of an evolutionary front where speciation has occurred at a rapid rate. Mitochondrial sequence data supports the species designation of C. waynei, emphasizing the need to determine appropriate management for this species and its restricted habitat.
This is a preview of subscription content, log in to check access.
Access options
Buy single article
Instant access to the full article PDF.
US$ 39.95
Price includes VAT for USA
Subscribe to journal
Immediate online access to all issues from 2019. Subscription will auto renew annually.
US$ 99
This is the net price. Taxes to be calculated in checkout.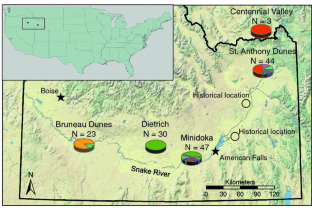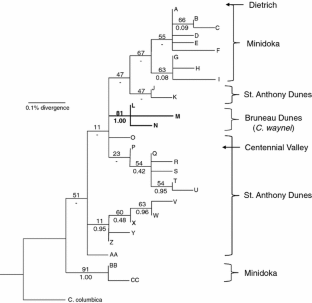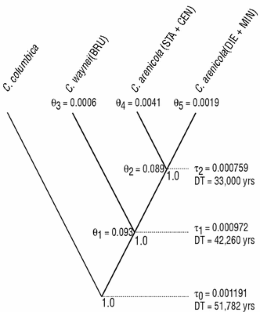 References
Barraclough TG, Vogler AP (2002) Recent diversification rates in North American tiger beetles estimated from a dated mtDNA phylogenetic tree. Mol Biol Evol 19:1706–1716

Barraclough TG, Hogan JE, Vogler AP (1999) Testing whether ecological factors promote cladogenesis in a group of tiger beetles (Coleoptera: Cicindelidae). Proc Royal Soc Lond B 266:1061–1067

Brower AVZ (1994) Rapid morphological radiation and convergence among races of the butterfly Heliconius erato inferred from patterns of mitochondrial DNA Evolution. Proc Natl Acad Sci USA 91:6491–6495

Busacca AJ, Begét JE, Markewich HW, Muhs DR, Lancaster N, Sweeney M (2004) Eolian sediments. In: Gillespie AR, Porter SC, Atwater BF (eds) The quaternary period in the United States. Elsevier, Amsterdam, pp 275–309

Cassola F, Pearson DL (2000) Global patterns of tiger beetle species richness (Coleoptera: Cicindelidae): their use in conservation planning. Biol Conserv 95:197–208

Crozier YC, Koulianos S, Crozier RH (1991) An improved test for Africanized honeybee mitochondrial DNA. Experientia 47:968–969

de Queiroz K (2007) Species concepts and species delimitation. Syst Biol 56:879–886

Erwin TL (1991) An evolutionary basis for conservation strategies. Science 253:750–752

Hunt T, Bergsten J, Levkanicova Z, Papadopoulou A, St. John O, Wild R, Hammond PM, Ahrens D, Balke M, Caterino MS, Gómez-Zurita J, Ribera I, Barraclough TG, Bocakova M, Bocak L, Vogler AP (2007) A comprehensive phylogeny of beetles reveals the evolutionary origins of a super radiation. Science 318:1913–1916

Kimura M (1981) Estimation of evolutionary distances between homologous nucleotide sequences. Proc Natl Acad Sci USA 78:454–458

Leaché AD, Fujita MK (2010) Bayesian species delimitation in West African forest geckos (Hemidactylus fasciatus). P R Soc B 277:3071–3077

Leffler S (2001) A new species of tiger beetle from southwestern Idaho (Coleoptera: Cicindelidae). Cicindela 33:19–40

Liebherr JK, McHugh JV (2003) Coleoptera. In: Resh VH, Cardé RT (eds) Encyclopedia of insects. Academic Press, Amsterdam, pp 209–229

Logan DR (1995) Idaho dune tiger beetle survey, Cicindela arenicola Rumpp. Tech Bull 95–17, Idaho Bureau of Land Management, Boise

Malde HE (1991) Quaternary geology and structural history of the Snake River Plain, Idaho and Oregon. In: Morrison RB (ed) Quaternary nonglacial geology: conterminous U.S. The geology of North America V. K-2. Geological Society of America, Boulder

Morgan M, Knisley CB, Vogler AP (2000) New taxonomic status of the endangered tiger beetle Cicindela limbata albissima (Coleoptera: Cicindelidae): evidence from mtDNA. Ann Entomol Soc Am 93:1108–1115

Murphy JD (1973) The geology of Eagle Cove at Bruneau, Idaho. M.S. Thesis. State University of New York at Buffalo

Oviatt CG, Curry DR, Sack D (1992) Radiocarbon chronology of Lake Bonneville, Eastern Great Basin, USA. Palaeogeogr Palaeoclimatol Palaeoecol 99:225–241

Pearson DL, Cassola F (1992) World-wide species richness patterns of tiger beetles (Coleoptera: Cicindelidae): indicator taxon for biodiversity and conservation studies. Conserv Biol 6:376–391

Posada D (2008) jModelTest: phylogenetic model averaging. Mol Biol Evol 25:1253–1256

Rambaut A (2002) Se-Al: sequence alignment editor, v2.0a11. Molecular evolution, phylogenetics and epidemiology. http://tree.bio.ed.ac.uk/software/seal/. Accessed 2 May 2011

Rambaut A, Drummond AJ (2004) Tracer. Molecular evolution, phylogenetics and epidemiology. http://tree.bio.ed.ac.uk/software/tracer/. Accessed 2 May 2011

Rannala B, Yang Z (2003) Bayes estimation of species divergence times and ancestral population sizes using DNA sequences from multiple loci. Genetics 164:1645–1656

Reed DH, Lowe EH, Briscoe DA, Frankham R (2003) Fitness and adaptation in a novel environment: effect of inbreeding, prior environment, and lineage. Evolution 57:1822–1828

Rivalier E (1954) Démembrement du genre Cicindela Linné. II. Faune americaine. Rev Franc Entomol 21:249–268

Ronquist F, Huelsenbeck JP (2003) MrBayes 3: bayesian phylogenetic inference under mixed models. Bioinformatics 19:1572–1574

Shimodaira H (2002) An approximately unbiased test of phylogenetic tree selection. Sys Biol 51:492–508

Shimodaira H, Hasegawa M (2001) CONSEL: for assessing the confidence of phylogenetic tree selection. Bioinformatics 17:1246–1247

Shook GA, Clark WH (1988) Status of the Idaho dunes tiger beetle, Cicindela arenicola Rumpp, (Coleoptera: Cicindelidae). J Idaho Acad Sci 24:38–42

Simon C, Frati F, Beckenbach A, Crespi B, Liu H, Flook P (1991) Evolution, weighting, and phylogenetic utility of mitochondrial gene sequences and a compilation of conserved polymerase chain reaction primers. Ann Entomol Soc Am 87:651–701

Sites J Jr, Marshall J (2004) Operational criteria for delimiting species. Annu Rev Ecol Evol S 35:199–227

Spielman D, Brook BW, Briscoe DA, Frankham R (2004) Does inbreeding and loss of genetic diversity decrease disease resistance. Conserv Genet 5:439–448

Stamatakis A (2006) RAxML-VI-HPC: maximum likelihood-based phylogenetic analyses with thousands of taxa and mixed models. Bioinformatics 22:2688–2690

Stamatakis A, Hoover P, Rougemont J (2008) A rapid bootstrap algorithm for the RAxML web servers. Sys Biol 57:758–771

Vogler AP, Welsh A (1997) Phylogeny of North American Cicindela tiger beetles inferred from multiple mitochondrial DNA sequences. Mol Phylo Evol 8:225–235

Vogler AP, DeSalle R, Assmann T, Knisley CB, Schultz TD (1993) Molecular population genetics of the endangered tiger beetle Cicindela dorsalis (Coleoptera: Cicindelidae). Ann Entomol Soc Am 86:142–152

Vogler AP, Welsh A, Barraclough TG (1998) Molecular phylogeny of the Cicindela maritima (Coleoptera: Cicindelidae) group indicates fast radiation in western North America. Ann Entomol Soc Am 91:185–194

Vogler AP, Cardoso A, Barraclough TG (2005) Exploring rate variation among and within sites in a densely sampled tree: species level phylogenetics of North American tiger beeltes (Genus Cicindela). Sys Biol 54:4–20

Winton RC, Kippenhan MG, Ivie MA (2010) New state record for Cicindela arenicola Rumpp (Coleoptera: Carabidae: Cicindelinae) in southwestern Montana. Coleopt Bull 64:43–44

Woodcock MR, Kippenhan MG, Knisley CB, Foster JA (2007) Molecular genetics of Cicindela (Cylindera) terricola and elevation of C. lunalonga to species level, with comments on its conservation status. Conserv Genet 8:865–877

Yang Z, Rannala B (2010) Bayesian species delimitation using multilocus sequence data. Proc Natl Acad Sci USA 107:9264–9269
Acknowledgments
We thank Ross Winton for sharing samples, Rob Cavallaro, Kevin Church, Suzin Romin, and Tim Weekley for assisting with field collection, and Mary Sterling for laboratory work. We also thank Dr. Ziheng Yang for suggestions regarding the species delimitation analyses with BP&P. Funding for this project was provided by U. S. Fish and Wildlife Service Grant E-50-1 to the Idaho Department of Fish and Game. We thank two anonymous reviewers and Dr. Alfried Vogler for helpful comments on a previous draft of this manuscript. This is contribution 1064 of the University of Idaho Forest, Wildlife and Range Experiment Station.
Electronic supplementary material
Below is the link to the electronic supplementary material.
About this article
Cite this article
Goldberg, C.S., Tank, D.C., Uribe-Convers, S. et al. Species designation of the Bruneau Dune tiger beetle (Cicindela waynei) is supported by phylogenetic analysis of mitochondrial DNA sequence data. Conserv Genet 13, 373–380 (2012). https://doi.org/10.1007/s10592-011-0295-9
Received:

Accepted:

Published:

Issue Date:
Keywords
Bayesian species delimitation

Cicindela arenicola
Cicindela waynei

Mitochondrial DNA

Tiger beetle