Abstract
Management of certain populations requires the preservation of its pure genetic background. When, for different reasons, undesired alleles are introduced, the original genetic conformation must be recovered. The present study tested, through computer simulations, the power of recovery (the ability for removing the foreign information) from genealogical data. Simulated scenarios comprised different numbers of exogenous individuals taking part of the founder population and different numbers of unmanaged generations before the removal program started. Strategies were based on variables arising from classical pedigree analyses such as founders' contribution and partial coancestry. The efficiency of the different strategies was measured as the proportion of native genetic information remaining in the population. Consequences on the inbreeding and coancestry levels of the population were also evaluated. Minimisation of the exogenous founders' contributions was the most powerful method, removing the largest amount of genetic information in just one generation. However, as a side effect, it led to the highest values of inbreeding. Scenarios with a large amount of initial exogenous alleles (i.e. high percentage of non native founders), or many generations of mixing became very difficult to recover, pointing out the importance of being careful about introgression events in populations where these are undesired.
Access options
Buy single article
Instant access to the full article PDF.
US$ 39.95
Tax calculation will be finalised during checkout.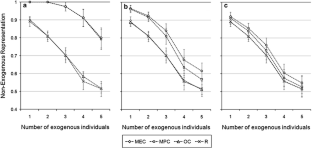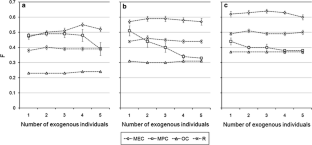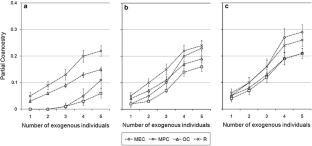 References
Allendorf FW, Luikart G (2007) Conservation and the genetics of populations. Blackwell, Malden

Allendorf FW, Leary RF, Spruell P, Wenburg JK (2001) The problems with hybrids: setting conservation guidelines. Trends Ecol Evol 16:613–622

Barilani M, Deregnaucourt S, Gallego S, Galli L, Mucci N, Piombo R, Puigcerver M, Rimondi S, Rodriguez-Teijeiro JD, Spano S, Randi E (2005) Detecting hybridization in wild (Coturnix c. coturnix) and domesticated (Coturnix c. japonica) quail populations. Biol Conserv 126:445–455

Beaumont M, Barratt EM, Gottelli D, Kitchener AC, Daniels MJ, Pritchard JK, Bruford MW (2001) Genetic diversity and introgression in the Scottish wildcat. Mol Ecol 10:319–336

Bouman I, Bouman J (1994) The history of the Przewalski's horse. In: Boyd L, Houpt KA (eds) Przewalski's horse: the history and biology of an endangered species. State University of New York Press, New York, pp 5–38

Boyer MC, Muhlfeld CC, Allendorf FW (2008) Rainbow trout (Oncorhynchus mykiss) invasion and the spread of hybridization with native westslope cutthroat trout (Oncorhynchus clarkii lewisi). Can J Fish Aquat Sci 65:658–669

Butler K, Field C, Herbinger CM, Smith BR (2004) Accuracy, efficiency and robustness of four algorithms allowing full sibship reconstruction from DNA marker data. Mol Ecol 13:1589–1600

Caballero A, Toro MA (2000) Interrelations between effective population size and other pedigree tools for the management of conserved populations. Genet Res 75:331–343

Dalvit C, De Marchi M, Cassandro M (2007) Genetic traceability of livestock products: a review. Meat Sci 77:437–449

Dantzig GB (1963) Linear programming and extensions. Princeton University Press, Princeton

Fernandez J, Toro MA (1999) The use of mathematical programming to control inbreeding in selection schemes. J Anim Breed Genet 116:447–466

Frankham R, Ballou JD, Briscoe DA (2002) Introduction to conservation genetics. Cambridge University Press, Cambridge

Freese CH, Aune KE, Boyd DP, Derr JN, Forrest SC, Gates CC, Goyan PJP, Grassel SM, Halbert ND, Kunkel K, Redford KH (2007) Second chance for the plains bison. Biol Conserv 136:175–184

Gandini G, Oldenbroek K (2007) Strategies for moving from conservation to utilisation. In: Oldenbroek K (ed) Utilisation and conservation of farm animal genetic resources. Wageningen Academic Publishers, Wageningen, pp 29–54

Groeneveld LF, Lenstra JA, Eding H, Toro MA, Scherf B, Pilling D, Negrini R, Finlay EK, Jianlin H, Groeneveld E, Weigend S, Consortium G (2010) Genetic diversity in farm animals—a review. Anim Genet 41:6–31

Halbert ND, Derr JN (2007) A comprehensive evaluation of cattle introgression into US federal bison herds. J Hered 98:1–12

Hall SJG, Bradley DG (1995) Conserving livestock breed biodiversity. Trends Ecol Evol 10:267–270

Ingvarsson PK (2001) Restoration of genetic variation lost—the genetic rescue hypothesis. Trends Ecol Evol 16:62–63

Kirkpatrick S, Gelatt CD, Vecchi MP (1983) Optimization by simulated annealing. Science 220:671–680

Lacy RC (1997) Errata. Evolution 51:1025

Lacy RC, Alaks G, Walsh A (1996) Hierarchical analysis of inbreeding depression in Peromyscus polionotus. Evolution 50:2187–2200

MAPA, (de) Ministerio de Agricultura, Pesca y Alimentación. (2003) Estudio y caracterización del sector equino en España, Madrid. http://www.eurocarne.com/informes/pdf/sector-equino.pdf

Miller CR, Adams JR, Waits LP (2003) Pedigree-based assignment tests for reversing coyote (Canis latrans) introgression into the wild red wolf (Canis rufus) population. Mol Ecol 12:3287–3301

Negro JJ, Torres MJ, Godoy JA (2001) RAPD analysis for detection and eradication of hybrid partridges (Alectoris rufa × A. graeca) in Spain. Biol Conserv 98:19–24

Padilla JA, Sansinforiano E, Parejo JC, Rabasco A, Martínez-Trancón M (2009) Inference of admixture in the endangered Blanca Cacereña bovine breed by microsatellite analyses. Livest Sci 122:314–322

Parker HG, Kim LV, Sutter NB, Carlson S, Lorentzen TD, Malek TB, Johnson GS, DeFrance HB, Ostrander EA, Kruglyak L (2004) Genetic structure of the purebred domestic dog. Science 304:1160–1164

Rhymer JM, Simberloff D (1996) Extinction by hybridization and introgression. Annu Rev Ecol Syst 27:83–109

Sušnik S, Berrebi P, Dovc P, Hansen MM, Snoj A (2004) Genetic introgression between wild and stocked salmonids and the prospects for using molecular markers in population rehabilitation: the case of the Adriatic grayling (Thymallus thymallus L. 1785). Heredity 93:273–282

Tallmon DA, Luikart G, Waples RS (2004) The alluring simplicity and complex reality of genetic rescue. Trends Ecol Evol 19:489–496

Volf J (1994) The Studbook. In: Boyd L, Houpt KA (eds) Przewalski's horse: the history and biology of an endangered species. State University of New York Press, New York, pp 61–73
Acknowledgments
This work was financed by Plan Nacional I+D+i (Spain) CGL2009-13278-C02-02. Carmen Amador was supported by a FPI-INIA Grant (INIA/Ministerio de Ciencia e Innovación). We are thankful to Luis Alberto García Cortés for making available the whole pedigree of Przewalski's horse and to Beatriz Villanueva on useful comments on the manuscript.
About this article
Cite this article
Amador, C., Toro, M.Á. & Fernández, J. Removing exogenous information using pedigree data. Conserv Genet 12, 1565–1573 (2011). https://doi.org/10.1007/s10592-011-0255-4
Received:

Accepted:

Published:

Issue Date:
Keywords
Undesired introgression

Genetic recovery