Abstract
The great Indian bustard (Ardeotis nigriceps) is an endemic endangered bird of the Indian subcontinent with a declining population, as a result of hunting and continuing habitat loss. In this first genetic study of this little-known species, we investigate the diversity of the mitochondrial DNA (hypervariable control region II and cytochrome b gene) among samples (n = 63) from five states within the current distribution range of great Indian bustards in India. We find just three haplotypes defined by three variable sites, a comparatively low genetic diversity of π = 0.0021 ± 0.0012 for cytochrome b, 0.0008 ± 0.0007 for the control region (CR), and 0.0017 ± 0.0069 for combined regions and no phylogeographic structure between populations. We provide evidence for a bottleneck event, estimate an effective population size (Ne) that is roughly concordant with recent population size estimates based on field surveys (~200 to 400), but extremely low for a widely distributed species. We also discuss the conservation implications. Based on our findings, we strongly recommend upgrading the IUCN threat status from Endangered to Critically Endangered.
This is a preview of subscription content,
to check access.
Access this article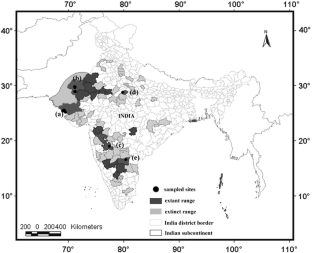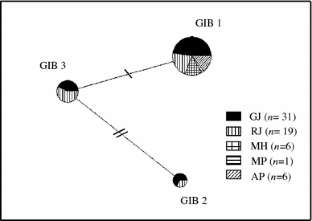 References
Ali S (1927) The mogul emperors of India as naturalists and sportsmen. J Bom Nat Hist Soc 32:34–63

Ali S, Ripley SD (1969) Handbook of the birds of India and Pakistan, vol 2, 2nd edn. Oxford University Press, Delhi

Amos W, Harwood J (1998) Factors affecting levels of diversity in natural populations. Philos Trans R Soc Lond B 353:177–186

Avise JC (1994) Molecular markers, natural history and evolution. Chapman and Hall, New York

Bandelt H-J, Forster P, Röhl A (1999) Median-joining networks for inferring intraspecific phylogenies. Mol Biol Evol 16:37–48. doi:10.1234/12345678

Beerli P, Felsenstein J (1999) Maximum likelihood estimation of migration rates and population numbers of two populations using a coalescent approach. Genetics 152:763–773. doi:10.1073/pnas.081068098

BirdLife International (2001) Threatened birds of Asia: the BirdLife International Red Data Book. BirdLife International, Cambridge, UK

Boom R, Sol CJ, Salimans MM, Jansen CL, Wertheim-van-Dillen PM, van der Noordaa J (1990) Rapid and simple method for purification of nucleic-acids. J Clin Microbiol 28:495–503

Broderick D, Idaghdour Y, Korrida A, Hellmich J (2003) Gene flow in great bustard populations across the Strait of Gibraltar as elucidated from excremental PCR and mtDNA sequencing. Conserv Genet 4:793–800. doi:10.1023/B:COGE.0000006111.65204.c9

Bush KL, Vinsky MD, Aldridge CL, Paszkowski CA (2005) A comparison of sample types varying in invasiveness for use in DNA sex determination in an endangered population of greater Sage-Grouse (Centrocercus uropihasianus). Conserv Genet 6:867–870. doi:10.1007/s10592-005-9040-6

Colwell RK (2009) EstimateS: statistical estimation of species richness and shared species from samples, version 8.2 User's guide and application. http://purl.oclc.org/estimates

Colwell RK, Coddington JA (1994) Estimating terrestrial biodiversity through extrapolation. Philos Trans R Soc B 345:101–118

Crochet PA, Desmarais E (2000) Slow rate of evolution in the mitochondrial control region of gulls (Aves: Laridae). Mol Biol Evol 17(12):1797–1806

del Hoyo J, Elliott A, Sargatal J (eds) (1996) Handbook of the Birds of the World, vol 3. Hoatzin to Auks. Lynx edicions, Barcelona

Dutta S, Rahmani AR, Jhala YVJ (2010) Running out of time? The great Indian bustard Ardeotis nigriceps—status, viability, and conservation strategies. Eur J Wild Res. doi:10.1007/s10344-010-0472-z

Eggert LS, Eggert JA, Woodruff DS (2003) Estimating population sizes for elusive animals: the forest elephants of Kakum National Park, Ghana. Mol Ecol 12:1389–1402

Fleischer RC, McIntosh CE, Tarr CL (1998) Evolution on a volcanic conveyor belt: using phylogeographic reconstructions and KAr-based ages of the Hawaiian Islands to estimate molecular evolutionary rates. Mol Ecol 7:533–545. doi:10.1046/j.1365-294x.1998.00364.x

Frankham R (1995) Effective population size adult population size ratios in wildlife: a review. Genet Res 56:35–42

Hoelzel AR, Shivji MS, Magnussen J, Francis MP (2006) Low worldwide genetic diversity in the basking shark (Cetorhinus maximus). Biol Lett 2:639–664. doi:10.1098/rsbl.2006.0513

Hogan FE, Cooke R, Burridge CP, Norman JA (2008) Optimising the use of shed feathers for genetic analysis. Mol Ecol Resour 8:561–567. doi:10.1111/j.1471-8286.2007.02044.x

Idaghdour Y, Broderick D, Korrida A (2003) Faeces as a source of DNA for molecular studies in a threatened population of great bustards in Morocco. Conserv Genet 4:789–792. doi:10.1023/B:COGE.0000006110.03529.95

Idaghdour Y, Broderick D, Korrida A, Chbel F (2004) Mitochondrial control region diversity of the houbara bustard Chlamydotis undulata complex and genetic structure along the Atlantic seaboard of North Africa. Mol Ecol 13(1):43–54. doi:10.1046/j.1365-294X.2003.02039.x

Johnsgard PA (1991) Bustards hemipodes and sandgrouse. Birds of dry places. Oxford University Press, New York

Khan AA, Khaliq I, Choudhry MJI, Farooq A, Hussain N (2008) Status, threats and conservation of the Great Indian Bustard Ardeotis nigriceps (Vigors) in Pakistan. Curr Sci 95(8):1079–1082

Kohn MH, York EC, Kanradt DA, Haught G, Sauvajot RM, Wayne RK (1999) Estimating population size by genotyping feces. Proc R Soc Lond B 266:657–663

Kuhner MK (2006) LAMARC 2.0: maximum likelihood and Bayesian estimation of population parameters. Bioinformatics 22:768–770. doi:10.1093/bioinformatics/btk051

Leonard JA, Vilà C, Wayne RK (2005) Legacy lost: genetic variability and population size of extirpated US grey wolves (Canis lupus). Mol Ecol 14:9–17

Lesobre L, Lacroix F, Caizergues A, Hingrat Y, Chalah T, Saint Jalme M (2010) Conservation genetics of Houbara Bustard (Chlamydotis undulata undulata): population structure and its implications for the reinforcement of wild populations. Conserv Genet 11:1489–1497. doi:10.1007/s10592-009-9979-9

Librado P, Rozas J (2009) DnaSP v5: a software for comprehensive analysis of DNA polymorphism data. Bioinformatics 25:1451–1452. doi:10.1093/bioinformatics/btp187

Matocq MD, Villablanca FX (2001) Low genetic diversity in an endangered species: recent or historic pattern? Biol Cons 98:61–68. doi:10.1016/S0006-3207(00)00142-7

Nei M (1987) Molecular evolutionary genetics. Columbia University Press, New York

Nunney L, Elam DR (1994) Estimating the effective population size of conserved populations. Conserv Biol 8:175–184. doi:10.1046/j.1523-1739.1994.08010175.x

Pitra C, Lieckfeldt D, Alonso JC (2000) Population subdivision in Europe's great bustard inferred from mitochondrial and nuclear DNA sequence variation. Mol Ecol 9:1165–1170. doi:10.1046/j.1365-294x.2000.00983.x

Pitra C, Lieckfeldt D, Frahnert S, Fickel J (2002) Phylogenetic relationships and ancestral areas of the bustards (Gruiformes:Otididae), inferred from mitochondrial DNA and nuclear intron sequences. Mol Phylogenet Evol 23:63–74. doi:10.1006/mpev.2001.1078

Pitra C, D'Aloia M-A, Lieckfeldt D, Combreau O (2004) Genetic variation across the current range of the Asian houbara bustard (Chlamydotis undulata macqueenii). Conserv Genet 5:205–215

Rahmani AR (1986) Status of Great Indian Bustard in Rajasthan-I. Technical 1 Report 11. Bombay Natural History Society, Mumbai

Rahmani AR (2001) The Godwana saga: Great Indian Bustards in decline. Sanctuary 21:24–28

Rahmani AR (2006) Need to start project bustards. Bombay Natural History Society, Mumbai. Unpublished report

Rogers AR, Harpending H (1992) Population growth makes waves in the distribution of pairwise genetic differences. Mol Biol Evol 9:552–569

Sankhala KS (1977) Captive breeding reintroduction and nature protection: the Indian experience. Inter Zoo Yearb 17:98–101. doi:10.1111/j.1748-1090.1977.tb00874.x

Schroeder MA, Young JR, Braun CE (1999) Sage-grouse (Centrocercus urophasianus). In: Poole A, Gill F (eds) The birds of North America. The Birds of North America, Inc, Philadelphia

Stiver JR, Apa AD, Remington TE, Gibson RM (2008) Polygyny and female breeding failure reduce effective population size in the lekking Gunnison sage-grouse. Biol Conserv 141:472–481. doi:10.1016/j.biocon.2007.10.018

Soriano BMA, Galdino S (2002) Análise das Condições Climáticas em 2000 na Sub-Região da Nhecolândia, Pantanal, Mato Grosso do Sul, Brasil. Boletim de Pesquisa e Desenvolvimento Embrapa Pantanal, 30, p 34

Tajima F (1989) Statistical method for testing the neutral mutation hypothesis by DNA polymorphism. Genetics 123:585–595

Wenink PW, Baker AJ, Tilanus MGJ (1993) Hypervariable-control-region sequences reveal global population structuring in a long-distance migrant shorebird, the dunlin (Calidris alpina). Proc Natl Acad Sci USA 90:94–98

Whistler H (1919) Some birds of Ludhiana district, Punjab. J Bom Nat Hist Soc 26:585–598

Wiley RH (1974) Evolution of social organization and life history patterns among grouse. Q Rev Biol 49:201–227

Zink RM, Blackwell RC (1998) Molecular systematics and biogeography of aridland gnatcatchers (genus Polioptila) and evidence supporting species status of the California gnatcatcher (Polioptila californica). Mol Phyl Evol 9:26–32
Acknowledgments
This study was funded by the Wildlife Institute of India. FI was supported by the Marie Curie Fellowship (MIF2-CT-2007-040845), European Commission during this study. We thank the Chief Wildlife Wardens and Forest Departments of Gujarat, Rajasthan, Maharashtra, Madhya Pradesh, and Andhra Pradesh for logistic support. We are grateful to T. Rao and S. Rajora for providing samples. We would also like to thank Forensic lab, WII, for help with DNA sequencing. We acknowledge I.P. Bopanna, K.K. Maurya, S. Pore, G. Punjabi and Y.C. Krishna for their help during fieldwork. Negi, Ibla, Isaaque, Shankar, Lakhma, Dev, Rekha, Tarun Singh, Ali, Ram, Jampe, Adi Srisaya, Gafur and Shankala are thanked for their sincere field assistance. We would like to thank two anonymous reviewers for their useful comments.
Electronic supplementary material
Below is the link to the electronic supplementary material.
About this article
Cite this article
Ishtiaq, F., Dutta, S., Yumnam, B. et al. Low genetic diversity in the endangered great Indian bustard (Ardeotis nigriceps) across India and implications for conservation. Conserv Genet 12, 857–863 (2011). https://doi.org/10.1007/s10592-011-0206-0
Received:

Accepted:

Published:

Issue Date:

DOI: https://doi.org/10.1007/s10592-011-0206-0
Keywords