Abstract
The worldwide distribution of blue whales (Balaenoptera musculus) has not prevented this species from becoming endangered due to twentieth century whaling. In Australia there are two known feeding aggregations of blue whales, which most likely are the pygmy subspecies (B. m. brevicauda). It is unknown whether individuals from these feeding aggregations belong to one breeding stock, or multiple breeding stocks that either share or occupy separate feeding grounds. This was investigated using ten microsatellite loci and mitochondrial DNA control region sequences (N = 110). Both sets of markers revealed no significant genetic structure, suggesting that these whales are likely to belong to the same breeding stock.
Access options
Buy single article
Instant access to the full article PDF.
USD 39.95
Price excludes VAT (USA)
Tax calculation will be finalised during checkout.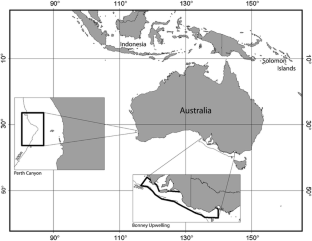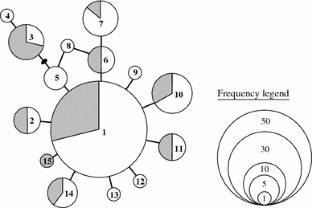 References
Branch TA, Stafford KM, Palacios DM, Allison C, Bannister JL, Burton CLK, Cabrera E, Carlson CA, Galletti Vernazzani B, Gill PC, Hucke-Gaete R, Jenner KCS, Jenner M-NM, Matsuoka K, Mikhalev YA, Miyashita T, Morrice MG, Nishiwaki S, Sturrock VJ, Tormosov D, Anderson RC, Baker AN, Best PB, Borsa P, Brownell RLJ, Childerhouse S, Findlay KP, Gerrodette T, Ilangakoon AD, Joergensen M, Kahn B, Ljungblad DK, Maughan B, McCauley RD, McKay S, Norris TF, Oman Whale and Dolphin Research Group, Rankin S, Samaran F, Thiele D, van Waerebeek K, Warneke RM (2007) Past and present distribution, densities and movements of blue whales Balaenoptera musculus in the Southern Hemisphere and northern Indian Ocean. Mamm Rev 37:116–175

Clapham PJ, Young SB, Brownell Jr RL (1999) Baleen whales: conservation issues and the status of the most endangered populations. Mamm Rev 29:35–60

Clement M, Posada D, Crandall KA (2000) TCS: a computer program to estimate gene genealogies. Mol Ecol 9:1657–1659

Cornuet JM, Luikart G (1996) Description and power analysis of two tests for detecting recent population bottlenecks from allele frequency data. Genetics 144:2001–2014

Donovan GP (1991) A review of IWC stock boundaries. Rep Int Whal Comm (Special Issue) 13:39–68

Excoffier L, Lischer HEL (2010) Arlequin suite ver 3.5: a new series of programs to perform population genetic analyses under Linux and Windows. Mol Ecol Resour 10:564–567

Garner A, Rachlow JL, Hicks JF (2005) Patterns of genetic diversity and its loss in mammalian populations. Conserv Biol 19:1215–1221

Garza JC, Williamson EG (2001) Detection of reduction in population size using data from microsatellite loci. Mol Ecol 10:305–318

Gill PC (2002) A blue whale (Balaenoptera musculus) feeding ground in a southern Australian coastal upwelling zone. J Cetacean Res Manage 4:179–184

Goudet J (1995) FSTAT (version 1.2): a computer program to calculate F-statistics. J Hered 86:485–486

Hoelzel AR (1991) Whaling in the dark. Nature 352:481

Hoelzel AR (1998) Genetic structure of cetacean populations in sympatry, parapatry, and mixed assemblages: implications for conservation policy. J Hered 89:451–458

Hubisz MJ, Falush D, Stephens M, Pritchard JK (2009) Inferring weak population structure with the assistance of sample group information. Mol Ecol Resour 9:1322–1332

Kuo C-H, Janzen FJ (2004) Genetic effects of a persistent bottleneck on a natural population of ornate box turtles (Terrapene ornata). Conserv Genet 5:425–437

Larsen AH, Sigurjónsson J, Øien N, Vikingsson G, Palsbøll PJ (1996) Populations genetic analysis of nuclear and mitochondrial loci in skin biopsies collected from central and northeastern North Atlantic humpback whales (Megaptera novaeangliae): population identity and migratory destinations. Proc R Soc Lond B Biol Sci 263:1611–1618

LeDuc RG, Dizon AE, Goto M, Pastene LA, Kato H, Nishiwaki S, Leduc CA, Brownell RL (2007) Patterns of genetic variation in the Southern Hemisphere blue whales and the use of assignment test to detect mixing on the feeding grounds. J Cetacean Res Manage 9:73–80

Möller LM, Beheregaray LB (2001) Coastal bottlenose dolphins from southeastern Australia are Tursiops aduncus according to sequences of the mitochondrial DNA control region. Mar Mamm Sci 17:249–263

Ohsumi S, Shigemune H (1993) A sightings survey of larger whales in lower latitudinal waters of the Pacific in austral winter, with special reference to the blue whale. Paper Blue/WP6 presented to the ad hoc Steering Group Intersessional Meeting on Research related to Conservation of Large Baleen Whales - Blue Whales - in the Southern Ocean, Tokyo, October (unpublished)

Palsbøll PJ, Clapham PJ, Mattila DK, Larsen F, Sears R, Siegismund HR, Sigurjónsson J, Vásquez O, Arctander P (1995) Distribution of mtDNA haplotypes in North Atlantic humpback whales: the influence of behaviour on population structure. Mar Ecol Prog Ser 116:1–10

Park SDE (2001) Trypanotolerance in west African cattle and the population genetic effects of selection. Dissertation, University of Dublin

Patenaude NJ, Portway VA, Schaeff CM, Bannister JL, Best PB, Payne RS, Rowntree VJ, Rivarola M, Baker CS (2007) Mitochondrial DNA diversity and population structure among southern right whales (Eubalaena australis). J Hered 98:147–157

Peakall R, Smouse P (2006) GENALEX 6: genetic analysis in Excel. Population genetic software for teaching and research. Mol Ecol Notes 6:288–295

Piry S, Luikart G, Cornuet J-M (1999) BOTTLENECK: a computer program for detecting recent reductions in the effective population size using allele frequency data. J Hered 90:502–503

Raymond M, Rousset F (1995) GENEPOP (version 1.2): population genetics software for exact tests and ecumenicism. J Hered 86:248–249

Rennie S, Hanson CE, McCauley RD, Pattiaratchi C, Burton C, Bannister J, Jenner C, Jenner M-N (2009) Physical properties and processes in the Perth Canyon, Western Australia: links to water column production and seasonal pygmy blue whale abundance. J Mar Syst 77:21–44

Rice DW (1998) Marine mammals of the world: systematics and distribution. Special publication no. 4. The Society for Marine Mammalogy, Lawrence, Kansas

Ryman N, Palm S (2006) POWSIM: a computer program for assessing statistical power when testing for genetic differentiation. Mol Ecol 6:600–602

Schuelke M (2000) An economic method for the fluorescent labeling of PCR fragments. Nat Biotechnol 18:233–234

Sunnucks P, Hales DF (1996) Numerous transposed sequences of mitochondrial cytochrome oxidase I-II in aphids of the genus Sitobion (Hemiptera: Aphididae). Mol Biol Evol 13:510–524

van Oosterhout C, Hutchinson WF, Wills DPM, Shipley P (2004) MICRO-CHECKER: software for identifying and correcting genotyping errors in microsatellite data. Mol Ecol Notes 4:535–538
Acknowledgments
This study was funded by the Australian Marine Mammal Centre, Australian Antarctic Division. Sampling was conducted during a study program funded by the Australian Defence Department and the Australian Department of Environment, Water, Heritage and the Arts under animal ethics approval from the Department of Conservation and Land Management Animal Ethics Committee (#CAEC/14/2002), Deakin University Animal Welfare Committee (#A19/2006), and/or Macquarie University Animal Research Authority (#2008/017). Permits were supplied by the Department of Environment, Water, Heritage and the Arts (EPBC permits #E2008-0001, #E2003-48230, #E2002-00029) and Department of Sustainability and Environment in Victoria (#10004017).
Electronic supplementary material
Below is the link to the electronic supplementary material.
About this article
Cite this article
Attard, C.R.M., Beheregaray, L.B., Jenner, C. et al. Genetic diversity and structure of blue whales (Balaenoptera musculus) in Australian feeding aggregations. Conserv Genet 11, 2437–2441 (2010). https://doi.org/10.1007/s10592-010-0121-9
Received:

Accepted:

Published:

Issue Date:

DOI: https://doi.org/10.1007/s10592-010-0121-9
Keywords