Abstract
Cicindela (Cylindera) terricola Say is one of the most widespread and variable species of Nearctic Cicindelidae with six recognized subspecies. Cicindela t. lunalonga Schaupp (1884) is known from few museum specimens collected prior to 1979. The goal of this study was to resolve the uncertain taxonomic status of C. t. lunalonga using mitochondrial DNA analysis of cytochrome b and cytochrome oxidase subunit I and determine its conservation status. In phylogenetic reconstruction using distance and parsimony methods, all members of the terrricola group were recovered as monophyletic and embedded within outgroup species of the subgenus Cylindera, while C. lunalonga was recovered as sister to all other members of the C. terricola clade. Cicindela lunalonga exhibited an exceptionally high (mean of 6.36%) pairwise sequence divergence for both genes against all C. terricola surveyed. For the cytochrome oxidase subunit I alone the pairwise divergence was 3.9–4.8% (4.58% avg.). The lowest divergences were between C. lunalonga and C. terricola subspecies of the American southwest (C. t. cinctipennis and C. t. kaibabensis), rather than with the closest geographic neighbors (C. t. imperfecta). We conclude that based on strict monophyly and pairwise sequence divergence, C. lunalonga is a distinct species. Our study of museum specimens and extensive field surveys suggest this species has been extirpated from all sites in the San Joaquin Valley and perhaps all but one of the historic sites throughout its range. Thus, it should be considered for Federal listing as an endangered species.
Access options
Buy single article
Instant access to the full article PDF.
USD 39.95
Price includes VAT (USA)
Tax calculation will be finalised during checkout.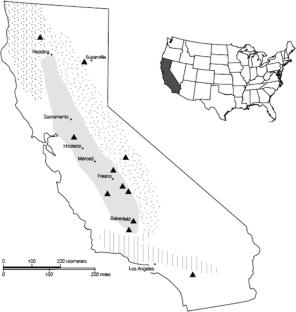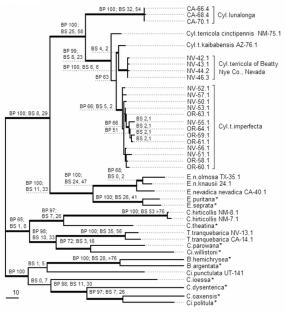 References
Archie JW (1985) Methods for coding variable morphological features for numerical taxonomic analysis. Sys Zool 34:326–345

Barraclough TG, Vogler AP (2002) Recent diversification rates in North American tiger beetles estimated from a dated mtDNA phylogenetic tree. Mol Bio Evol 19:1706–1716

Barraclough TG, Hogan JE, Vogler AP (1999) Testing whether ecological factors promote cladogenesis in a group of tiger beetles (Coleoptera: Cicindelidae). Proc R Soc Lond B 266:1061–1067

Bensasson D, De-Xing Z, Hartl DL, Hewitt GM (2001) Mitochondrial pseudogenes: evolution's misplaced witnesses. Trends Ecol Evol 16:314–321

Boore JL (2001) Mitochondrial gene arrangement source guide, Version 6.0. Department of the Environment Joint Genome Institute, Walnut Creek, California (available from http://evogen.jgi.doe.gov/second_levels/mitochondria/MGA_Guide.html)

Boyd HP, Rust RW (1982) Intraspecific and geographic variations in Cicindela dorsalis Say (Coleoptera: Cicindelidae). Coleop Bul 36:221–239

Boyd HP, Associates (1982) Checklist of the Cicindelidae. The tiger beetles. Plexus Publishing Co., Marlton, New Jersey, 31 pp

Brower AVZ (1994) Rapid morphological radiation and convergence among races of the butterfly Heliconius erato inferred from patterns of mitochondrial DNA evolution. Proc Nat Acad Sci USA 91:6491–6495

Bull JJ, Huelsenbeck JP, Cunningham CW, Swofford DL, Waddell PJ (1993) Partitioning and combining data in phylogenetic analysis. Syst Biol 42:384–397

Cardoso A, Vogler AP (2005) DNA Taxonomy of the Cicindela hybrida Group 3545. Mol Ecol 14:3531–3546

Cardoso A, Vogler AP, Serrano A (2003) Morphological and genetic variation in Cicindela lusitanica Mandl, 1935 (Coleoptera, Carabidae, Cicindelinae): implications for conservation. Graellsia 59:415–426

Casey TL (1914) Studies on the Cicindelidae and Carabidae of America. Memoirs on the Coleoptera. New Era Publishing Co., Lancaster, PA 5:1–92

Cazier MA (1937) Four new California Coleoptera. Pan-Pacific Entomol 13:115–118

Cazier MA (1948) The origin, distribution, and classification of the tiger beetles of lower California (Coleoptera: Cicindelidae). Am Mus Nov 1382:1–28

Choate PM (1984) A new species of Cicindela Linnaeus from Florida (Coleoptera: Cicindelidae), and elevation of C. abdominalis scabrosa Schaupp to species level. Entomol News 95:73–82

Cracraft J (1983) Species concepts and speciation analysis. Current Ornithol 1:159–187

Diogo AC, Vogler AP, Gimenez A, Gallego D, Galian DJ (1999) Conservation genetics of Cicindela deserticoloides, an endangered tiger beetle endemic to southeastern Spain. J Insect Consev 3:117–123

Duckett CN, Kjer KM (2003) Cladistic analysis of the Oedionychines of Southern Brazil (Galerucinae: Alticini) based on two molecular markers. In: Furth DG (Ed) Special topics in leaf beetle biology: Proceeding of 5th International Symposium on the Chrysomelidae. Pensoft Publishers, Sofia-Moscow, 117–132

Farris JS (1972). Estimating phylogenetic trees from distance matrices. Am Nat 106:645–668

Farris JS, Källersjö M, Kluge AG, Bult C (1994) Testing significance of incongruence. Cladistics 10:315–319

Felsenstein J (1981) Evolutionary trees from DNA sequences: a maximum likelihood approach. J Mol Evol 17:368–376

Felsenstein J (1984) Distance methods for inferring phylogenies: a justification. Evolution 38:16–24

Freitag R (1965) A revision of the North American species of the Cicindela maritima group with a study of hybridization between Cicindela duodecimguttata and oregona. Quaest Entomol 1:87–170

Freitag R (1999) Catalogue of the tiger beetles of Canada and the United States. NRC Research Press, Ottawa, Ontario, Canada K1A 0R6, 195 pp

Goldstein PZ, R DeSalle (2000) Phylogenetic species, nested hierarchies, and character fixation. Cladistics 16:364–384

Graves RC, Krejci ME, ACF Graves (1988) Geographic variation in the North American tiger beetle, Cicindela hirticollis Say, with description of five new subspecies (Coleoptera: Cicindelidae). Can Entomol 120:647–678

Hall TA (1999) BioEdit: a user-friendly biological sequence alignment editor and analysis program for Windows 95/98/NT. Nucleic Acids Symposium Series 41:95–98

Hasegawa M, Kishino H, Yano T (1985) Dating the human-ape split by a molecular clock of mitochondrial DNA. J Mol Evol 22:160–174

Hebert PDN, Ratnasingham S, JR deWaard (2003) Barcoding animal life: cytochrome c oxidase subunit 1 divergences among closely related species. Proc R Soc Lond B 270:S96–S99

Hebert PDN, Penton EH, Burns JM, Janzen DH, Hallwachs W (2004) Ten species in one: DNA barcoding reveals cryptic species in the Neotropical skipper butterfly Astraptes fulgerator. Proc Nat Acad Sci 101:14812–14817

Huelsenbeck JP, Jonathan Bollback P, Amy M Levine (2002) Inferring the Root of a Phylogenetic Tree. Syst Biol 51(1):32–43

Horn W (1915) Coleoptera Adephaga (Family Carabidae, Subfamily Cicindelidae). In: Wytsman P (ed) Genera insectorum. Fascicles 82 A-C, Brussels, 484 pp

Johnson WN (1990) A new subspecies of Cicindela pusilla Say from Northern Arizona. Cicindela 22:1–12

Kimura M (1980) A simple method for estimating evolutionary rate of base substitution through comparative studies of nucleotide sequences. Jour Mol Evol 16:111–120

Kippenhan MG (1994) The tiger beetles (Coleoptera: Cicindelidae) of Colorado. Trans Am Entomol Soc 120:1–86

Kippenhan MG (2005) Notes on the biogeography and dorsal coloration of Cicindela amargosae Dahl (Coleoptera: Carabidae). Wes N Am Nat 65:145–152

Kippenhan MG (in press) The taxonomic status of Cicindela (Cylindera) terricola continua and description of a new subspecies of Cicindela (Cy.) terricola from California (Coleoptera: Carabidae: Cicindelidae). Cicindela

Kishino H, Hasegawa M (1989) Evaluation of the maximum likelihood estimate of the evolutionary tree topologies from DNA sequence data, and the branching order in Hominoidea. J Mol Evol 29:170–179

Knisley CB (1984) Ecological distribution of tiger beetles (Coleoptera: Cicindelidae) in Colfax County, New Mexico. Southwest Nat 29:93–104

Knisley CB, Hill JM (1992) Effects of habitat change from ecological succession and human impact on tiger beetles. Virginia J Sci 43:133–142

Knisley CB, Schultz TD (1997) The biology of tiger beetles and a guide to the species of the South Atlantic states. Virginia Museum of Natural History, Special Publication Number 5, Virginia, 210 pp

Kritsky G, Horner L (1988) Geographic variation in Cicindela tranquebarica Herbst (Coleoptera: Cicindelidae). Cicindela 30:13–32

Lake JA (1987) A rate-independent technique for analysis of nucleic acid sequences: evolutionary parsimony. J Mol Evol 4:167–191

Lanave C, Preparata G, Saccone C, Serio G (1984) A new method for calculating evolutionary substitution rates. J Mol Evol 20:86–93

Larochelle A, Lariviere MC (2001) Natural history of tiger beetles of America north of Mexico. Cicindela 29:33–84

Leng CW (1902) Revision of the Cicindelidae of boreal America. Trans Am Entomol Soc 28:93–186

Leffler SR (2001) A new species of tiger beetle from southwestern Idaho (Coleoptera: Cicindelidae). Cicindela 33:19–40

Mayr E (1963) Animal species and evolution. Harvard University Press, Cambridge, Massachusetts, 811 pp

Morgan M, Knisley CB, Vogler AP (2000) New taxonomic status of the endangered tiger beetle Cicindela limbata albissima (Coleoptera: Cicindelidae). Ann Entomol Soc Am 93:1108–1115

Moritz C, Cicero C (2004) DNA Barcoding: promise and pitfalls. PLoS Biol 2:1529–1531

Pearson DL, Cassola F (1992) World-wide species richness patterns of tiger beetles (Coleoptera: Cicindelidae): indicator taxon for biodiversity and conservation studies. Conserv Biol 6:377–391

Pearson DL, Carroll SS (1997) Global patterns of species richness: spatial models for conservation planning using bioindicator and precipitation data. Conserv Biol 12:809–821

Pearson DL, Vogler AP (2001) Tiger Beetles. The evolution, ecology and diversity of the Cicindelids, Cornell University Press, xiii + 332 pp

Pearson DL, Knisley CB, Kazilek CJ (2006) A field guide to tiger beetles of the United States and Canada: identification, natural history, and distribution of the Cicindelidae. Oxford University Press, New York, 227 p

Pons J, Barraclough T, Theodorides K, Cardoso A, Vogler A (2004) Using Exon and Intron sequences of the Gene Mp20 to resolve basal relationships in Cicindela (Coleoptera:Cicindelidae). Syst Biol 53:554–570

Rivalier E (1950) Démembrement du genre Cicindela Linné. (Travail préliminaire limité a la faune paléarctique). Rev Franc Entomol 17:217–244

Rivalier E (1954) Démembrement du genre Cicindela Linné. II. Faune américaine. Rev Franc'Entomol 21:249–268

Rodríquez F, Oliver JL, Marín A, Medina JR. 1990: The general stochastic model of nucleotide substitution. J Theor Biol 142: 485–501

Schaupp FG (1884) Remarks and description of new species. Bull Brooklyn Entomol Soc 6:121–124

Schultz TD (1986) Role of structural colors in predator avoidance by tiger beetles of the Genus Cicindela (Coleoptera, Cicindelidae). Bull Entomol Soc Am 32:142–146

Schincariol LA, Freitag R (1991) Biological character analysis, classification, and history of the North American Cicindela splendida Hentz group taxa (Coleoptera: Cicindelidae). Can Ent 123:1327–1353

Seberg O, Humphries CJ, Knapp S (2003) Shortcuts in systematics? A commentary on DNA-based taxonomy. Trends Ecol Evol 18:63–65

Serrano ARM (1988) Contribution to the knowledge of Cicindela hybrida lusitanica Mandl, 1935 (Coleoptera, Cicindelidae) and description of a new subspecies, C. hybrida algarbica n. ssp. From Algarve-Portugal. Bol Soc Portuguesa Entomol 95:1–17

Shaffer HB, ML McKnight (1996) The polytypic species revisited: genetic differentiation and molecular phylogenetics of the tiger salamander (Ambystoma tigrinum) (Amphibia: Caudata) complex. Evolution 50:417–433

Sites JW, Marshall JC (2003) Delimiting species: a Renaissance issue in systematic biology. Trends Ecol Evol 18:462–470

Sota T, Ishikawa R, Ujiie M, Kusumoto F, Vogler AP (2001) Extensive trans-species mitochondrial polymorphisms in the carabid beetles Carabus subgenus Ohomopterus caused by repeated introgressive hybridization. Mol Ecol 10:2833–2847

Spanton TG (1988) The Cicindela sylvatica group: Geographical variation and classification of the Nearctic taxa and reconstructed phylogeny and geographical history of the species (Coleoptera: Cicindelidae). Quaest Entomol 24:51–161

Swofford, DL (2002) PAUP*. Phylogenetic Analysis Using Parsimony (*and Other Methods), Version 4. Sinauer Associates, Sunderland, Massachusetts

Swofford DL, Olsen GJ, Waddell, Hillis DM (1996) Phylogenetic inference. In: Hillis DM, Moritz C, Mable BK (eds) Molecular Systematics. Sunderland, Massachusetts, Sinauer, pp 407–514

Tajima F, Nei M (1984) Estimation of evolutionary distance between nucleotide sequences. Mol Bio Evol 1:269–85

Tamura K, Nei M (1993) Estimation of the number of nucleotide substitutions in the control region of mitochondrial DNA in humans and chimpanzees. Mol Bio Evol 10:512–526

Tautz D, Arctander P, Minelli A, Thomas RH, Vogler AP (2003) A plea for DNA taxonomy. Trends Ecol Evol 18:70–74

Templeton AR (1983) Phylogenetic inference from restriction endonuclease cleavage site maps with particular reference to the evolution of humans and apes. Evolution 37:221–244

Vick KW, Roman SJ (1985) Elevation of Cicindela nigrior to species rank. Insecta Mundi 1:27–28

Vogler A, Cardoso A, Barraclough T (2005) Exploring rate variation among and within sites in a densely sampled tree: species level phylogenetics of North American tiger beetles (genus Cicindela). Sys Biol 54:4–20

Vogler AP, R DeSalle (1993) Phylogeographic patterns in coastal North American tiger beetles (Cicindela dorsalis Say) inferred from Mitochondrial DNA Sequences. Evolution 47:1192–1202

Vogler AP, Welsh A (1997) Phylogeny of North American Cicindela tiger beetles inferred from multiple mitochondrial DNA sequences. Mol Phylogenet Evol 8:225–35

Wiens JJ, Penkrot TA (2002) Delimiting species using DNA and morphological variation and discordant species limits in spiny lizards (Sceloropus). Syst Biol 51:69–91

Wiesner J (1992) Verzeichnis der Sandlaufkäfer der Welt, Checklist of the tiger beetles of the world, Verlag, Erna Bauer, Keltern-Weiler, Germany, 366 pp

Will KW, Rubinoff D (2004) Myth of the molecule: DNA barcodes for species cannot replace morphology for identification and classification. Cladistics 20:47–55

Willis HL (1967) Bionomics and zoogeography of the tiger beetles of saline habitats in the central United States (Coleoptera: Cicindelidae). Univ Kans Sci Bull 67:145–313
Acknowledgements
Boris Kondratieff, Jeff Owens, Jason Schmidt (Colorado State University, Fort Collins, CO) and Susan Agre-Kippenhan (Bozeman, MT) helped collect specimens. Charles L. Bellamy (CSCA, Sacramento, CA), Lee Herman (AMNH, New York, NY), Gloria N. House (NMNH, Washington D.C.), Philip Perkins (MCZC, Cambridge, MA) and Dan Sumlin (San Antonio, TX) loaned specimens in their care. D.W. Brzoska (Naples, FL) and Christopher Rogers (Sacramento, CA) provided collecting information. R. Dennis Haines (Tulare, CA) loaned specimens, helped with field surveys and offered valuable historical insight on the Central Valley. Tiffany Breen (Tulare County Museum, Visalia, CA) provided information on the San Joaquin Mill. James LaBonte (Oregon Department of Agriculture, Salem, OR), David Kavanaugh and Roberta Brett (CASC, San Francisco, CA) provide facilities for the first author. Ying Ping Wang (Richmond, VA) offered expert oversight for mtDNA sequencing. Alfried Vogler and Grace Lim reviewed earlier drafts of this manuscript and provided useful suggestions.
About this article
Cite this article
Woodcock, M.R., Kippenhan, M.G., Knisley, C.B. et al. Molecular genetics of Cicindela (Cylindera) terricola and elevation of C. lunalonga to species level, with comments on its conservation status. Conserv Genet 8, 865–877 (2007). https://doi.org/10.1007/s10592-006-9233-7
Received:

Accepted:

Published:

Issue Date:
Keywords
Coleoptera

Carabidae

Cicindelinae

Cicindela lunalonga
Cicindela terricola

Mitochondrial DNA

Conservation

Molecular genetics

Tiger beetle