Abstract
Mitochondrial DNA cytochrome oxidase subunit I and nuclear ITS2 sequences were surveyed from Canary Islands threatened species of the genera Purpuraria and Acrostira (Orthoptera: Pamphagidae). Phylogenetic and population analyses show that the two previously recognized Purpuraria erna subspecies are not valid as conservation units, and that there is a new unrecognized species of Purpuraria, coincident with recently discovered morphological variation within the genus. In addition, mitochondrial introgression seems to occur between the two Purpuraria species in southwest Lanzarote. Species-delimitation based on the morphological taxonomy of Acrostira, which recognizes four single-island endemics, is only partially supported by the genetic data. It shows that currently admitted species from the central and western islands of Tenerife, La Gomera and La Palma are closely related, with evidence of recent gene flow between the Tenerife and La Gomera populations. MtDNA variation also showed that A. euphorbiae, currently considered as the most critically endangered grasshopper species in the Canaries, has lower population diversity than its close relatives.
Access options
Buy single article
Instant access to the full article PDF.
US$ 39.95
Tax calculation will be finalised during checkout.
Subscribe to journal
Immediate online access to all issues from 2019. Subscription will auto renew annually.
US$ 79
Tax calculation will be finalised during checkout.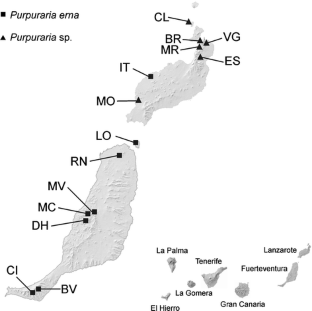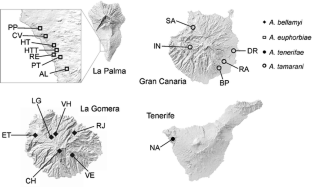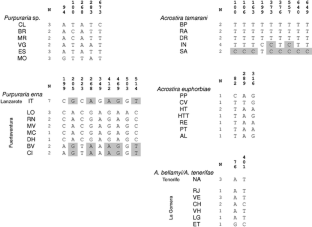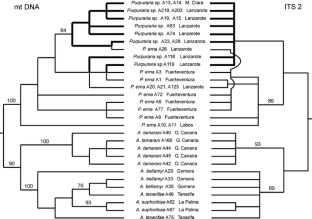 References
Báez M (1984) Los panfágidos de las Islas Canarias, con la descripción de una nueva especie: Acrostira tamarani n. sp. (Orthoptera., Pamphagidae). In: Tomo homenaje al Dr. Antonio González González, pp. 37–45 Secretariado de Publicaciones (Universidad La Laguna), Santa Cruz de Tenerife, Spain

Beheregaray LB, Ciofi C, Caccone A, Gibbs JP, Powell JR (2003) Genetic divergence, phylogeography and conservation units of giant tortoises from Santa Cruz and Pinzón, Galápagos Islands. Conservation Genetics 4:31–46

Bland R (2001) Additions to the Orthoptera (sen lat) of the Canary Islands. J Orthopt Res 10:113–119

BOC (2001) Catálogo Regional de Especies Amenazadas. Boletín Oficial de Canarias 97:11106–11111

BOE (1998) Catálogo Nacional de Especies Amenazadas. Boletín Oficial del Estado 172:24300–24301

Carracedo JC, Singer B, Jicha B, Guillou H, Rodríguez Badiola E, Meco J, Pérez Torrado FJ, Gimeno D, Socorro S, Lainez, A (2003) La erupción y el tubo volcánico del Volcán Corona (Lanzarote, Islas Canarias). Est Geol 59:277–302

Carson HL, Lockwood JP, Craddock EM (1990) Extinction and recolonization of local populations on a growing shield volcano. Proc Nat Acad Sci 87:7055–7057

Cracraft J (1983) Species concepts and speciation analysis. In Current Ornithology, vol. 1, pp. 159–187, Plenum Press, New York

Crandall KA, Bininda-Emonds ORP, Mace GM, Wayne RK (2000) Considering evolutionary processes in conservation biology. Trends Ecol Evol 15:290–295

Davis JI, Nixon KC (1992) Populations, genetic variation, and the delimitation of phylogenetic species. Syst Biol 41:421–435

DeSalle R, Amato G (2004) The expansion of conservation genetics. Nat Rev Gen 5:702–712

DeSalle R, Egan MG, Siddall M (2005) The unholy trinity: taxonomy, species delimitation and DNA barcoding. Phil Trans R Soc B, 360

Dirsh VM (1965) The African Genera of Acridoidea. Cambridge University Press, New York

Dirsh VM (1975) Classification of the acridomorphoid insects. Farringdon, Oxford

Dover GA (1982) Molecular drive, a cohesive mode of species evolution. Nature 299:111–117

Dover GA, Linares AR, Bowen T, Hancock JM (1993) Detection and quantification of concerted evolution and molecular drive. Methods Enzymol 224:525–541

Enderlein G (1929) Entomologica Canaria IV. Wien Ent Zeit 46:95–109

Enderlein G (1930) Entomologica Canaria VII. Zool Anz 92:41–56

Excoffier L, Smouse P, Quattro J (1992) Analysis of molecular variance inferred from metric distances among DNA haplotypes: application to human mitochondrial DNA restriction data. Genetics 131:479–491

Frankham R, Ballou JD, Briscoe DA (2002) Introduction to Conservation Genetics. Cambridge University Press. Cambridge

Fraser DJ, Bernatchez L (2001) Adaptive evolutionary conservation: towards a unified concept for defining conservation units. Mol Ecol 10:2741–2752

Funk DJ, Omland KE (2003) Species-level paraphyly and polyphyly: Frequency, causes, consequences, with insights from animal mitochondrial DNA. Ann Rev Ecol Syst 34:397–423

García-Becerra R, Oromí P (1992) Acrostira euphorbiae sp. n. de Pamphagidae (Orthoptera) de La Palma (Islas Canarias). Eos 68:99–109

Gillespie RG, Roderick GK (2002) Arthropods on islands: colonization, speciation and conservation. Annu Rev Entomol 47:595–632

Goldstein PZ, Desalle R, Amato G, Vogler AP (2000) Conservation Genetics at the Species Boundary. Cons Biol 14:120–131

Hall TA (1999) BioEdit: a user-friendly biological sequence alignment editor and analysis program for Windows 95/98/NT. Nucl Acids Symp Ser 41:95–98

Hillis DM, Dixon MT (1991) Ribosomal DNA: molecular evolution and phylogenetic inference. Quart Rev Biol 66:411–453

Jordan S, Simon C, Foote D, Englund RA (2005) Phylogeographic patterns of Hawaiian Megalagrion damselflies (Odonata: Coenagrionidae) correlate with Pleistocene island boundaries. Mol Ecol 14:3457–3470

López H, Contreras-Díaz H, Morales E, Báez M, Oromí P (2004) Distribución de Acrostira euphorbiae (Orthoptera, Pamphagidae) en La Palma (Islas Canarias). Rev Acad Canar Cienc 15:43–51

López H, Pérez AJ, Oromí P, Acevedo AJ, Rodríguez B, Hernández A (2005) Un nuevo Pamphagidae de Tenerife (Orthoptera, Caelifera). Vieraea 33:419–434

Milne I, Wright F, Rowe G, Marshal DF, Husmeier D, McGuire G (2004) TOPALi: Software for automatic identification of recombinant sequences within DNA multiple alignments. Bioinformatics 20:1806–1807

Monaghan MT, Balke M, Gregory TR, Vogler AP (2005) DNA-based species deliniation in tropical beetles using mitochondrial and nueclear markers. Phil Trans R Soc B 360:1925–1933

Monaghan MT, Balke M, Pons J, Vogler AP (2006) Beyond barcodes: complex DNA taxonomy of a South Pacific Island radiation. Proc R Soc B 273:887–893

Moritz C (2002) Strategies to protect biological diversity and the processes that sustain it. Syst Biol 51:238–254

Moya O, Contreras-Díaz HG, Oromí P, Juan C (2004) Genetic structure, phylogeography and demography of two ground-beetle species endemic to the Tenerife laurel forest (Canary Islands). Mol Ecol 13:3153–3167

Nixon KC, Wheeler QD (1990) An amplification of the phylogenetic species concept. Cladistics 6:211–223

Oromí P, Báez M (2005) Phylum Arthopoda. In: Izquierdo I, Martín JL, Zurita N, Arechavaleta M (eds) Lista de especies silvestres de Canarias (hongos, plantas y animales terrestres). Consejería de Medio Ambiente y Ordenación Territorial, Gobierno de Canarias Santa Cruz de Tenerife, Spain, pp 149–154

Oromí P, Martín S, Galindo A (2001) Nuevos datos sobre la familia Pamphagidae en Canarias (Orthoptera, Caelifera). Vieraea 29:89–95

Otte D (1994) Orthoptera Species File, 3, Grasshoppers (Acridomorpha) B. Orthopterists' Society and Academy of Natural Sciences of Philadelphia, Philadelphia

Parkin EJ, Butlin RK (2004) Within- and between-individual sequence variation among ITS1 copies in the meadow grasshopper Chorthippus parallelus indicates frequent intrachromosomal gene conversion. Mol Biol Evol 21:1595–1601

Posada D, Crandall KA (1998) Modeltest: testing the model of DNA substitution. Bioinformatics 14:817–818

Rozas J, Rozas R (1999) DnaSP, Version 3: an integrated program for molecular population genetics and molecular evolution analysis. Bioinformatics 15:174–175

Samways MJ, Lockwood JA (1998) The Conservation of Orthoptera: Pests and Paradoxes. J Insect Cons 2:143–149

Schneider S, Roessli D, Excoffier L (2000) ARLEQUIN, Version 2.000: a Software for Population Genetics Data Analysis. Genetics and Biometry Laboratory University of Geneva, Geneva

Shaw KL (2002) Conflict between nuclear and mitochondrial DNA phylogenies of a recent species radiation: what mtDNA reveals and conceals about modes of speciation in Hawaiian crickets. Proc Natl Acad Sci USA 99:16122–16127

Shimodaira H, Hasegawa M (1999) Multiple comparisons of log-likelihoods with applications to phylogenetic inference. Mol Biol Evol 16:1114–1116

Simon C, Frati F, Beckenbach AT, Crespi B, Liu H, Flook P (1994) Evolution, weighting and phylogenetic utility of mitochondrial gene sequences and a compilation of conserved polymerase chain reaction primers. Ann Entomol Soc Am 87:651–701

Sites JW, Marshall JC (2003) Delimiting species: a Renaissance issue in systematic biology. Trends Ecol Evol 18:462–470

Swofford D (2002) PAUP*. Phylogenetic Analysis Using Parsimony Version 40b. Sinauer Associates, Massachussetts

Uvarov BB (1922) Orchamus bellamyi sp n, a new Pamphagid grasshopper from the Canary Islands. Ent Monthly Mag 3:139–141

Vandergast AG, Gillespie RG, Roderick GK (2004) Influence of volcanic activity on the population genetic structure of Hawaiian Tetragnatha spiders: fragmentation, rapid population growth and the potential for accelerated evolution. Mol Ecol 13:1729–1743

Vogler AP, DeSalle R (1994a) Diagnosing units of conservation management. Cons Biol 8:354–363

Vogler AP, DeSalle R (1994b) Evolution and phylogenetic content of the ITS1 region in the tiger beetle Cicindela dorsalis. Mol Biol Evol 11:393–405

White TJ, Bruns T, Lee S, Taylor J (1990) Amplification and direct sequencing of fungal ribosomal RNA genes for phylogenetics. In: Innis MA, Gelfand DH, Shinsky JJ, White TJ (eds) PCR Protocols: A Guide to Methods and Applications. Academic Press, San Diego, pp 315–322

Wiens JJ, TL Penkrot (2002) Delimiting species based on DNA and morphological variation and discordant species limits in spiny lizards (Sceloporus). Syst Biol 51:69–91
Acknowledgements
We acknowledge the comments of Dr Vogler and of two anonymous referees that helped to improve the paper. We are also indebted to Pablo Barranco and José Antonio Jurado (Spain), Antoine Foucart and Michel Lecoq (France), Amnon Freidberg (Israel) and Barbara Dombrowsky (South Africa) for providing individuals of some continental species. Bruno Massa (Italy) kindly identified the species from Morocco. Helena Morales, Salvador de la Cruz, Nuria Macías, Antonio J. Pérez, Bernardo Rodríguez, Rafael Ruiz, Esther Cano, Ancor González, Nauset López, Marcos Báez and Antonio Machado assisted in fieldwork. Oscar Moya's excellent help in the lab and his revision of a first version of the manuscript is kindly acknowledged. Marieta Vázquez (Mallorca), Garajonay National Park (La Gomera) and the Cabildos of La Palma, Fuerteventura and Lanzarote gave us logistic support. The corresponding permits to collect in protected areas were obtained from the different Cabildos, and to collect protected species from the Canarian Government. H. López and H. Contreras-Díaz have grants awarded by the Consejería de Educación, Cultura y Deportes of the Canary Government, and by the Ministerio de Educación y Ciencia (FPI) respectively. This study was supported by the research funds REN2003-00024/GLO (Spanish Ministerio de Educación y Ciencia-European Union FEDER funds) and by conservation funds of Cabildo de La Palma and Consejería de Política Territorial of the Canarian Government.
About this article
Cite this article
López, H., Contreras-Díaz, H.G., Oromí, P. et al. Delimiting species boundaries for endangered Canary Island grasshoppers based on DNA sequence data. Conserv Genet 8, 587–598 (2007). https://doi.org/10.1007/s10592-006-9199-5
Received:

Accepted:

Published:

Issue Date:
Keywords
Acrostira
Purpuraria

Pamphagidae

Orthoptera

Canary Islands

Conservation

Molecular phylogeny

Species delimitation