Abstract
Recent research has focused on the Internet and relationships; however, little attention has been given to the specific role of social networking sites in relationship betrayal. Exploring the processes related to discovery of Facebook infidelity behaviors adds another layer to understanding Internet infidelity and highlights the behaviors unique to Facebook infidelity. Stories about cheating (N = 90), taken from the website FacebookCheating.com were analyzed using grounded theory methodology to create a process model of discovery. Researchers sought to answer four questions: (1) What is the experience of nonparticipating partners when their partners have engaged in infidelity behaviors on Facebook? (2) What are the basic social processes that occur when discovering the infidelity behaviors? And, (3) What are the basic psychological processes that occur? (4) What similarities or differences exist between the current research on offline and online infidelity and the process model from the current study? The categories are arranged in a process model, which depicts these processes as well as the emotional experience of the nonparticipating partner. The model highlights important phases through which the nonparticipating partner cycled following the discovery of the infidelity. These include appraising the boundary damage, acting on the appraisal, and making a decision about the relationship. Suggestions for clinical intervention based on this process are provided. Future research implications are also discussed.
This is a preview of subscription content, log in to check access.
Access options
Buy single article
Instant access to the full article PDF.
US$ 39.95
Tax calculation will be finalised during checkout.
Subscribe to journal
Immediate online access to all issues from 2019. Subscription will auto renew annually.
US$ 99
Tax calculation will be finalised during checkout.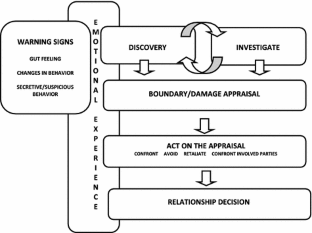 References
Afifi, W. A., Falato, W. L., & Weiner, J. L. (2001). Identity concerns following a severe relational transgression: The role of discovery method for the relational outcomes of infidelity. Journal of Social and Personal Relationships, 18(2), 291–308. doi:10.1177/0265407501182007.

Amato, P. R., & Previti, D. (2003). People's reasons for divorcing: Gender, social class, the life course, and adjustment. Journal of Family Issues, 24, 602–626. doi:10.1111/j.1741-373.2010.00723.x.

Amato, P. R., & Rogers, S. J. (1997). A longitudinal study of marital problems and subsequent divorce. Journal of Marriage and Family, 59, 612–624. doi:10.2307/353949.

Associated Press. (2012). Facebook reaches 1 billion users. Time. Retrieved from: http://techland.time.com/2012/10/04/facebook-reaches-1-billion-users/.

Barak, A., & Fisher, W. A. (1999). Sex, guys, and cyberspace: Effects of Internet pornography and Individual differences on men's attitudes toward women. Journal of Psychology and Human Sexuality, 11, 63–91. doi:10.1300/J056v11n01_04.

Blow, A. J., & Hartnett, K. (2005). Infidelity in committed relationships I: A methodological review. Journal of Marital and Family Therapy, 31, 183–216. doi:10.111/j.1752-0606.2005tb01555.x.

Bridges, A. J., Bergner, R. M., & Hesson-McInnis, M. (2003). Romantic partners' use of pornography: Its significance for women. Journal of Sex & Martial Therapy, 29, 1–14. doi:10.1080/713847097.

Charmaz, K. (2006). Constructing grounded theory: A practical guide through qualitative analysis. Thousand Oaks: Sage.

Cooper, A. (1998). Surfing into the new millennium. Cyperpsychology and Behavior, 1, 187–193. doi:10.1089/cpb.1998.1.187.

Cooper, A. L., Mansson, S., Daneback, K., Tikkanen, R., & Ross, M. W. (2003). Predicting the future of Internet sex: Online sexual activities in Sweden. Sexual Relationship Therapy, 18, 277–291. doi:10.1080/1468199031000153919.

Cravens, J. D. (2010). Facebook and relationships (Master's thesis). East Carolina University, Greenville, NC. http://hdl.handle.net/10342/2567.

Creswell, J. W. (2007). Qualitative inquiry and research design: Choosing among five approaches (2nd ed.). Thousand Oaks: Sage.

Daly, K. J. (2007). Qualitative methods for family studies and human development. Thousand Oaks: Sage.

De Stefano, J., & Oala, M. (2008). Extramarital affairs: Basic considerations and essential tasks in clinical work. The Family Journal Counseling and Therapy for Couples and Families., 16(1), 13–19. doi:10.1177/1066480707309128.

DiBlasio, F. A. (2000). Decision-based forgiveness treatment in cases of marital infidelity. Psychotherapy, 37, 149–158. doi:10.1037/h0087834.

Eysenbach, G., & Till, J. (2001). Ethical issues in qualitative research on internet communities. British Medical Journal, 323, 1103–1105. doi:10.1136/bmj.323.7321.1103.

Glass, S. P., & Wright, T. L. (1992). Justifications for extramarital relationships: The association between attitudes, behaviors, and gender. Journal of Sex Research, 29, 361–387. doi:10.1080/00224499209551654.

Heilferty, C. M. (2010). Ethical considerations in the study of online illness narratives: A qualitative review. Journal of Advanced Nursing, 945-953. doi:10.1111/j.1365-2648.2010.05563.x.

Hertlein, K. M., & Piercy, F. P. (2006). Internet infidelity: A critical review of the literature. The Family Journal Counseling and therapy for couples and families, 14, 366–371. doi:10.1177/1066480706290508.

Hertlein, K. M., & Piercy, F. P. (2012). Essential elements of Internet infidelity treatment. Journal of Marital and Family Therapy, 1–14. doi:10.1111/j.1752-0606.2011.00275.x.

Hesper, E. J., & Whitty, M. T. (2010). Netiquette within married couples: Agreement about acceptable online behavior and surveillance between partners. Computers in Human Behavior, 26, 916–926. doi:10.1016/j.chb.2010.02.006.

King, S. (2003). The impact of compulsive sexual behaviors on clergy marriages: Perspectives and concerns of the Pastor's wife. Sexual Addiction & Compulsivity, 10, 193–199. doi:10.1080/107201603902306307.

Lumpkin, S. (2012). Can Facebook ruin your marriage? ABC World News. Retrieved from: http://abcnews.go.com/Technology/facebook-relationship-status/story?id=16406245#.T8e02F9PE.

Manning, J. C. (2006). The impact of internet pornography on marriage and the family: A review of the research. Sexual Addiction & Compulsivity, 13, 131–165. doi:10.1080/10720160600870711.

Olson, M. M., Russel, C. S., Higgins-Kessler, M., & Miller, R. B. (2002). Emotional processes following disclosure of an extramarital affair. Journal of Marital and Family Therapy, 28, 423–434. doi:10.1111/j.1752-0606.2002.tb00367.x.

Pempek, A. J., Yermolayeva, Y. A., & Calvert, S. L. (2008). College students' social networking experiences on Facebook. Journal of Applied Developmental Psychology, 30, 227–238. doi:10.1016/j.appdev.2008.12.010.

Schneider, J. P. (2000). A qualitative study of cybersex participants: Gender differences, recovery issues, and implications for therapists. Sexual Addiction & Compulsivity, 7, 249–278. doi:10.1080/10720160008403700.

Schneider, J. P. (2003). The impact of compulsive cybersex behaviors on the family. Sexual and Relationship Therapy, 18(3), 329–354. doi:10.1080/146819903100153946.

Tulane, S., Skogrand, L., & DeFrain, J. (2011). Couples in great marriages who considered divorcing. Marriage and Family Review, 47, 289–310. doi:10.1080/01494929.2011.594215.

Whisman, M. A., Dixon, A. E., & Johnson, B. (1997). Therapists' perspectives of couple problems and treatment issues in couple therapy. Journal of Family Psychology, 11, 361–366. doi:10.1037/0893-3200.11.3.361.

Whitty, M. T. (2003). Pushing the wrong buttons: Men's and Women's attitudes toward online and offline infidelity. Cyberpsychology & Behavior, 6, 569–579. doi:10.1089/109493103322725342.

Whitty, M. T. (2005). The realness of cyber cheating: Men's and women's representations of unfaithful Internet relationships. Social Science Computer Review, 23, 57–67. doi:10.1177/0894439304271536.

Wilson, K., Mattingly, B. A., Clark, E. M., Weidler, D. J., & Bequette, A. W. (2011). The gray area: Exploring attitudes toward infidelity and the development of the Perceptions of Dating Infidelity Scale. The Journal of Social Psychology, 151(1), 63–86. doi:10.1080/00224540903366750.

Yarab, P. E., & Rice Allgeier, E. (1998). Don't even think about it: The role of sexual fantasies as perceived unfaithfulness in heterosexual dating relationships. Journal of Sex and Marital Therapy, 21, 202–212.

Young, K. (1998). Caught in the net: How to recognize the signs of Internet addiction- and achieving strategies for recovery. New York: Wiley.

Young, K. S., Griffin-Shelley, E., Cooper, A., O'Mara, J., & Buchanan, J. (2000). Online infidelity: A new dimension in couple relationships with implications for evaluation and treatment. Sexual Addiction and Compulsivity, 7, 59–74. doi:10.1080/10720160008400207.
About this article
Cite this article
Cravens, J.D., Leckie, K.R. & Whiting, J.B. Facebook Infidelity: When Poking Becomes Problematic. Contemp Fam Ther 35, 74–90 (2013). https://doi.org/10.1007/s10591-012-9231-5
Keywords
Facebook

Infidelity

Social networking

Grounded theory

Process

Discovery