Abstract
This work aims to show that a model produced to generate adverbs of manner can be generalized and applied to a variety of neutral animated signs for avatar sign language synthesis. This paper presents the generalization of a new approach that was first presented at SLTAT 2019 in Hamburg for modeling language processes that manifest themselves as modifications to the visual-manual channel. This work discusses extensions for generalizability to the model to be effective for a broader range of signs including one-handed and two-handed signs, repeating and non-repeating signs, signs with contact, and additional rotational adjustments to the wrists. This paper also includes interim results from an ongoing user study.
Access options
Buy single article
Instant access to the full article PDF.
USD 39.95
Price includes VAT (USA)
Tax calculation will be finalised during checkout.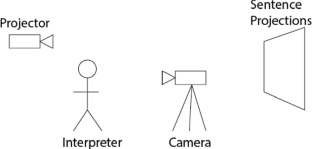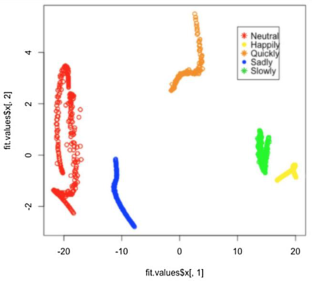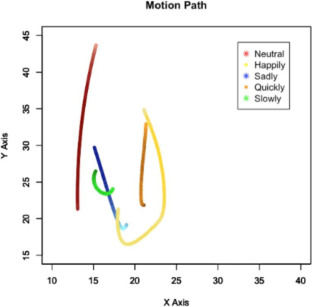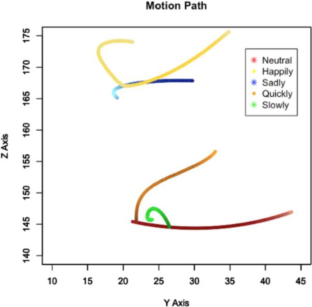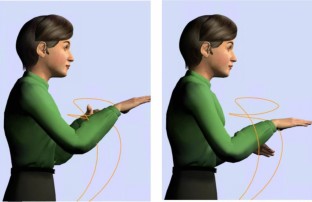 References
Bahan BJ (1997) Non-manual realization of agreement in American Sign Language

Baker-Shenk CL, Cokely D (1991) American Sign Language: a teacher's resource text on grammar and culture. Gallaudet University Press, Washington, DC

Baker-Shenk CL, Padden C (1978) Focusing on the nonmanual components of ASL. In: Siple P (ed) Understanding lanugage through sign language research: perspectives in neuroloinguistics and psycholinguistics. Academic Press, New York, pp 27–57

Barraquand J, Latombe J-C (1991) Robot motion planning: a distributed representation approach. Int J Robot Res 10:628–649

Braem PB, Brentari D (2001) Functions of the mouthing component in the signing of deaf early and late learners of Swiss German Sign Language. In: Brentari D (ed) Foreign vocabulary in sign languages: a cross-linguistic investigation of word formation. Lawrence Erlbaum, Mahwah, pp 1–47

Brentari D (1998) A prosodic model of sign language phonology. MIT Press, Cambridge

Burtnyk N, Wein M (1976) Interactive skeleton techniques for enhancing motion dynamics in key frame animation. Commun ACM 19:564–569

Chi D, Costa M, Zhao L, Badler N (2000) The EMOTE model for effort and shape. In: Proceedings of the 27th annual conference on computer graphics and interactive techniques.

Delorme M, Filhol M, Braffort A (2009) Animation generation process for sign language synthesis. In: Conference on advances in computer-human interactions, IEEE, pp 386–390

Eisenbeis RA, Avery RB (1972) Discriminant analysis and classification procedures: theory and applications. DC Heath, Lexington

Ekman P, Friesen WV (1971) Constants across cultures in the face and emotion. J Pers Soc Psychol 17(2):124

Emmorey K (2001) Language, cognition, and the brain: insights from sign language research. Psychology Press, Hove

Fischer S, Gough B (1978) Verbs in American sign language. Sign Lang Stud 18:17–48

Friedman LA (1975) Space, time, and person reference in American Sign Language. Language 51:940–961

Hartmann B, Mancini M, Pelachaud C (2005) Implementing expressive gesture synthesis for embodied conversational agents. In: International Gesture Workshop

Johnston T, De Beuzeville L (2016) Auslan corpus annotation guidelines. Auslan Corpus

Johnston O, Thomas F (1981) The illusion of life: Disney animation. Disney Editions, New York

Kleinsmith A, Bianchi-Berthouze N (2012) Affective body expression perception and recognition: a survey. IEEE Trans Affect Comput 4:15–33

Kluwin TN (1981) A rationale for modifying classroom signing systems. Sign Lang Stud 31:179–187

Liddell S (1978) Nonmanual signals and relative clauses in American Sign Language. In: Siple P (ed) Understanding language through sign language research. Academic Press, New York, pp 55–90

Malala VD, Prigent E, Braffort A, Berret B (2018) Which picture? A methodology for the evaluation of sign language animation understandability. In: Multimodal signals: cognitive and algorithmic issues. pp 83–93

McDonald J, Wolfe R, Alkoby K, Carter R, Davidson MJ, Furst J, Hinkle D, Knoll B, Lancaster G, Smallwood L, et al (2005) Achieving consistency in an FK/IK interface for a seven degree of freedom kinematic chain

McDonald J, Wolfe R, Wilbur RB, Moncrief R, Malaia E, Fujimoto S, Baowidan S, Stec J (2016) A new tool to facilitate prosodic analysis of motion capture data and a data-driven technique for the improvement of avatar motion. In: Proceedings of language resources and evaluation conference (LREC)

McDonald J, Wolfe R, Johnson S, Baowidan S, Moncrief R, Guo N (2017) An improved framework for layering linguistic processes in sign language generation: why there should never be a "brows" tier. In: International conference on universal access in human-computer interaction, pp 41–54

Padden CA (2016) Interaction of morphology and syntax in American Sign Language. Routledge, London

Quinto-Pozos D (2011) Teaching American Sign Language to hearing adult learners. Annu Rev Appl Linguist 31:137

Rose C, Cohen MF, Bodenheimer B (1998) Verbs and adverbs: multidimensional motion interpolation. IEEE Comput Graph Appl 18(5):32–40

Schnepp JC, Wolfe RJ, McDonald JC, Toro JA (2012) Combining emotion and facial nonmanual signals in synthesized american sign language. In: Proceedings of the 14th international ACM SIGACCESS conference on computers and accessibility

Stokoe W (1960) Sign language structure. Studies in Linguistics, occasional papers 8. Buffalo, New York

Thomson AJ, Martinet AV (1980) A practical English grammar. Oxford University Press, Oxford

Valli C, Lucas C (2000) Linguistics of American sign language: an introduction. Gallaudet University Press, Washington, DC

Weast T (2008) Questions in American Sign Language: a quantitative analysis of raised and lowered eyebrows. Doctoral dissertation, The University of Texas, Arlington

Zhao L, Costa M, Badler NL (2000) Interpreting movement manner. In: Proceedings of the computer animation 2000, pp 98–103

Zhao L, Kipper K, Schuler W, Vogler C, Badler N, Palmer M (2000) A machine translation system from English to American Sign Language. In: Conference of the Association for Machine Translation in the Americas
Additional information
Publisher's Note
Springer Nature remains neutral with regard to jurisdictional claims in published maps and institutional affiliations.
About this article
Cite this article
Moncrief, R. Generalizing a model for animating adverbs of manner in American Sign Language. Machine Translation 35, 345–362 (2021). https://doi.org/10.1007/s10590-021-09279-9
Received:

Accepted:

Published:

Issue Date:
Keywords
Avatar technology

Sign synthesis

Adverbs in ASL

Motion planning